Before unforeseen circumstances altered life as we knew it, travel in APAC was booming. Valued at $446 billion in 2019, APAC's travel market led North America and Europe and was projected to grow further in 2020. But the coronavirus pandemic changed all that — halting non-essential travel around the world.
This grinding halt touched every element of the market. In the airline industry alone, the fall in passenger numbers has resulted in global revenue loss in excess of $63 billion.1 However, with travel restarting in regions like China, consumer confidence is beginning to grow.
To better understand consumer sentiment around travel during the COVID-19 crisis, we've been conducting travel intent surveys across the world. While the majority of APAC respondents said they don't expect to travel in the next nine months, we identified pockets of shifting sentiment where respondents showed a higher willingness to travel sooner. Paired with insightful data from a recent Global Web Index (GWI) study, our findings highlight emerging trends that travel companies should consider as we all navigate the road ahead.
Consumer sentiment around travel is shifting
According to our research, some markets in APAC are expressing interest in future domestic travel. In Indonesia, India, the Philippines, and Vietnam, more than 25% of respondents expressed plans to travel domestically in the next three months, compared with countries like Australia and Japan, where less than 14% of them plan to do so.
Survey question: When are you next planning to travel domestically for a holiday?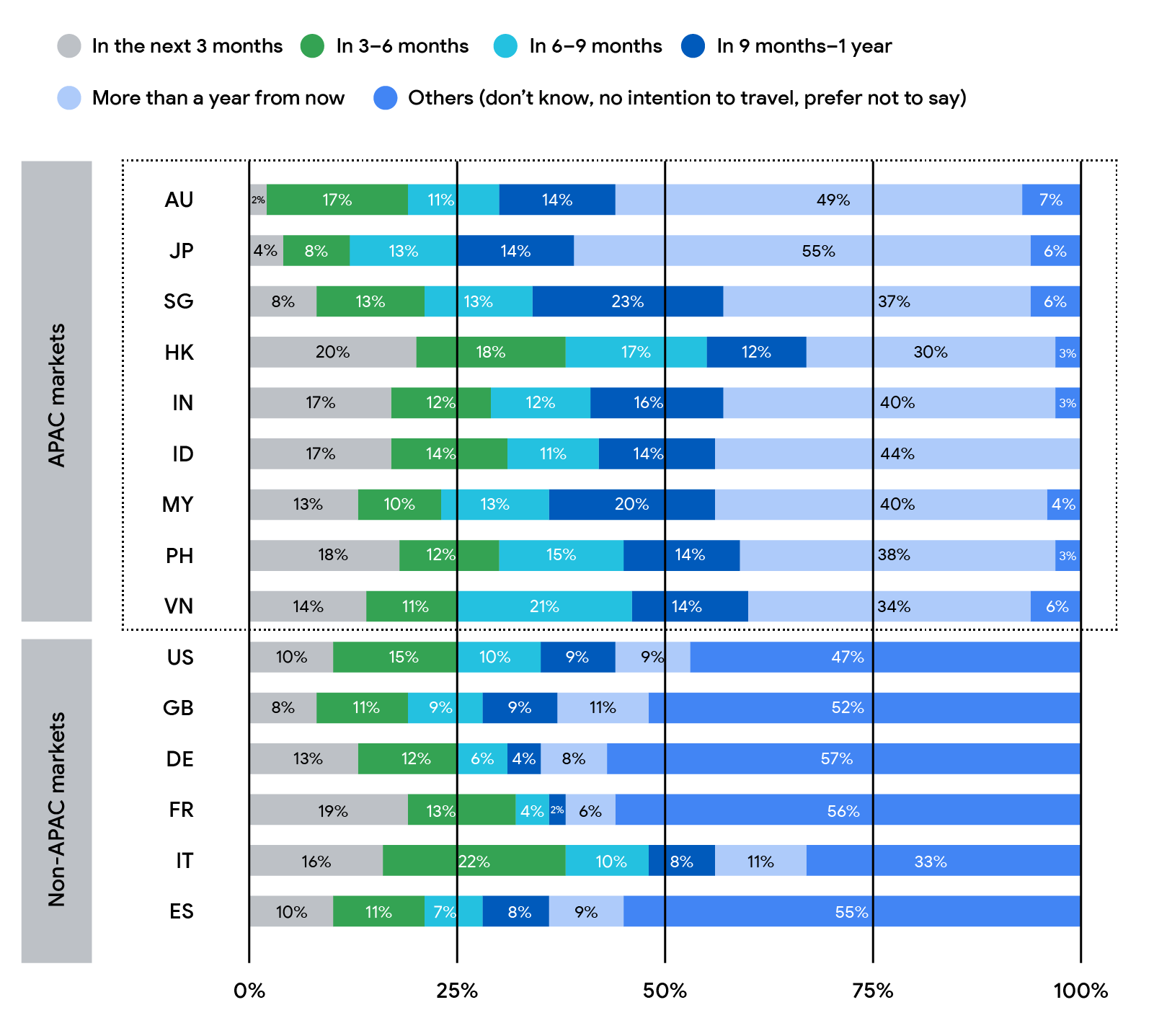 This differing sentiment is also reflected in future international travel plans: Respondents in Indonesia, India, the Philippines, and Vietnam have indicated they are 1.5X more likely than those in Australia, Singapore, and Japan to travel internationally in the next 6 months.
Travel is a priority for most consumers post-lockdown
According to the GWI study, booking a vacation is the top priority for nearly all surveyed markets with the exception of India, where buying consumer goods such as clothes and personal electronics has greater appeal.2 This sentiment is reflected around the world, with 45% of people who delayed a vacation due to COVID-19 planning to prioritize booking a vacation or trip after the pandemic ends.3
Search data indicates some early signs of recovery as well. In some APAC markets, we've seen a gradual rise in searches around holiday planning. In Taiwan, searches for "hotels" are gaining momentum, while searches for "resorts" or "all-inclusive travel deals" are starting to pick up in Vietnam and the Philippines.
Consumer research has also highlighted some interesting age patterns: The older the consumer, the more likely they are to prioritize booking a vacation. While 29% of baby boomers prioritize booking a vacation, Gen Zers are more inclined to focus on clothing (25%) and smartphones (20%).4
People in APAC expect to change the way they travel
The coronavirus pandemic has impacted the way people will approach travel-related decision-making: a whopping 87% of APAC consumers expect to make changes to the way they travel, compared with 67% and 70% in North America and Europe, respectively.5 With consumer behaviors and expectations changing rapidly, travel companies need to adjust their strategies to meet consumers' needs in meaningful ways. In addition to revealing how people currently feel about travelling, our research also uncovered three key ways for travel companies to approach their marketing efforts based on consumer insights.
1. Prioritize safety and cleanliness
Safety is top of mind for consumers around the world, especially as they get older: 65% of baby boomers say a personal feeling of safety is by far the top confidence booster for resuming travel.6 But only 28% of consumers say reopening borders will make them feel confident enough to travel again,7 so travel companies have to do more to make them feel safe.
Survey question: Which of the following would make you most likely to book a hotel in the next three months?

One important contributor to this feeling of safety is assurance of higher cleaning standards. On average, 25% of all people looking to travel in the next three months mentioned "hospital-grade cleaning" as a key driver for making a hotel booking.
2. Promote discounts and flexibility
When APAC consumers begin to consider travelling again, a key motivator for booking will be both the flexibility to make changes to bookings and the promotional discounts available to them. The chart below shows APAC consumers listed discounted fares and waived cancellation fees as key factors for booking a flight within the next three months.
Survey question: Which of the following would make you most likely to book a flight in the next three months?

But just because APAC consumers want discounts doesn't necessarily mean they're looking for cheap places to travel. While 25% of respondents indicated plans to make more use of promotions, only 15% claimed they were looking for cheaper vacations in the future. This indicates people are looking for more premium travel experiences that are still within their budgets.
3. Consider consumers' short-term preferences
Both research studies indicate that 25–35% of consumers' first trips will be to nearby destinations such as staycations or places within driving distance.8 According to the GWI study, 42% of Chinese consumers are planning to take more trips in their local area than they did before the coronavirus pandemic.9
Survey question: If you were to travel in the next three months, where would you most likely travel to?

In addition to short-haul domestic travel, outdoor destinations are more appealing to people around the world: More than 50% of all survey respondents said they would travel to a beach or other natural destinations if they were to book travel in the next 3 months.
Planning a path to recovery
As sentiment around travel begins to change, travel marketers need to stay agile to meet consumers' needs in meaningful ways. By listening to people and reaching them with relevant information during this difficult time, travel companies can earn their trust and put themselves on the road to recovery. Below are three cost-neutral actions travel marketers can take to set themselves up for success in a post-COVID world:
Monitor trends: While complete global recovery is a long way off, travel "bubbles" offer a potential way forward in the meantime. Tools like Google Trends can help marketers navigate these bubbles and track consumer sentiment with real-time search data. For example, there has been a gradual rise of searches for "international flights to India" in Singapore. Marketers can also keep their fingers on the pulse of wider industry trends by attending virtual events like our SME Leadership Academy travel webinars.
Rethink your messaging and targeting strategies: As seen in the data above, consumer behaviors and expectations can vary from market to market (and user to user). To succeed, marketers need to highlight what matters most to different people at each stage of recovery and adjust their messaging accordingly. With Director Mix, marketers can create customized videos at scale and swap out different elements to tailor content to specific audiences.
Improve your digital hygiene: Use this as an opportunity to restructure your marketing to be best in class. Clean your technical feeds and underlying account and campaign structures. Boost your coverage with auto-bidding and use tools to proactively communicate with travelers. To help our clients and users during the COVID-19 crisis, we are focusing on initiatives like updating ads to show when hotel rates are refundable and indicating whether hotels are temporarily closed on their Google My Business profiles.
Contributors: Rohan Dhanuka, Industry Analytical Head, Travel and Finance; Christopher Siantar, Analytical Consultant, Travel
Methodology
Google Consumer Surveys are conducted across 17 markets globally: US, GB, IT, DE, ES, IN, AU, JP, SG, HK, VN, PH, ID, MY, KR, TW, TH. The surveys are conducted on a weekly basis in US & EMEA, and on a bi-weekly basis for APAC. We have excluded results for countries that have low survey response rates. Survey results were collected on April 7, 2020, April 17, 2020, and May 4, 2020.