In a country that boasts 500 million active internet users and ranks No. 2 in the world for internet usage,1 the majority of Indian travelers rely heavily on digital channels to research their trips. But the proportion drops when it comes to booking online. We conducted a study to find out how online and offline channels influence their travel decisions, and what marketers can do to better cater to their needs.
From the business executive flying every month and staying in five-star hotels to the family taking a bus across the country to celebrate a relative's wedding, Indians are now more willing to spend on travel, based on our research conducted in partnership with Bain & Company.
By 2021, domestic and international travelers are expected to spend $136 billion, up from $96 billion in 2018. It is projected that $24 billion of the additional spending will be made online. Travel brands have a huge opportunity to capitalize on this by understanding how online channels influence travel decisions.
To do this, you first need to understand Indian travelers and their travel planning journeys. Generally, our study found that Indian travelers fit into five broad segments.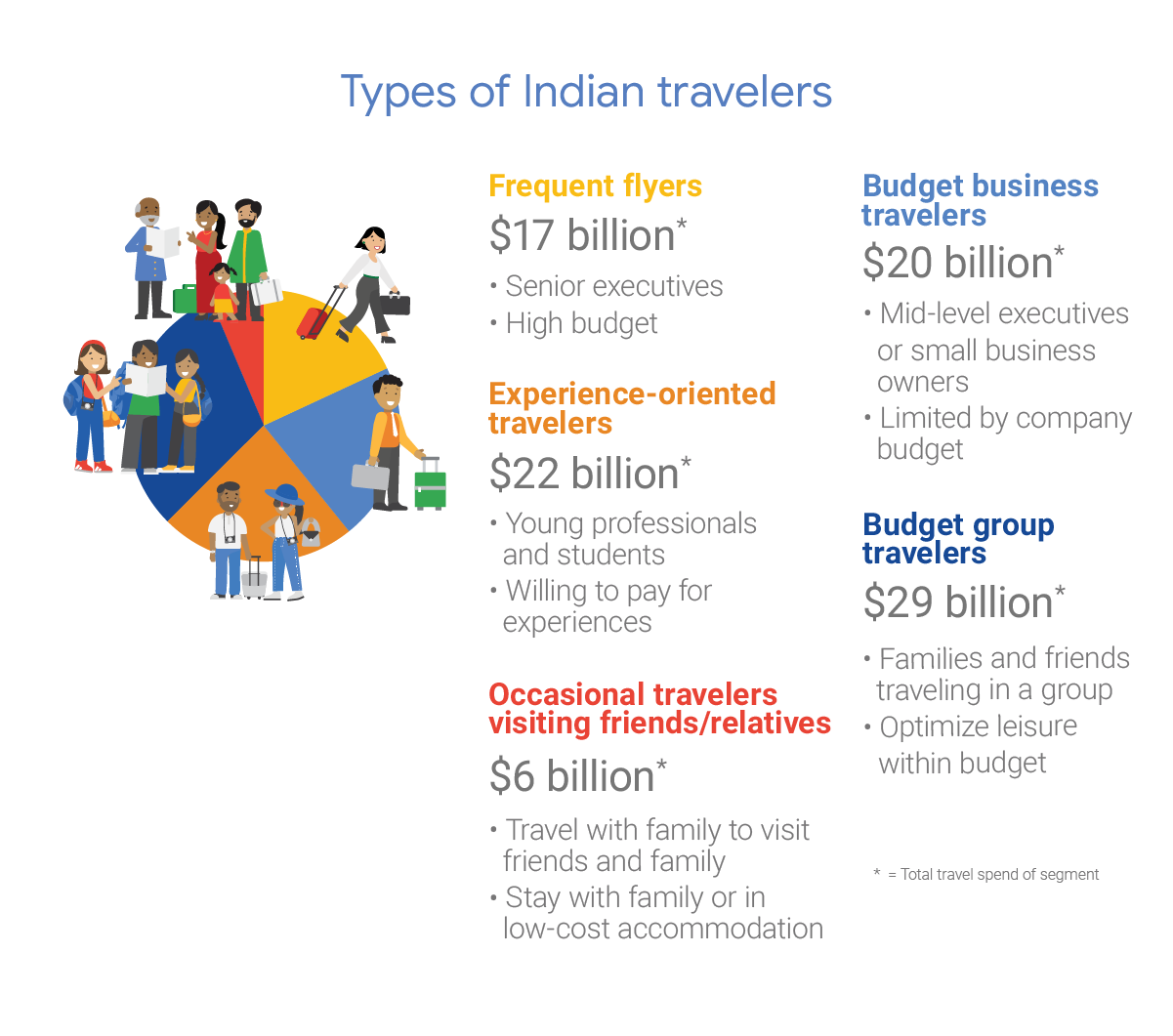 Further, each of these traveler types have five stages to their travel journey:
Interest: When travelers first start thinking about a trip (This phase is not relevant for business travelers, where the destination and the need for travel are typically decided by the company)
Research: When they start planning for the trip
Booking: When they make transportation and/or accommodation reservations
Experience: When they look for recommendations for things to do and see during the trip
Sharing: When they express their feedback after the trip

Of the five stages, digital is especially crucial when travelers are gathering information. In fact, almost nine in 10 consumers are influenced by online channels in the Interest, Research, and Experience phases.

However, offline channels still remain important for the other two phases. Two in five travelers make transport and accommodation arrangements offline, and the most popular way for them to share feedback about a trip is through a phone call. Posting on social media is a close second.
Understanding the five types of Indian travelers
Indian travelers make decisions based on varying needs and motivations. In the dropdown menu below, you can explore the customer journey of each type of traveler.
5 major shifts needed
By understanding the drivers behind travelers' needs, businesses will be able to reach them with customized messaging and the right mix of spending across channels. We have identified five major shifts brands need to make to acquire new customers and retain existing ones.
1) Improve the booking and payment experience
Across all five types of travelers, we see a significant drop in the use of online channels between the research and booking phases. The top reason for not booking online is a lack of trust in payment systems.
One of the ways businesses can increase adoption is by partnering with leading mobile wallet vendors to make online payments easier. They can also customize payment options so travelers have the flexibility to book without making upfront payments or sharing credit card details.
2) Address customer perception issues
There is a negative perception among consumers that online channels are geared toward the higher-spending frequent flyers and experience-oriented travelers. The budget-conscious customers from the remaining three segments therefore tend to be more dissatisfied with online channels.
By using proactive measures like providing specialized products for large group bookings and a dedicated group travel consultant to guide the customer through the booking process, brands can help budget-conscious travelers have a more positive and inclusive experience with online channels.
3) Learning from consumer tech to acquire new customers
There are 130 million active Internet users in India who research travel online but have never transacted. At the same time, the majority of online bookings come from metro and Tier 1 cities; less than 5% are from Tier 2 and 3 cities.
Brands can learn a lot from how consumer tech companies penetrate mass segments, or provide access to the underserved. For example, to attract more online bookings from Tier 2 and 3 cities, businesses can provide multilingual support or ensure their apps work on slow networks.
4) Find innovative and economical ways to package the experience
About 70% of leisure travel in India happens by bus and rail, but there are limited bundling options. There is an opportunity for companies to offer packages that combine rail travel and hotel or bus travel and hotel.
This sort of bundling — and the right messaging to convey this to travelers — can create platform adoption and customer retention.
5) Leveraging digital technologies to improve engagement
To influence the Indian traveler early in the customer journey and convert them, businesses need to adopt digital technologies and move from one-time engagement to ongoing relationships. This includes tailoring offers to customers based on consumer insights and reaching them across the right touchpoints.
Such an approach will enable brands to respond dynamically and in real time to the Indian traveler, through every phase of the customer journey.
You can find these insights and more in our "How Does India Travel?" report.
Methodology
Google partnered with Bain & Company to understand how Indian tourists spend on travel and the influence of online channels in their customer journey. Bain conducted qualitative interviews with key travel players, while Kantar IMRB carried out a quantitative survey with 3,659 travelers across segments. All survey respondents were screened for overnight lodging and representation from metro, Tier 1, and Tier 2 cities.