In large countries like India, different climate and weather patterns can affect consumers' health, influence what they wear, and play a central role in where they decide to travel. Here, Google India's Saifullah Rais and Vikas Agnihotri explain how a data-driven solution can help marketers move beyond seasonality and reach more consumers with real-time weather-based campaigns.
On a summer day in New Delhi, ice cream is a hot commodity, while during flu season, soup sales go through the roof. Weather has power over when and where consumers decide to spend their money, and brands have an opportunity to capitalize on that influence.
With Ruled By Weather, a new data-driven solution that connects weather with consumer interest, brands can serve more relevant ads to consumers based on real-time weather data and search trends.
Weather influences what consumers search for
For years, marketers have used search as an indicator of economic trends and patterns. By looking at query volume, marketers are able to make predictions about consumer intent. Using search data along with historical data and forecasts from OpenWeatherMap, Ruled By Weather offers today's marketers a smarter way to do just that. It analyzes the relationship between weather and search intent across more than 1,000 APAC cities, allowing marketers to serve ads to consumers as the weather changes.
A data-driven approach to weather-based marketing means brands no longer have to objectively define the effects of weather on sales. With Ruled By Weather, marketers can predict — in the immediate three-week period — weather's impact on consumer intent, allowing them to move beyond seasonality. By knowing when to activate campaigns for specific products, marketers can plan better, boost sales, and improve brand metrics — all while saving money.
Recently, three brands in India used Ruled By Weather to successfully predict marketing opportunities and drive real business results.
Responding to cold and flu trends
About 1 in 3 people suffer from a stuffy nose, yet only 1 in 10 actually treat it.1 GSK India saw this as an opportunity to market its nasal decongestant spray, Otrivin, to consumers as cold- and flu-related searches were predicted to spike. To better reach people in these moments of need, GSK India used Ruled By Weather.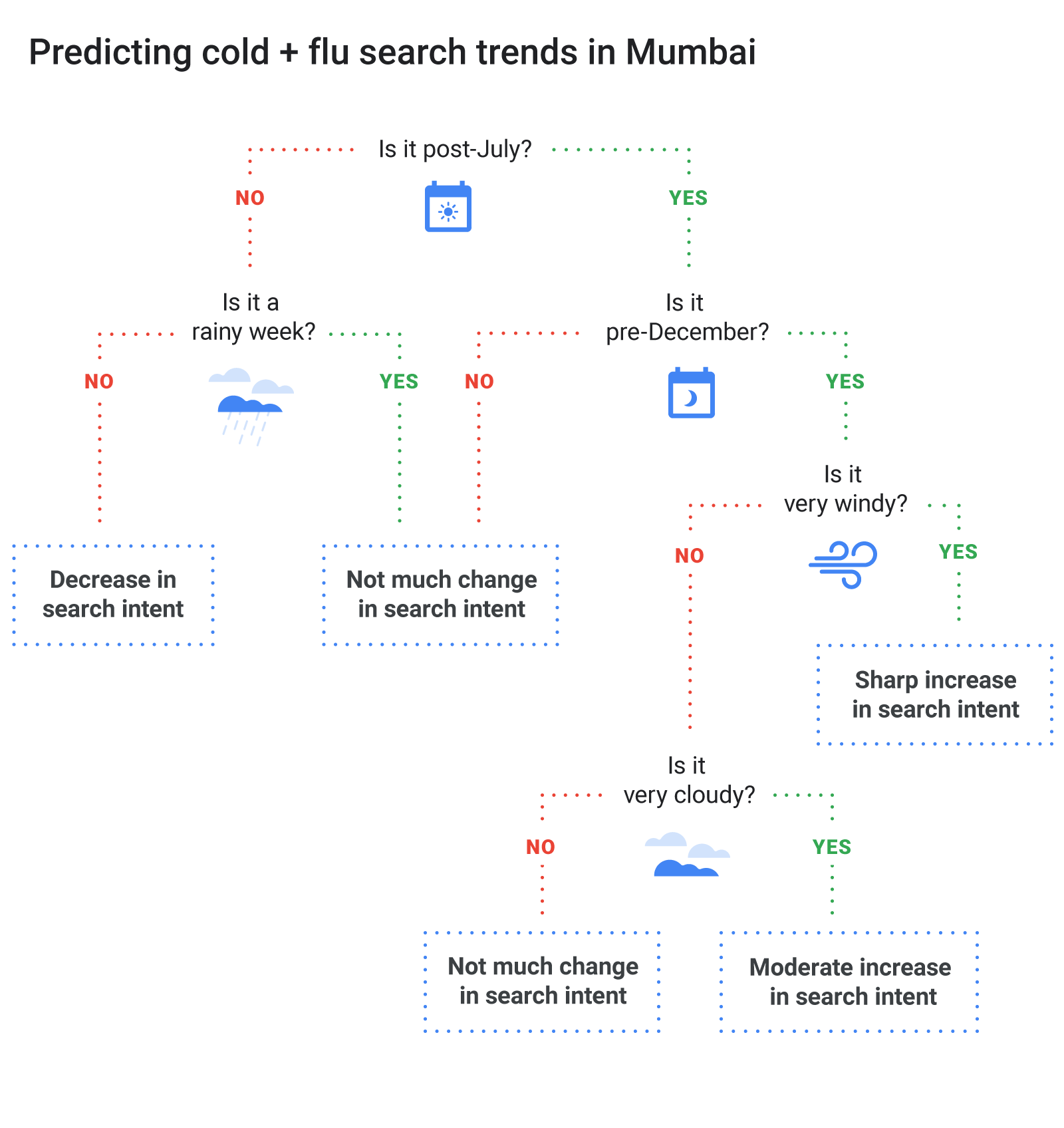 Data suggested that environmental factors such as temperature, rain, wind, and clouds trigger searches for cold and flu symptoms in Mumbai, so Ruled By Weather served customized Otrivin ads to Affinity Audiences when search intent was predicted to spike. The predictive model also influenced the supply chain: GSK India partnered with a leading online pharmacy to boost its stock of Otrivin when demand was expected to be high. This resulted in a 100% increase in sales to the online pharmacy and a click-through rate (CTR) that was 2X the industry benchmark.
Combating germs with soap (and data)
Unilever's Lifebuoy, a leading germ protection soap brand, experimented with an infection alert system that triggered YouTube and display campaigns when searches for certain diseases spiked in India due to rain and cloud cover. By moving to a predictive model, the brand was able to raise a preventative alert and serve ads before germs spread.
The weather-based campaign deployed more than 40 variations of contextual bumper and display ads across major cities in India. In addition to delivering massive reach for Lifebuoy, the bumper ads delivered best-in-class lift in ad recall and brand favorability, while the display ads delivered a high lift in ad recall and brand consideration with CTRs that were 3X the industry benchmark.
Expanding to tourism and other industries
After seeing that Ruled By Weather could help predict consumer interest for categories like travel and gaming, travel experiences company Headout used it to better understand the potential benefits of using weather-based triggers.
The initial analysis suggested that weather fluctuations have a significant impact on tourist destinations. For example, while search interest for Rome's Colosseum rises between late March and August, searches also spike when the max temperature range increases by three degrees. Compared to control campaigns, the Ruled by Weather campaign achieved a 21% higher CTR at a 21% lower cost per click. As a result, Headout plans to use Ruled By Weather to reach tourists as temperatures change — a strategy that could be applied to attractions in any of the cities in which Ruled by Weather can be used.
Forecasting a promising future for marketers
Seasonality has always played a role in traditional marketing plans, but it's time to take it a step further. It's clear that weather can influence consumer behavior on a monthly, weekly, daily, and even hourly basis. With Ruled By Weather, brands have an opportunity to reach even more consumers as forecasts change and temperatures fluctuate within a single season. Think about what that means for products like ice cream: By predicting the hottest days, a brand could shift its spends to ensure its products are seen — or reconfigure its supply chain to ensure it has enough product available. With data behind their decision-making, brands can feel confident that they're making choices that will drive the best results.