While the last two months saw glimmers of hope of international travel between countries, ultimately we are still no closer to seeing a travel bubble open in APAC by the end of the year. Currently, governments remain cautious about opening their borders, and traveler behavior continues to evolve based on what's possible and what is safe.
To survive in today's volatile travel industry, it pays to have demand trends at your fingertips, and Google's new Travel Insights tools helps give marketers updated information on current search interest for destinations and hotels around the world.
In the second part of our APAC travel recovery series, we explore our latest findings, how brands may capitalize on recovery demand using Travel Insights, and pick out three learnings to help you engage with travelers meaningfully and effectively.
As restrictions ease, the desire to travel is only growing
In the latest consumer surveys, we found an increase in intent to travel in the next six months. Compared to levels in June, Australia registered the largest increase in travel intent (+13 points), followed by Vietnam (+9 points), and New Zealand (+5 points).1
Increase in travel intent from APAC travelers for the second half of 2020

This pent-up travel demand burst open when the two-way travel bubble — a quarantine-free travel route — between Singapore and Hong Kong was announced in October. Travel Insights showed brands that search demand increased by 200% on the back of news of the travel bubble, and tickets sold out within 24 hours.
Hunger for cross-border travel remains strong, and travelers are willing to talk with their wallets, despite air fares increasing by 40%. It's up to travel organizations to tap into this potential with data-driven insights and strategies that rebuild consumer confidence in travel.
1. Act fast to turn regulatory changes into opportunities
Agreements around cross-border travel are still changing, such as with the recent delay in the Singapore-Hong Kong air travel bubble and the snag in the Australia-New Zealand travel corridor.
At the same time, while the uncertainty of international travel remains, there are still some known certainties across APAC that brands can tap into, such as the increase in domestic tourism helping people (re)discover their home countries.
To help people discover more of their home country, ezTravel, an online travel agency in Taiwan, leveraged Hotel Ads auto-bidding to make the most of Taiwan's surging domestic travel intent. The service targeted people searching for hotels in Taiwan: if the hotel was listed on ezTravel, consumers would see an ezTravel ad.
How ezTravel capitalized on Taiwan's growing appetite for domestic travel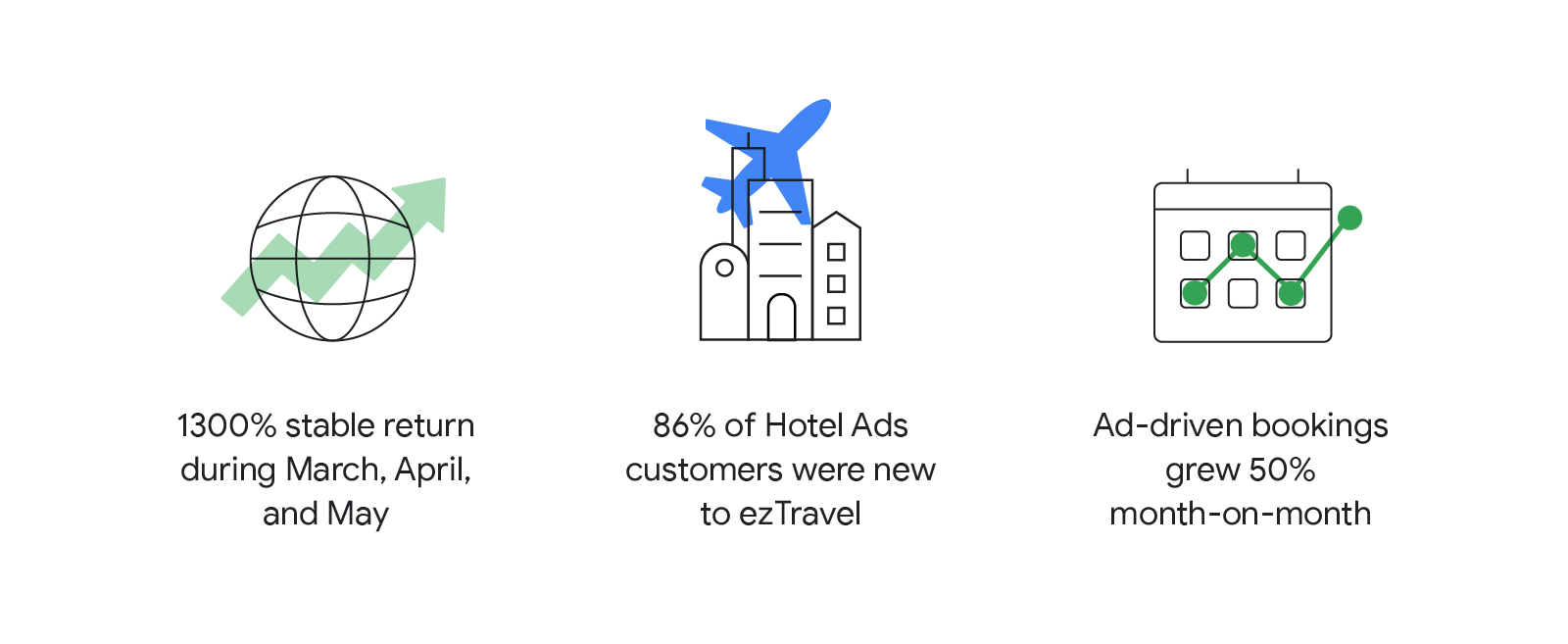 Quick tip: In this uncertain market, remaining nimble is key. Be proactive by watching changes in market demand on Travel Insights. Craft your marketing strategy to respond to the demand and create helpful resources based on what travelers are asking. Utilize Google's audience strategies in order to drive new customers or generate efficient traffic, and try testing with a smaller campaign and review the results before scaling.
2. Work on building your brand now for the long-term
Consumers may be itching for a new adventure, but safety and hygiene remain high on the list for travelers.
Travel agencies can directly address customer concerns and encourage bookings through safety and hygiene certifications. Traveloka's CleanAccommodation badge, for hotels that have obtained a hygiene certification such as the SGClean Quality Mark, sends a clear message to travelers – these hotels have high hygiene standards that give travelers peace-of-mind when booking.
On top of providing safety filters and information, launching safety brand campaigns is another way to shore up brand consideration for the future. For example, even when Scoot was flying fewer flights as a result of COVID-19, the Singapore-based airline decided to run the Safe Travels campaign as a way to reassure the public about the measures the brand was taking to keep travelers safe.

"When it became obvious that travel restrictions would be prolonged, it became crucial that we maintain our brand presence as travel became increasingly far from people's minds. We felt that a campaign like "Safe Travels" could help Scoot remain top of mind for prospective travelers in the future, and give them the confidence to fly with us when the industry recovers."
Quick tip: Other than changing offerings to include consumer preferences on safety, travel companies should think about running safety brand campaigns to drive prospective future travelers when the industry recovers. Measure your results using Google's Brand Lift surveys, or even use Google Surveys 360 on video remarketing lists to understand consumer sentiment about your brand campaign.
3. Continue to inspire consumer confidence
More than a fifth of travelers in APAC countries are considering international travel in the next year, with the exception of Japan,2 a sign that the industry could bounce back once travel restrictions are lifted.
However, consumers want safeguards if conditions worsen and lockdowns are reinstated. Across APAC, a substantial proportion of travelers placed flexible cancellations among their top three considerations, notably 48% of Hong Kongers and 44% of Australians,3 making it a must-have for airlines, hotels, and travel agencies hoping to make a recovery.
Travelers in APAC countries who list flexible cancellations in their top three pre-travel considerations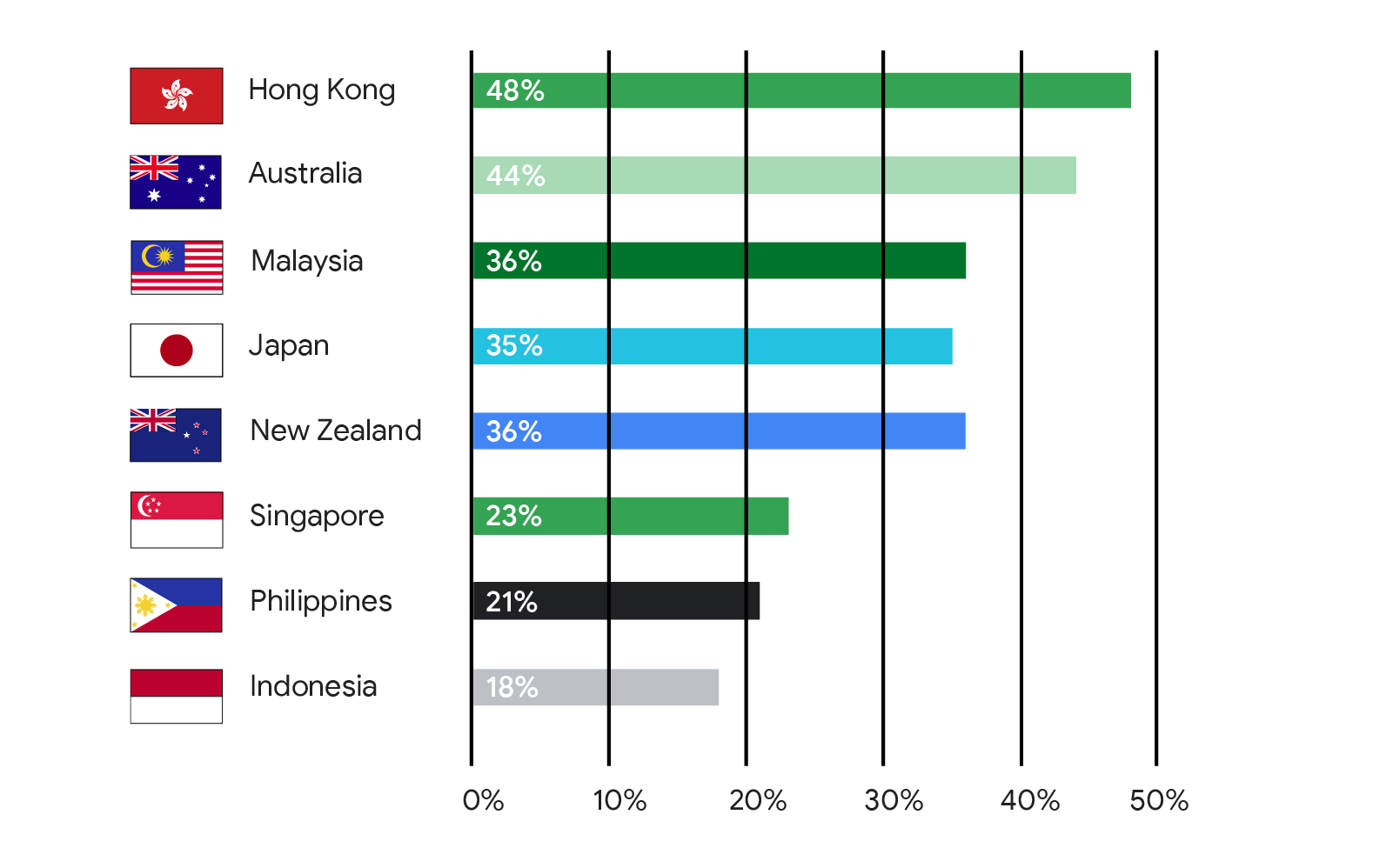 Cancellations don't need to be a lose-lose situation. Flexible bookings will boost consumer confidence and drive sales. Meanwhile, features such as Google's pay-per-stay hotel ads only charge you if the guest follows through with the booking.

"Pay-per-stay reduces our risk during these uncertain times by transferring some of the booking and cancellation risk to Google. It has helped Agoda to find new opportunities, complementing our existing internal tools."
Quick tip: Complement pay-per-stay with robust customer and trend data to guide your ad placements and help you capture segments you have never explored before, at low risk. Don't forget to tell people about your flexible offerings in your marketing messages to help differentiate your product or service and to entice customers.
While there is still demand for travel, traveler behaviors have adapted — from searching for domestic adventures over international trips, to placing more importance on safety and booking flexibility. But travel companies need to stay proactive and nimble to meet consumer demand.
That's why Google built the self-service Travel Insights tool. It includes:
Destination Insights, to spot search trends across destinations and trip types to understand travel demand opportunities.
Hotel Insights, to learn where interest is highest across your region and hotel offerings, and get trend insights to help attract new guests.
The anonymized and aggregated data indicate sources of demand on a real-time basis based on Google searches, allowing you to plan your marketing strategy with confidence. Most importantly, it will help you to adapt your marketing strategy as quickly as the market shifts.

"Travel Insights is an easy and useful tool for tourism stakeholders to better understand travel trends and consumer demands in a timely manner. We hope this will empower more data-driven business decisions and fuel innovation, to enable businesses to reimagine their offerings and emerge stronger."