Smartphones. Most users will tell you they can't live without them. And if you ask the unicorn startups that are taking the country's internet economy by storm, they'd tell you that their very existence revolves around them.
Serving as the foundation upon which mobile-first companies thrive is a big responsibility for India's smartphone market, now worth $23 billion and growing at 10% year over year. But to successfully reach Indian smartphone shoppers, marketers need to first understand them — their triggers, their needs, and their aspirations. That's why we embarked on new research with Kantar — the first of its kind in India — to understand what Indian shoppers are actually doing, reviewing, and searching for when they're on the lookout for a new device.
Online research is crucial at every stage, no matter the price point
Whether they're looking for low-cost options or a pricier model ($350+), over 85% of Indians we surveyed conducted online research at some point before buying their device.1 This makes it especially important for smartphone manufacturers and sellers to know which moments are the most effective to tap into.
A few weeks before shoppers decide to buy is a good window to showcase the latest phone features — 44% of consumers conduct online research in the first phase of evaluation,2 and 50% do so as they get deeper into the consideration phase.3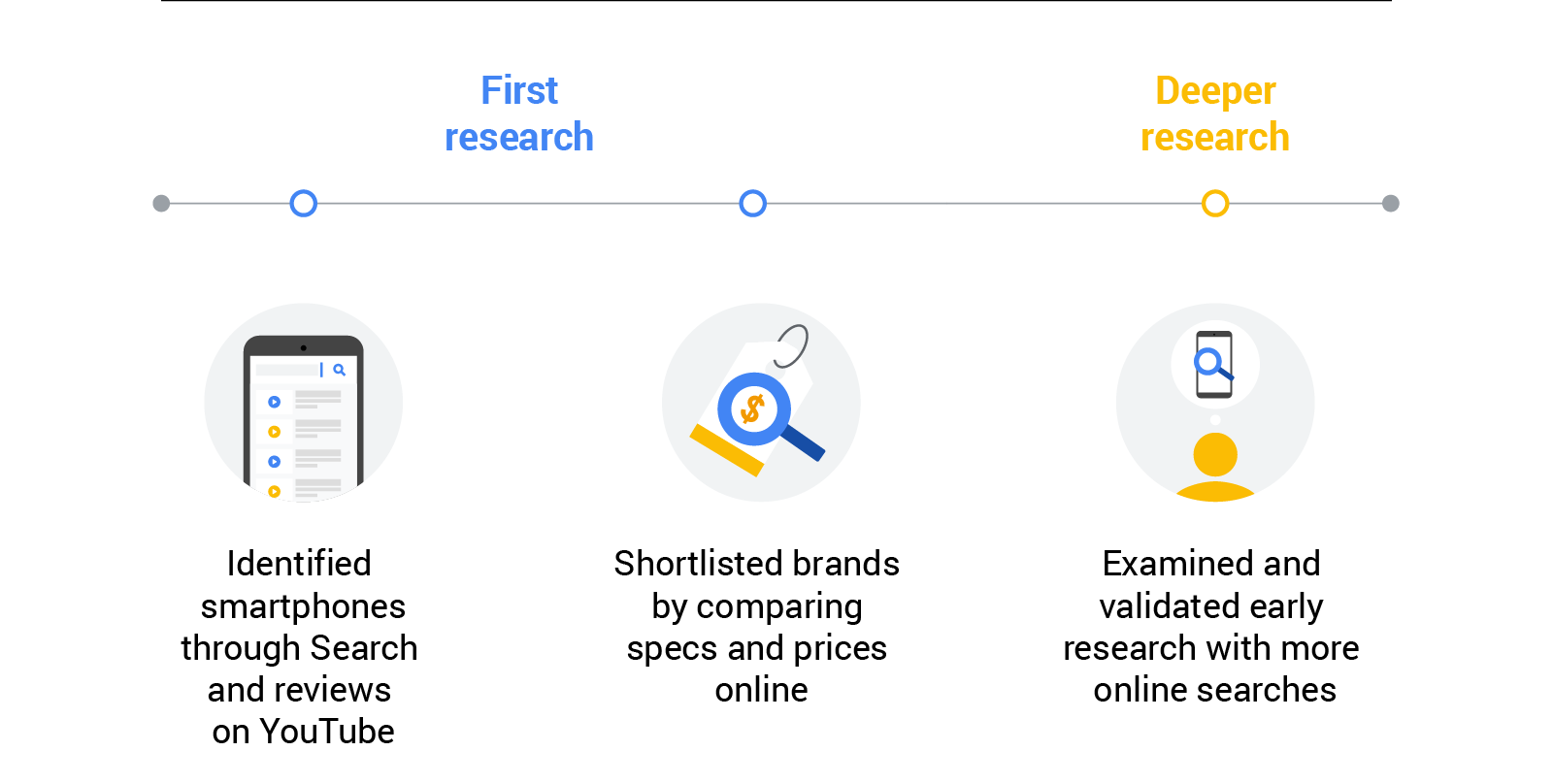 But a new research habit presents an even bigger opportunity to stand out: those moments when they're in the store, about to make their final decision. Surprisingly, 70% of shoppers turn to their smartphones at the point of sale,4 so it's critical to ensure the information they find is accurate and readily available and provides the details they're looking for. If brands are not present and ready to help in those final, pivotal moments, shoppers may have second thoughts about choosing a brand when it matters most.

Next, it's important to consider what kind of information smartphone shoppers are looking for at each stage. When shoppers first start their research, device features and specs are typically what mobile phone shoppers look out for.5 For buyers looking for devices under $350, price is understandably the next biggest concern,6 while premium smartphone shoppers prioritize a device's brand reputation.7
What do India's smartphone shoppers look for?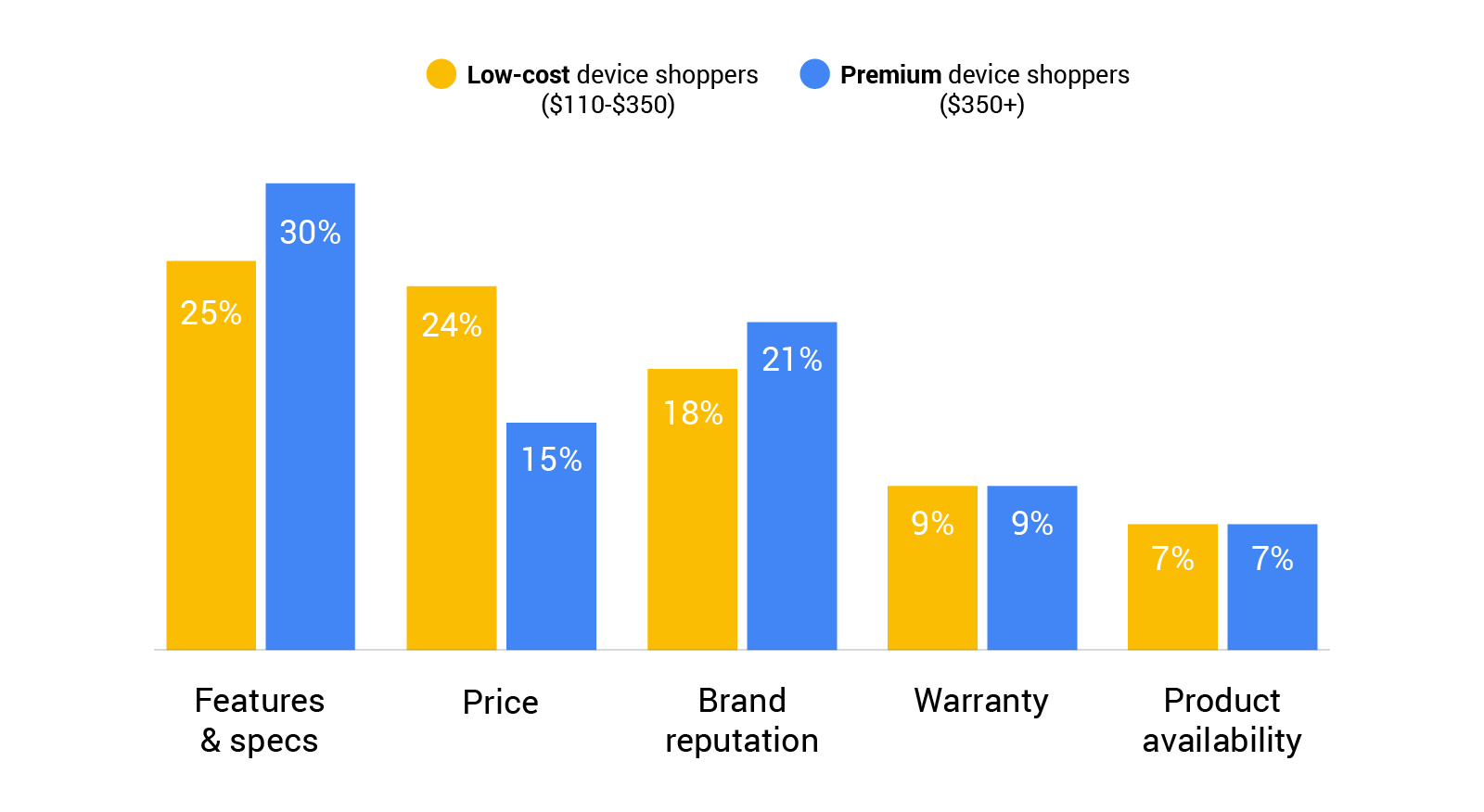 As an OEM or retailer, once you've made the brand (or model) discoverable online, consider how you're presenting your devices to different audiences. Promotions, exchange offers, and warranties are attractive to price-sensitive customers, while showcasing product test results inspires trust, and partnering with celebrity ambassadors is likely to catch the attention of high spenders.
Most shoppers still prefer to buy offline
Despite the widespread online research habits, 3 in 4 phone shoppers in India still prefer to transact in person.8 So why the hesitance to buy online? Regardless of price point, there are widespread concerns, with the top three being about fake or duplicate devices (>40%), not receiving devices on time (>30%) and simply enjoying trying out their devices before making a final decision (>30%).9
Common barriers to buying smartphones online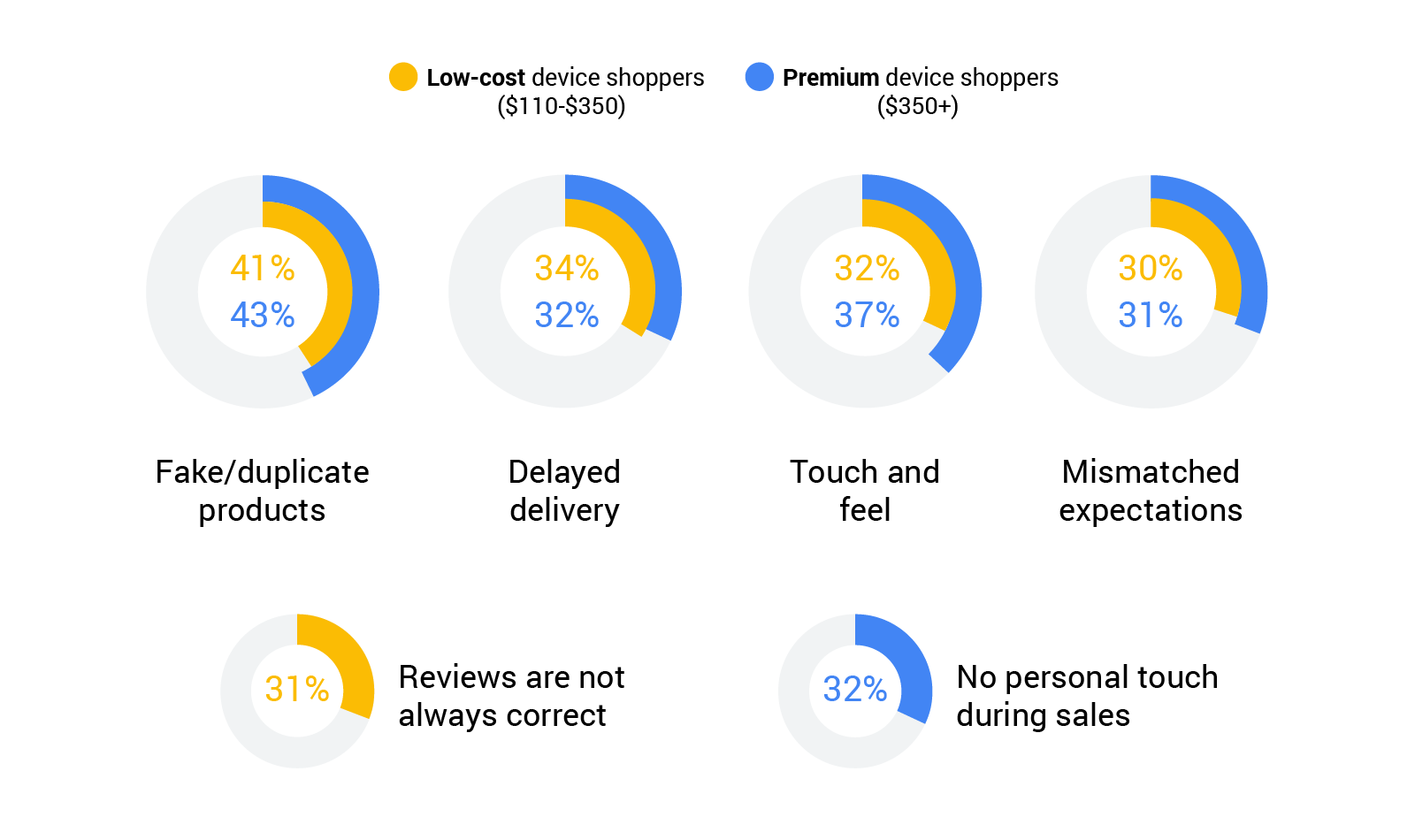 But before even stepping into the store, nearly 1 in 5 shoppers searched for retailer details — including address, opening hours, and transport directions — that bring 13% of footfall into stores.10 So, until the tides shift, leverage tools like location extensions to guide shoppers to nearby stores. If the strategy is to encourage more online purchases, easy returns, affordable warranties, and speedy mobile sites are the best bets — so long as the products are certified authentic to reinforce credibility and build trust.
The window of opportunity to show up is small
Unlike a few years ago when Indians shop-hopped to compare products, they can now browse countless comparison sites in a matter of days or even hours. As a result, the time from research to purchase is shrinking fast. According to our research, 69% of Indians decide by week two or three after starting their research, and more than half of these decisions are made within one week.11
Time spent between researching and buying

Being relevant and helpful when shoppers go to learn about new devices is key, considering 40% of Indians we surveyed discovered a new brand during their online research.12
This is especially pertinent because 57% of Indian shoppers said search engines or online videos were their first stop when researching new devices.13 To stand out, brands can tailor their ads by calling out device specs and prices or sharing compelling videos that highlight new product features or related products.
How smartphone shoppers use online video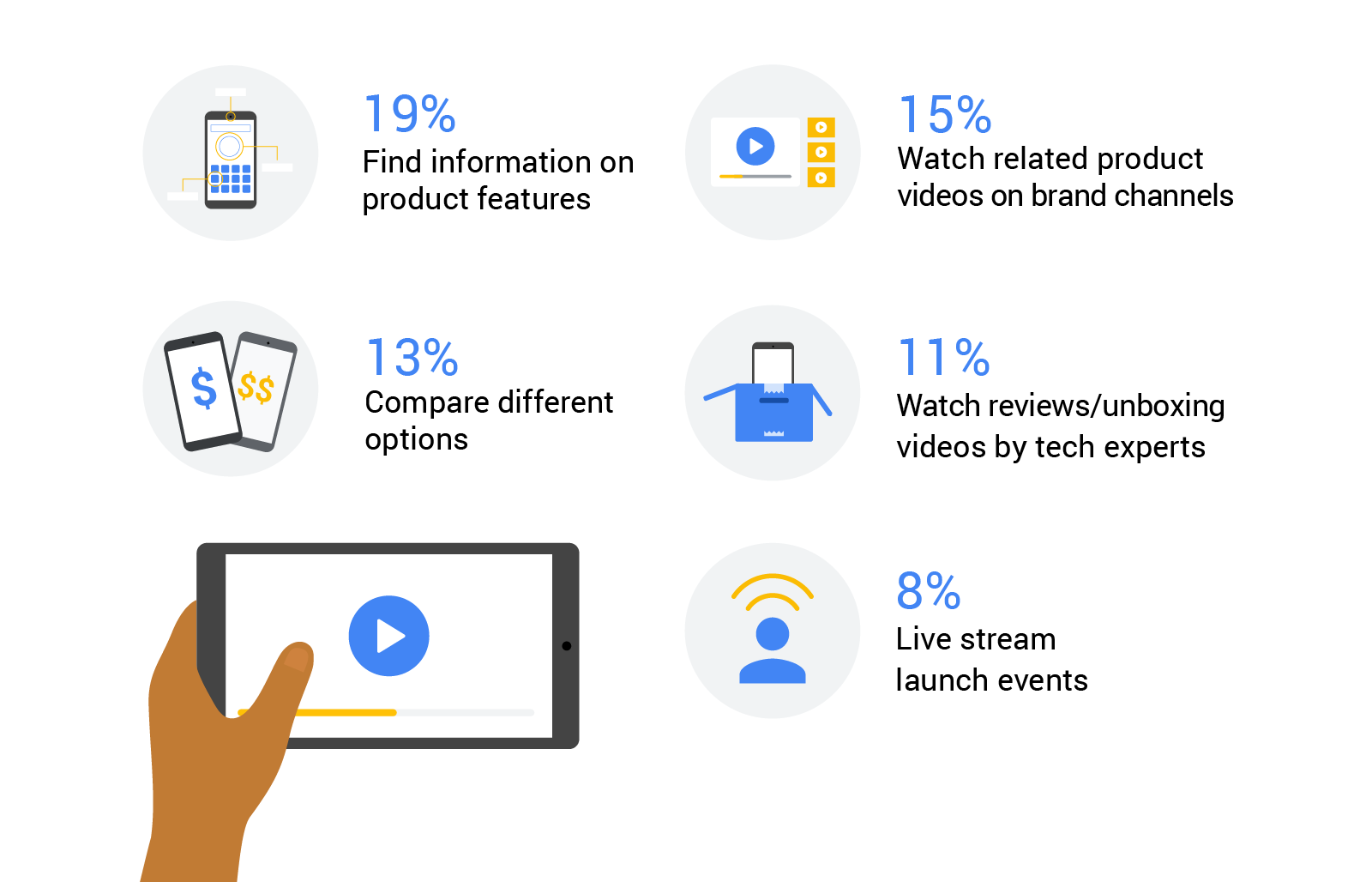 Brand loyalty hinges on reengaging shoppers post-purchase
With an average of 2.5 years between phone purchases,14 in addition to the plethora of device options and channels available for researching the devices, OEMs need to work harder than ever to earn long-term loyalty. Unfortunately, features and price-sensitivities trump brand loyalty in most cases,15 and 87% of Indians looking for a new phone are considering switching brands with an average of two brands in mind at any given point during their research.16
Highlighting post-purchase services like warranties and returns, offering consistent customer support, helping customers troubleshoot issues with their new device, and encouraging feedback and reviews are where brands can lay the groundwork to inspire loyalty down the road — especially considering 58% of all shoppers continued doing more online research after buying the new device.17
Keeping buyers engaged after the sale is key to inspiring your customers' family and friends, too, with 44% of all shoppers either writing a review or recommending their device to someone else.18
How smartphone shoppers take action after the purchase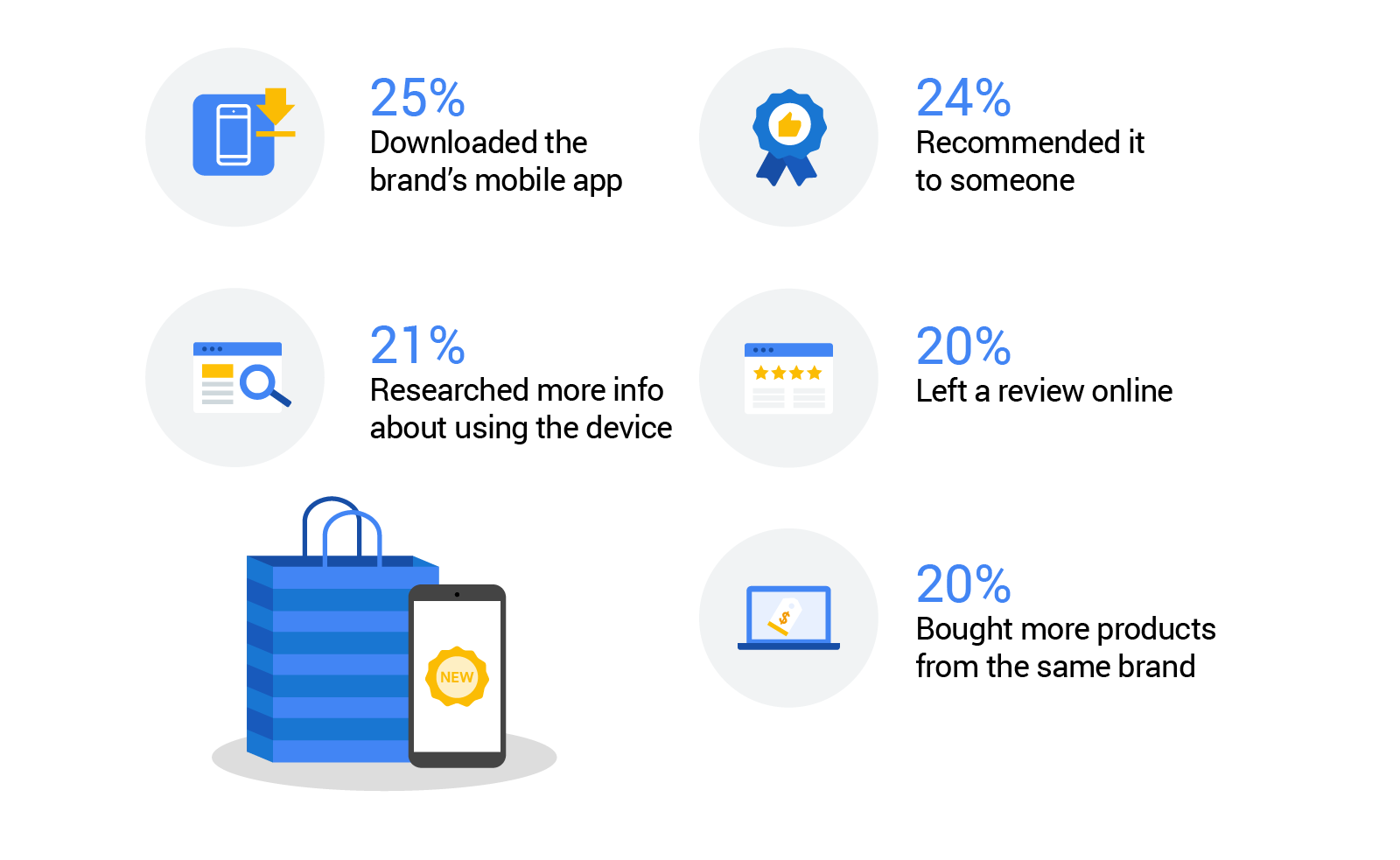 Dial up your strategy to reach and retain mobile users
As more and more Indians go online, the demand for smartphones will only continue to grow. To ensure the continued growth of the internet ecosystem as a whole, new consumers need to join the mobile world, and existing users must upgrade their devices to support the latest app features. With a plan to show up and engage Indian mobile users at every step, brands can set themselves up to compete for a bigger piece of a booming market and everyone — users, unicorns, and more — will benefit along the way.


Methodology
Google partnered with Kantar in India to conduct quantitative and qualitative research to explore the path to purchase for smartphones (where consumers look for information, where they purchase, their brand loyalty, etc.). The quantitative research consisted of structured face-to-face interviews with 3,771 consumers aged 18-45 years old in 32 Tier 1, 2, 3, and 4 Cities (eight metro cities and 24 non-metros) who purchased a new smartphone in the past six months for mainstream smartphone models ($110–$350) and in the past year for premium smartphone models ($350+). The qualitative research involved 20 in-depth interviews in one metro city (Delhi) and one Tier 2 city (Vijayawada) with consumers who purchased a new smartphone offline or online across four price segments. Fieldwork was conducted from April 15 to May 10, 2019.