From the fresh scent of genda phool in the air to the glittering lights adorning homes, people are getting ready for India's festive season, all set to celebrate after two years of staying home and having virtual gatherings. Search interests in the holidays, including "সরস্বতী পুজো" (Saraswati Pujo) and "Diwali kab hai" (when is Diwali), are up 150% and 950%, respectively,1 and people have plans for discretionary spending.
To help brands be ready to meet festive shoppers, we looked at consumer buying behavior in India and uncovered three insights based on shopper trends that brands can use to find customers at scale, get them inspired, and to win them over.
Go digital to reach offline and online shoppers alike
It might sound counterintuitive at first, but the return to offline activities does mean it's critical for brands to have a robust online presence to reach customers. Here's why: online research has become second nature to India's shoppers.
Nine in 10 offline buyers use online touchpoints to gather information before making purchases, and this consumer buying behavior extends to those in India's rural heartland. There, seven in 10 people use online touchpoints in their shopping journeys, even if 85% of their purchases are made in stores.2 Many brands, however, aren't ready to reach people online and offline.
Seven in 10 rural shoppers use online touchpoints in their buying journeys, even if 85% of their purchases are offline.
Research shows that although 93% of India's consumers use both online and offline channels to find information before buying anything, fewer than 40% of firms have sufficiently built out their physical and digital presence.3 To capture the consumer comeback this festive season, it's important that brands digitalize their storefront and inventory ahead of time.
Tools like Google Business Profile enable brands to share important store information such as opening hours and photos of their latest products. Brands can also attract shoppers to their stores using Performance Max, which promotes store locations to people browsing on platforms such as Search, Maps, and YouTube.
When auto brand Hero MotoCorp was looking to ignite demand for its motorcycles and scooters in the last festive season, it turned to Local campaigns, which have since been upgraded to Performance Max. The marketing solution, powered by machine learning, enabled the brand to automatically optimize its campaigns across Google's ad channels and promote key information from its Business Profile, such as its locations, operating hours, and contact information, to drive calls and walk-ins to its dealerships. The effort paid off handsomely, with the brand attracting 126,000 store visits and 67,000 phone calls in that period.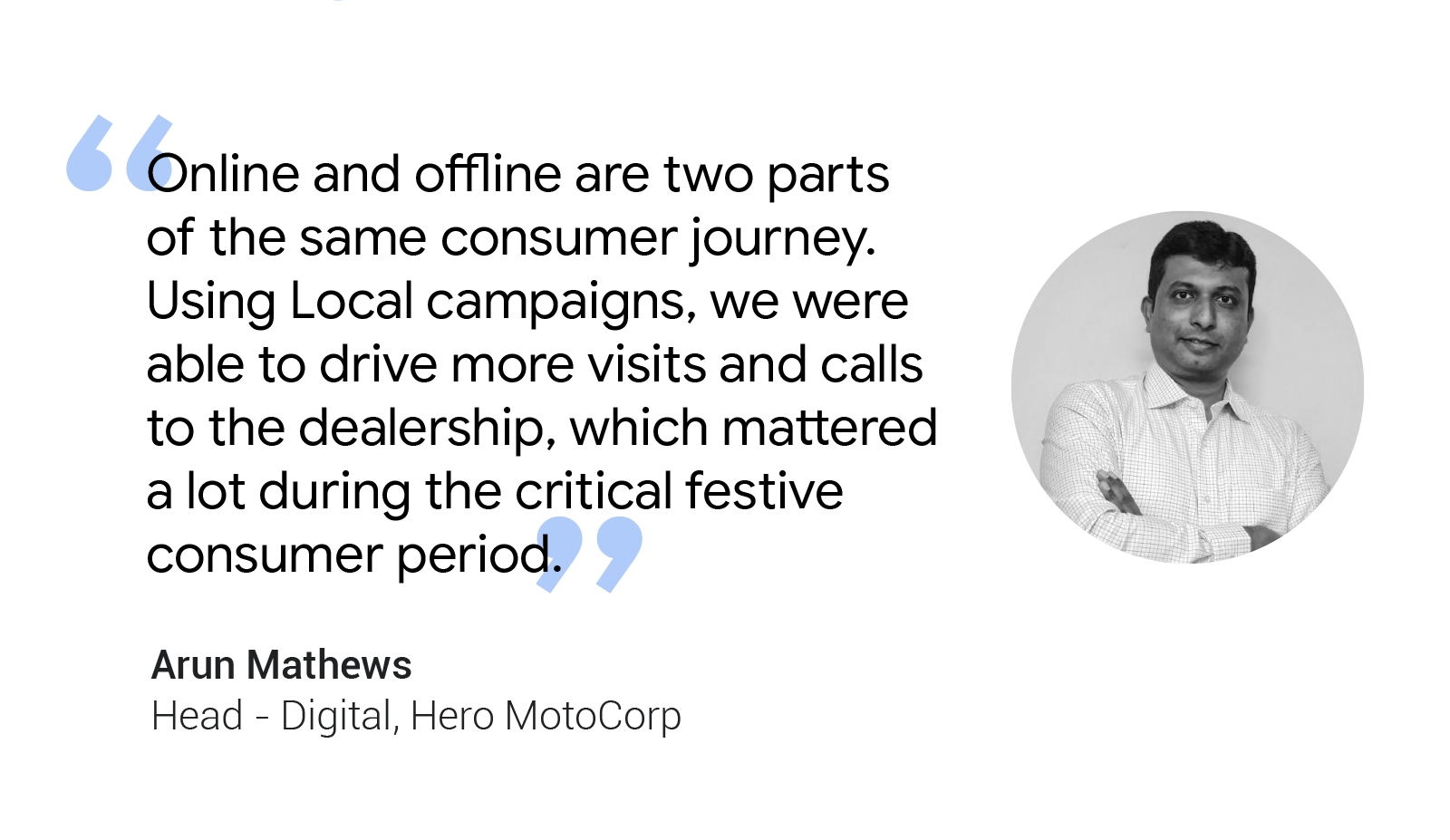 Unlock inspiration to shop with compelling online video content
Another consumer insight that brands should focus on for their festive marketing plan is the finding that 81% of video viewers feel inspired to shop when they're exploring YouTube, even if they weren't originally planning to make purchases.4 Moreover, 94% of viewers agree that YouTube creators give recommendations they can trust.5 With online video content fuelled by trusted creators and popular culture, consumers are finding it to be a source of shopping inspiration.
The overlap between online video's pop culture content and shopping intent can be seen in the searches of the last festive season. For example, in the same period that YouTube search interest in "Korean drama" increased by over 400%,6 search interest in "Korean restaurant near me" and "Korean makeup look" increased by 50% and 70%, respectively.7
A brand that has used YouTube to unlock shopping inspiration among consumers is Oreo. Its festive advertising campaign in Tamil Nadu last year featured 10 local content creators in a YouTube challenge where they raced loved ones to be the first to finish licking the extra cream-filled cookie, Oreo Double Stuf. In the videos, the creators also invited viewers to take part in the challenge as a way of having fun while celebrating the Pongal festivities. The inspiring YouTube content achieved over 10 million views and drove an 8X uplift in brand searches during the campaign period.
Win over new and young netizens with online video
As brands prepare for the festive season, they should also pay close attention to winning over an important group of consumers — new and young netizens, whose purchasing power is significant and set to grow.
The group includes India's Gen Z, who account for over 200 million active internet users.8 These young digital natives are well-acquainted with online shopping, and they contributed to a third of Amazon's sales in 2021. The group also includes new netizens, or new internet users from India's heartland of Tier 2 and Tier 3 cities, where 84% of those surveyed would prefer shopping online for future purchases.9
To win over these new and young digital users, brands should embrace their consumer buying behavior. One of the things these netizens turn to for inspiration and to research products is video, with more than 50% of consumers from Tier 2 and Tier 3 cities relying on Search or video when looking for information and guidance to purchase a product.10
Short videos, in particular, are gaining popularity in India, and YouTube Shorts can help brands quickly establish a rapport with this important shopper demographic. Additionally, brands can promote their short videos with Video action campaigns to optimize reach toward people who are most likely to make a purchase and convert viewer curiosity into action. For brands whose mobile app offers the best shopping experience, implementing deep links to guide people from your video ad to your app, instead of your mobile site, can result in nearly double the conversion rate.11
With the festive mood in the air, there's no better time than now for brands to get ready to capture the attention of new and existing shoppers. By tapping into shopper trends and responding to consumer buying behavior, brands can help people easily find the shopping inspiration and purchases they need to celebrate this festive season and make it a memorable one.