Those who've taken notes from the past two years of market disruptions know this: steady and nimble wins the race. To stay relevant and be prepared for what's next, knowing what people are prioritizing and what drives their interests is key, and for this, no guesswork is necessary.
We analyzed Search data in India across three major industries — retail, technology, and finance, to find out what's top of mind among consumers for these sectors, and discovered two key insights from the Search trends. One, people are looking for instant gratification more than ever, and two, they are increasingly building their identities online.
What do these Search insights mean for your brand? We show you how the latest consumer behavior trends in India can inform your marketing strategies to meet the needs of people and fuel business growth.
People are choosing to act now, not later
As India continues to digitalize at lightning speed, consumers across retail, technology, and finance are searching for ways to act instantly on their needs and wants, including using services that range from instant delivery to buy now, pay later financing options.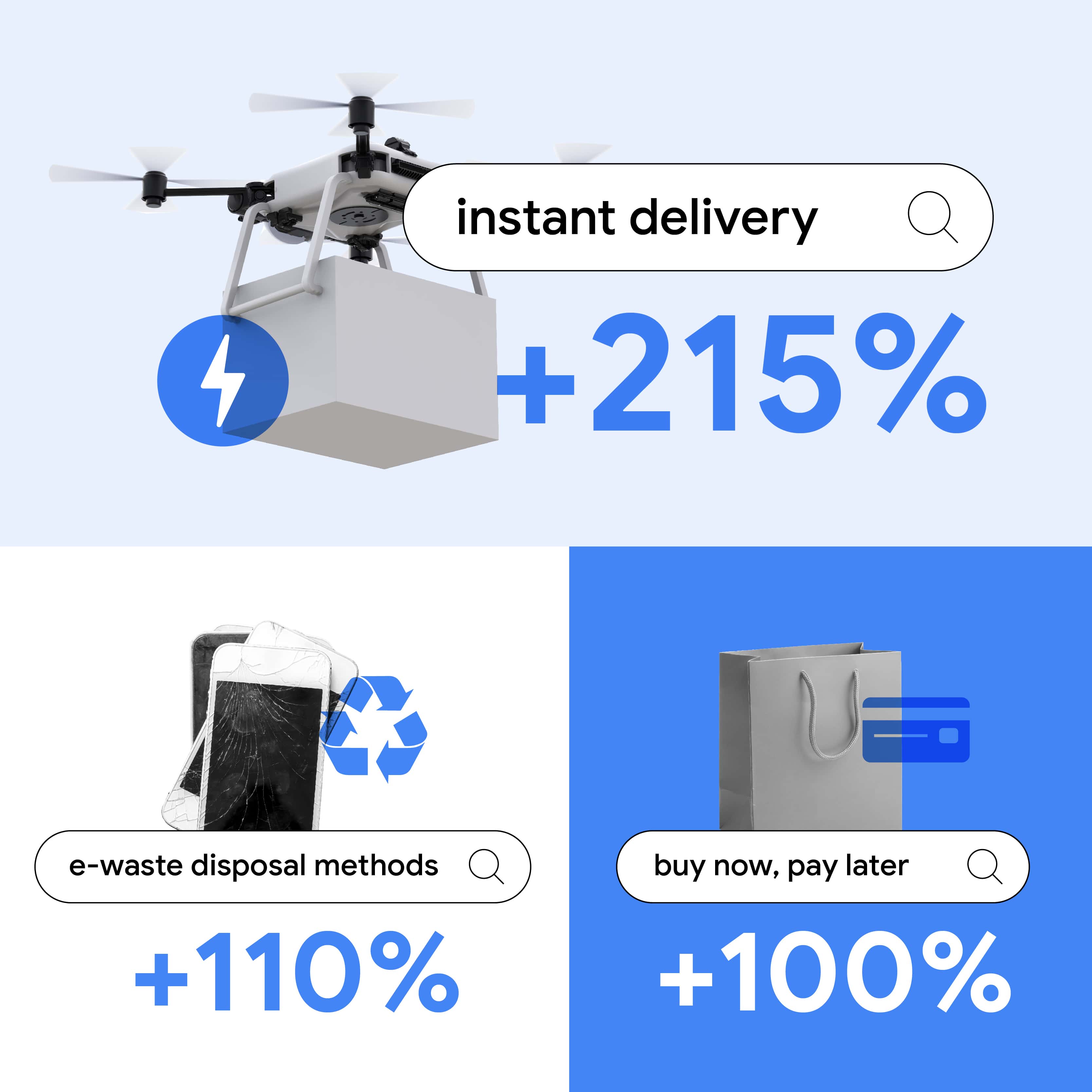 Retail
The convenience of online shopping remains a priority for shoppers who've embraced digital-first lifestyles, but we're also seeing new developments. Alongside continued growth in search interest in "same day delivery" and "free delivery," which have risen by more than 35% and 15%, respectively, over the last two years, there has been a surge in search interest in "instant delivery," which has grown over 215% from 2021 to 2022. Consumers are no longer just looking for convenience now; they want to have products on hand immediately, especially during peak shopping moments such as the festive season.1
Technology
Consumers are conscious of sustainability, and they're moving from awareness to action, following India's net zero carbon emissions pledge in 2021. For example, there's been a shift in search interest in "what is e-waste" to "e-waste disposal methods" quarter over quarter, with search interest in the latter growing over 110%.2
At the same time, people are holding brands and the authorities accountable for sustainability efforts. For instance, search interest in "clean India," which is commonly associated with a country-wide campaign to improve waste management, has risen by over 80%.3
Finance
Rising cost of living has been top of mind for consumers, with search interest in "inflation" and "cost of living" each growing over 20%.4 Moreover, people are acting to ease their financial concerns, including through short-term financing options. Search interest in "buy now, pay later" has risen over 100%,5 and search interest in "pay later" has increased over 50%.6
What this means for your brand
To meet consumers' demand in real-time as they search and act with urgency, automated marketing solutions can help. Broad match, for example, enables your ads to automatically reach people whose searches are related to your keyword, even if their searches don't contain the exact same words. This means you're able to reach relevant customers, and more of them, at a speed and scale that cannot be matched by manually entering hundreds of separate keywords.
Keeping your finger on the pulse of consumer interests in products and services related to your business can also help you respond quickly to changing consumer behavior trends and capture new demand. The Insights page surfaces such insights specific to your brand and identifies opportunities to improve your campaign and grow your business.
People are building their identities in the digital realm
As people in India embrace digital-first lifestyles, they're increasingly establishing their identities — who they are and how they behave — online, through virtual retail experiences, digital gaming personas, and online financial education.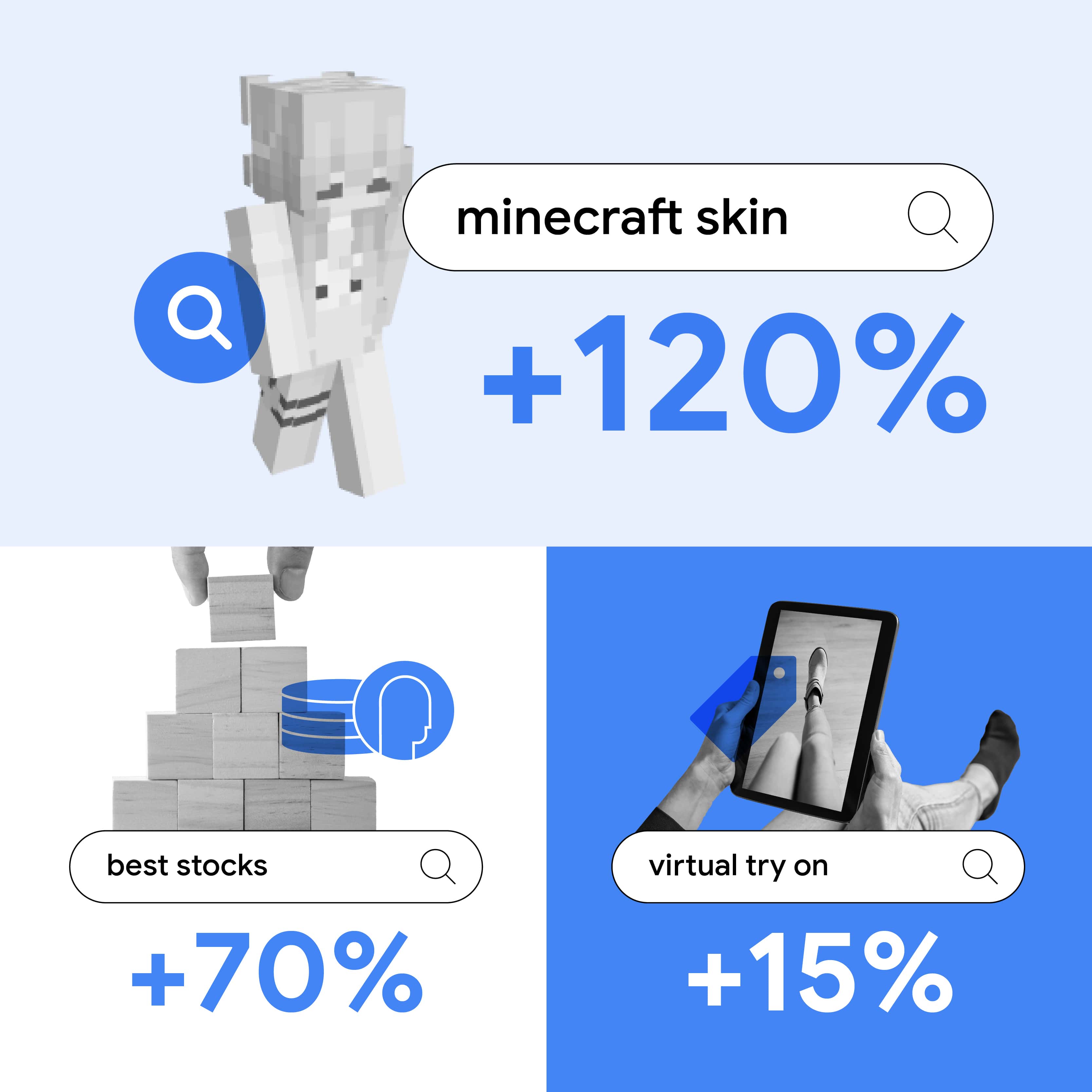 Retail
Shoppers are forming their identities in the digital world through virtual shopping experiences, including those where they create augmented reality avatars to try on various kinds of products, such as clothing and footwear, without hassle. Search interest in "virtual try on" has grown over 15%.7
Technology
In the world of technology and gaming, where online personas are common, players continue to want to create unique identities. For instance, search interest in "minecraft skin" grew over 120% in the past year,8 as players of the popular game look for ways to customize their characters with downloadable outer coverings known as "skins." Consumers are also looking to use 3D simulation technology to express who they are and what they like, with search interest in "simulator 3D" growing over 55%.9
Finance
People in India are becoming avid online learners of finance and investing. Search interest in "best stocks" has grown over 70%, while search interest in "silver ETF" grew 8X from last year.10
What this means for your brand
As people establish their offline and online identities, and move seamlessly between the two realms, brands that want to understand consumers and connect directly with them in meaningful ways should have an omnichannel presence.
An agile omnichannel strategy enables you to integrate your online and offline channels and build a strong, cohesive brand presence so that it's easy and natural for people to turn to your brand at any point in their consumer journey, whether online or offline. To further merge the online and offline realms, immersive technologies like augmented reality, virtual reality, and 3D simulation can help you create engaging experiences that draw people back.
Another way to bridge the online-offline divide is to build customer loyalty through app engagement. Research shows that 93% of APAC app users who use a brand's app frequently are likely to have a greater affinity for the brand as a whole.11
It's anyone's guess as to which direction markets will head in the coming months, but with Search data, automated marketing solutions, and app and omnichannel strategies, you'll be able to anticipate consumer behavior trends in India and respond to customer demand whenever and wherever.
Contributors: Jasmine Li, Product Marketing Manager, APAC Search Ads; Andre Sostar, Analyst, APAC Consumer and Market Insights