APAC's app market is thriving: 64% of global mobile app downloads come from the region. Yet with 3.5 billion apps on Google Play Store alone, it's not surprising that app users are overwhelmed and apps often go unused; one in two apps are uninstalled within 30 days. To get people to download and use their apps, brands in APAC need a robust app marketing strategy, one that will help them ride the region's mobile app market growth, predicted to account for 45% of the global growth between 2020 and 2024.1

The advantage that brands have in APAC is the strong user preference for apps. Our research shows that 69% of app users prefer using apps over other channels like websites, physical stores, or email to engage brands.2
Businesses looking to elevate their app marketing strategy can draw on the best practices we distilled from a recent study that surveyed more than 12,000 app users in APAC. Their usage spans retail, finance, travel, and telco apps. Here, we share what we learned about how APAC app users behave, what they want, and how you can build a winning app marketing strategy.
Build a winning mobile app strategy

Use influential touchpoints to get more people to discover your app
With more than 100,000 new apps released globally each month, all vying for people's attention, brands need to know where and how their apps are being discovered to cut through the noise.
Word of mouth is the top way people find out about new apps,3 but they're also discovering apps via other touchpoints which brands can have greater influence over. Advertising on video sites is the second most influential touchpoint for brands, with 22% reach, followed by brand websites that promote brand-owned apps (11% reach), search engine results (8% reach), and app store searches (6% reach).4 Collectively, these touchpoints deliver 47% of the reach for an average app user.5 To maximize influence on these channels, brands can consider using app marketing solutions such as App campaigns for installs to boost discoverability.
Gaming company Moonton used these influential touchpoints to grow awareness of its game "Mobile Legends: Bang Bang." The game developer picked YouTube to drive discoverability of its gaming app because of the popularity of gaming-related content on video platforms. To maximize reach, it ran an online video event trailer to complement TrueView in-stream and Masthead ads from its existing App campaign on YouTube. It further incentivized downloads by hiding a code in the video, which players could use to unlock a free character in the game.
By using YouTube as an influential touchpoint and combining video ads with App campaigns for installs, Moonton achieved a 27% lift in its conversion rate, compared with when it only served app install ads. It also achieved a 10% increase in its converted player rate, which measures the rate of players who downloaded Moonton's game and made an in-app purchase after seeing a branded YouTube ad.
Make the onboarding experience as smooth as possible
Once a user has downloaded your app, it's important to introduce the app's features clearly and simply. If users do not grasp an app's distinctive features and benefits immediately, they're likely to abandon it. Our study shows that 37% of app users say they don't use an app after install because they'd use a different app instead. In addition, 21% of users will drop an app if the design or user experience is overly complicated.6

3 things brands can do to create a positive app onboarding experience: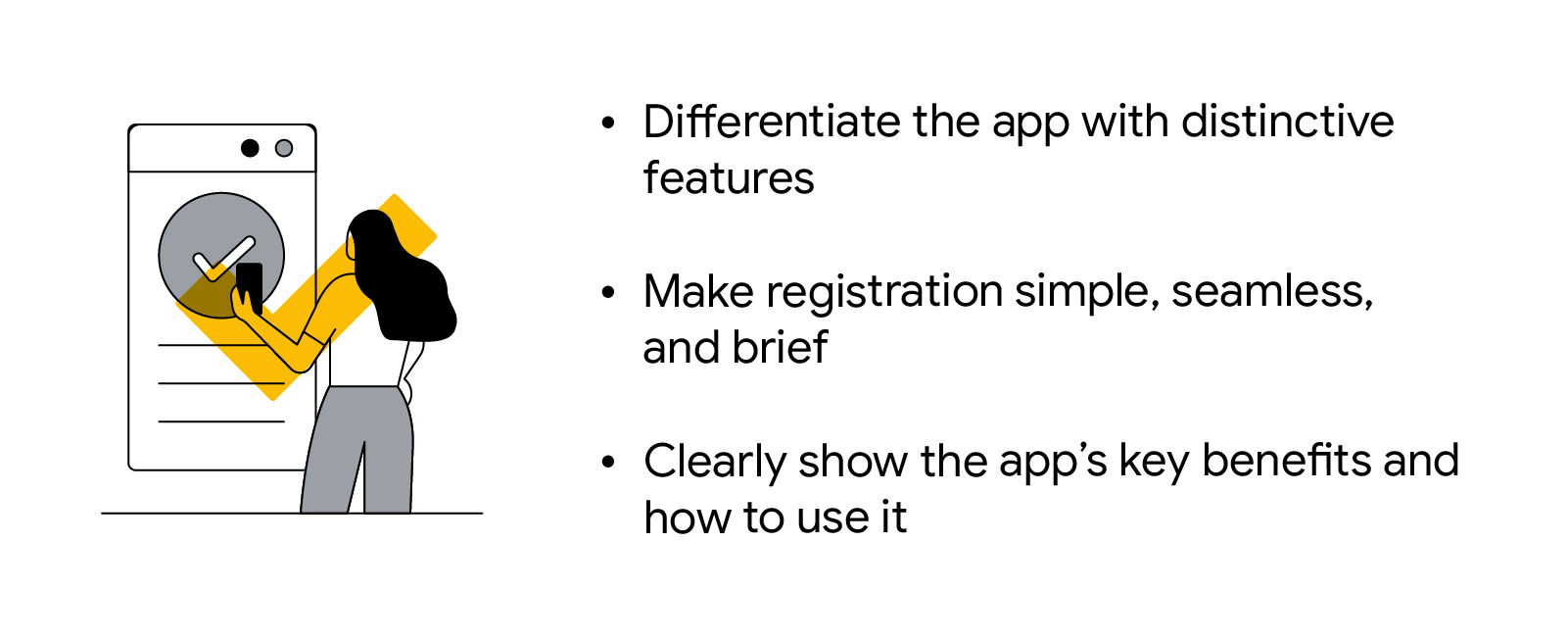 There are three things brands can do to create a positive onboarding experience and increase the likelihood of app usage. One is to differentiate the app with distinctive features that make it helpful, engaging, and rewarding to use. Second, brands should make the registration seamless, simple, and brief, and ensure that it can be completed in-app. Third, brands should clearly present the benefits of their app and how it works, especially when it has lesser-known features. For instance, brands can provide tutorials and previews that use playable ad formats such as HTML5 assets and Google Play instant, which enable users to try an app before installing it.

One brand that delivers a smooth onboarding experience is Sephora. Its app enables customers to test makeup virtually before buying a product, browse personalized product recommendations, and keep track of their loyalty points. These key features are clearly displayed on the registration page, so people can quickly decide if the app will be useful to them. Registration on the app is also easy because users get to choose their preferred sign-up method, including single sign-on access via their social media profiles.
Build user loyalty by improving app engagement and satisfaction
Customer loyalty gained can be quickly lost, so once people start using an app, it's important to keep them satisfied to drive loyalty. Research shows that 93% of APAC users who use a brand's app frequently are likely to have a greater affinity for the brand as a whole and not just its app.7
But why do users delete an app, and what keeps them coming back? App deletion is common when users find that an app has bugs, keeps crashing, isn't frequently used, or is too difficult to use.8 Brands can reduce the likelihood of a user deleting an app by adopting key user experience principles. These include making an action such as registration easy to complete in five clicks, offering visual feedback to confirm user action, providing a visible and efficient search function, clearly presenting the call to action, and regularly updating app features.
Brands can also level up their mobile app engagement strategy via gamification, entertainment content, and augmented reality. To keep its users returning, Sephora regularly runs in-app games and quizzes to engage them.
Brands can also improve app user satisfaction by being responsive to customers' needs. For example, India's first payment bank, Airtel, launched a new app security feature, Safe Pay, to protect users from online payment fraud. With Safe Pay, customers receive alerts to confirm transactions before making payments, giving them peace of mind every time they use the app.
Airtel also ran App campaigns for engagement to drive engagement on its app. This helped the brand reengage lapsed users, remarket products and services, and attract new users with promotions. The result was a 2.5X increase in return on ad spend compared with other channels.
A robust app marketing strategy, built on user insights, and centered on app discoverability, smooth onboarding, and ongoing app engagement can help brands across all sectors connect with app users and maximize investment. As you continually refine your app marketing strategy, guided by these best practices, your brand will be able to build user loyalty and ride APAC's booming app market.