Today's retail landscape is increasingly complex. Retailers face operational challenges caused by border restrictions, greater online competition between small and large companies, rising service standards, and increasing consumer demands that, at first sight, may even seem conflicting.
With conversations turning to recovery, but with little chance of a return to the way things were, retailers must rethink their strategies for long-term growth.
It takes a dynamic, integrated strategy to always be there for your customers in a way that drives sustained business growth.
Customers now have endless choices when it comes to whom they buy from and how they buy. For brands, the seismic shift in consumer behavior has led to serious introspection into how to show up for their consumers in more helpful, more relevant, and more meaningful ways. Some brands have done this by focusing on digital transformation, which is important to increasing business value. However, research shows that only 30% of such efforts have met or exceeded their target value and resulted in sustainable change.
It takes a dynamic, integrated strategy to always be there for your customers in a way that drives sustained business growth. To build a strong omnichannel strategy that will optimize your retail business, it's important that this strategy is adopted throughout the business (not just marketing), and for the right resources to be committed against these efforts.
Here, we've provided tips on ways to think strategically about omnichannel retail transformation and offered practical steps for immediate action in our downloadable guide below.
Rethink online and offline boundaries
Today, an omnichannel presence that drives sustained business growth needs to transcend online and offline boundaries with a consolidated retail approach that meets people's needs wherever they are in their shopping journey.
With the amount of interconnectivity we enjoy now, the idea of distinguishing between "lines'' feels more like a relic of the past.
Traditionally, having an omnichannel presence meant offline retailers expanding to establish an online presence as well and finding ways to connect the two. However, given the opportunities for more seamless connectivity between online and offline experiences today, and how it is supported by advancements in marketing technology, channels and formats, distinguishing between "lines'' feels more like a relic of the past.
Examples of these lines blurring include online-first businesses like Decathlon, which are moving to establish brick-and-mortar stores, and brands such as Zara, which are embracing digital technologies in-store. Other businesses, like Chanel's Boutique of Tomorrow, are pushing the boundaries of seamless experiences with innovative services at various consumer touchpoints.
Rethink the role of transformation beyond marketing
It's tempting to think that the marketing department should manage anything that ends in consumer interaction. However, this siloed thinking can hamper the efficacy of an omnichannel retail strategy and slow business transformation and results.
For the strategy to make a real impact on your bottom line, transparent, cross-functional, and cross-channel collaboration between internal teams is key. Breaking down silos in the areas of strategy, communication and measurement will help you to unlock growth in both the short and long term.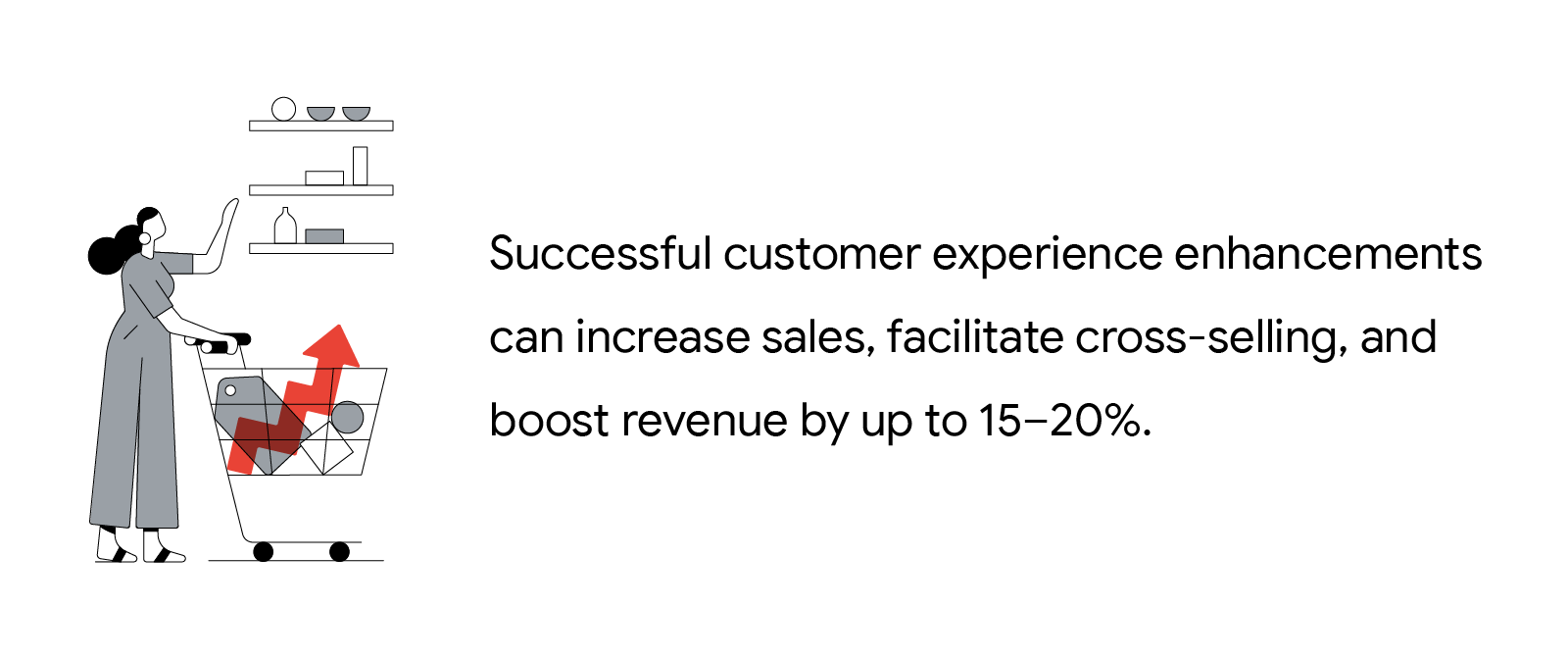 While each department will always have its own unique value, it's important that different teams don't pursue single-minded goals at the expense of overall business objectives. For example, evaluating online versus offline sales independently could cause internal competition that distracts teams from wider business objectives. Instead, unified sales targets and sharing information between teams ensures everyone's focus is on enhancing the full customer experience – creating more opportunities for cross-selling and driving sustained business results overall.
Rethink the process of transformation
Business transformation can seem daunting when we think of it as a major, sequential overhaul that disrupts business-as-usual. This thinking can cause brands to either hold off on doing the necessary or approach business transformation as a once-off, linear effort. But both these approaches prevent brands from optimizing growth.
Transformation is a value-generating cycle that unlocks quick wins in the short term and builds towards sustained growth in the long term.
By approaching business transformation with a mindset of achieving iterative, incremental growth, however, it makes it easier to unlock quick wins in the short term and drive sustained business growth in the long term.
Following the pattern of today's retail journeys, transformation is not a linear process. While it's true that commitment and resources are needed, transformation can be carried out in a modular way.
Your retail business will have an omnichannel ecosystem that is unique to you, so you can start by identifying the elements in your ecosystem that are your biggest priorities for growth and change. Transform these areas first to unlock quick wins in the short term. Repeat the process with other sections in the ecosystem and continue to improve upon earlier efforts.
If we break it down, we can see it simply for what it is: transformation is a value-generating cycle. With more readiness and resilience in place, profitability can grow and support your business as it moves towards omnichannel maturity.
Getting started
A resilient omnichannel ecosystem is capable of weathering challenges and adapting to rapid shifts in behavior or the environment. It connects you to more customers and gives you the chance to be there for the most valuable shopping journeys.
No matter where you are on your journey to omnichannel maturity, understanding how to harness the right tools, technology, and talent is integral to business evolution. And it starts with introspection. Here are some thought starters:
The good news is that, even though transformation doesn't happen overnight, every bit of work you do towards transformation leads to more positive change.
With the right resources and regular nurturing, you can develop a successful, sustainable ecosystem that can survive, thrive, and reward you many times over in the seasons to come.
To help you find what's most useful to you, we've broken down our omnichannel marketing guide into four key pillars. Dig deeper into these pillars for expertise, resources and tools that will help you establish, tend to, and get the most from your omnichannel ecosystem.