In India, as with many other places around the world, shoppers move seamlessly between the online and offline realms. They go from researching items online to buying them in-store without missing a beat, and they expect retailers to provide a seamless online-to-offline customer experience. According to creative consultancy Wunderman Thompson's 2021 Future Shopper Report, 59% of consumers wished brands would communicate with them seamlessly across all channels. Many brands, however, find it challenging to meet people's needs on all channels throughout their customer journey and provide an omnichannel experience.

A key challenge for some large brands is implementing change across a complex network of independent, brand-owned, and trader-operated stores. These brands have to replace legacy systems, align people and processes, and set aside a budget for these aspects. Adding to the challenge is the responsibility of getting dealerships and store owners who may be less tech-savvy, or who lack the resources, to digitize their businesses.
However, omnichannel success stories from large brands like Samsung, Bajaj Finance, and Hero MotoCorp show that it's possible for brands with the most complex network of stores to roll out an omnichannel strategy at scale. Here, we explore how these three brands delivered top-notch customer experiences that reaped business results, and unpack what other brands can learn and do.
Help your store network go digital
For companies with an extensive network of stores, it's important to get as many stores online in your digital push as it helps people have a consistent experience of your brand across various channels. But getting every store to make an effort to digitize can be difficult.
To digitize stores at scale, large brands can make the first move by investing and guiding their stores along the journey. Doing so builds trust between brands and their stores and fosters greater cooperation in implementing an omnichannel strategy.
Get as many stores online as possible so people have a consistent experience of your brand across various channels.
Samsung is one company that hasn't shied away from taking the lead to help its brand stores in India go digital. Instead of putting the onus of digitizing on individual stores, Samsung made the initial investment to help its stores across India establish a digital presence. By taking the lead, Samsung built up trust within its network and was able to scale its omnichannel strategy effectively.
To establish its network of stores on Google My Business (GMB), Samsung collected information from more than 1,300 brand stores and helped them create digital business profiles. Next, Samsung engaged a GMB partner to manage the listings at scale using the GMB API. The result: Consumers in India enjoy a consistent online experience of Samsung with accurate search results, standardized store listings, and up-to-date store information.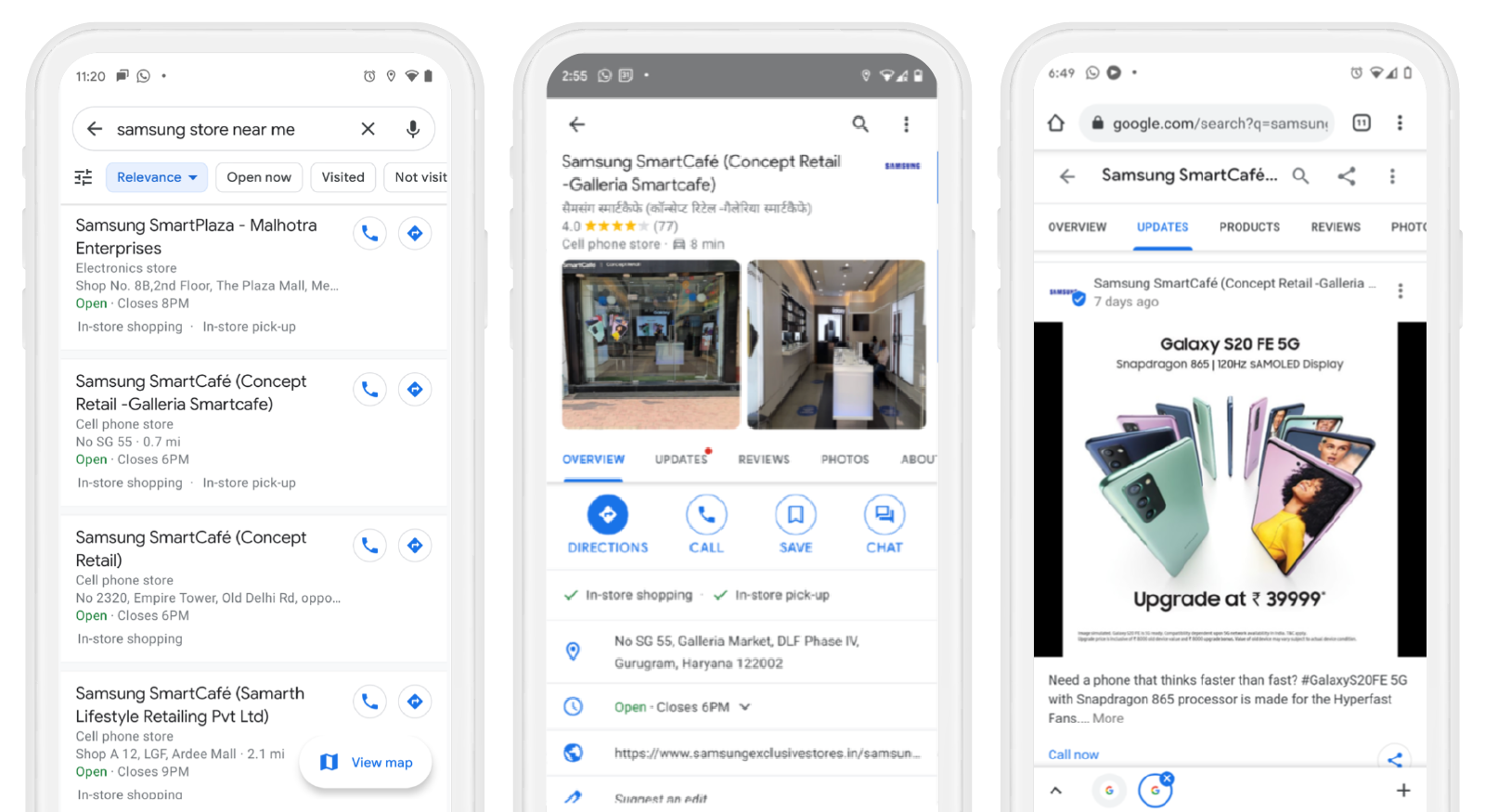 Samsung's investment in building an omnichannel experience also paid off in business results. Its improved digital experience yielded 2.5X growth in view-to-action rate for store listings and a 74X return on ad spend in local campaigns.
Rahul Singh, business head of exclusive channel at Samsung India says, "Google My Business is critical for any business. It helped us create a digital storefront for our stores and provides an invaluable outreach tool for communicating with high-intent customers. Optimizing our GMB listings and leveraging GMB features like posts, product catalog, attributes, and reviews have not only helped us drive higher engagement in our store listings, but also delivered stronger ROI for our search campaigns."
Use hyper-local marketing to reach people online and offline
Once you have a unified digital infrastructure, improved digital hygiene, and systems in place to measure the performance of campaigns, you can focus on drawing customers to your stores using hyper-local marketing.
If people are near your stores while searching for information online, locally targeted and relevant campaigns shorten their buying journey and guide them into your stores. These campaigns utilize first-party data, geo-targeting, and machine learning to help brands deliver information that is relevant to customers at that moment.
With hyper-local marketing, brands can reach customers nearby and help shorten their buying journey.
In the case of Bajaj Finance, adopting a hyper-local omnichannel marketing approach for its Easy Monthly Instalments (EMI) finance vertical enabled the financial services brand to reach customers during the festive season and support them in their purchase journeys.
Bajaj Finance used first-party data to serve online ads to its customer base and encouraged its users to consider Bajaj EMI for their next big-ticket purchase. Bajaj Finance also used affiliate local extensions to point customers to nearby partner stores offering Bajaj EMI and the ads included clear calls to action such as driving directions and store contact numbers.
Another benefit of the Local campaign, which surfaced customized Bajaj Finance ads across Google platforms such as Google Display Network and YouTube, is that it is powered by machine learning. The technology continually assessed each platform's ability to drive store visits and automatically adjusted the campaign to optimize ad placement results.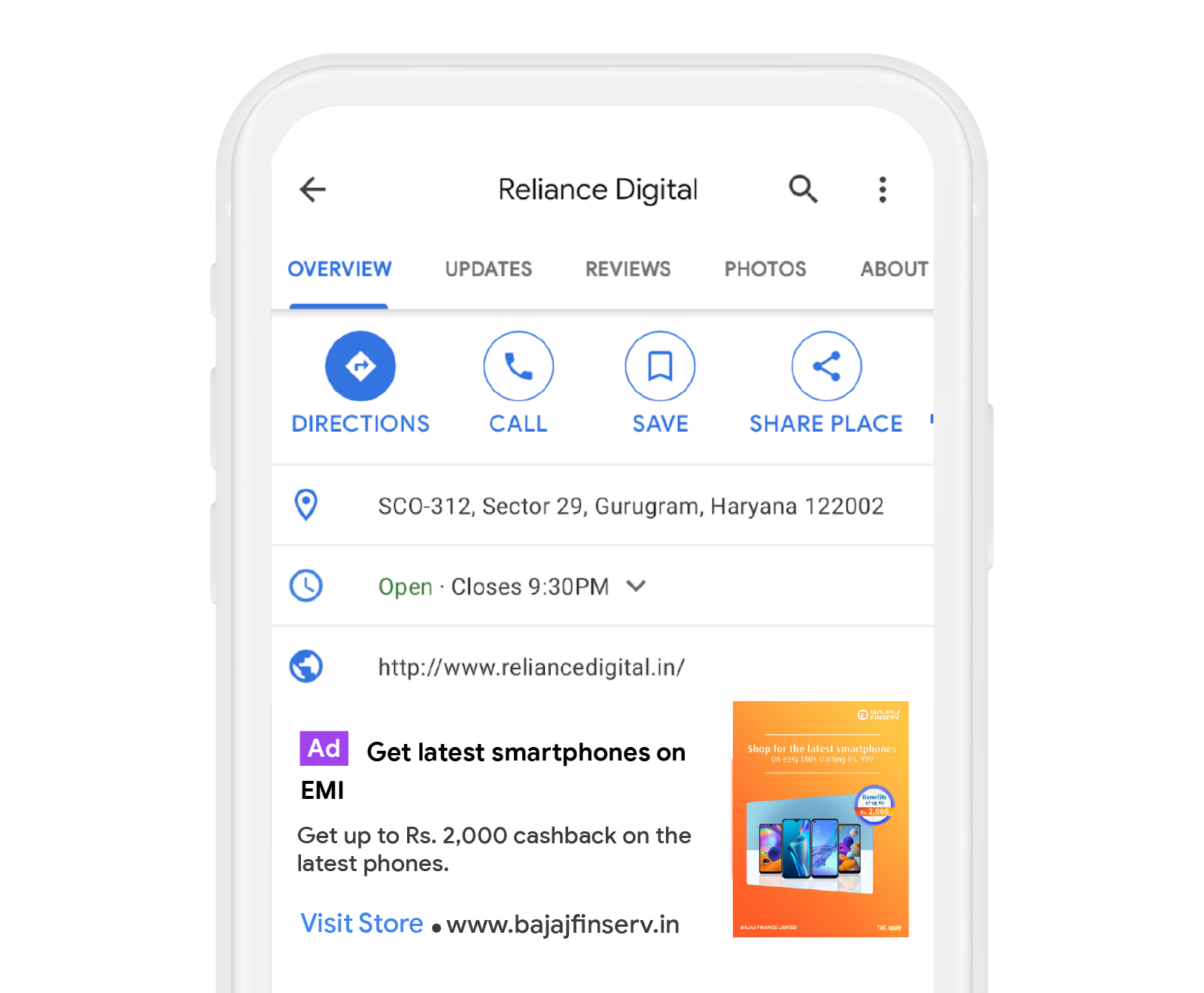 To measure the effectiveness of its hyper-local omnichannel marketing approach, Bajaj Finance set up a control group that did not see the local ads, against the test group that did. The Local campaign test group surpassed the control group, with 14% higher loan disbursals and more store visits, calls, and direction requests to partner stores, thereby validating the brand's hyper-local, omnichannel strategy.
Manav Mianwal, senior executive vice president of marketing at Bajaj Finserv says, "Online and offline are two parts of the same customer journey. An integrated approach provides our customers with a frictionless experience. Local campaigns enable us to influence brand consideration in the digital moment of truth, just before consumers visit the store. The initial results gave us the confidence to leverage this capability at scale."
Use digital channels to provide great customer service
Brands that adopt digital channels as part of their omnichannel strategies are able to offer a personal customer experience. Hero MotoCorp, the world's largest two-wheel manufacturer, pivoted to omnichannel marketing even as its business slowed during India's COVID-19 lockdowns. It noticed potential demand for its motorcycles and scooters, and wanted to engage customers who couldn't visit its dealerships through digital channels.
It set up a chat feature on its GMB listings, which allowed people to directly message any of its more than 700 dealerships with sales and service inquiries. People could also call the dealerships for real-time information about local offerings. By decentralizing communication to local dealerships, it was able to speed up turnaround time on calls and messages. An additional benefit of this arrangement was that customers could converse with staff in their local dialect.
To ensure customers received a personal experience, staff at the dealerships received prior customer service training, conducted via video conferencing. The sales teams also learned how to manage 1-to-1 chats online via the GMB app.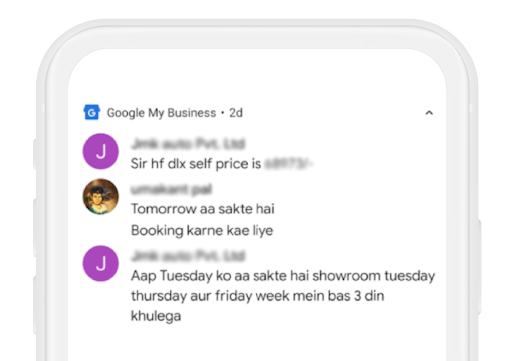 Hero MotoCorp's shift to an omnichannel marketing approach enabled it to not only provide personal service without in-person interaction, but also achieved impressive results. During lockdown in 2020, its network of dealerships received 2.2 million impressions on their GMB posts and exchanged messages with 5,900 unique users. It also attracted 21,000 visits from potential customers to its dealerships in June 2020 alone.
Ranjivjit Singh, head of marketing at Hero MotoCorp says, "As a brand, our key focus is to be present for our consumers at all times. During COVID-19, we wanted to ensure two-way communication while people were searching for us. Google solutions including Google My Business messaging and Local campaigns helped us stay in touch with our customers through messages and calls."
With people in India expecting an omnichannel experience from brands, there's never been a better time for brands to roll out these strategies. Start by establishing an online presence for physical stores and put in place a digital infrastructure to stay connected with consumers online. You can then expand your customer reach with hyper-local omnichannel marketing, and add online communication channels that offer a personal touch. Brands that have taken steps to create an omnichannel experience for consumers by bridging the online-offline gap have seen their efforts pay off with stronger customer engagement and better business results. You can be one of them.