Whether they're treating themselves to impulse buys or carefully planning for a year-end splurge, APAC shoppers are spending more than ever. Retail sales are expected to hit $10T in 2019,1 and thanks to the rising popularity of e-commerce festivals like Singles' Day (11.11), both online and omnichannel retailers have the opportunity to win new customers.
Because people start shopping as early as September, the key for marketers is getting a head start. To help you connect with consumers across the region, we've put together the 2019 APAC Shopping Season Playbook. Check out our top three takeaways and download the full playbook below for even more keys to making the most of the shopping season.
1. Consolidate your data to better understand shoppers
Although shoppers still turn to their friends for reviews and recommendations, many go online to find even more inspiration and guidance. According to our 2019 Global Retail Survey, 1 in 2 APAC shoppers discover new brands and products through Search,2 and more than 50% of consumers use YouTube to find out more about specific brands, products, or categories.3 Because shoppers bounce between search and video as they decide what to buy, it's important to understand how they interact with your brand across platforms.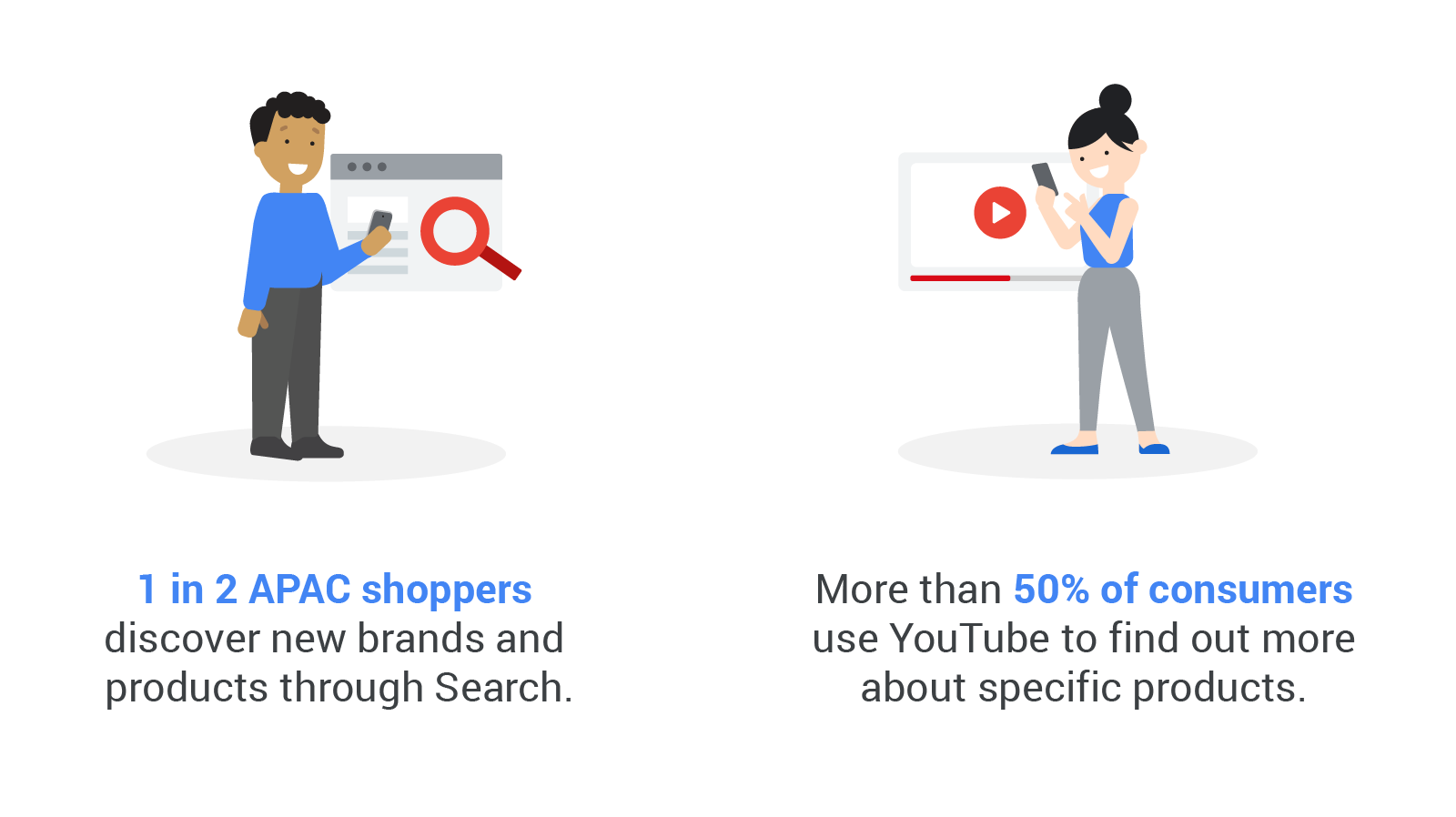 2. Engage more shoppers with timely promotions
It can be challenging to connect with new customers because there are so many retailers vying for their attention. Considering 1 in 5 online shoppers in APAC discover new brands through store displays and promotions,4 you can grow your audience by offering timely sales throughout the shopping season. Serving promotions up to a month before key shopping dates helps you capture seasonal shoppers and value-driven consumers.
You can grow your audience by offering timely sales throughout the shopping season
In India, for instance, shopping searches peak about two to three weeks before Diwali while searches for sales in the Philippines start to pick up three weeks before Black Friday. And don't forget about international customers. More and more shoppers are turning to international retailers in search of the perfect purchase.5 Engage a wider range of shoppers by keeping a close eye on global and seasonal search trends to keep your messaging relevant across different markets.
3. Connect with consumers online to inspire offline action
By the end of 2019, digital is expected to account for 17% more of APAC's total retail sales (excluding China) than it did in 2017.6 Consumers across the region now browse and shop online an average of three to five times a week,7 but that doesn't mean brick-and-mortar is dead. "Near me" searches have grown 4.5X since 2016 across APAC's top five English-speaking countries, which shows us many shoppers rely on search to find physical stores.

Even when people end up making in-store purchases, they often go online to compare brands and prices — right up to the moment of the final sale. Seventy-nine percent of APAC's mobile-first shoppers look for information online as they shop in physical stores. That means brands that don't have online stores still have a lot to gain by engaging shoppers on digital. Help people take action by making it easy for them to find your brick-and-mortar locations, and develop made-for-mobile experiences to meet their needs.
Winning the shopping season comes down to being prepared. Dive into our 2019 APAC Shopping Season Playbook for even more insights and takeaways to help you stand out in the region's competitive retail space: