First-party data can help brands deliver experiences and create messaging that demonstrates understanding and empathy toward the challenges faced by consumers. But what more can be done to ensure consumer data is handled responsibly and meets their heightened expectations for data protection and privacy? Here, Matt Brocklehurst dives into the latest research on digital marketing maturity in APAC, including how marketers can set up a new framework for success.
First-party data has become one of the most powerful assets a marketer can have. It paints a clearer picture of consumer behavior, segments, and trends; it fuels tailored, timely messages; and it's crucial to help measure increasingly fragmented consumer journeys with more accuracy.
The savviest marketers link all their relevant data sources, online or offline, to define their key audiences. However, changing regulations and policies have impacted the way APAC brands can effectively use their first-party data in a responsible, privacy-led way. Consumers are also becoming more aware of how their data is being collected and used to drive relevance. According to Salesforce's 2019 State of the Connected Consumer report, 65% of consumers in APAC believe that most companies aren't transparent about how they use their data, and 45% don't believe that companies care about the security of their data.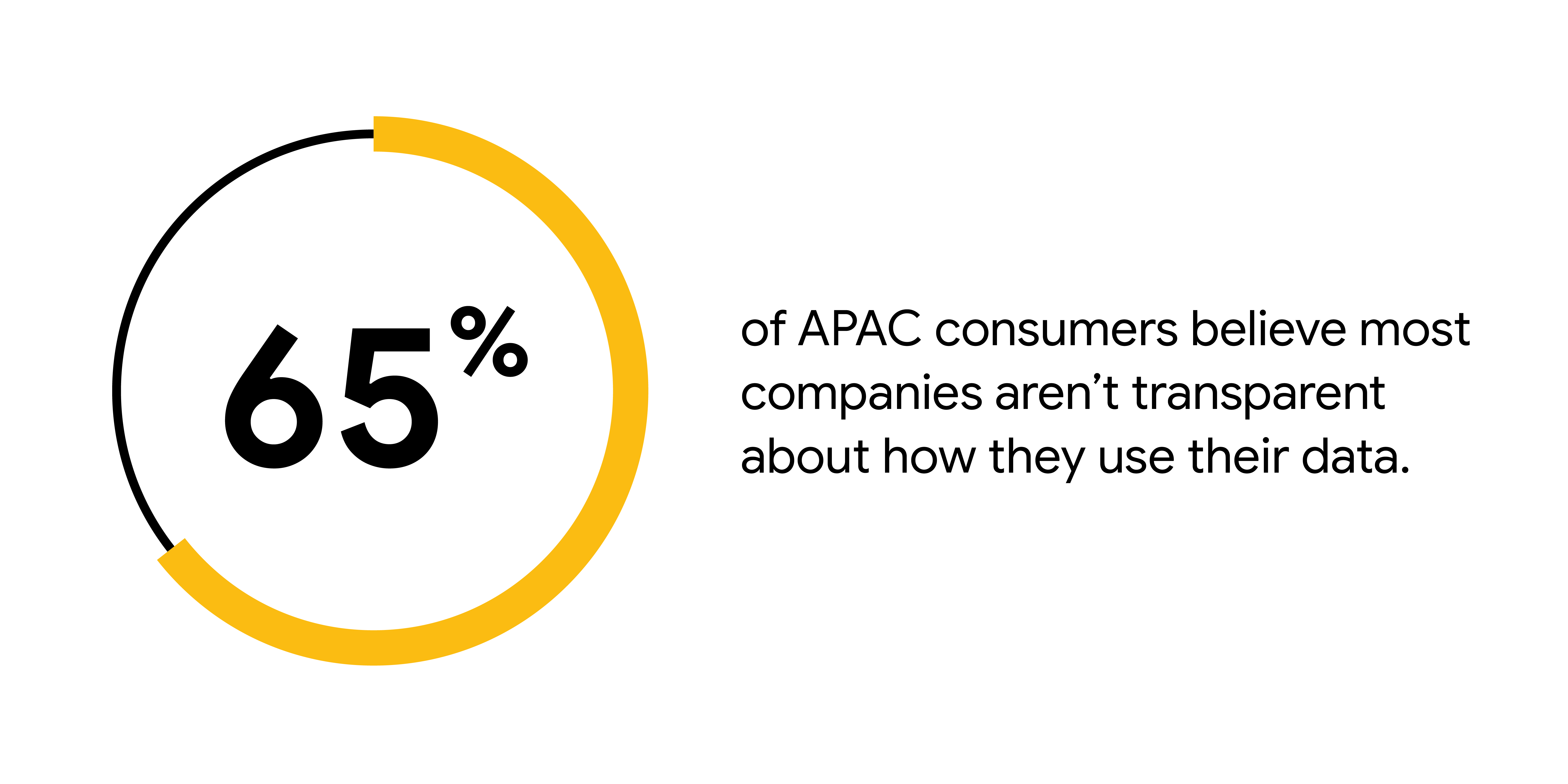 As data becomes more critical to delivering effective digital marketing, marketers need to reflect, refocus, and reorganize their first-party data while ensuring consumers understand and feel the benefits of sharing it.
To build on our latest study with Boston Consulting Group (BCG), "Understanding the Path to Digital Marketing Maturity," we dove into how APAC advertisers are responsibly using their data and what impact it has on their effectiveness and overall success. We surveyed 160 brands across APAC and spoke with more than 30 digital leaders from both brands and agencies to find out how companies can address data privacy concerns, overcome challenges, empower their teams, and map a road to success.
New obstacles and opportunities with first-party data
Most of APAC brand leaders (87%) understand that first-party data is important, but they also recognize they're not making the most of it. More than half of the brands (56%) said they are "below average," "average," or "average at best" at using their first-party data. Only 5% of brands believe they are using data to create more relevant experiences for their customers. With the amount of consumer touchpoints and advanced marketing technology available, APAC brands clearly recognize that there's still untapped value in first-party data.
Only 5% of brands believe they are using data to create more relevant experiences for their customers.
A few key factors are preventing APAC brand leaders from making more of an impact with their data. Across the region, the top barriers are tech-related — not too surprising, considering the number of online and offline data sources and the myriad systems and processes today's marketers have to work with.
Collecting, analyzing, and activating data sources from various platforms is a mammoth challenge, particularly for older companies or companies with legacy systems and multiple databases that complicate the transition or integration with new technology. Up to 62% of brands cited the inability to link technologies (data silos) as the top barrier, while 46% of brands said they're inhibited by a general lack of understanding of data and how it can be used.
Top barriers to unlocking first-party data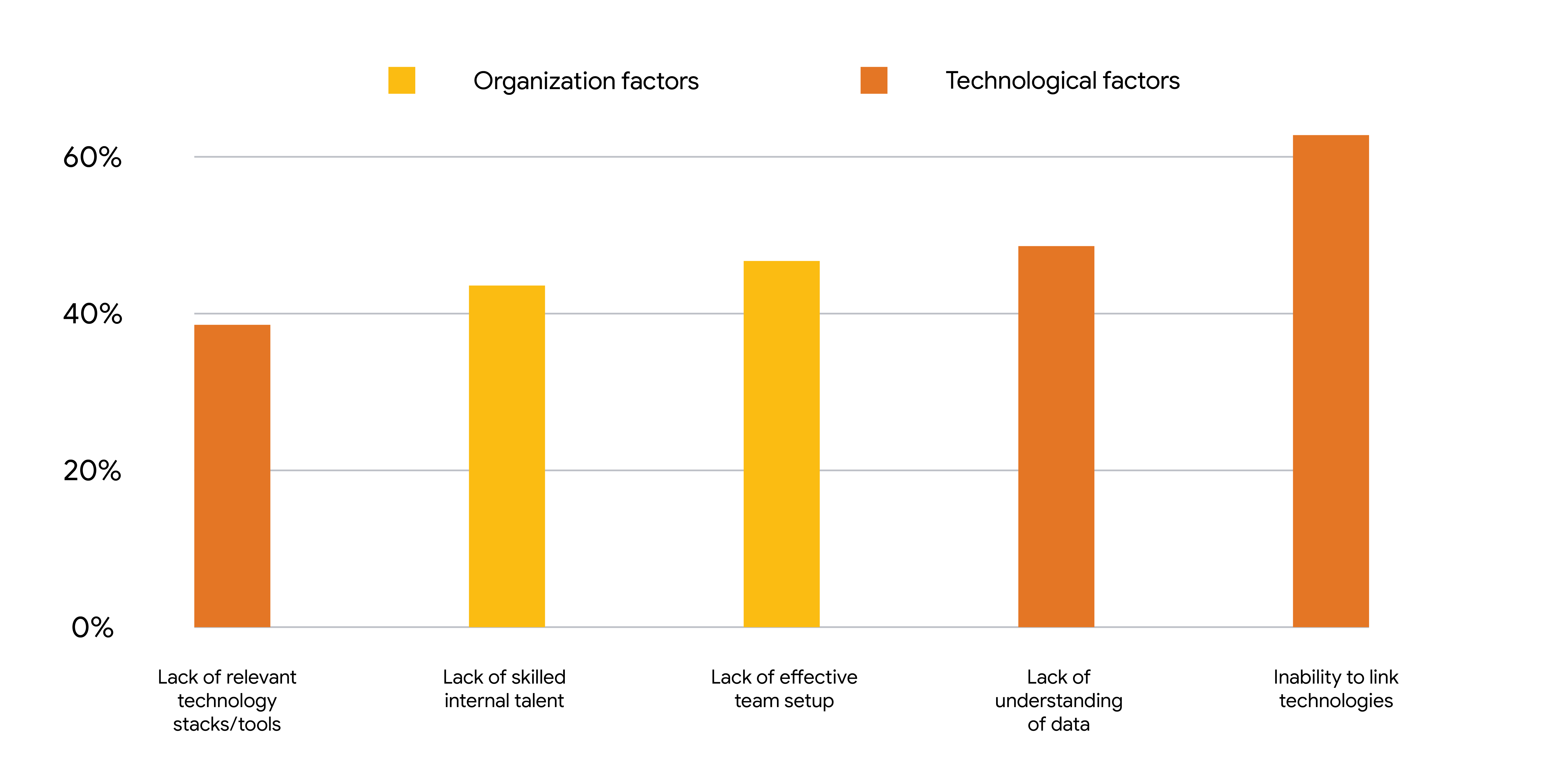 Linking data is particularly challenging for some industries. Take fast-moving consumer goods, for example. Not only do these companies need to unify databases from a wide network of retailers, but they also have very few direct customer touchpoints. One way they can bring their data together is by starting with a review of all existing customer data to ensure it's being acquired with the right permissions.
Breaking down silos, adopting new technology, and keeping up with the latest regulations is an ongoing journey, but the benefits are proven. Cloud solutions are a valuable resource; they're used by every brand at the multi-moment stage and 62% of brands at the connected level. We have also found brands that used their first-party data in four specific cases — lifecycle marketing, personalization engine, cross-channel lead management, and audience identification — achieved higher impact than those that don't.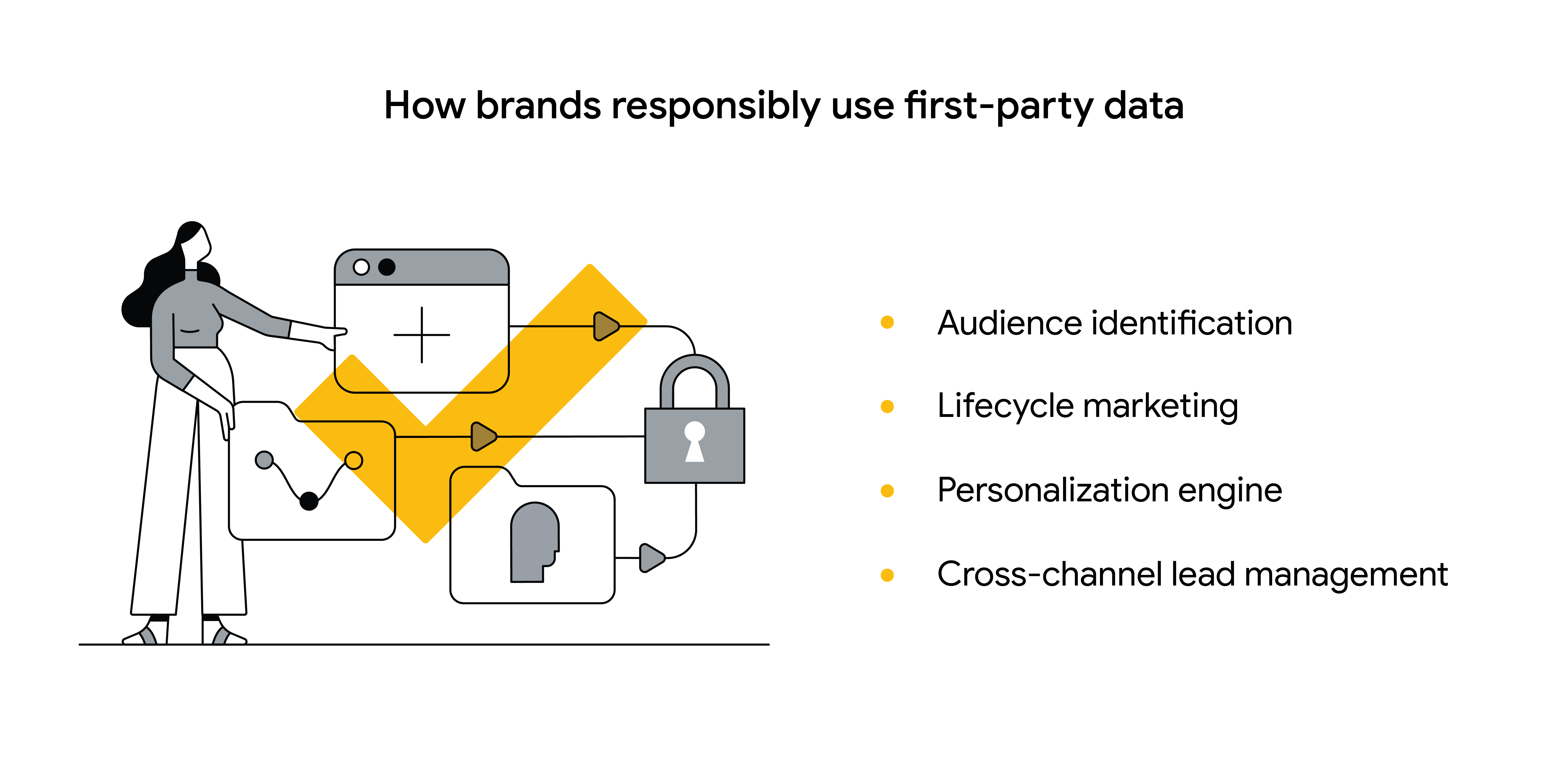 To be exact, brands that deployed at least one of these four use cases in their first-party data strategy achieved 1.5X higher revenue lift than brands that didn't deploy any of them, and brands that deployed all four saw 2.9X higher revenue lift compared to brands that didn't deploy any.
Six steps to succeed with first-party data
Our 2018 digital maturity research with BCG mapped out a plan to help brands progress on their journey to digital marketing maturity. This year, given the rising importance of first-party data and privacy-focused measures, BCG identified six additional factors, both organizational and technical, that brands should consider to better serve their consumers in a responsible way.
Explore each step using the dropdown menu below, and keep in mind that at any given point, each company will be more focused on different enablers, depending on their current level of maturity.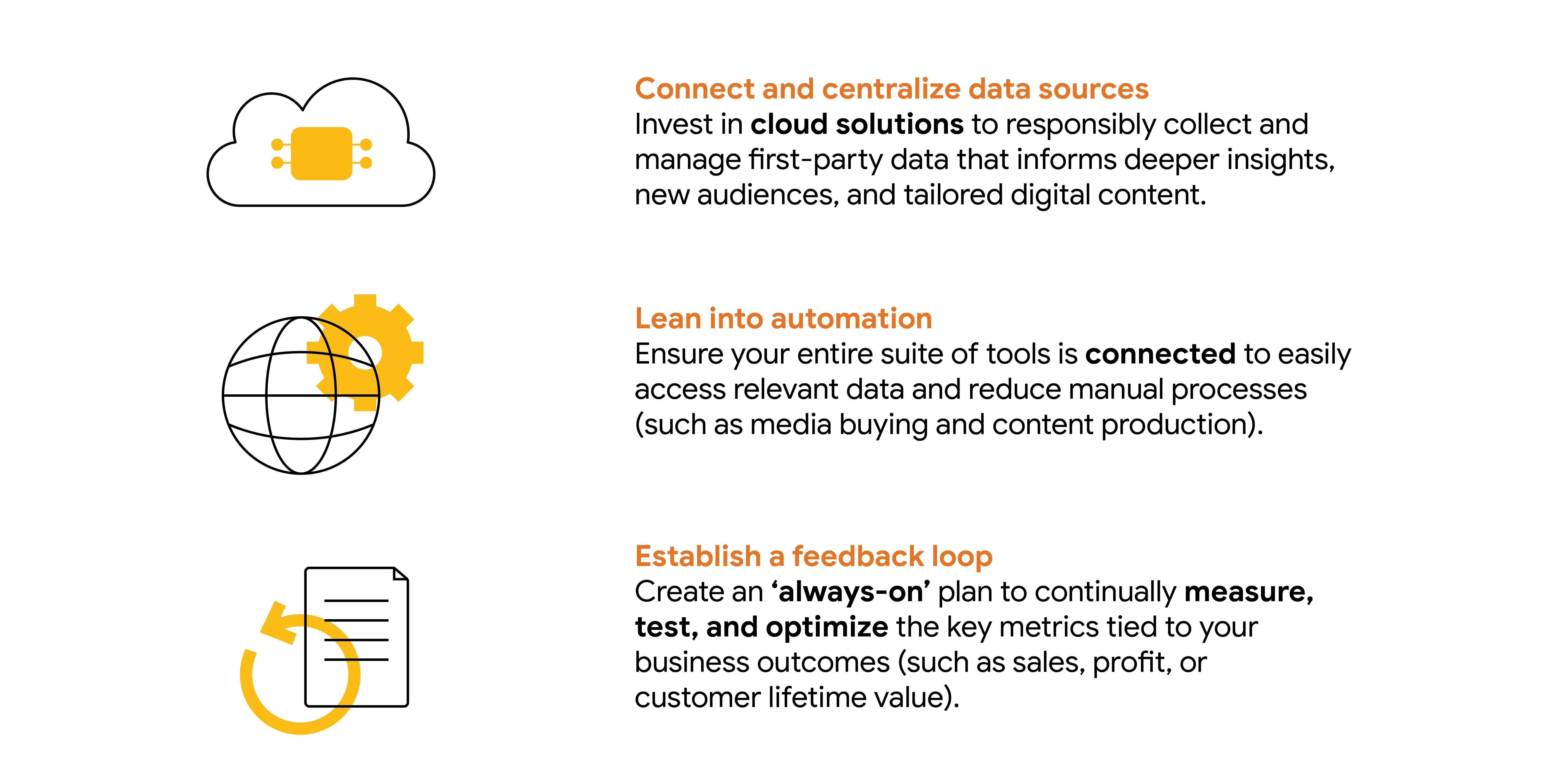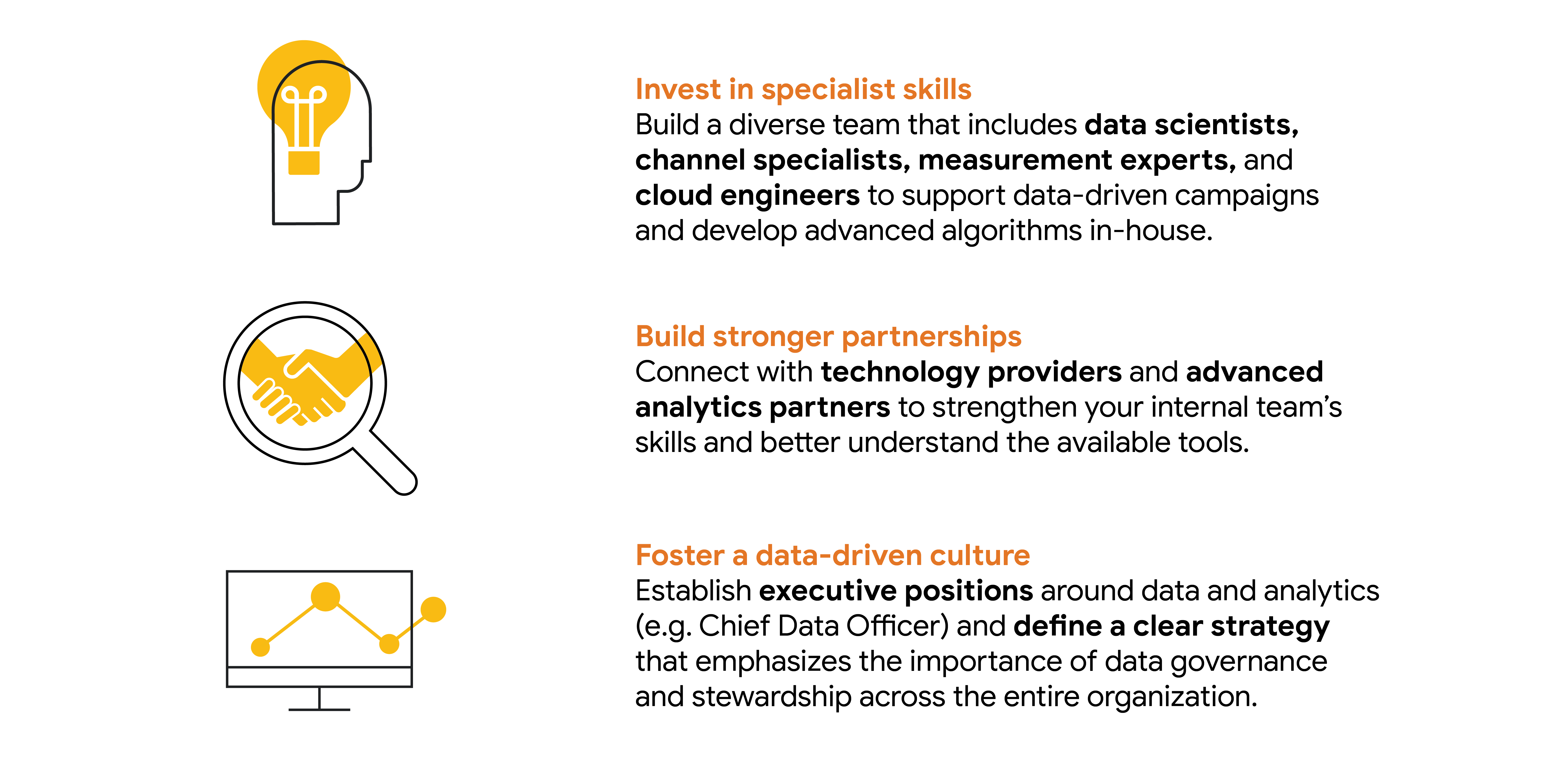 Paving a data-driven, privacy-safe path forward
As we work together to fully understand the impact of this global pandemic on digital marketing, the crisis reinforces some of the key messages outlined above. In a world where consumer behavior is evolving rapidly, brands that are able to build their first-party data strategy and capabilities can speed up their journey in the digital marketing curve.
While the role first-party data plays might differ across businesses, there is no time like the present for companies to rethink and be more explicit about data protection and privacy. Being intentional and transparent on the data they gather from their consumers helps build trust and reinforces the message that collecting and using data is a value exchange. Once the above is established, brands will be able to build marketing campaigns that deliver value to their customers and their businesses.
For a deep dive into the findings from the study, including each phase of digital marketing maturity explained in detail and a step-by-step guide on how to implement smarter, more responsible personalized marketing, download the full report from Google and BCG below.