Brands in Hong Kong have used AI-powered strategies to grow shopper confidence and sales.
While Hong Kong shoppers seek to make the best purchase decisions, they may find themselves stuck in the "confidence gap" and in the same shoes as their global peers. The latter spend seven hours researching a product,1 struggling with too many options or too much information2 and disinformation.3
The good news is: AI-powered solutions and strategies can help shoppers make confident purchase decisions. We examine two such strategies that leading brands have used to boost shopper confidence and sales.
1. Analyze and anticipate shoppers' needs with the power of AI
As a brand or retailer, you can boost shoppers' confidence by using AI-powered ad solutions to deliver, at speed, the information they need to make a purchase decision.
But first, you must know what information is relevant to them. And to arrive at such an insight, a robust first-party data foundation is required. It's the crucial dataset that AI-powered solutions use to analyze and identify shoppers' needs.
Brands that use first-party data in marketing have seen up to a 2.9X revenue lift, compared with those that didn't deploy any. And for Samsung, it drove a 70% increase in conversion rate and 2X sales when its Galaxy S23 smartphone launched in Hong Kong.

For the launch, Samsung first tapped into the AI-powered enhanced conversions for web to send hashed first-party conversion data to its Google Ads account in a secure, private way.
With a first-party data foundation in place, it used Customer Match to analyze and identify audience segments whose interests would make them potential Galaxy S23 users. One such segment is males aged 35 to 44, who enjoy outdoor photography and who'd appreciate the ability to snap vivid low-light photos easily with the phone.
To reach the various segments, Samsung used remarketing lists for Search ads and tapped into the power of Google AI to generate ads with keywords and information that showed audiences how the phone would meet their needs.
In the course of analyzing its first-party data to understand and anticipate customers' needs, Samsung also discovered new opportunities to cross-sell and up-sell its other products.
For instance, it found that its foldable phone users were interested in freestyle projectors, and its TV users preferred its A-series phones. Applying these customer insights as signals to its AI-powered Performance Max campaigns, it was able to activate the most suitable marketing messages and channels to drive incremental sales.
2. Reach shoppers wherever they are with the power of AI
Another way to boost shoppers' confidence is to use AI-powered ad solutions to deliver information that'll reach them — whichever channel they're on — to help them make purchase decisions.
In Hong Kong, Search and YouTube are the channels that shoppers turn to for trusted information. Half of them use Search when they're exploring and planning products to purchase,4 and 82% of YouTube viewers in Hong Kong agree that advertising in videos on YouTube is trustworthy.5
To find and connect with your most valuable customers across Search, YouTube, and the rest of Google's channels, you can use Google AI ad solutions such as Performance Max and App campaigns for engagement (ACe). Both ad solutions let you reach customers across Search, YouTube, and other Google channels with a single campaign.
Powered by Google AI, the solutions are able to generate ad creatives customized to the various channels and deliver them at an optimal bid to maximize conversions. This AI-driven strategy was used by Hong Kong's biggest rewards club, Yuu, to drive purchases on its online shop.
Working with the media agency Omnicom Media Group, the DFI Retail Group that is behind Yuu had successfully used ACe to re-engage existing members and drive in-app purchases. But it was keen to expand its reach, recruit new members, and grow sales, so it piloted a Performance Max campaign.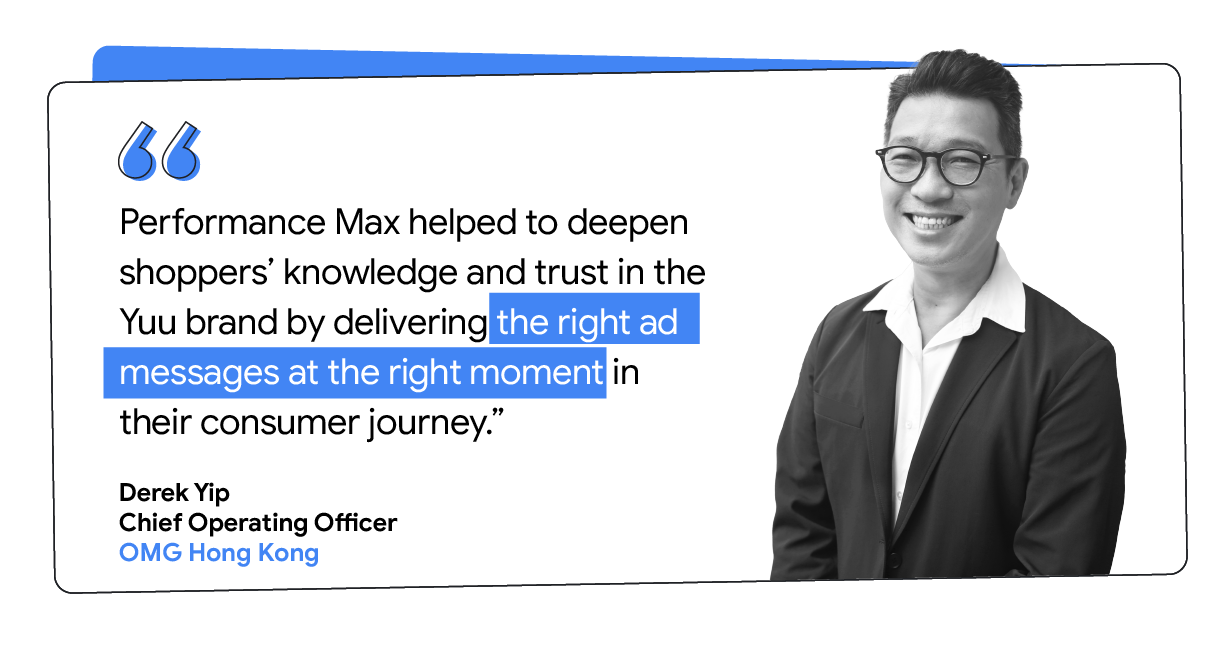 Yip adds: "With the power of Google's AI, we were able to achieve our objective at scale, and ultimately saw significant incremental purchases from both new and existing users of Yuu."
To further boost transactions, the retail group ran both types of campaigns for Yuu's November 11 sale. This allowed it to identify the best messages and audience segments to optimize toward, and its strategy of reaching shoppers, whichever channel they're on, yielded strong results.
Results of Yuu's campaigns to reach, engage, and convert shoppers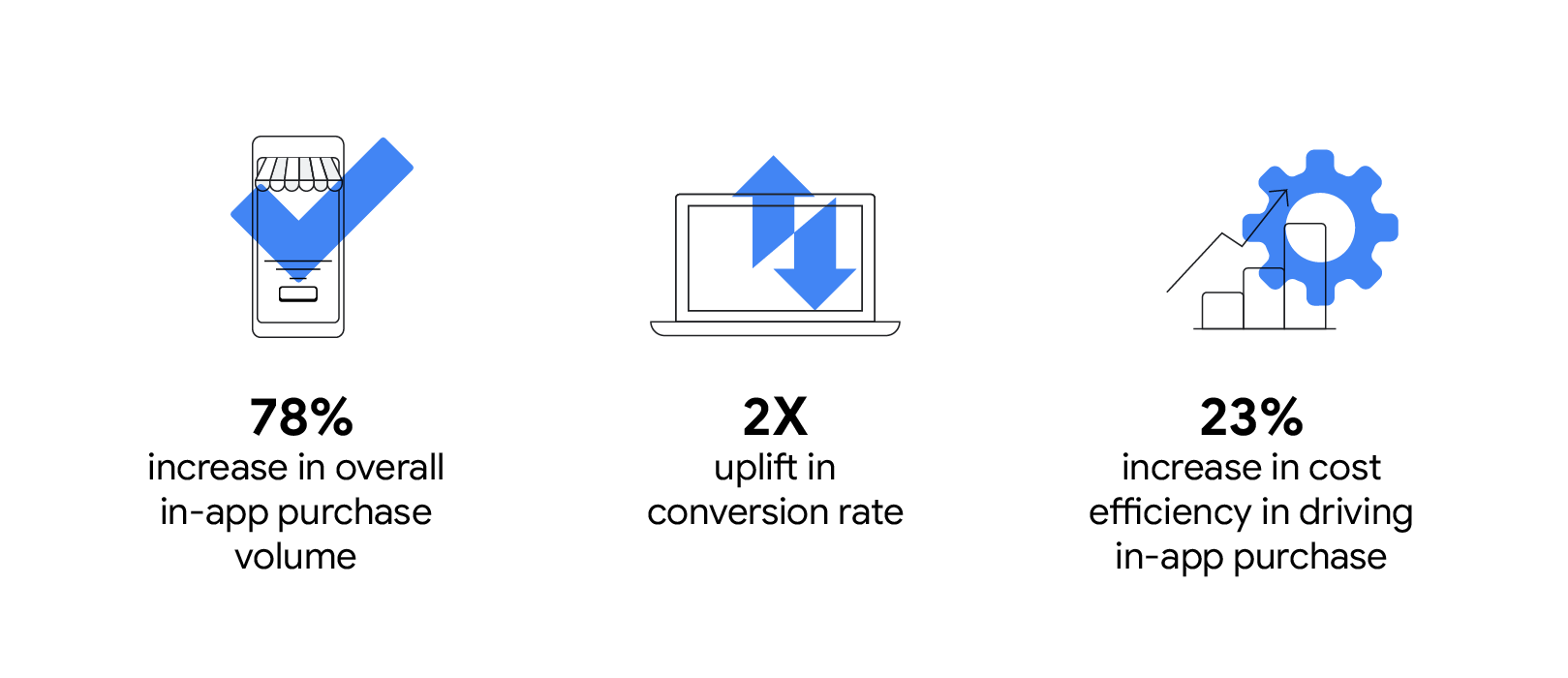 As Hong Kong's shoppers look to spend more in the coming months, you can help them choose your products with confidence every time. Use AI-powered solutions to analyze your first-party data, anticipate shoppers' needs, and reach them wherever they are with the information they need to feel confident about buying from you.