Susie Walker is head of awards at Lions. Each year, she and her team receive over 30,000 entries to Cannes Lions.
Here, Walker explores gender representation in branded communications and discusses a decline in gender inequality work, despite increasing consumer demand for more inclusive representation.
To create meaningful connections with consumers, communicators are presented with both immense challenges and mind-blowing opportunities. Foundational to this connection is ensuring balanced representation, accurately reflecting all groups in a nuanced and authentic way.
Gender representation continues to be an area of significance, and we can feel the increasing momentum — especially having just celebrated International Women's Day.
In 2015, Cannes Lions introduced Glass: The Lion for Change. It is our long-held belief that marketing actively shapes culture, and the launch of this award was part of our ongoing commitment to positively impact the course of communications. The award was later introduced to Spikes Asia in 2018 to recognize APAC work that challenges gender inequality, imbalance or injustice and shatters stereotypical glass-ceiling images of men and women.
Consumers in APAC want to see more groups represented in marketing, and there's a strong appetite for more inclusive content. But it seems not enough inclusive content is being created. Only one in five consumers feel represented in the ads they see.1

The Bias and Inclusion in Advertising research, co-published by Cannes Lions and the Geena Davis Institute for Gender in Media, which examines Cannes Lions' work from 2006 to 2019, found that representation of women peaked at 40.2% in 2014, compared with work submitted in 2019 (38.6%).
Representation is only one part of inclusion, however, and the same research found that male characters in ads are significantly more likely to be shown as having an occupation than female characters (25.5% compared with 16.7%) and are shown as funnier than female characters (22.1% compared with 15.4%), while female characters are more sexualized than male characters — female characters are 4X more likely to be shown in revealing clothing than male characters (10.8% compared with 2.25%).
But there's still hope. Among the ads that could do better, we've seen some fantastic examples of genuine, thought-provoking work that stands up for gender equality and inspires others to do the same.
Here's a small selection of the recent work from APAC that we've seen winning across our awards.
Challenging preconceived ideas of women in society
In India, Ariel got men thinking about why it's important for them to Share the Load, with a multiple Spikes and Cannes Lions Grand Prix-winning ad that aimed to drive deeper social change — reaching out to household dads to show them that they have the power to end the cycle of gender inequality in the home.
Meanwhile, Samsung in India won a Silver Entertainment Lion for how they tackled the topic of women's education with the Samsung Technical School in an attempt to encourage Indians to discontinue the age-old patriarchal practice of calling daughters, "beta" — an Indian word for son.
As Google's Advancing Women in Entrepreneurship report revealed, when women across 12 countries shared their views on starting a business, we learned the factors affecting their ability to launch a successful venture and the skills they value for getting ahead. A large proportion of women said they are primarily responsible for household chores compared to men: 67% of women in Korea compared to 18% of men; 70% of women in Thailand versus 37% of men; and 60% of women in Vietnam over 33% of men.
Who is primarily responsible for household chores?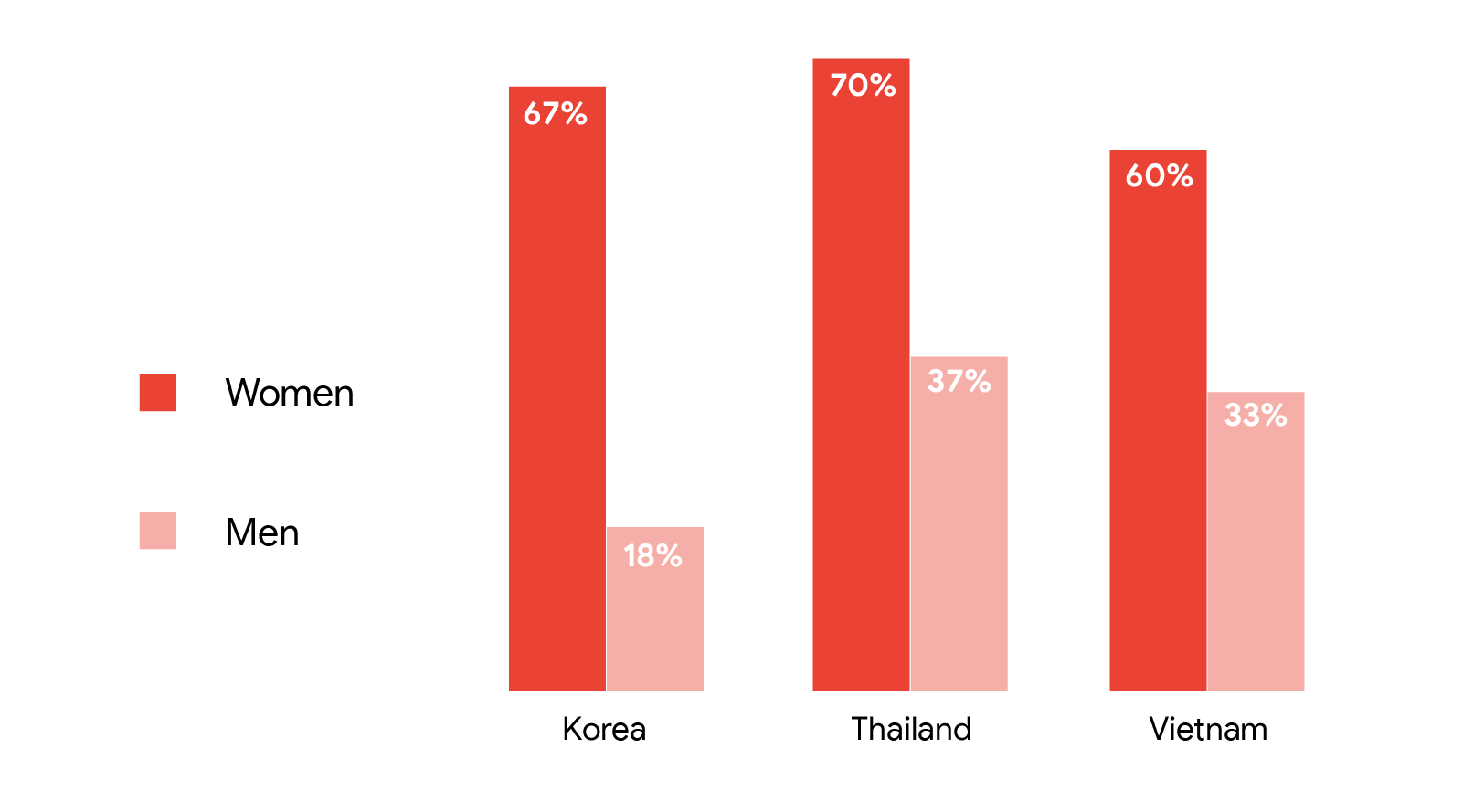 In the above work, driving conversations around gender roles and equality were aimed at igniting a mindset shift as men pledged to share the household chores and treat women as equals.
Ending taboos that hold women back
Period pains are more than just physical for many women. Often, women are told what they can and cannot do when they are menstruating — particularly in India, where women are told not to enter sacred places or the kitchen because of "negative energy" during that time of the month.
Feminine care brand, Whisper in India, created the Cannes Lions Grand Prix-winning "Touch the Pickle" — a film that aimed to spark a national conversation about period taboos to relieve women of the social stigma of having their period and show how women can be unstoppable even on their period days.
Similarly, the Ammada Trust highlighted period concerns for girls and women who did not have access to proper sanitary products and would have to leave school during their period, putting them on the back foot in their studies and eventually leading to them dropping out of school. To help keep women in school, the Ammada Trust started the #GiveHer5 campaign to donate sanitary pads and money to help them. The work took home a Gold Lion.
Finding ways to give women the respect they're due
In Japan, women are often believed to be the reason for infertility. However, male infertility is the reason for almost half of infertility cases in the country.2 After undergoing fertility treatment, many women discover that the problem does not lie with them.
In 2017, the Mobile Lions jury awarded the Grand Prix to Recruit Lifestyle for creating Seem, new self-check technology that works with smartphones to check sperm motility in the privacy of one's home. The technology is an educational tool, helping lower mental hurdles, enabling men to participate actively in trying to conceive, while respecting that men too face embarrassment when coming to terms with their infertility. It was an effective way to show that infertility is not just an individual's issue.
Sometimes in India, acid attacks are a concern among women — especially from those they are closest to. Make Love, Not Scars, a support group for acid victims in India, started a campaign to petition for restricted access to acid, which is bought easily off the shelf. To drive home this message, acid victim Reshma Khureshi bravely shows her scarred visage in a series of how-to beauty vlogs.
The videos not only highlight the issue of women who face acid attacks but also reinforce the message that it's easy to save women like her from these horrific attacks. As a result, Make Love, Not Scars received more than 300,000 signatures petitioning for authorities to put an end to these attacks by restricting access to acid. The campaign was honored by the juries with a haul of Gold and Silver Spike Awards.
Marketing actively shapes culture. When good advertising can drive the message of equality and break traditional roles, there is huge potential to influence and shape business, policy and ultimately society.
At Lions, we too have a role in this. It was important for our juries not only to reward those striving for change but also to review submissions with an empathetic lens, considering whether work submitted perpetuates negative stereotypes and inequalities.
As part of the Unstereotype Alliance, in 2019 we introduced the "unstereotyped judging criteria," considering cultural nuances to ensure the industry and content creators are sensitized and conscious of the impact of stereotypes on gender inequality.
To support women, we also launched Spikes Asia's See It Be It program to accelerate the careers of the next generation of female creatives who face diversity challenges.
At the end of the day, everyone has a part to play. We must acknowledge and embrace the influencing power of marketing and advertising in shaping the world around us and ensure we're helping close the gender gap once and for all.