The way people digest content online has become increasingly more complex. There are now many eyes across multiple devices and platforms, and cutting through this content clutter is a tall order for any brand, especially in the consumer packaged goods (CPG) space. The user journey is no longer linear, and as users switch between screens, many brands struggle to find the right formula to keep people engaged.
When Dabur, one of the world's largest ayurvedic and healthcare companies, wanted to showcase the benefits of their Dabur Vatika coconut oil and Dabur Amla hair oil products online, they faced two challenges. First, could they communicate the multiple benefits of their hair care products that would interest beauty shoppers? Secondly, how could they tailor Dabur's messaging creatively to keep their audience engaged?
Finding the right fit for Dabur's narrative
Dabur had already experimented with long-form content via influencer-led collaborations, but this was the first time the brand was experimenting with digital long-form storytelling.
The brand wanted to reach a wider audience of females between 18-34 years of age using Advanced Audiences to target people who were interested in personal grooming and looking for hair care service and visiting beauty salons frequently.
Every day, YouTube receives billions of unique beauty-related search queries, with at least 25% of consumers buying a beauty product as a result of discovering it on the platform.1 Dabur knew that a one-size-fits-all approach to their creative wouldn't make the cut, so they chose to invigorate their advertising with intent signals to contextualize their content with an interactive storyline.
For Dabur Vatika, the brand developed a four-part video mini-series to tell their brand's stories on YouTube. They broke down their original influencer-led storyline into smaller, thematic snippets in the form of sequential chapters using video ad sequencing.
The goal of these short videos was to build interest and continue to captivate their target audience with an ongoing story. Depending on whether the video ad was viewed or skipped, the next video was served sequentially. Using this creative form of storytelling, the brand could highlight the product's natural ingredients while guiding the viewer on how best to apply it. A similar approach was adopted for Dabur Amla, where the objective was to communicate how the hair oil could strengthen hair and reduce excessive hair loss.
Choose your own adventure: An audience-first approach to storytelling
For both their hair oil products, Dabur decided to give audiences the option to choose which storyline they wanted to follow, based on whether they chose to skip or interact with the content. Using a series of bumpers, Trueview in-stream, and non-skippable video ads, Dabur could determine the next ad to be served based on a person's previous interaction with the video.
Viewers that chose to watch the video without skipping, saw ads communicating the usage and product benefits. A different creative was used for each product, with Dabur Vatika focusing on a celebrity testimonial, while Dabur Amla's messaging adopted a more emotional storyline that depicted an Indian couple exemplifying the brand's "strengthening hair, strengthening relationships" messaging. These creative elements were consistent with the brand's positioning over many years, but were adapted for this new digital platform.
Dabur employed the same strategy for both products, "viewers" saw the story progress in a linear manner while those that chose to skip the ads were shown only the key brand benefits via non-skip bumpers.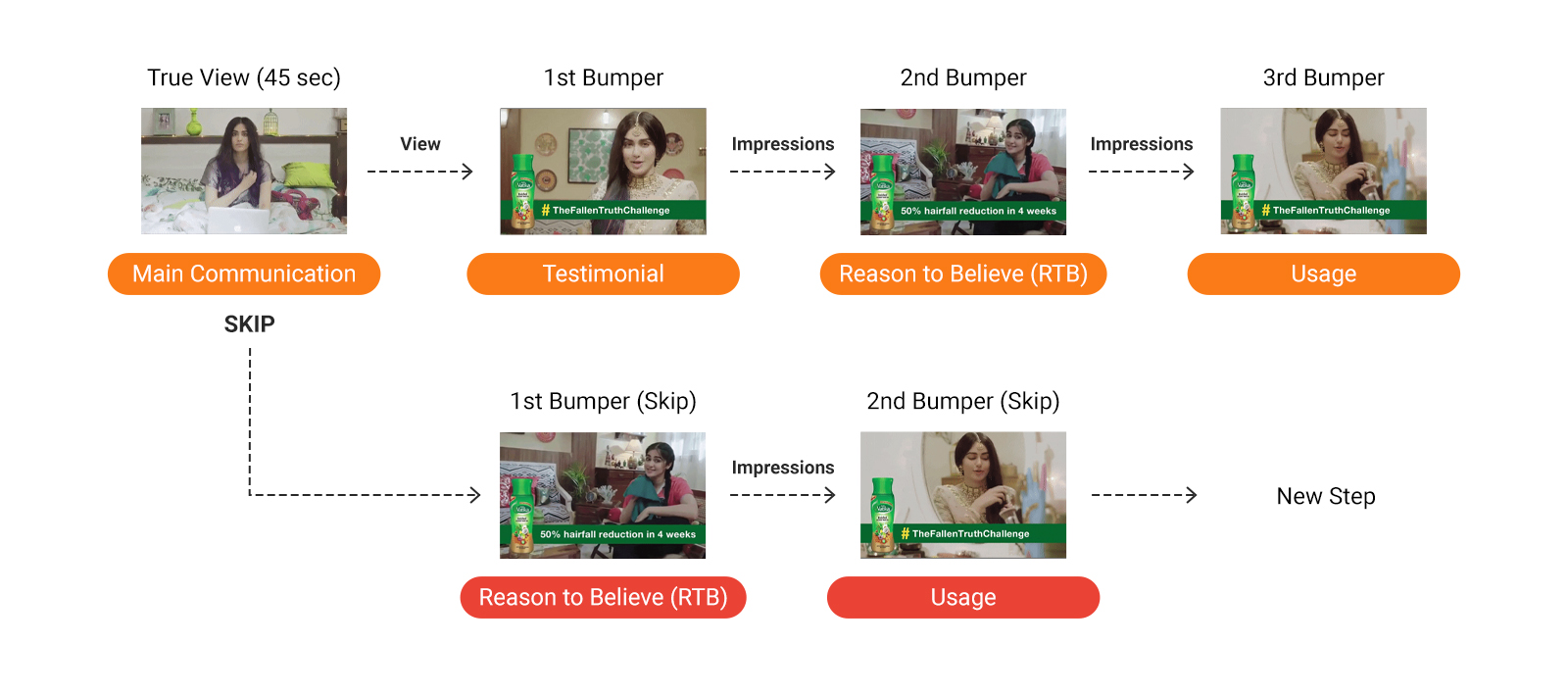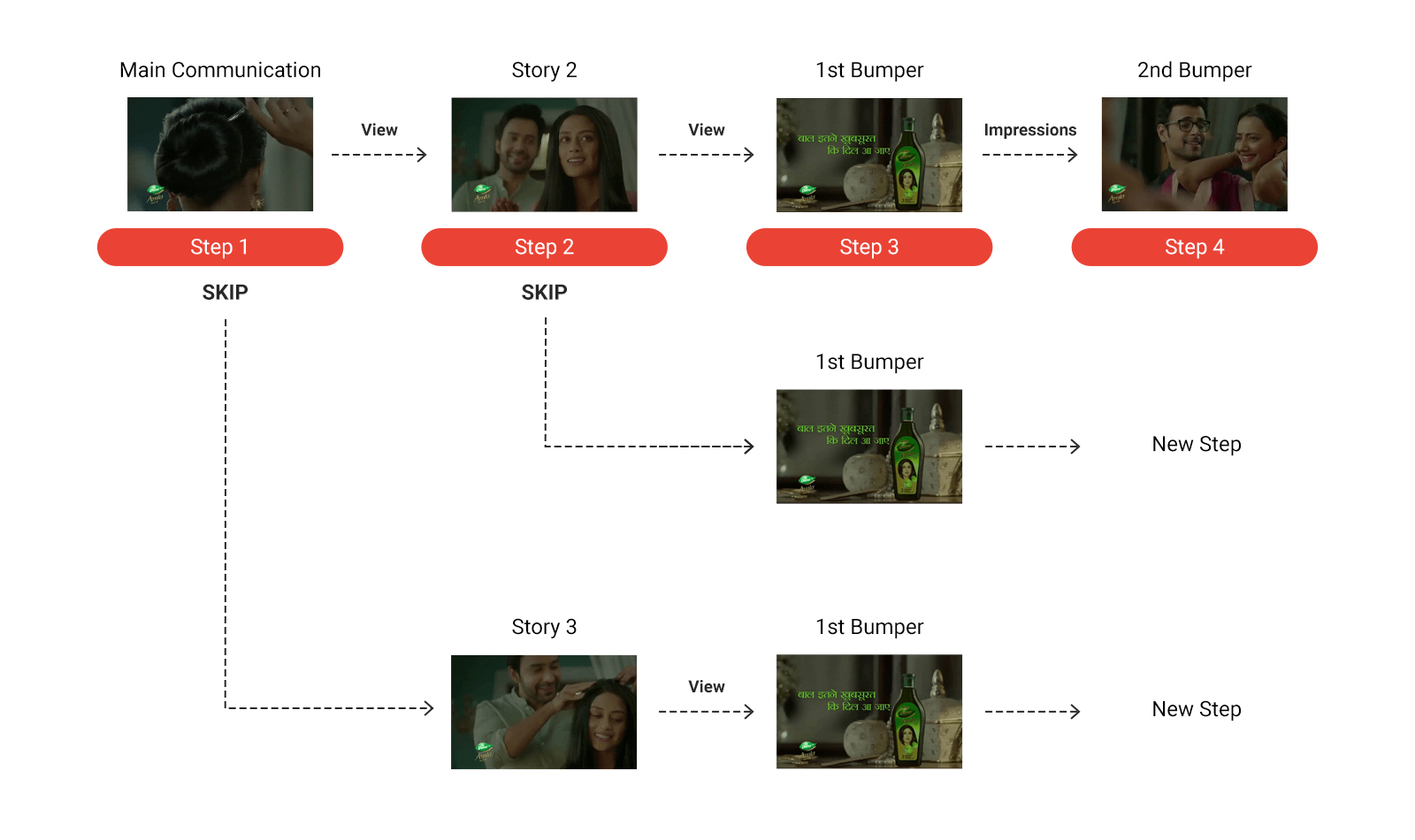 As Dabur linked their viewership across various ad formats on YouTube, the brand created contextual engagement to reach audiences with the right message and bring their product messaging to life. Using intent signals combined with the previous action on the videos, the brand could choose whether they'd like to deliver multiple messages to lean them further on their purchase journey, or simply build additional awareness of the core message.
Optimizing for Performance
In today's fragmented media landscape, storytelling can help capture and maintain the attention of audiences, especially as you look to move them along the marketing funnel.
"For Dabur, we adopted sequential storytelling to encourage audiences to move from consideration to preference, which drove significant awareness for our brand and moved the needle across various metrics in the funnel," said Kapil Ohri, head of digital marketing at Dabur India.
With each product at different stages of its life cycle, Dabur wanted to ensure each had its own unique objectives. "For Dabur Vatika, we wanted to communicate the product usage journey and its associated benefits to build recall, while for Dabur Amla, we wanted to build consideration and advocacy," said Ohri.
Impact of ad sequencing on Dabur's long-form video

By adopting an ad sequencing strategy, Dabur was able to show that long-form storytelling on YouTube should be embraced, not feared. When used the right way, this kind of strategy can help create a stable communication structure for a brand, reach and engage with their desired audience, and increase lower-funnel metrics effectively. All the while ensuring your brand story is being told seamlessly and creatively.
Contributor: Harleen Kaur, Account Manager, Large Customer Sales, Google India