Looking to establish Black Friday in Pakistan, Daraz developed a comprehensive digital campaign to increase awareness and drive 1 billion rupee ($13.8 million U.S.) sales. The brand ended up tripling its sales goal, driving a 2X increase in reach and a 3X increase in conversions.
With more than 202 million residents, Pakistan currently boasts the sixth largest population in the world. Despite having a relatively small internet population of 44.6 million users, the amount of people going online in Pakistan is increasing at an estimated rate of 27% YoY.1
Pakistan's leading e-commerce platform, Daraz, is always looking for ways to reach the country's ever-expanding consumer base, especially on digital. Looking to bring the excitement of holiday shopping events to Pakistan, the brand introduced the concept of Black Friday in 2015 by offering product discounts, and it then expanded its efforts in 2016. In 2017, Daraz teamed with Google and discovered a 3X YoY surge in search queries around "Black Friday," prompting the brand to establish a comprehensive digital campaign, with the lofty goal of driving at least 1 billion rupee sales within the Black Friday period from November 24 to November 27 of that year.
Introducing the concept of Black Friday in Pakistan
Daraz wanted to take advantage of the growing curiosity around Black Friday and reach new and existing customers, so it constructed a full-funnel marketing plan that would generate interest, influence consideration, drive sales, and grow loyalty. Throughout the campaign, the company used traditional media channels to build awareness and generate interest. However, its biggest focus was on digital, starting with a broader awareness-building strategy, then reaching high-intent audiences in the days leading up to Black Friday.
Between November 14 and November 23, Daraz drove awareness by serving ads across YouTube and Google Display Network, focusing on broad affinity segments such as "Value Shoppers," "Bargain Hunters," and "Fashionistas" as well as in-market audiences interested in cameras, televisions, game consoles, men's and women's apparel, and more. The brand's customized search ads leveraged Google Ads' countdown function to drive urgency as Black Friday neared, while display ads promoted discounts and drove users to the Daraz website or app to close sales.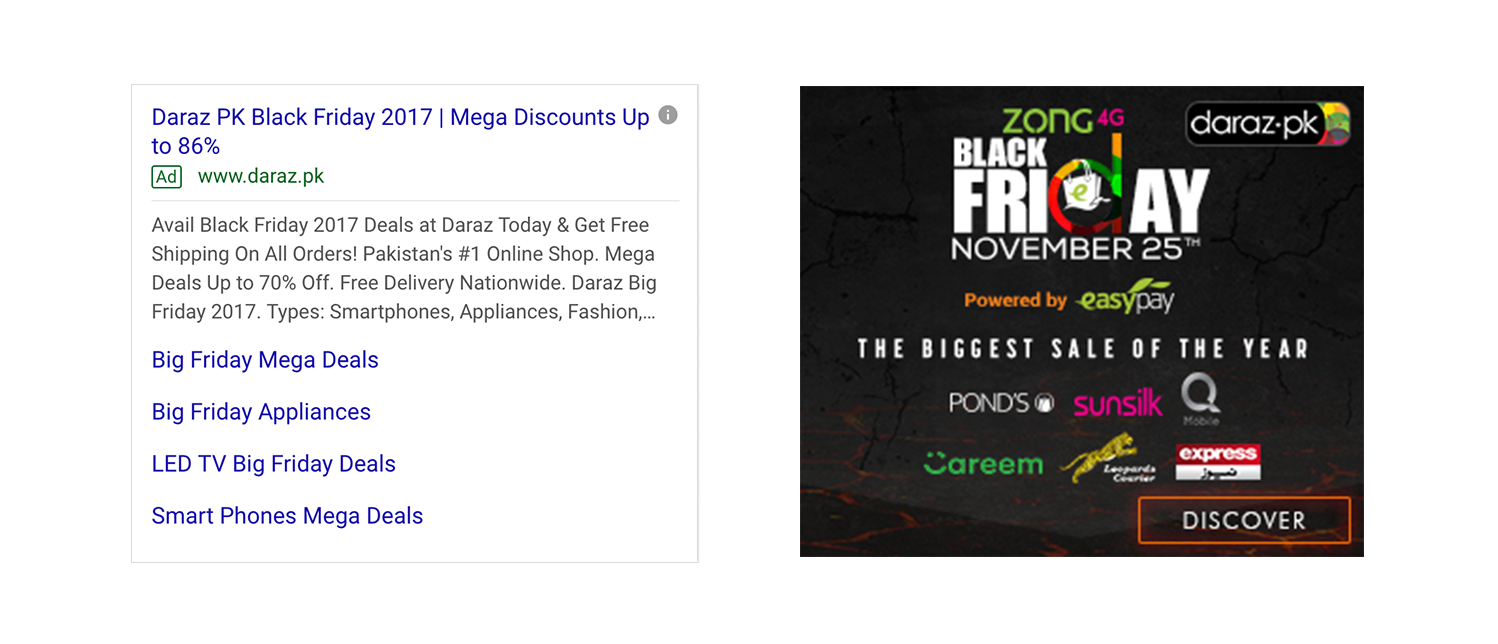 "Google provided us with access to new products, like prospecting, which helped us acquire new customers who have interests similar to our current customer base," said Syed Sayem Mustafa, head of performance advertising at Daraz.
To drive conversions, Daraz modified its keyword-based search campaigns to attract users who were actively looking for its products and sales. The brand also used dynamic remarketing to reach previous customers who had made purchases and to re-engage site visitors who recently viewed certain items or services.
Comprehensive digital strategy increases reach, drives sales
The full-funnel strategy was extremely successful. Daraz acquired 145,000 new customers (users who had never previously visited the Daraz website) and closed the Black Friday period with 3 billion rupee ($28.5 million U.S.) sales — 3X its original target number. Across Google channels, the brand saw a 2X increase in reach and a 3X increase in conversions compared to its 2016 efforts.

"I think this Black Friday campaign showed us the true power of digital and how fast Pakistani consumers are adopting digital platforms. Full-funnel digital investment really changed the game toward awareness, consideration, and intent. We effectively reached new audiences with the right compelling messages for them," concluded Mehdi Raza, marketing director at Daraz.