Now, more than ever, it's important for marketers to communicate in a meaningful, personalized manner to reach consumers who want relevant and seamless purchase experiences. To help marketers land this approach, Google partnered with Boston Consulting Group (BCG) to explore how leading brands are transforming their marketing game by experimenting with data and adjusting their teams. Here, three APAC brands share their journey to digital marketing maturity.
According to our research, companies are scattered across various stages of digital marketing maturity, but some have managed to uncover a clear path that other brands can follow to achieve the full benefits of digital marketing.
There are four levels of maturity a brand could sit under: nascent, emerging, connected, and multi-moment. Every brand will be at a different stage in the journey, and each will have different goals or areas of focus depending on where they stand as an organization, or their position within their industry vertical.
By aligning both the organizational and technological steps to digital marketing maturity, brands can set themselves up for success.
There is a significant range of maturity within industries in APAC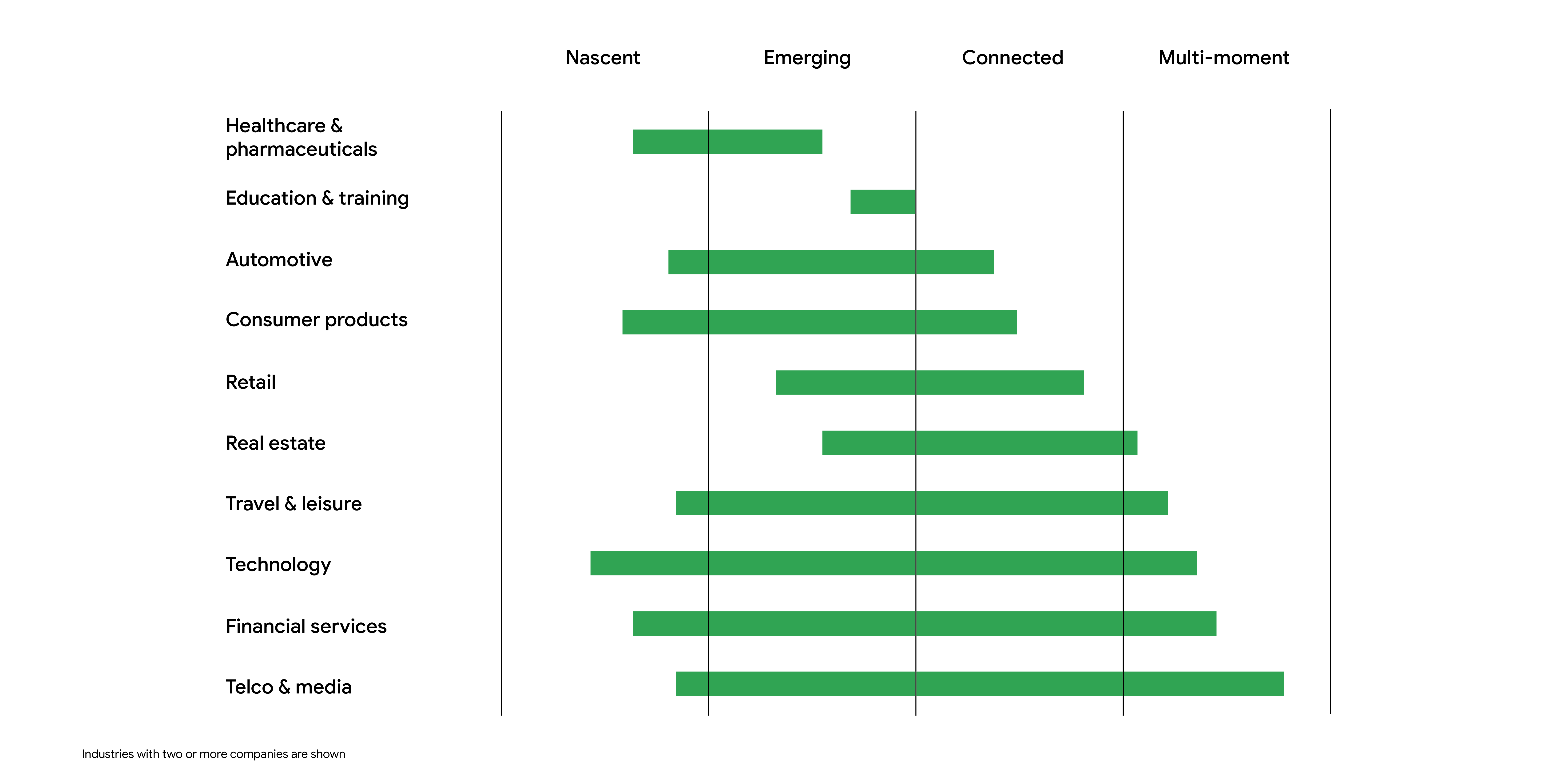 The journey to multi-moment maturity requires a shift in mindset that embraces data analysis and adopts new technology. It also requires the establishment of a team that will innovate and learn from setbacks — all while linking back to business outcomes and KPIs.
Figuring out where your brand should start takes an honest assessment of your current situation and capabilities. For a look at the strategies that shape this approach, we reached out to three APAC brands that took part in the study — GlaxoSmithKline (GSK) Consumer Healthcare Hong Kong, DBS Bank, and Swiggy India — to understand how they overcame their challenges and paved a path toward multi-moment maturity.
Don't be afraid of data exploration
For Swiggy, India's largest online food ordering and delivery platform, first-party data is integral to the company's core business strategy. But the marketing team found tasks such as measuring the impact of brand campaigns on metrics like brand lift and sales to be a constant challenge.
Looking for a solution, Swiggy consolidated all digital channels into a single platform to plan, implement, and measure. With the help of Display & Video 360, Swiggy saw significant media efficiencies — features that limit the amount of times an individual would view their campaign and provide the ability to reach new audiences.
Featured Quotes
Display & Video 360 made it possible to house all our campaigns in one platform. This led to higher control over our reach and frequency. We could avoid creative fatigue and ensure higher reach and efficiency.
Despite this improvement, there was still the challenge of attributing brand and sales metrics to digital campaigns. The Ads Data Hub helped fill this measurement void, building a full picture of Swiggy's customers, while protecting their privacy. The marketing team was able to segment Swiggy's Customer Relationship Management (CRM) users into different audience groups and leverage insights to optimize campaigns that gave its brand and sales a boost.
How it works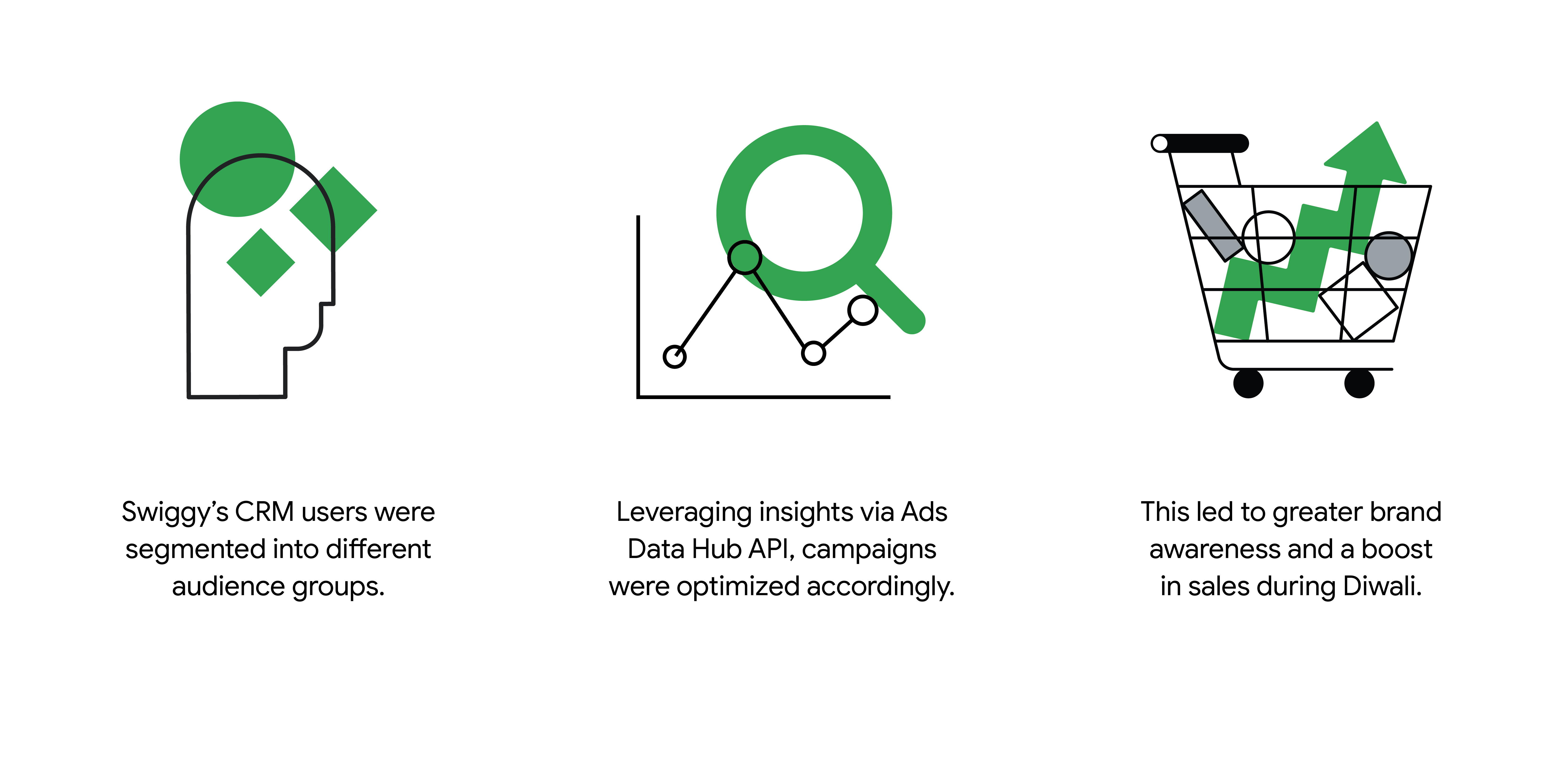 "During Diwali, we ran a festive video campaign around gifting sweet boxes. We got great results. Two weeks into the campaign, the 'Sweets' category saw a 42% increase in its contribution to our overall sales, compared to the same period in the previous year. These were powerful insights surfaced by Ads Data Hub that will help us plan ROI-focused campaigns in the future," said Krishna.
Beyond just investing time and resources in understanding their consumers' behavior and journey across platforms, Swiggy's move to becoming early adopters of technology has now led the brand to a myriad of new possibilities.
Harness the power of partnerships
Leveraging digital technology to shape the future of banking has always been at DBS' core. This fundamental principle helped lead the brand to focus on developing more expert skills within their marketing team in 2018, when its digital maturity state for use of data was benchmarked as Emerging.
Just 18 months later, DBS moved to a Connected state — a result of taking full ownership of its marketing data, consolidating martech skill sets within the team, and developing data analytics capabilities to better analyse, measure, and contextualise its brand messages.
For the marketing team, transforming itself digitally entailed ensuring that it not only had the requisite data-analytics tools available, but that its people had the necessary training in how to best utilize these tools. Striking a balance between in-sourcing and identifying strategic external agencies was an area DBS focused on. Building a close-knit ecosystem comprising ad agencies, tech-partners, and the in-house team enabled seamless execution of the strategy.
Today, DBS has a hybrid model where agencies and marketing partners scale implementation and execute data projects, while the brand's in-house team runs the strategy and data analysis. DBS believes that this hybrid model — where DBS can own their data with the Google Marketing Platform, then collaborate with agencies on campaign execution — is the most effective.
COVID-19 has shown that it's important for brands to not only step up to help, but also bring together different communities and stakeholders to amplify the social impact. To help, DBS launched various initiatives that provided relief measures to cash-strapped customers and offered community support to those hard-hit by the pandemic. The importance of being able to seamlessly deliver banking to people in the safety of their homes has been brought to the fore even more.
Featured Quotes
The digital transformation journey we embarked on has equipped us with the tools and know-how to enable us to communicate better and add value to the lives of customers.
"The insights we get from the intersection of data, technology, and marketing allow us to be more effective in reaching end-audiences, enabling them to avail themselves of our programmes or join us in making an impact. We're still moving on this journey, but there's a definite and marked improvement in terms of what we are seeing from an output and outcomes point of view. So far, the three-way partnership with Google and our agency has been a highly positive one," adds Ngui.
Improve data architecture for long-term digital success
As the first brand to adopt the digital marketing maturity framework in Hong Kong in July 2019, GSK has continued to track their journey every three months. This quarterly evaluation against the framework helps the brand improve the way it uses data and achieve greater efficiency through automation — setting them up for long-term success.
GSK's transformation has changed the way the brand approaches audience targeting. Having an understanding of their place on the digital marketing maturity curve led the brand to invest in steps to enhance their digital infrastructure, as well as adopt third-party data alongside first-party data to create more engaging creative campaigns.
To enhance its approach, GSK adopted new solutions, such as a dynamic application interface (API) for display ads, Director Mix for creating personalized and customized video ads, and an automated bidding strategy for search ads.
With the help of Google and the brand's media agency, GSK leveraged third-party dynamic weather signal data with Display & Video 360 to build automated customized messaging for their Panadol Cold & Flu campaign. Previous operations would have forced GSK to manually request new creatives to be made in response to changes in the weather. Streamlining the new process offered the ability to automatically change creative depending on the weather. The campaign saw a 10x improvement in click-through rate and a 4x improvement in cost-per-click.
GSK's willingness to adapt and evolve to keep up with the ever-changing digital landscape saw them reach the Connected stage in early 2020. A new data infrastructure meant the brand had fresh ways to achieve more efficiency through automation.
Featured Quotes
Once we became aware of our digital marketing maturity stage, we evaluated our approach, and moved away from traditional targeting techniques and adopted a data-driven mindset. Almost immediately we began to see improved campaign performance.
Starting on a path to digital marketing maturity might seem daunting at first, but the process should be seen as a marathon, not a sprint. And that's the exciting part. Even brands who have achieved a high level of digital marketing maturity continue to evaluate their digital marketing position — reorganizing their teams and implementing new technology and data tools to stay ahead.
Ultimately, it's the brands who pursue a multi-moment mindset that will begin to make every marketing moment matter.