Max Life Insurance, one of the largest private life insurers in India, combined the power of Google Marketing Platform's tools with Google Analytics 360 (GA360) to efficiently run, track, and measure its campaigns across multiple channels. The measurement-driven approach led to a boost in sales and ultimately propelled Max Life to the top of India's competitive online term insurance market.
GOALS
Maximize number of qualified leads from digital
Optimize limited marketing budget across all digital channels
Improve efficiencies and agility in campaign setup and management
APPROACH
Close stakeholder alignment on shared goals, and transparent and coordinated campaign management
Ran a combination of search, display, and video ads
Used Google Marketing Platform and Google Ads tools to roll out, measure, and optimize campaigns in real time
Integrated Google Analytics 360 with Google Marketing Platform to get a full view of the customer journey across all channels
RESULTS
2.5X YoY growth in market share for online term insurance plans
+66% QoQ increase in brand searches (+49% YoY)
+79% QoQ increase in sales (+142% YoY)
In India, the last fiscal quarter of the year is the object of every insurance provider's attention as life insurance sales typically hit their peak. One of India's leading term insurance providers, Max Life Insurance, had a plan to reach more people as the critical quarter approached: Make a major investment in advertising online, where Indians are spending their time.
Max Life rolled out a revamped website design, display ads, and video ads on YouTube, but, with a limited timeframe and a tight marketing budget, simultaneously tracking and optimizing each campaign's performance posed a challenge. The brand needed a powerful set of tools to make the most of its digital investment.
Together with its agency, iProspect C2, the team at Max Life came up with a fresh digital strategy fueled by Google Marketing Platform1 and GA360—the Google Marketing Platform "full stack"—and Google Ads.2 The result? Major efficiency gains and a spot at the top of India's fiercely competitive online term insurance market.
Robust measurement framework with Google Marketing Platform
Max Life's marketing team ran always-on search campaigns with Google Ads in the past, but with display and video added to the mix, the team needed a way to track users' touch points across each channel. Just before the start of January, Max Life brought on a suite of Google Marketing Platform and GA360 tools to help streamline the process:
The brand's marketing team used DBM to automatically secure ad space across the web with Programmatic Direct and Open Auction deals, including ads on the Google Display Network, and they set up frequency caps so they'd avoid wasting impressions on users who'd already seen the ads several times.
"What can't be measured doesn't exist. That's why it was crucial to set up measurement systems across the entire purchase funnel."
Once all the campaigns were running, the team used the DCM platform to measure each one across all key channels (except Smart Display campaigns) and leveraged real-time performance data to optimize their limited budget. As an example, a combination of GA 360 and its seamless integration with DCM allowed the brand to quickly remarket to users who clicked one of its ads but didn't convert, by showing them new ads with different messaging with the stack auto-optimising creatives and messaging based on the relevant business outcome. The platform also let them stop serving ads to users who'd already purchased a term insurance plan. Max Life is now deploying impression trackers for GDN to measure the assist value in GDN campaigns.
"What can't be measured doesn't exist," explained Manik Nangia, Max Life's marketing director and chief digital officer. "That's why it was crucial to set up measurement systems across the entire purchase funnel."
Google Marketing Platform, GA360 keep things rolling with ongoing support
Throughout the entire process, the teams at Google, Google Marketing Platform, and GA360 worked closely with Max Life's marketing team for setup and troubleshooting support — a huge benefit while working with the new set of tools. On the creative side, Google's teams shared some best practices that Max Life put into play, including:
Producing multiple display ad sizes and creative variations
Using ideal video lengths and actionable CTAs on YouTube
Making video ads unskippable with impactful storytelling
Designing effective YouTube Mastheads
Google Marketing Platform also helped Max Life set up tracking in DCM on ads outside Google's ad network. This allowed the brand to move past last-click attribution and get a more complete view of the customer journey by analyzing its search and display ads' performance together.
"By tracking our creatives in DCM, we could see our customers' full journey across channels like affiliate emailers, content promotion platforms, and social media sites," explained Tejas Kulkarni, Max Life's AVP and head of digital marketing.
GA360's teams stepped in to host workshops to make sure Max Life's ad tracking and linking were set up properly and to help the team correctly interpret all the data flowing into GA360. Their support was especially helpful in optimizing the brand's marketing budget as they regularly shared opportunities to reach more users based on GA360's attribution reports.
Max Life saved time, money—and secured top spot in market
The Google Marketing Platform full stack gave Max Life the potent push it needed to succeed in a crucial financial quarter. The campaigns increased sales by 79% compared with the previous quarter. This amounted to 142% YoY growth. Brand searches also grew by 66% between quarters—up 49% compared with the previous year.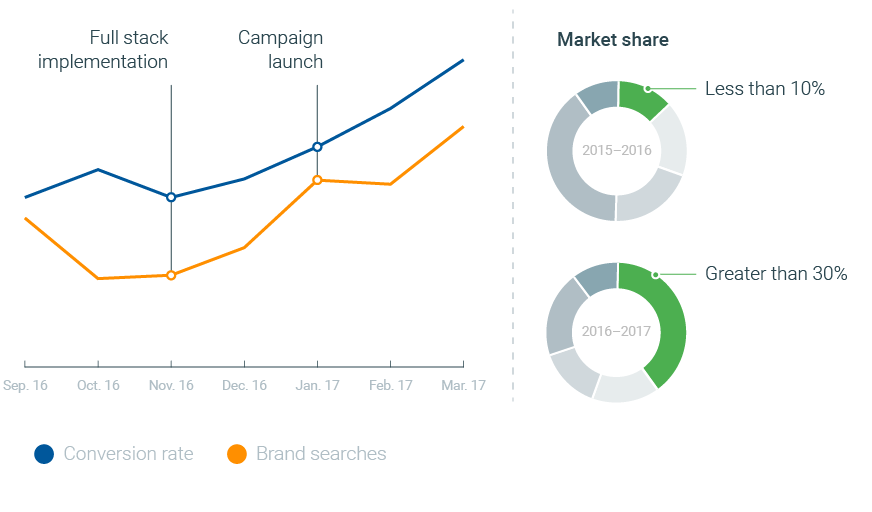 Most notably, Max Life finished the quarter with an estimated 30% share of the online term insurance plan market—an impressive growth from an approximate 12% share the previous year.

Max Life's success in a competitive field of term insurance providers made it clear that a digital-first, measurement-driven approach is the new standard for the brand's future marketing efforts.
"The Google Marketing Platform suite including GA 360 is the single largest advertising technology bet at Max Life to power growth in our digital business. On its foundation, we are creating a measurement-driven consumer engagement and acquisition ecosystem — something that's incredibly important to us," said Amit Sharma, Max Life's SVP and head of marketing and e-commerce.
Equipped with the actionable insights and a complete view of the customer journey provided by GA360 and Google Marketing Platform, Max Life is primed to drive more flexible and efficient campaigns than ever before.
"We at Max Life are committed to getting closer to our customer by leveraging digital technologies. We have found an equally passionate partner in Google and hope to do some path-breaking work for the industry," said Rajesh Sud, Vice Chairman and Managing Director, Max Life.