Understanding how consumers use search to get from "I could use some new jeans" to clicking "buy now" on a clothing site is one of the holy grails for marketers. We can ask people what influences them and how they access information as well as measure their behaviors across devices, but really mapping out when and how they turn to search is difficult. To that end, researchers in APAC used a unique research methodology of passive monitoring and mobile surveys and found that search is an integral starting point and reference hub throughout consumers' entire buying journey.
We focused our research into the role of search on two dynamic, mobile-first countries: India and Indonesia. Big regional and global brands are investing more in these countries' untapped potential, and we wanted to dig deeper into how and when consumers there turn to the web and make decisions.
With this innovative methodology, respondents allowed Ipsos, our research partner, to install a mobile app onto their phone and track their behavior 24 hours a day, seven days a week for the entire 28-day fieldwork period. That was paired with standard mobile surveys conducted 3X a week. In the surveys, we asked people what their motivations were at each stage of the decision-making process, which helped give context for people's states of mind that we could layer onto the passive monitoring data.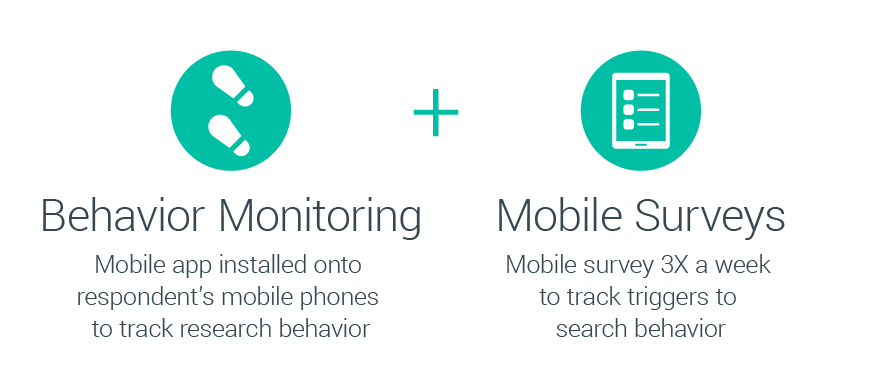 Previous research has demonstrated the importance of search's role in the path to purchase and the results of this data were clear as well: When consumers start researching something, they turn to search first. And then they keep going back to search again and again, all the way until the decision is made.
Research starts with search
Right from the beginning of their purchase journeys, people in Indonesia and India rely on search to guide them. Search helps them find the information they need and move quickly to brand and product websites.
Let's take a look at travel bookings in Indonesia as an example. In research activities for travel bookings, nearly 70% of all sessions started with either Google Search or Google Maps. Here's how it breaks down: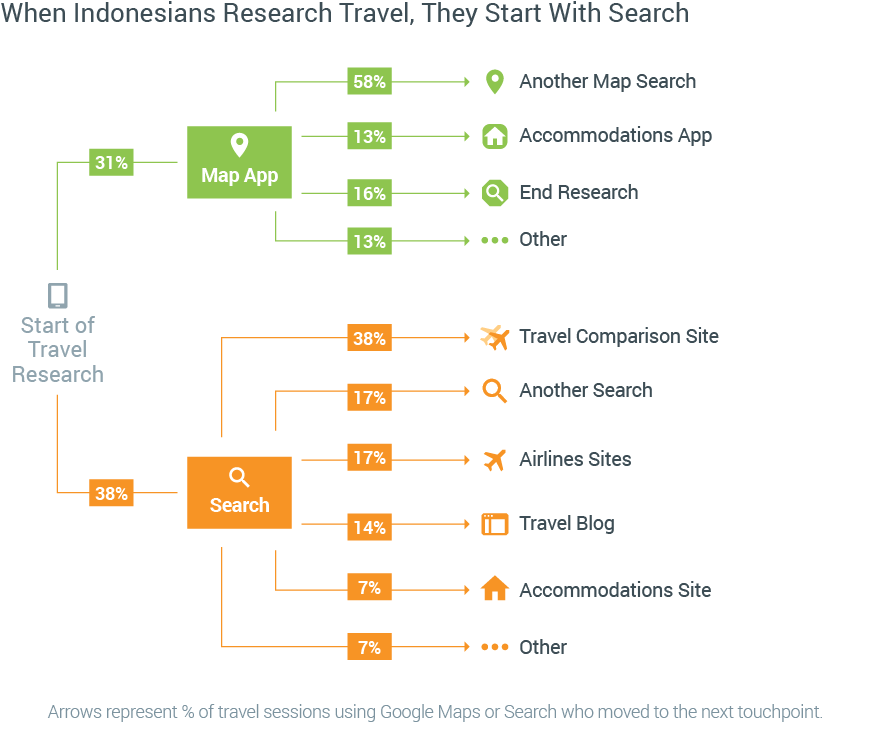 You can see here that 38% of mobile research starts with search, while 31% starts with Google Maps. Google Search leads people to a range of different sites: 17% of Search activity continues to an airline's site and 38% to a travel consolidators site. Thirteen percent of Google Maps activity progresses to usage of an accommodation app. People visit a range of sites as they research, but they usually get to them only after their initial searches.
Search: A critical hub all along the way
Let's look at another industry in Indonesia: the sale of smartphones and tablets. The graph below goes deep into the consumer buying journey to show how Google Search influences an Indonesian's research into a suitable smartphone or tablet before he or she commits to that big buy. You can see that 55% of sessions start at either an e-commerce website (33%) or e-commerce app (22%) -- presumably to compare prices or availability. Another 16% of sessions start with Search, but critically, that leads to nine other destinations, including electronics and computers sites (28%), e-commerce sites (16%), review blog sites (11%), and e-commerce apps (9%).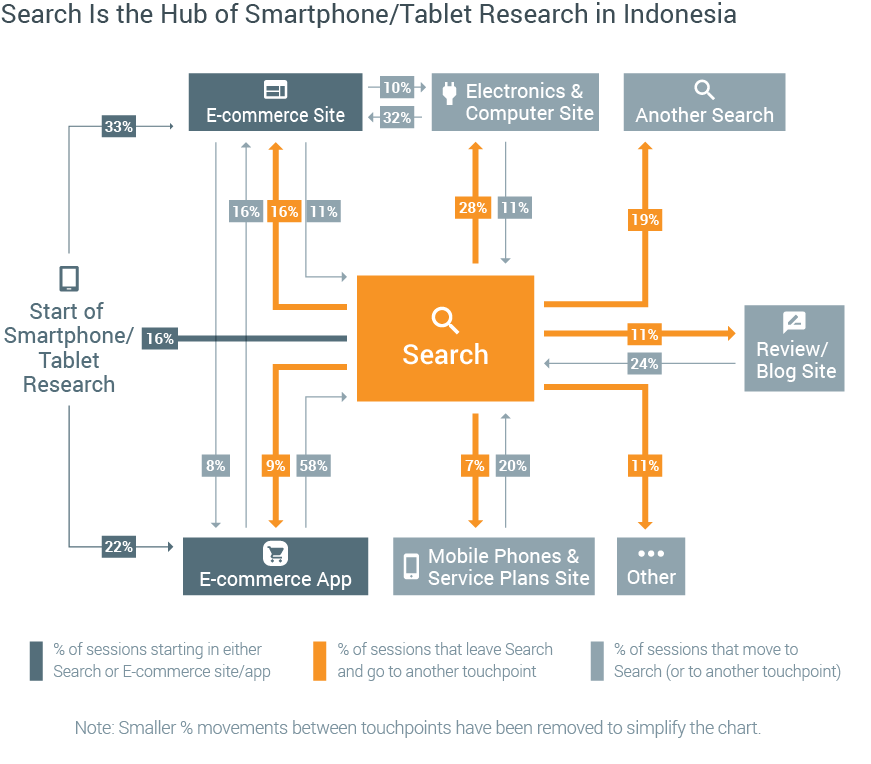 Consumers also go or return to Google Search after activity on e-commerce sites, electronics and computers sites, and blogs. This makes Search the key hub as consumers bounce around the web, collecting information like reviews, comparisons of data and service plans, availability and pricing to inform their decisions.
Search: What one potential car buyer in India keeps coming back to
We also looked into individual behavior amongst our respondents. This allowed us to layer qualitative interpretations on top of rich quantitative data. Heading over to India, here's the decision path for one potential car buyer over an 18-day period between September and October of 2016: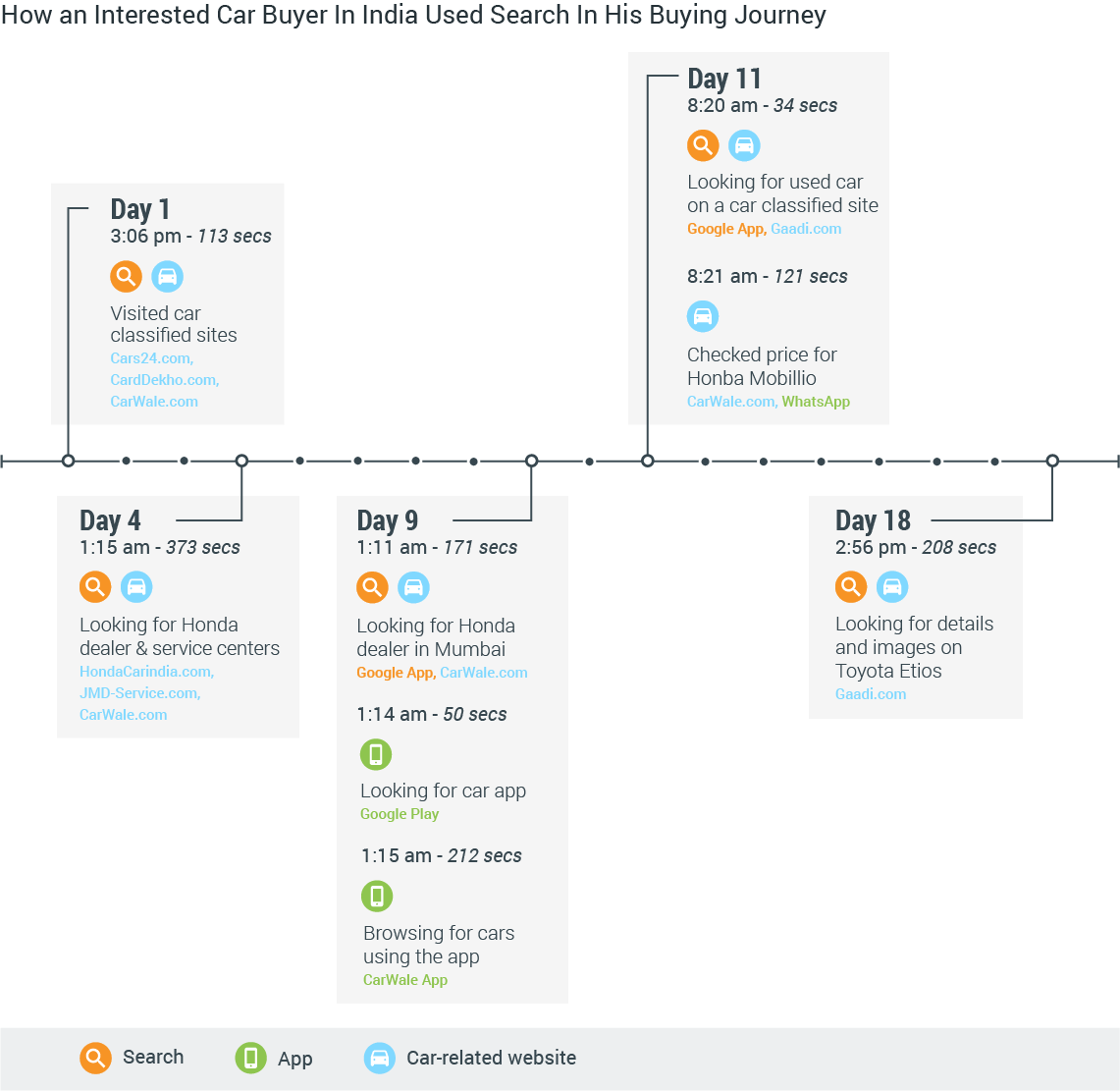 As you can see, Google Search (and/or the Search app) is used at almost every point of this person's research, especially before visiting car comparison and car dealership websites and even before downloading relevant apps (found on the Google Play Store). You can also see how this interested car buyer conducted his research at various times of the day during this intense 18-day consideration phase.
While this interested car buyer didn't end up buying a car or visiting a car dealership during the observation period, he later told our research team he had a budget of 5 Lakh–10 Lakh ($8,000–16,000) and was holding out for a better deal.
Implications for your brand
Our in-depth research underlines the ever-increasing importance of consumer behavior data. Data analytics solutions like Google Ads1 and Google Analytics 360 can provide actionable plans for customer acquisition and retention.
Consumers' paths to purchase are already complex, and they're only going to become more so. Consumers jump from device to device, site to search, and search to app—largely on their smartphones. And with our research that indicates search is a starting place and central hub of the buying process, you can ensure that your brand is present in the moments people turn to the web and measures every moment that matters.
Methodology
Ipsos conducted research over 28 days between September and October, 2016. 331 respondents were split across five purchase categories (baby care, finance, food and groceries, mobile phone and tablet, and travel) and passively monitored via a mobile app they agreed to install. Respondents were also surveyed 3X a week.