Fact: Search trends reveal buyer behavior, especially in the auto industry. This may not be the most obvious correlation, but recent research shows us that what Indians search for often predicts what they'll actually buy. That's because search has become a central decision-making tool among car buyers in India. Auto marketers can now apply these real-time search trends to not only understand Indian car buyers' behaviors but, more importantly, to also effectively reach consumers as they turn to the web to research, plan, and buy.
"Best car financing options with good credit."
"Used cars near me."
"Safety features of compact cars."
These are just a few of the many things Indian consumers search for as they travel along the auto path to purchase. More than ever, Indians are hitting the web to pick out the perfect ride, with nine out of ten car buyers turning to Google Search at every stage of their purchase journey.1
This is a pretty stark departure from the way we shopped for cars just five years ago. We used to get a few ideas, ask around, do what research we could, and then head to the dealership with a list of questions. Today, the research phase before we go the dealership is far more robust and involves many more digital touchpoints.
We call this research process the "digital detour." It occurs when auto buyers hit the web to narrow down their options or even make some decisions before they ever step foot inside a dealership. This digital detour empowers consumers by equipping them with more information and knowledge about all of their options. To reach consumers throughout this upgraded path to purchase, auto marketing is due for a tune-up.
Here's how your auto brand can take advantage of the new digital detour to better engage consumers and increase interest in your brand along the way.
The digital detour is influencing consumer car buying decisions
Online search has altered the way people buy their cars; consumers today can travel any number of paths in their auto buying journeys. Today, consumers are passing through multiple purchase phases at once as they turn to search in intent-rich micro-moments throughout the day. They look for any relevant information on things like car specifications, reviews, and model comparisons.

These micro-moments greatly influence consumers' final purchase decisions. More than half (54%) of auto buyers actually change the brands they're considering after researching online.2 Many eliminate one to two brands from a shortlist while adding two to three others.2 With so many pivotal buying decisions at stake, auto marketers need to optimize their search presence to be there in these moments that count.
The research doesn't stop even while car buyers are kicking the tires at the local dealership. As many as 90% of car buyers in India research brand/model reviews and price information from their mobile devices while they're at the dealership.
What have we learned from how and when people are searching?
Brands can use Google Trend data to predict sales
Historically, sales data is slow to reach marketers; June's sales report, for example, doesn't reach marketers until July at the very earliest. However, now that search plays an integral role in today's auto buying journey in India, waiting is no longer necessary. As consumers travel the digital detour, their search queries have become reliable indicators of their buying decisions.
The study conducted by Google India and Kotak Institutional Equities found correlations between aggregate search volume (available publicly via Google Trends) and economic activity. Google Trend data can reliably predict current sales before official sales reports are released.3 We call this "nowcasting."
In the example below, you can see how Google query volumes predicted advanced bookings for a number of different car makes and models.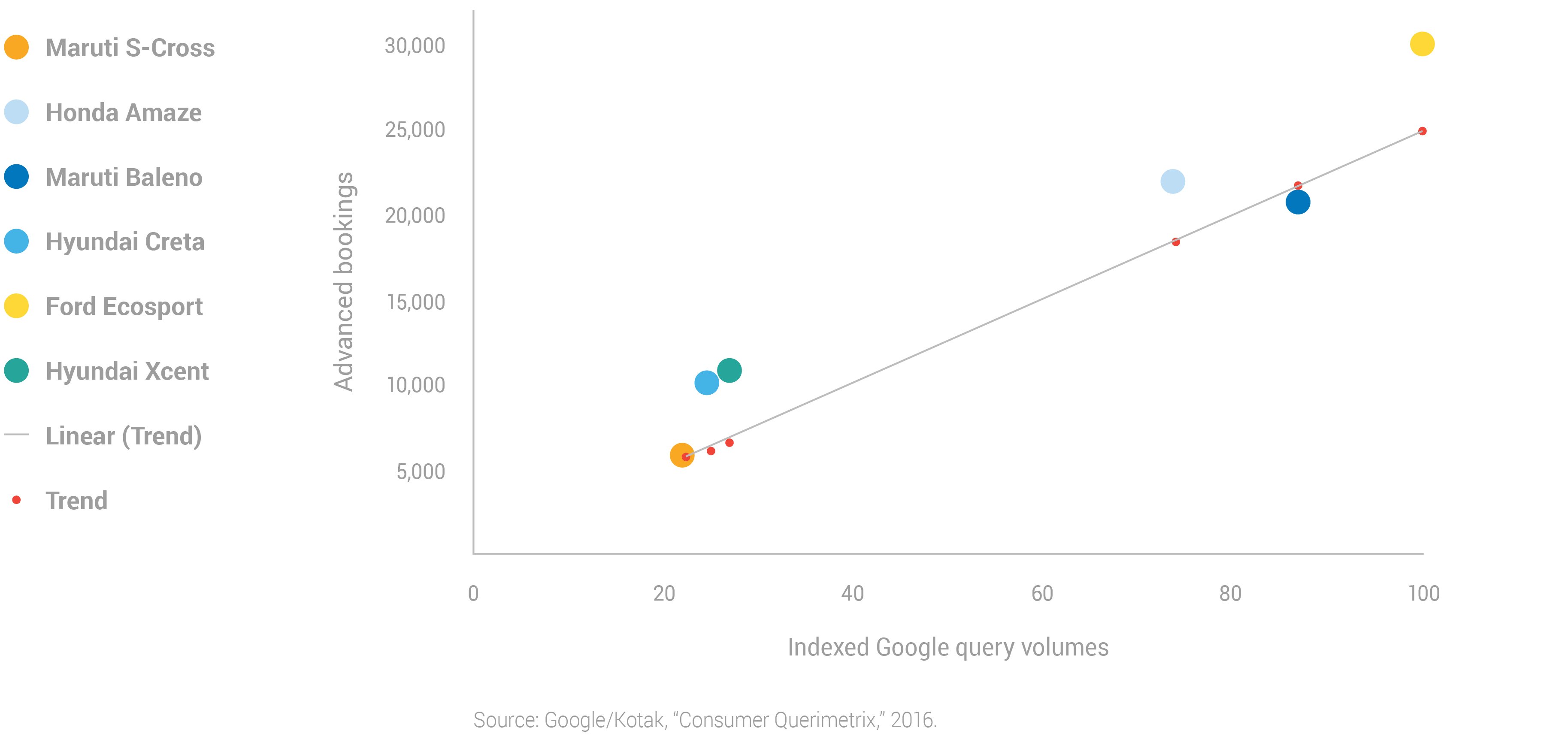 Because of the strong correlation between search volume and advance bookings for new car launches, auto marketers can use Google Trend data to nowcast daily insights into on-the-ground auto purchases and gain real-time snapshots of the auto industry as a whole. For example, high search volume during a launch strongly correlates with advance bookings.3 And as intuition might suggest, a spike in used car search volume indicates that new car sales are likely to dip, just as a rise in utility vehicle search volume signals that mid-size car sales will likely fall.3
Using nowcasting to optimize your media mix
Nowcasting can not only help you predict sales, but it can also help you determine the correct marketing mix for your business. Search interest can be used as a performance indicator of campaign effectiveness. Let's say, for example, that your brand is launching a new model. You can measure search volume as an indicator of the success of your launch campaign. Because search interest is such a strong predictor for future sales, your brand might consider adding search volume as a key campaign KPI.
In our research, we've found no linear linkage between total offline spends and advance bookings. This may mean that brands need to more closely monitor search volume and revisit their marketing mixes for more optimal spending.
Be there in moments consumers turn to the web
As auto buyers turn to search, who do they most want to hear from? You! Research shows that 72% of car buyers trust information provided by the manufacturer the most.2 Buyers want to hear from your brands, but six in ten say they don't receive enough communication from the manufacturer when they search for information on brands.2 Auto marketers need to optimize their search marketing strategies to ensure that they engage consumers with the right information as consumers search for it.
"Buyers want to hear from your brand, but six in ten say they don't receive enough communication from the manufacturer when they search for information on brands."
Dealerships, in particular, stand to benefit from optimizing their marketing strategies during consumers' I-want-to-buy moments. Contrary to popular belief, consumers are no longer waiting until they arrive at a dealership to decide on financing, an arrangement that generates 10–12% of a dealer's overall revenue. While on the digital detour, today's consumers are encountering compelling information from financial institutions—the kind that can potentially affect dealers' bottom lines.
It's now crucial that dealerships invest in training their staffs, offer great financing packages (in collaboration with the OEMs), and most importantly, optimize their search marketing and make their financing options available to consumers even before they set foot inside the dealer's doors. With the dealer as the only point of sale, everybody wins.
With auto buyers in India turning to search during their purchase journey, marketers can win big for their brands as they better understand search trends and engage consumers using search.