With smartphones never more than an arm's length away, I-want-to-buy moments are happening anytime and anywhere: at home, in the store aisle, in the kitchen, or on the street. In these critical moments, brands need to be there, be useful, and be quick to win consumers as they make decisions and form opinions about brands.
Halfway through Sunday brunch, I realized that my mother's birthday was three days away and I didn't have a gift yet. I remembered her eyeing a pair of sunglasses last week so I pulled out my phone and scrolled through some options. I found the pair she wanted, compared delivery times across a few websites, and ordered from the site that offered express delivery. Happy with my five-minute shopping trip, I went back to those amazing lemon ricotta pancakes before they got cold. Thanks to my trusty mobile, I bought exactly what I wanted, precisely when I wanted, from the brand I preferred.
Of course, this isn't a story just about me. According to a recent study by MasterCard, 45.6% of smartphone users in the region have made a purchase on their smartphones. And most recently on November 11th, Alibaba's "singles day" witnessed the world's largest online retail event, with 69% of the whopping $14.3 billion sales happening on mobile—a 54% increase over the last year.
Today's constantly connected consumers look up reviews, compare prices, and even watch videos as they make purchase decisions. In the Philippines, for example, 32% of smartphone users watch videos to find information on products and services or to shop, compared to only 9% in the U.S. and 7% in the U.K..
Smartphones have fragmented the consumer journey into hundreds of intent-driven micro-moments. These moments are critical for brands—you need to be there because these are the moments when consumers are making decisions and forming opinions about brands.
As Naho Kono, Executive Officer of Media Planning at Rakuten Ichiba says, "Our analysis showed that multi-screen customers can be nurtured to become premium customers with high spending, so we began shifting our focus from PCs to smartphones."
Here are some essential strategies that helped companies such as Rakuten win pivotal I-want-to-buy moments.
Be There
Don't assume consumers will seek you out; you have to be there. When consumers go online for purchase information, 58% turn to search first; 28% go to brand websites, 14% to social networks, and 6% to brand pages on social networks. Twenty-five percent of online users in Asia discover relevant brands online. By being where potential customers are, your brand has the chance to address consumer needs in those I-want-to-buy moments and play an active role in their decision-making journeys.
With a plethora of options, travelers have come to expect helpful information at their fingertips at all times. Once their minds are made up, they want to book right away. The team at Hilton Hotels understands this, and to be there for its travelers, it uses Google Hotel Ads to help customers easily find hotels across Search, Google Maps, and Google+ on any device. Once travelers select a property, they're taken directly to Hilton's website to complete the booking.
Through Search, users give a strong signal of intent, so make sure your brand is discoverable by delivering the right messages, the most appealing product images, and the most up-to-date information. The easiest way to see how your brand is doing is to grab your phone and see what the top search results are. Look at top and trending searches relevant to your category as well. Then think about context and see if the device (mobile vs. desktop), time of day (during store hours vs. after store hours), or location (in store vs. nearby vs. far away) calls for a more tailored approach. These intent/context combinations will help you prioritize the relevant micro-moments and figure out how to be useful with content, ad formats, and app functionality.
Don't assume consumers will seek you out; you have to be there. 
Be Useful
As a brand, being helpful is more important today than ever before; thanks to digital platforms, it's also more achievable. With mobile and search analytics, marketers now have an unprecedented understanding of the context around consumer intent; those insights can be powerful clues for determining how you can be relevant and useful at any given moment.
How Smartphone Users in APAC Use the Web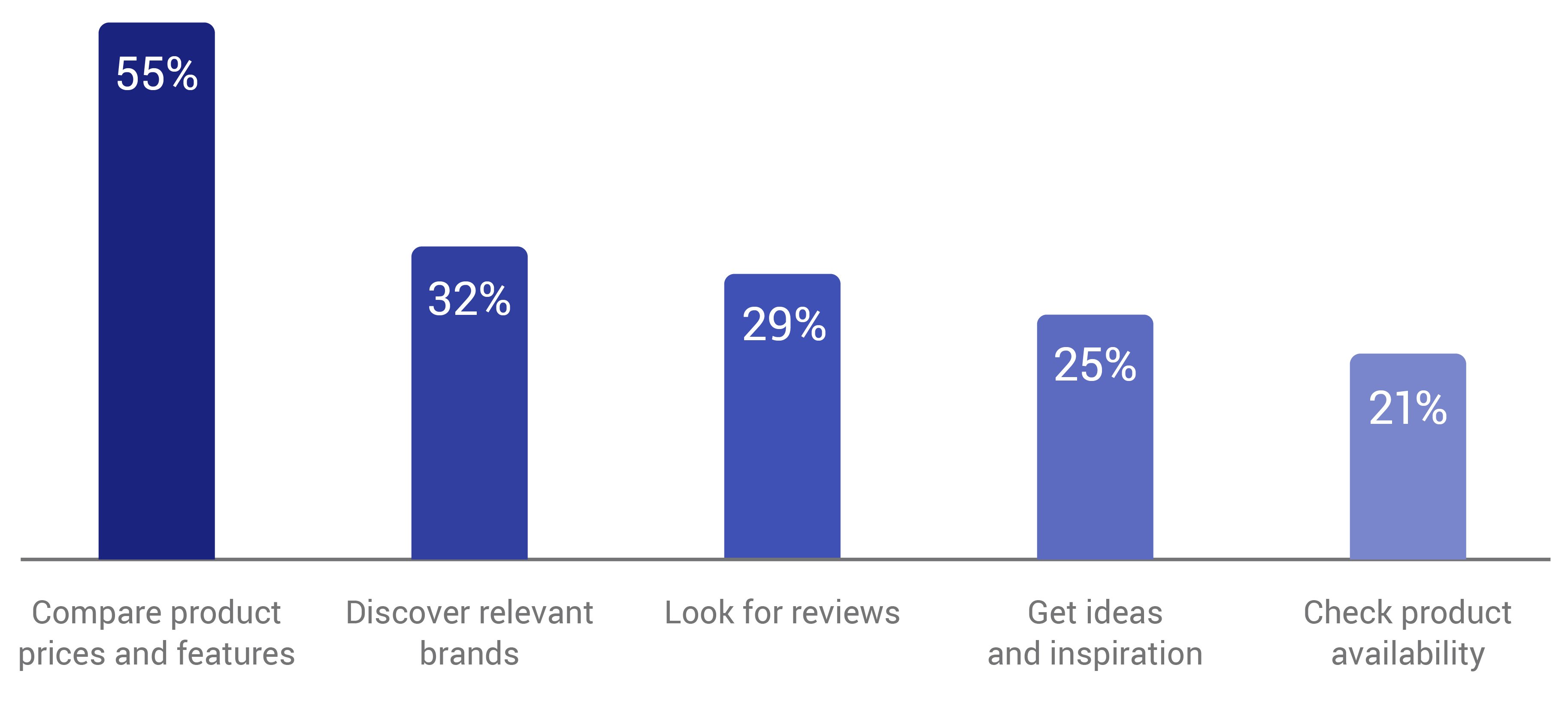 Start by looking at the kind of product research people do on their smartphones on their path to making a purchase decision. Across APAC, consumers use the web at all stages of their shopping.
Tailor this to your market and product category to see where your brand fits in. In Singapore, for example, 53% of all mobile searches are made to assist with a purchase decision, and a staggering 62% of these decision-oriented searches are done at a store.2 Likewise, 50% of all mobile searches in Malaysia are made with the intention of informing a purchase, and 75% of these searches are done as people roam the store aisles.2
The team at Sephora noticed that customers stood in the aisles with a phone in one hand and the product in the other. When team members went up to talk to people, they discovered that customers were either looking for product reviews or trying to figure out what shade they'd bought last time. To cater to these needs, Sephora built functionality in its app so that a quick scan of a product SKU would display the relevant reviews. Sephora also began storing past purchase information for its loyalty program members on both its mobile site and app, saving the customer time and effort.
Be Quick
Today's consumers want immediate answers. In Malaysia, 76% of purchases happen within five hours of the initial search and 33% happen within an hour.2
But if speed thrills, friction kills. In India and the Philippines, 37% of online users say they'll switch websites if they encounter issues (such as broken links or slow loading) while researching or purchasing a product online.
"We simplify the process for mobile consumers whenever possible," says Bolei Shen, a senior product manager for AliExpress. "So, for example, we don't require consumers to enter a verification code when they sign up for an AliExpress account on mobile, saving them a step."
Being quick is also about anticipating customer wants and needs and servicing these wants and needs swiftly and effectively. Constantly look at what customers are searching for and reading on your mobile site, then put calls-to-action for those primary activities in a prominent location.

"We thought carefully about the user experience in a mobile-first world, and we prioritized the ecosystem for both buyers and sellers," says Jason Thoe, Country Manager of Carlist.my, Malaysia's top car site that connects buyers and sellers. "This is done through tweaking and optimizing the user experience based on how people interact with the site."
The Carlist.my team revamped the site with more intuitive navigation design and moved the most popular information to the front page for better access. The site also has a click-to-call function that lets buyers connect to sellers immediately. Thanks to these improvements, Carlist.my's mobile traffic and conversions have exploded.
And of course, even the most thoughtful mobile site will fail if it takes too long to load. Test the loading time on your site using the PageSpeed Insights tool, and get custom recommendations on how to increase your site's speed.
Even the most thoughtful mobile site design will fail if your site takes too long too load.
Connecting the dots
In today's micro-moments world, there aren't separate mobile customers, desktop customers, and in-store customers. They're all customers, and they're all important. In APAC, 40% of online users research online and purchase offline (that's up to 69% in Thailand). So, be there, be useful, and be quick—and account for all types of mobile-driven conversions across devices and platforms.