More and more, marketers are seeing the potential of branded video content for building brands. Two new studies show that producing videos that aim to tell stories first and sell second can help brands gain a loyal, engaged audience.
I
t's every marketer's dream to win a Cannes Lion with the likes of an "Epic Split" or "Dumb Ways To Die." And if it was a tough contest before, new research shows that it's about to get even more competitive as marketers increasingly shift their focus—and budgets—towards telling stories through branded video content.
Intuitively, it makes sense that video content is great for brand-building. But to prove it definitively, two separate research studies were conducted, and both revealed that branded video content (made to entertain, inform or inspire) was just as, if not more, effective than traditional ads (those that hard sell a product or service).
Brand-building with online video
Before the Internet came along, brands had only one option when it came to video: TV. Many memorable TV spots have made their mark over the years, but even today, the majority of traditional TV ads still attempt to sell by cramming as much information into 30 seconds as possible. But with consumers' attention increasingly fragmented across myriad screens and destinations, what may have worked in the 20th century no longer applies: according to the Consumer Barometer, almost half of APAC consumers today use at least one other device, usually a smartphone, to access the Internet while watching TV.
A new approach for brands is video content marketing, which people are more likely to voluntarily seek out and consume. Newsletters and blogs have long been ways for brands to increase engagement with customers, and now brands are turning to online video to achieve the same effect. This presents a major shift in the way brands use video: to tell inspirational, educational or entertaining stories as the main aim, and with selling as an indirect, secondary goal. As the competition for viewer attention intensifies, brands are turning to video content to build a loyal and engaged audience.
A tale of two studies
Recently, two research studies were conducted with the goal of understanding how branded video content could be an effective tool for brand-building.
The first was conducted by IPG Media Lab. It worked with 50 brands across 19 industries in 10 countries, including Malaysia and Thailand, to measure how viewers perceived brands differently after watching either branded video content, unbranded video content, or a TV ad under experimental conditions. The brands that participated in the study each provided two videos: a piece of branded video content and a standard video ad.
The second study involved comparisons of view-through rates and Brand Lift results of videos placed as TrueView skippable ads on YouTube across APAC. The video ads were divided into two groups: those longer than 60 seconds, which were more likely to be created in the style of video content, and those shorter than 60 seconds, which were more akin to traditional TV spots. The second group included the standard 15-, 20-, and 30-second commercial durations. Here's what we found:
1. Branded video content drives an increase in brand metrics
The first study showed that viewers who watched branded video content felt more favorable towards brands and were more likely to buy or recommend the brand, compared to the control group that watched unbranded content. This was true when aggregating data across the global set of brands as well as in Thailand and Malaysia specifically.
Overall Favorability



The study also found that branded video content drove improved perceptions of the brands on dimensions such as "brand I would pay more for," "brand that connects with me," and "brand offers valuable information."
Among the global set of brands, branded content was also found to be more effective than standard video ads across a number of dimensions.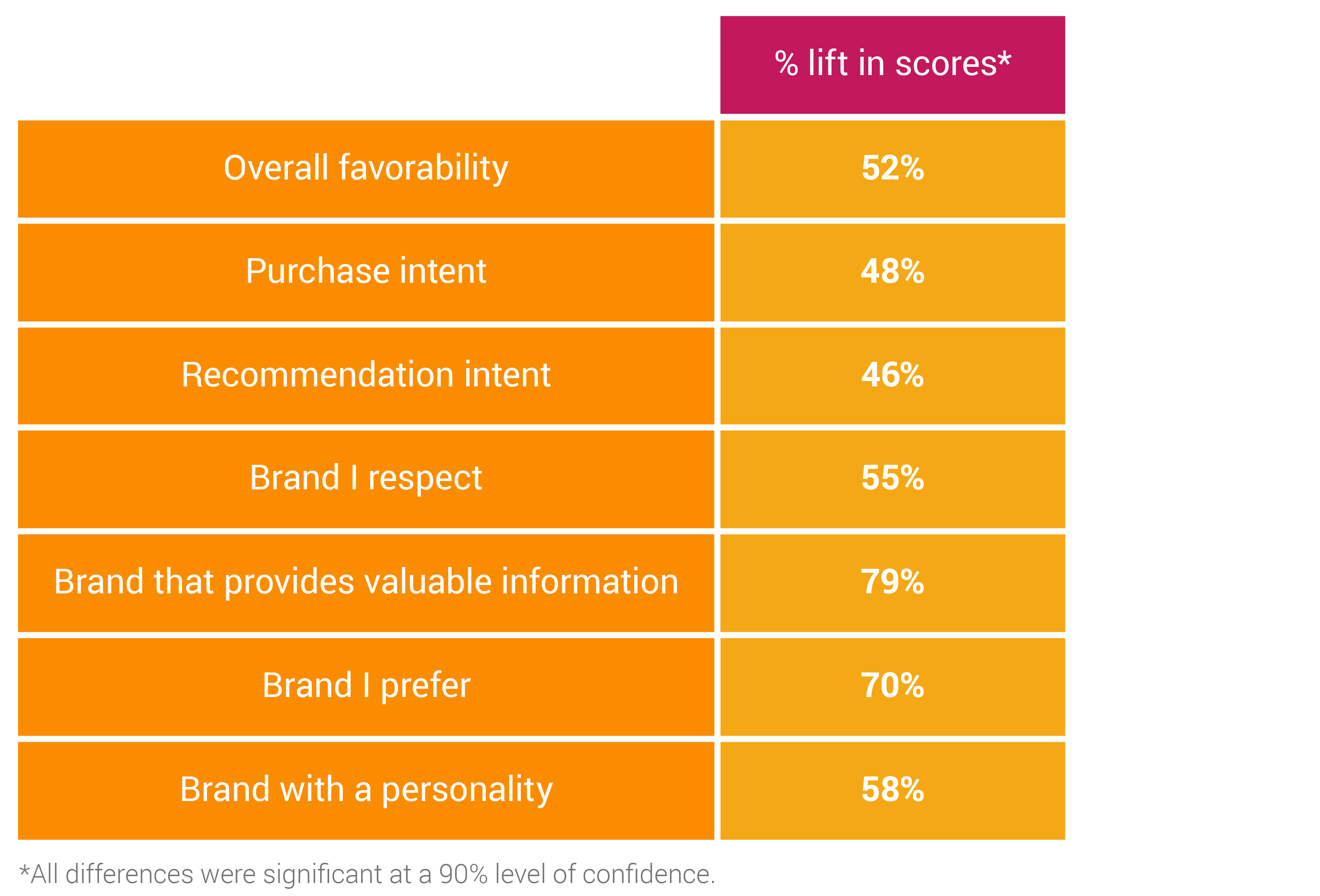 Analysis of real-world YouTube data yielded similar results. Branded content longer than 60 seconds led to a 40% lift in brand awareness and 70% lift in ad recall, compared to the shorter spots of standard TV durations. It also generated 50% more organic views, meaning more people actively sought out the branded video content.
2. Brands are prioritizing storytelling by shifting toward long-form branded content
Many brands are embracing long-form content (defined as longer than 60 seconds) to drive engagement and improve ad recall.
The video content supplied by the Malaysian and Thai brands for IPG Media Lab's study averaged more than two and half minutes in duration. Similarly, brands are choosing to place long-form videos as skippable ads on YouTube 40% of the time.
This means that brands are thinking outside the 30-second box, and taking their time to tell a story that their viewers will care about. Depending on the story, that could range from a few seconds to a few minutes.
Shifting from selling to storytelling
The results are in. When brands shift from selling to storytelling, they aren't compromising on brand metrics. Instead, prioritizing audience engagement through relevant and meaningful content can be to their advantage.
So does branded content need to be long-form to be effective? It may seem to be the case, as brands like Air New Zealand, Thai Life Insurance and Johnnie Walker have produced long-form content to great success, each earning millions of views. It must be kept in mind, however, that it's not the duration of the video that is the key to success. Ultimately, brands should ensure that their messages are wrapped up in stories that are deserving of viewers' attention.
Content is the way for brands today to differentiate themselves and build affinity and advocacy with their audiences. As Prashant Kumar, President of IPG Mediabrands, World Markets Asia explains, "Content is the new premium. With the supply chain increasingly integrated with demand chain via programmatic platforms, margins that brands can command will increasingly depend on the content itself."
Content is probably already on your mind, even if it's not yet in your budget. Research shows content works, and it's not as risky as you may think.
Methodologies
Google partnered with IPG Media Lab to determine how consumers see branded content and quantify its effectiveness. The media trial spanned 10 countries globally and included 50 brands across 19 industries. A panel-based survey was used, where 14,780 consumers were exposed to 1 of 105 pieces of test content, followed by a battery of qualitative and branding related questions.
Google conducted custom research to uncover insights about APAC TrueView campaigns from a creative standpoint to find out what makes them successful. From January to June 2015, TrueView in-stream campaigns in APAC were analyzed for key variables including region, vertical, VTR, Brand Lift, and organic/paid impressions.