(Editor's update: In Sep 2017, we relaunched Vogon as Director Mix)
With 400 hours of video uploaded to YouTube every minute,1 how can brands reach audiences that are very selective about what deserves their attention? APAC marketers are finding success with dynamic, personalized ads that speak to viewers' needs in the moment.
Video is a tale of two stories in APAC. Watch time grows by 120% each year,2 which translates to endless opportunities for brands to reach consumers who are mobile savvy and always-on.
At the same time, an enormous wellspring of content continues to grow to meet this demand. Anyone with a smartphone can upload a video and vie for viewers' attention. Curated playlists, niche communities, and show-stopping videos are available right at viewers' fingertips.
Because viewers can watch what they want, whenever they want, they tune out whatever isn't relevant to them. The bar for attention-worthy content is very high—and brands need to work harder than ever to stand out. That's why brands in APAC are getting a little personal. Instead of serving one ad creative that says the same thing to everyone regardless of their context, brands are innovating with dynamic video that speaks to people's needs in the moment.
Google's Vogon tool allows marketers to create customized creative based on different audience signals, including things like time of day or year, location, what people searched for, and what they're interested in. Mass customization may sound like an oxymoron, but Vogon can take one base video and overlay different visuals and copy, creating thousands of iterations automatically. Then it's just a matter of pairing up the viewer's context (for example, having just searched for "makeup tutorials") with a relevant video (creative that says, "Hey, beauty addict!"). These tailored creatives allow brands to maximize their reach without sacrificing impact.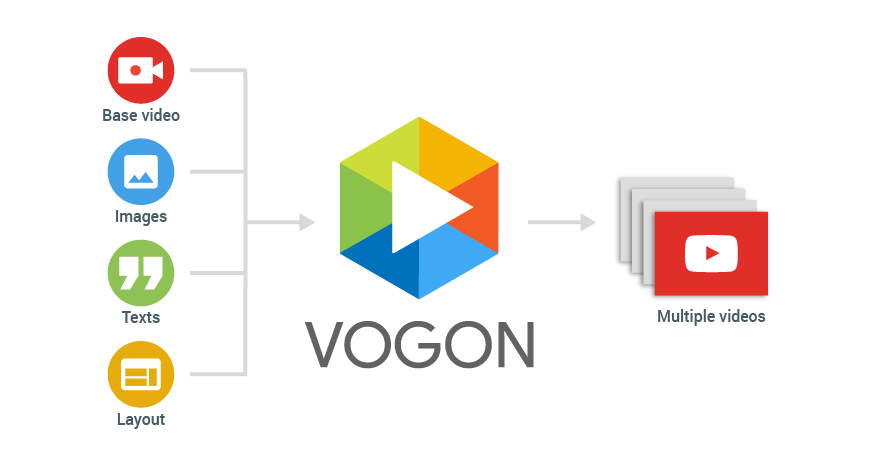 Despite being a relatively new tool, Vogon is already being implemented by some of the largest companies in Asia Pacific to better earn the attention of video-obsessed consumers. And it's working.
Vogon shows off the relevance—and convenience—of OLX's platform
As the #1 online classifieds platform in Indonesia, OLX helps more than 20 million people buy and sell second-hand goods every month. To keep growing, it must continuously inspire users to buy new things at affordable prices at OLX and to sell the things they don't need. While cars, gadgets, property, and motorcycles are its largest categories, OLX saw huge opportunities in further engaging their youth and female audience segments to grow categories like fashion, baby products, and sports.
The key driver in this industry is convenience, so OLX turned to Vogon to adapt a base video to the various needs of these audiences. Vogon scaled the original creative to 150 relevant variants targeting more than 14,000 keywords (within a timeline of just ten days) and made it so soccer fans were targeted with team jerseys and people listening to popular music clips got an offer to browse new headphones on OLX. When viewers clicked on a tailored ad, they were directed to a relevant landing page.
Doubling down on precise and scaled hypertargeting paid off. The brand increased its daily paid installations volume by 6X at the same cost per installation (which was 58% lower than video ad standards). The six-second bumper ads had a view-through rate of 90%, and despite already being a household name and the top platform for online classifieds, OLX was able to reach new users in new categories and increase brand awareness by 5.3%.
Netflix uses Vogon to be topical and timely
"How do you make slime?" Strangely enough, that's a top query on YouTube in some parts of Southeast Asia, and it's another indicator of the vast array of content competing for attention. It may not seem that Netflix would have a relevant ad for the slime conversation, but by using Vogon, it was able to take a slimey scene from Stranger Things, layer on the copy that references the person's search, and make a highly relevant ad.
Netflix also uses Vogon to quickly respond to global trends and events. For example, 12 hours after The Crown won two Golden Globes in 2017, Netflix had created and pushed live a video ad congratulating the show across all of Southeast Asia. All it took was one line of copy and Vogon.
This timely, personalized approach paid off. The Vogon campaign achieved a +13% lift in ad recall across markets and a +7% lift in brand awareness in the Philippines, which is particularly impressive for an already well-known brand.
Know your audience, know the tools
The first step in delivering relevant ads is understanding what your audience is up to. Insight tools like Consumer Barometer and Google Trends can give you a window into what people are searching and what they care about. Then you can line up what your brand offers with what people care about and identify the right moment to connect.
Trends can shift in the blink of an eye, which is both a challenge and an opportunity for brands in APAC. Connect to a trend in a fun way, and your brand can delight viewers. Get on board too late, and you risk looking outdated. Dynamic ad tools like Vogon can help brands tap into trends while they're still what everyone's talking about, without needing to storyboard, shoot, and edit. Dynamic video tools can help brands create content quickly and within budget, and make them more likely to reach an audience that's getting used to tuning out all the unnecessary noise.