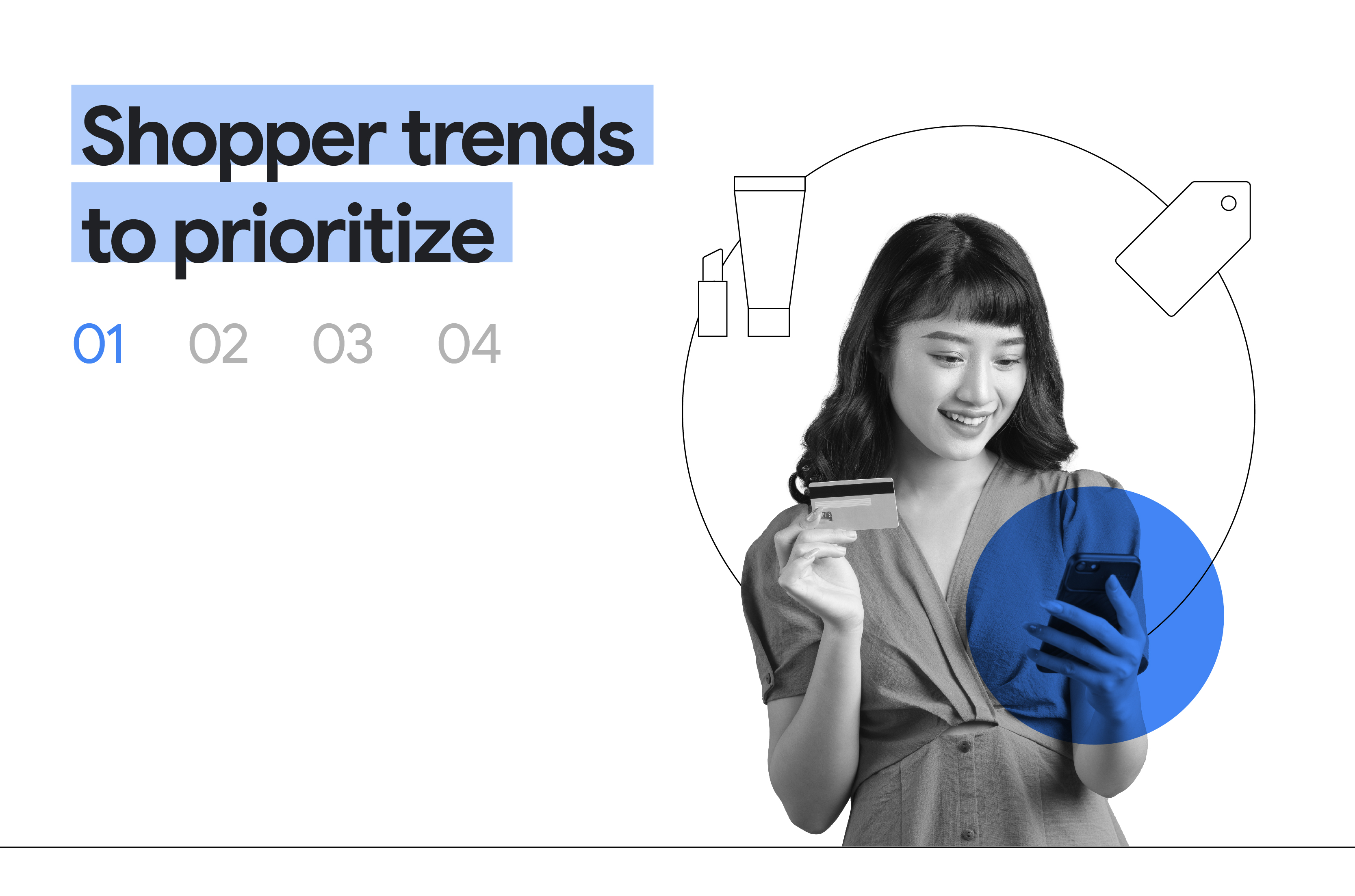 In the first of our four-part guide, we dive into the latest shopper trends for mega sale days. Explore the rest of the guide for tips on building impactful ad creative, seamless shopping experiences, and effective media strategies.
The immense popularity of mega sale days in APAC is a valuable opportunity for your brand to drive growth. The key to success during this peak sale season is understanding how consumer buying behaviors are evolving, so you can better meet people's needs on mega sale days.
Gen Z consumers, overseas shoppers, and new digital users are among audiences whom brands have an opportunity to reach this mega sale season. In Southeast Asia (SEA) alone, there have been 60 million new digital consumers since the pandemic started, and over 60% of Gen Z shoppers have participated in double-digit day sales such as those held on 9.9 (September 9) and 10.10 (October 10).1
Overseas shoppers are also a significant audience, even if your mega sale event is held in a local market because international shopping is on the rise in the region. In South Korea, for example, 75% of online consumers are shopping cross-border, and in Indonesia, imported e-commerce packages increased by 8.1X.
Having a keen understanding of your shoppers' priorities and how they research and shop during this period will help you develop a mega sale strategy that meets your shoppers wherever they are and whatever their need.
What shoppers prioritize during mega sale days
When you know what's top of mind for shoppers during mega sale days, you can prioritize meeting those needs and grow your business. The latest shopper behavior data points to three things shoppers prioritize: good deals, luxury items, and sustainable goods and services.
Shoppers expect to get a good deal, and that doesn't just mean a low price
The unbeatable prices during a mega sale are a major draw for consumers, especially now, when they feel the pinch of global inflation. Indeed, APAC shoppers will go as far as to switch brands or stores for a better price. More than 40% of shoppers in India would purchase from a brand that wasn't their preferred one, when faced with rising prices.2
But shoppers aren't drawn to price alone — they're ultimately after a good deal. Across SEA markets, "good deals / price" was the top reason that triggered shoppers' most recent interest and purchase in a product.3
What makes for a good deal? Flexible payment options, for one. Cash on delivery is an increasingly sought-after form of payment. In Vietnam, search interest in terms containing "thanh toán khi nhận hàng" (cash on delivery) has grown over 130% during the peak shopping season in 2021 versus the same period the year before.4
Also popular: buy now, pay later, because it provides low-interest payment options for those without a bank account. Search interest in terms containing "buy now pay later" has increased over 2X in Singapore and 5X in Vietnam (mua ngay trả sau) in September to December 2021 versus the same period a year before.5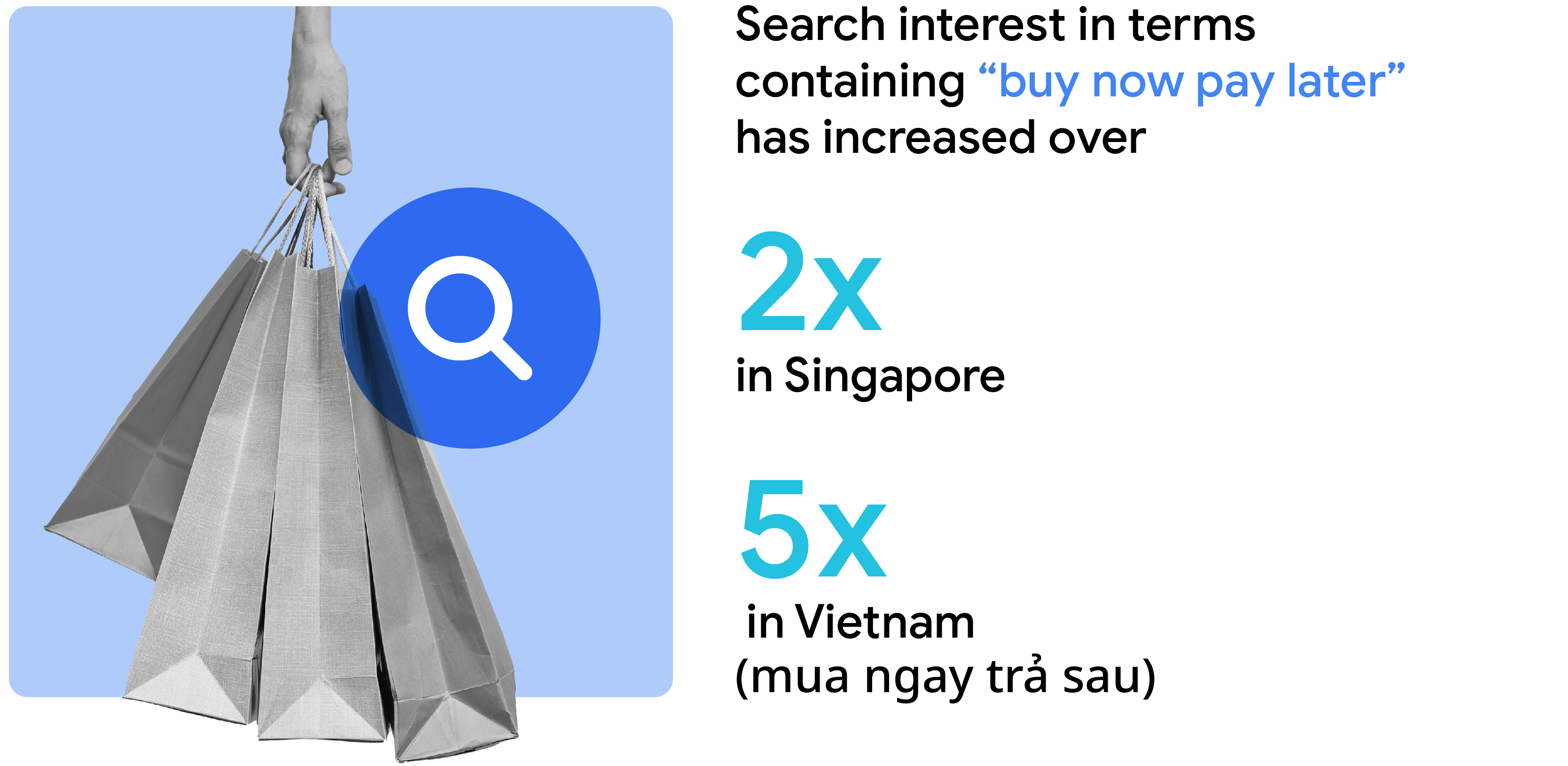 Another priority for shoppers: speed and convenience, such as same-day delivery. This matters so much to SEA customers that 60% of them are willing to pay more for same day deliveries.
Indeed, because shoppers are prioritizing good deals over just an attractive price tag, they're also buying luxury and premium goods on mega sale days.
There is rising interest in buying luxury and premium goods online
Luxury shopping used to be synonymous with an exclusive in-person experience. However, with digital lifestyles becoming a mainstay during the pandemic, people are now more open to buying luxury goods online.
Search interest in "luxury goods" grew by 20% in Singapore during the peak shopping season in 2021 compared with the previous year,6 while search interest in phrases containing "quality products" grew by over 165% in Vietnam (sản phẩm chất lượng) and 125% in Thailand (สินค้าคุณภาพ) during the same period.7
It's no surprise, therefore, that people are buying more premium brands and high-quality goods on mega sale days. In 2021, sales for Shopee Premium brands surged by about 50X during its 11.11 sale day compared with the week before.
People increasingly value sustainable goods and services
Aware that their consumption habits can impact sustainability, people are putting their money where their mouths are: 28% of consumers are willing to pay a premium for more sustainable goods and services, and 53% of Asians have stopped buying products and services that negatively impact the environment and society.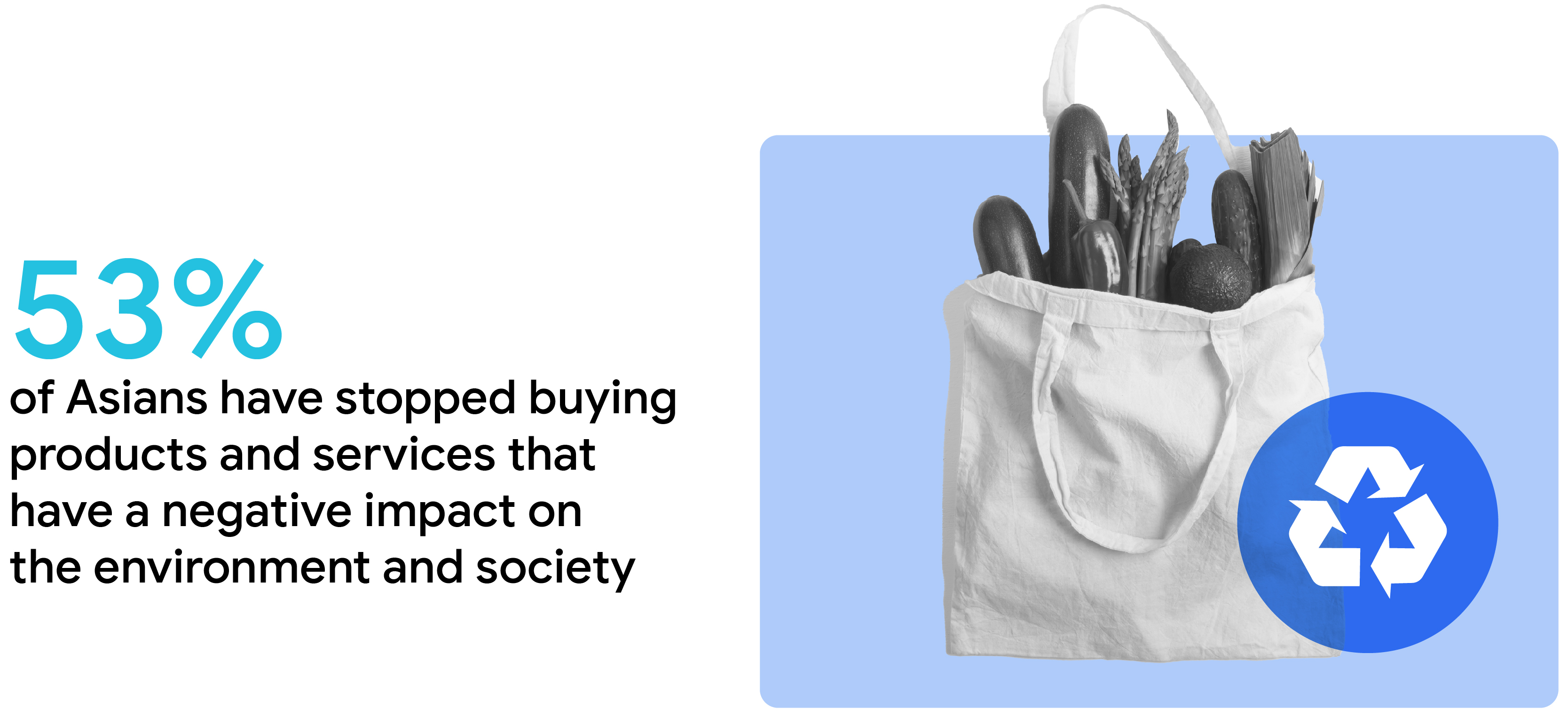 Brands that prioritize people's desire to shop sustainably during a mega sale may find themselves rewarded handsomely, like Alibaba. The e-commerce platform offered extra discounts for its new green vertical and distributed vouchers worth CN¥100 million for green products and services to encourage sustainable shopping. Its efforts paid off, with over 2.5 million people buying green products at its most recent 11.11 day sales.
When and how people research and shop during mega sale days
Besides knowing what shoppers prioritize during mega sale events, brands also need to be aware of when and how people research, compare, and evaluate products to meet them wherever they are in their purchase and decision-making journey.
Shoppers research as early as four weeks ahead and turn to Search and YouTube to weigh their options
Our mega sales data shows that shoppers start their search as early as four weeks before a double-digit event day.8 And in the one to two weeks leading up to a mega sale day, people often compare products before making their purchase on the sale day itself.
To help them make their final purchase decision, people turn to Search and YouTube to compare and evaluate products. Among SEA shoppers who made a purchase during double-digit sale days, 96% used online tools to research and compare various deals and products.9 Search is a particularly trusted online source, with 75% of shoppers in Indonesia and Singapore using Google to search, explore, and evaluate products from brands.10
People also turn to YouTube, and especially their favorite creators, for product information. According to our study in APAC, 82% of YouTube viewers agree that YouTube creators inspire confidence, shortening the consideration phase and expediting purchase.11

People are also looking for information and inspiration via immersive shopping experiences, with conversations around live streaming increasing 213% last year.
People shop on various platforms for different reasons
When it comes to mega sale days, people don't just shop on one platform. Their top three shopping platforms are e-commerce websites or apps, official brand sites, and physical stores,12 and they shop across various platforms because each has its own appeal.
For example, people feel that products sold on official brand sites are trustworthy and authentic and they're willing to pay 20% more on average when shopping on brand.com because of the peace of mind it provides.
It's therefore important for your brand to establish an omnichannel retail presence across people's shopping journeys to effectively reach them on the various platforms they use to make their mega sale purchases.
Now that you know what shoppers prioritize during mega sale days — good deals, premium quality, and sustainability — and where to connect with them, find out how you can unlock these insights to develop ad creative that cut through the noise, provide a seamless shopping experience, and launch a strong media strategy in the next three parts of our mega sale guide.
Contributor: Rachael Powell, APAC Consumer and Market Insights Lead