With over 400 million people online, India has come a long way from families having to gather around the TV to catch up on that week's episode of their favorite sitcoms. Thanks to mobile and online video, millions of Indians are now merely one touch away from the content they love. As access to marketers' most valuable audiences becomes a commodity, the challenge will shift to capturing audiences' attention.
In the 90s, millions of Indians considered their TV sets to be extended members of their families, and marketers from all horizons benefited from what was called "captive audiences." Back in those days, there were only a handful of options for marketers looking to achieve significant reach through video. Millions of people tuned in to be captivated by just a few shows each night, including ACP Pradyuman and his Crime Investigation Department. Today, Indian families are just as captivated by video, but where and how they watch has evolved.
Understanding the age of attention
Today, audiences consume content anywhere, anytime, and on multiple screens. There are thousands, if not millions, of video channels available to viewers and marketers. This represents a true paradigm shift for marketers. Reach used to be scarce while attention was plentiful; now reach is plentiful and attention is scarce.
At Google, we recognized this shift and baked it into our products. It might have seemed crazy when YouTube launched skippable TrueView ads in 2010, but it was simply acknowledging that people live in a world of choice and that brands have to earn people's attention. Of course, audiences were already skipping ads before TrueView. A recent study conducted in partnership with Majestic Research using eye-tracking technology revealed that only 50% of Indians watch the first ad during a commercial break, and this number goes down to 13% for the last ad of the break.1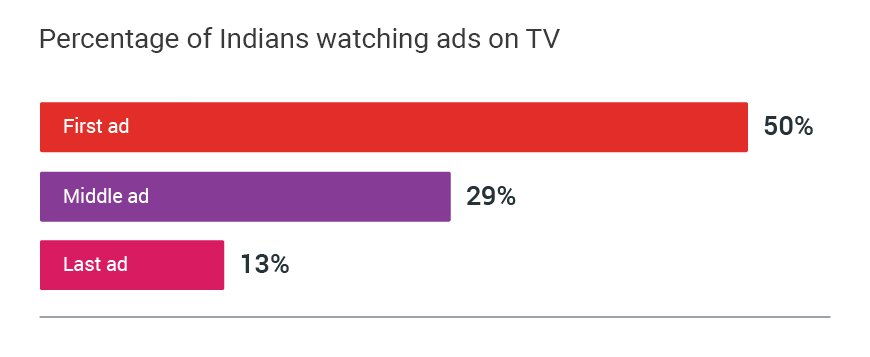 While stats like these represent a challenge to traditional approaches to marketing, we strongly believe that right now is a golden age for marketers. It may be harder to get someone's attention, but it's easier to know when you have it. It seems like we can, at last, prove John Wanamaker wrong when he said, "Half the money I spend on advertising is wasted; the trouble is, I don't know which half."
Measuring attention
Leading institutions like the Harvard Business School have published papers establishing consumer attention as the ultimate currency for marketers. Brands like L'Oreal are also realizing the value of attention and integrating it into their campaigns to maximize impact. As Pankaj Sharma, general manager, marketing, L'Oreal CPD India, detailed, "YouTube is a key element of Garnier's media and brand mix as we create and promote online content to popularize our ideal of natural beauty backed by science. We pay particular attention to measurement metrics such as viewability and audience retention to make sure our content drives impact. We have been really pleased with the results in recent tests, with 92% YouTube viewability, and are happy to see YouTube leading the way here."
Digital has provided marketers with a set of tools and analytics that has profoundly changed how campaigns are created and measured. It all starts with viewability, which measures whether people were able to see the ad on their screens clearly or whether they scrolled past it. YouTube has 93% average viewability, compared to only 54% for all other video ads across the web.

Measurement doesn't stop there. Ad views are important, but impact comes with engagement and audience retention—after all, ads are created to be watched fully! At YouTube, we have worked very hard to deliver an immersive experience that lends itself to greater engagement, and it shows: Based on in-home eye-tracking research, attention paid to ads on YouTube's mobile app is 84% higher than advertising on TV.
Building for attention
So what should marketers do to win in this new age? Here are two insights every marketer should keep in mind:
It's all about mobile ...
Mobile viewership has profoundly changed. Access, screen real estate, and available content used to limit mobile viewing to short and snackable content. Today, over 80% of time spent on YouTube comes from mobile devices2—they've become the new TV sets and the primary devices for content consumption in India. Lines between traditional and new media have blurred. For example, TV shows are one of the most popular content categories on YouTube. They're watched heavily by on-the-go viewers who want to catch up on missed episodes. It seems like old habits die hard—"Crime Investigation Department" (CID) is now one of the most-watched shows on YouTube!

Mobile usage does have its nuances. Notably, people's attention spans on mobile are more varied; sometimes users watch longer videos than they would on desktop, and sometimes they're watching in short bursts. That's why we launched Bumper ads: six-second creatives that are made for these moments when users have less time to spare. They've proven to be massively successful: 90% of Bumper ads boost ad recall, with an average lift exceeding 40%.3
... and making great content that people love
The longevity and popularity of content like CID shows that compelling creative, whether short or long, will always win, and most marketing fundamentals haven't changed. Arguably, they've been reinforced. Even today, marketers should constantly be asking themselves, "Why would my audience care, and how can I earn their attention?"
GEICO, a U.S.-based insurance company, recognized that users might not have time for its ads, so it developed a twisted series of short ads that were condensed for the viewer's convenience.
YouTube: earning audiences' attention
We're seeing people spend an increasingly large amount of their time consuming digital content. One billion hours are spent on YouTube every day! To engage audiences with authentic, attention-grabbing content, it's time for marketers to acknowledge the trends that are profoundly changing consumers' consumption patterns—and make the most of the new tools at their disposal.