Manual bidding can't keep up with all the combinations of ad formats, devices and audiences available today. Google Ads' Unified Bidding solution - Smart Bidding uses machine learning to optimize for a wide range of bidding signals in real time ― reducing complexity and improving results.
Digital marketers have more ways to reach more consumers on more devices than ever before, yet it's harder to stay efficient while juggling all the added options and variables that result: from setting the right bids for two users who seem to have quite different intents, to understanding how ROI changes when mobile is part of a buyer's journey.
It's easy to become so lost in details that we lose sight of our core job: to think strategically and use these new opportunities to drive growth for our organizations.
Like a lot of people, Google has been thinking about this challenge. Is it possible to remove all that complexity, save time and costs for advertisers, and build a better experience for every kind of consumer? We believe it is.
It starts with strategies
Most online advertising bids have one of two goals:
Brand awareness: Use search to drive more visibility or clicks
Conversions or revenues: Use search to convert more
To reach those goals, most people have used strategies like these: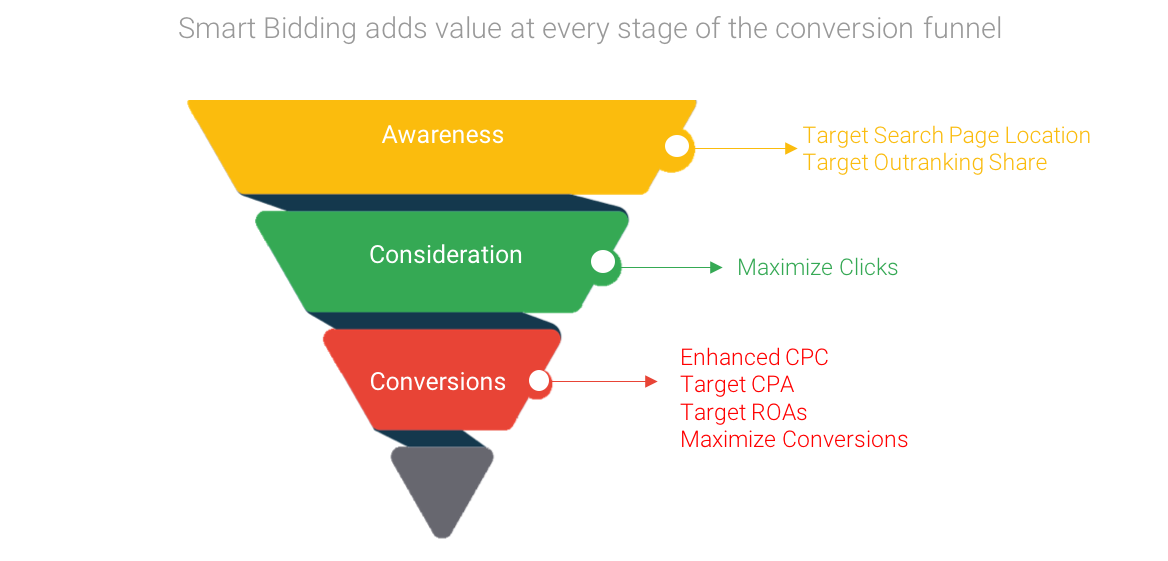 These have all been effective in their way. But none of them alone makes the most of the technology available today. Manual approaches in particular just aren't able to compete in today's automated and programmatic world.
That's where machine learning comes in.
Automated in real time
Machine learning offers an automated, real-time way to optimize your bids to achieve more conversions or higher conversion values. It simply puts the power of data to work for you. Choose the metrics that are most important to you - things like target CPA or ROAS or maximum conversions -- and machine learning can help you make the best bid for every auction.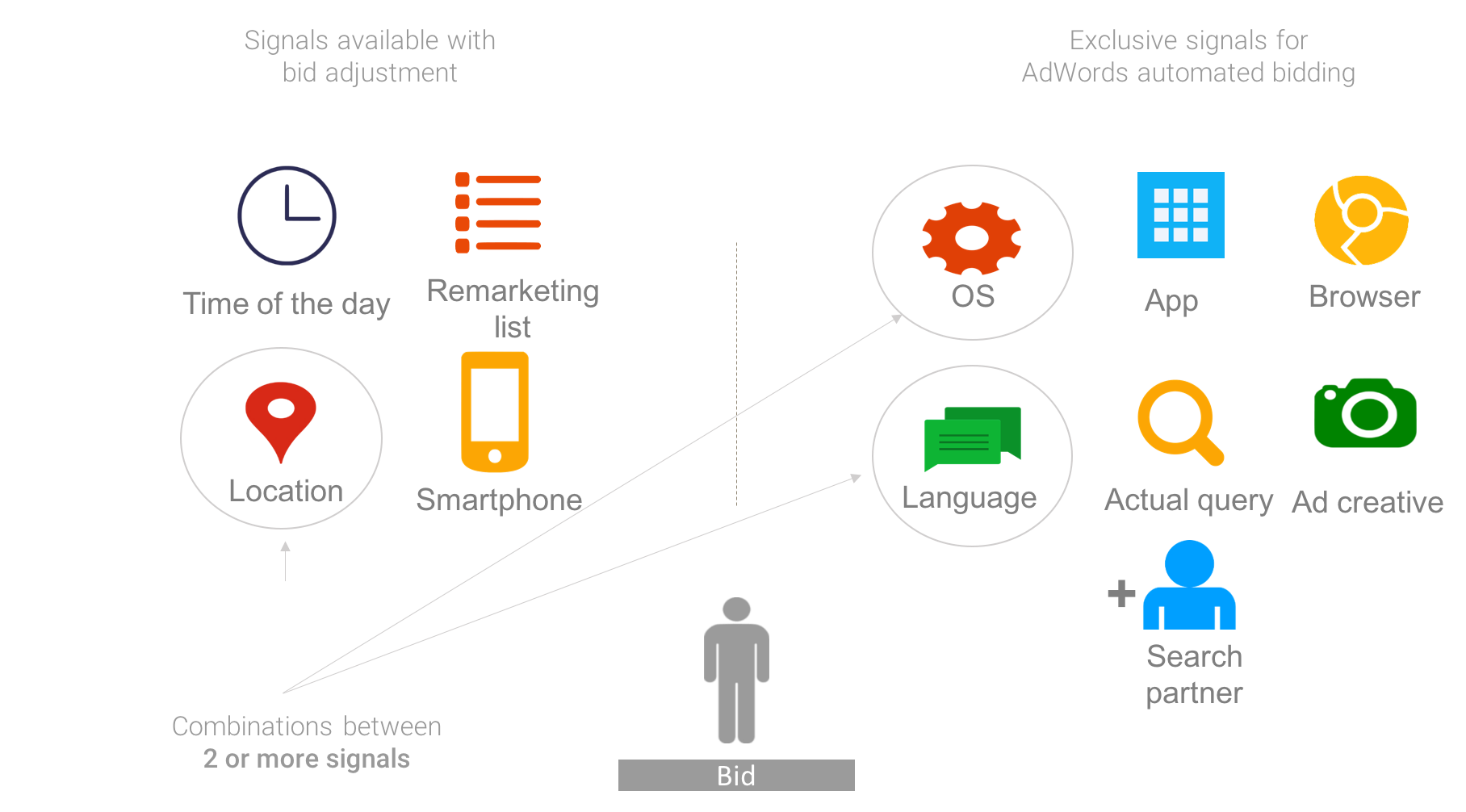 Machine learning can manage a wide range of bidding signals, starting with the user's device and then adding variables like their language, the time of day, available ad creatives and much more. The end result is to tailor bids to each user's specific and unique context. If certain types of people on mobile devices between 4 and 8 pm are much more likely to convert for you, machine learning can spot this trend and work with bidding tools to raise your bids to give you the best results from those people and those moments.
Improving Conversion Rates
If you run a local shoe store (just to take one example), machine learning might show you how queries for "shoes" and "red shoes" often lead to very different conversion rates (CVR). If "red shoes" gives you double the conversion ratio, you'll probably want to raise your bids on that term and lower them for just "shoes." Machine learning tools mean that those bids can continue to improve over time.
Here's a desktop preview of the example :

Machine learning adds value to a wide range of verticals, from banking to eCommerce and beyond. If you're in real estate and leads are what matter to you most, it can examine user signals to suggest higher bids on the user segments who have shown they're more likely to become leads. That's the kind of complexity that simply can't be addressed efficiently with manual bidding.
Google's response
In response to these challenges, Google has launched its own unified machine learning and bidding solution, called Smart Bidding. It combines machine learning with true auction-time bidding to drive new and added value to advertisers, while bringing more relevant ads to users.
Google Ads1 Smart Bidding puts complexity to work for the advertiser. It compiles and integrates today's detailed data, then uses auction-time bid adjustments to drive outcomes that are not humanly possible. Smart Bidding comes with transparent reporting and status updates, so you can always test how well Smart Bidding works for you and understand what's going on under the hood of your bid strategies.
Just as importantly, Google Ads Smart Bidding works with dozens of third-party ad platforms like Kenshoo and Adobe. Advertisers can leverage an eCPC bidding strategy to complement their third-party bids, provided the conversions tracked in the two systems align with less than 10% deviation.
Case studies
Leading companies across India, in industries such as travel, retail and online classifieds, now use Smart Bidding to help them improve results.
OLX helps millions of people buy and sell used goods from each other every day in local communities around the world. In a recent three-week test of Google Ads Smart Bidding vs. third-party platforms alone, OLX found that Smart Bidding delivered 89% more conversions ― at a 32% lower cost per conversion.

Goibibo is one of Asia's leading travel booking engines, offering hotel and airfare bookings on its website and popular mobile app. Their A/B tests of manual bidding vs. target CPA Smart Bidding showed a 25% increase in hotel transactions, along with a 22% lower cost per conversion for hotel non-brand search campaigns.

ICICI Prudential AMC, India's largest (by Assets Under Management) Mutual Fund Company improved their ROI using Smart Bidding . Correct identification of keywords and query volumes helped them activate tCPA based bidding campaigns that in turn delivered 70% increase in SIP Transactions with a 27% drop in Cost per transaction.

IndustryBuying.com, one of India's leading B2B retailers, turned to Smart Bidding because they wanted to be more efficient without losing their ad ranking on high-demand brand terms. After opting in to enhanced CPC Smart Bidding, they reduced CPAs by 49% while maintaining or improving their average position on desktop and mobile.

Available to all
Smart Bidding is available to anyone with a Google Ads account. For any strategy, at any stage of the buying funnel, Smart Bidding can help.
Perhaps most importantly, it creates efficiency ― so your team can stop juggling details and focus on the strategic thinking that can move your business forward.