India is witnessing strong growth in display advertising, and with growing inventory, a variety of formats and many potential targeting options marketers face a daunting task to get optimal ROI from this medium.
With a growing number of smartphones and lower costs of data, an unprecedented number of Indians are coming online. Most of these users are spending their time consuming content via web and apps on mobile, which are prime channels for display advertising. Marketers have found great value in reaching out to these users via display advertising to drive awareness, consideration and influence purchase.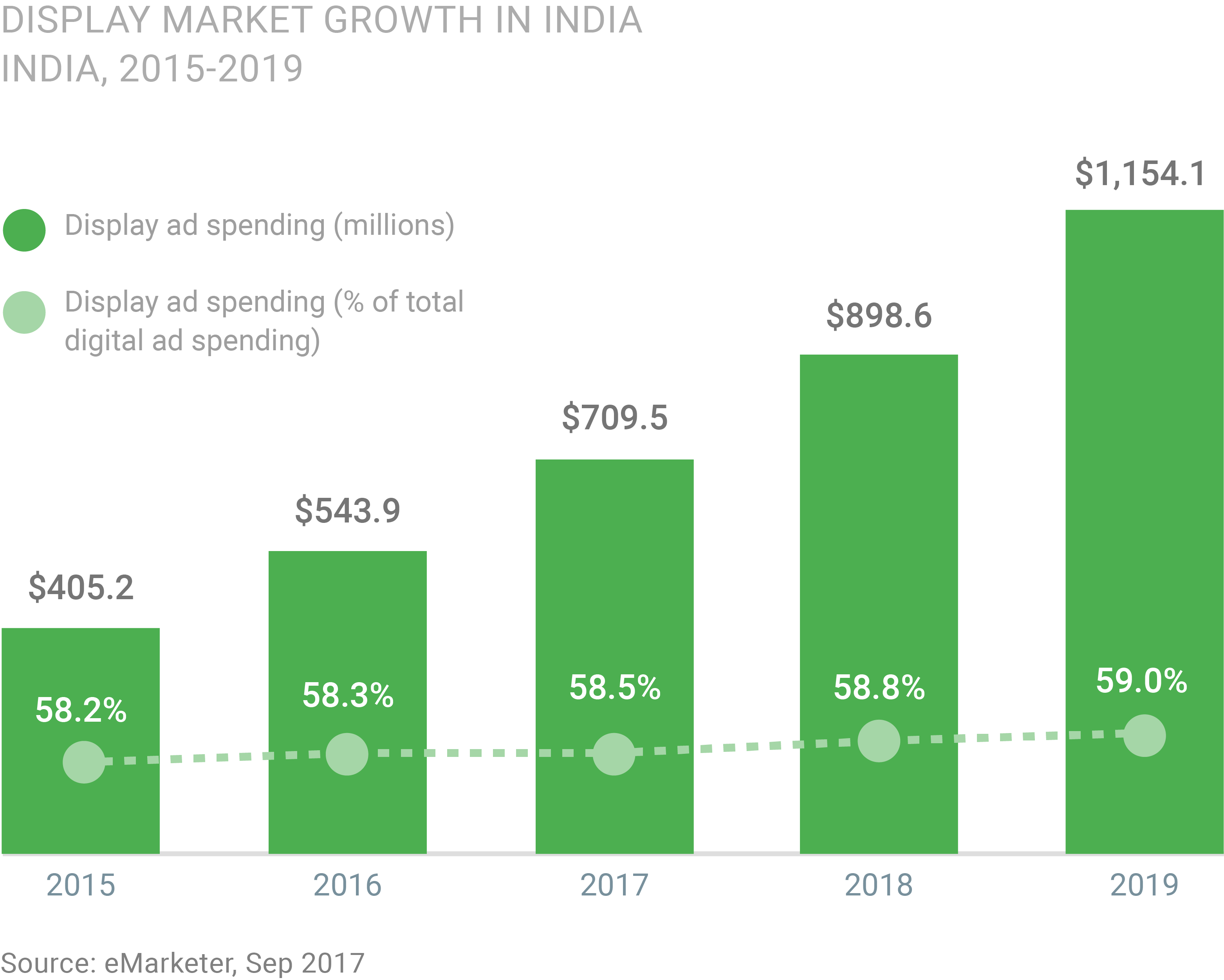 This staggering growth in the mobile world has brought a new set of challenges for marketers on getting optimal returns from display ads. The exponential increase in number of screen sizes, signals and formats is complicating display campaign management. Back in the early days of display advertising, choices were fairly limited: you could add new creatives, include more geographic areas or broaden targeting to find your audience. Today, display advertising offers a tremendous number of new choices which include:
Creatives: Should you use text ads, image ads or both? If so, which of a dozen available sizes and formats? What about native ads? Which product and message combination should be used for targeting a given customer segment?
Targeting mix: Whether you're trying to reach lower-funnel, mid-funnel or even upper-funnel customers, you have a number of targeting options: by keyword or topic or placements, using affinity or in-market audiences, remarketing to your website visitors, and many more.
Bidding: One bid doesn't fit every situation, of course. Display bidding offers a wide variety of choices, from list-based and location-based bid modifiers to device-specific bids and bidding on CPM, CPC or CPA.
With all these settings and options, it becomes very time- and effort-intensive for a marketer to identify the ideal combination to reach their goals.
Here's the good news: Smart display campaigns (SDC) can solve this problem. This is done by using millions of data signals to train machine learning algorithms, to identify combinations of creative assets, user targeting and bids which drive the most value for the marketer. This allows the campaigns to automate targeting, bidding and creatives so that marketers show the right creative to the right user at the right bid.
Creative
The number of devices and ad units has been growing exponentially with significant fragmentation -- this means the top 10 devices cover only 15% of the user base. This, in turn, has created a need for a scalable way for the different sizes of ad units to be rendered while ensuring that the message shown is relevant to the user being targeted.
Smart display campaigns help bridge this gap by automating the process of ad creation. In order to do so, the campaign takes in multiple assets, which includes up to 5 lines of text, 5 lines of product/service/offer description, 15 images and 5 logos -- to stitch together a creative based on the ad slot and user being targeted. Additionally, once the campaign has built up some data it offers insights on which creatives work best and which don't so that marketers can adjust the campaign to use most effective images and text.
Automated targeting
With SDC, campaign targeting is optimized to make sure that it serves ads to the appropriate audiences. That means ads begin to appear more often where they can get you the best results. In order to do so, it leverages millions of data points to learn which segments of users are more likely to engage in chosen conversion actions. This includes the Remarketing tag, Conversion Tracking tag, and the content on your website landing page.
As a result of this, SDC helps marketers reach early-consideration users that the typical manual campaigns might miss. They do this by leveraging the learnt intelligence about users to catch them "mid-funnel"— that is, earlier in the buying process.
For example, an advertiser selling shoes might not have thought of including pages containing keywords for say "school uniforms" or "sports gear". Automated targeting would look for strong associations between users who are buying shoes on the site and content websites for said keywords. Upon finding an association, SDC will automatically start targeting the sites and apps.
In effect, SDC identifies the optimal budget mix across different display targeting types to achieve an efficiency goal. This makes it extremely simple to use, more so when expanding into new markets or for testing across other languages.
Smart bidding
As campaigns scale up, it gets harder to set appropriate bids manually. But smart display campaigns use Target CPA as a basis for bids in individual auctions, based on the likelihood of customers to convert. It's the kind of situation-specific bidding that only machine learning can deliver.
Over time, SDC learns to bid more aggressively in situations where an ad is more likely to convert, and to lower bids when a conversion is less likely.
Success Stories
Leading companies across India are seeing better results with automated help from Smart display campaigns.
Myntra brings the best of global fashion brands to shoppers across India. They turned to Smart display campaigns to find new customers and improve revenues, using specific smart display campaigns for their footwear and clothing sections with a variety of Smart display ads using different asset combinations. These new campaigns drove twice the transactions of their non-brand marketing campaigns, with a 2.5X better return on investment.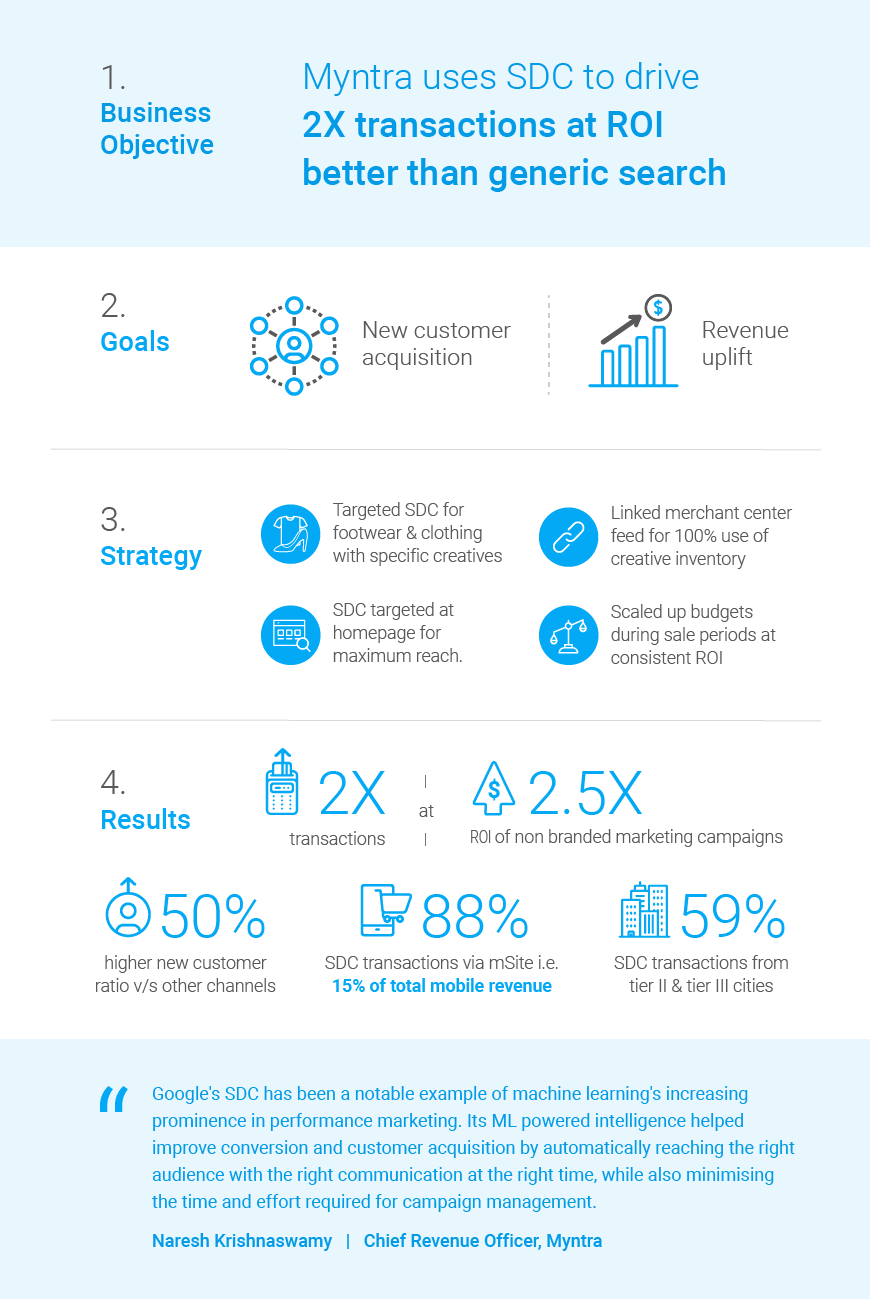 Carwale is a one-of-a-kind platform where car buyers and owners can research, buy, sell and come together to discuss and talk about their cars. Using SDC, they could drive quality traffic to the website and improve user engagement with an average of 40% uplift in web session duration. Carwale could leverage machine learning and SDC to create ads at scale with a wide variety of images, descriptions and headlines to suit their traditional target audience and also reach new audience demographics (35+ age group).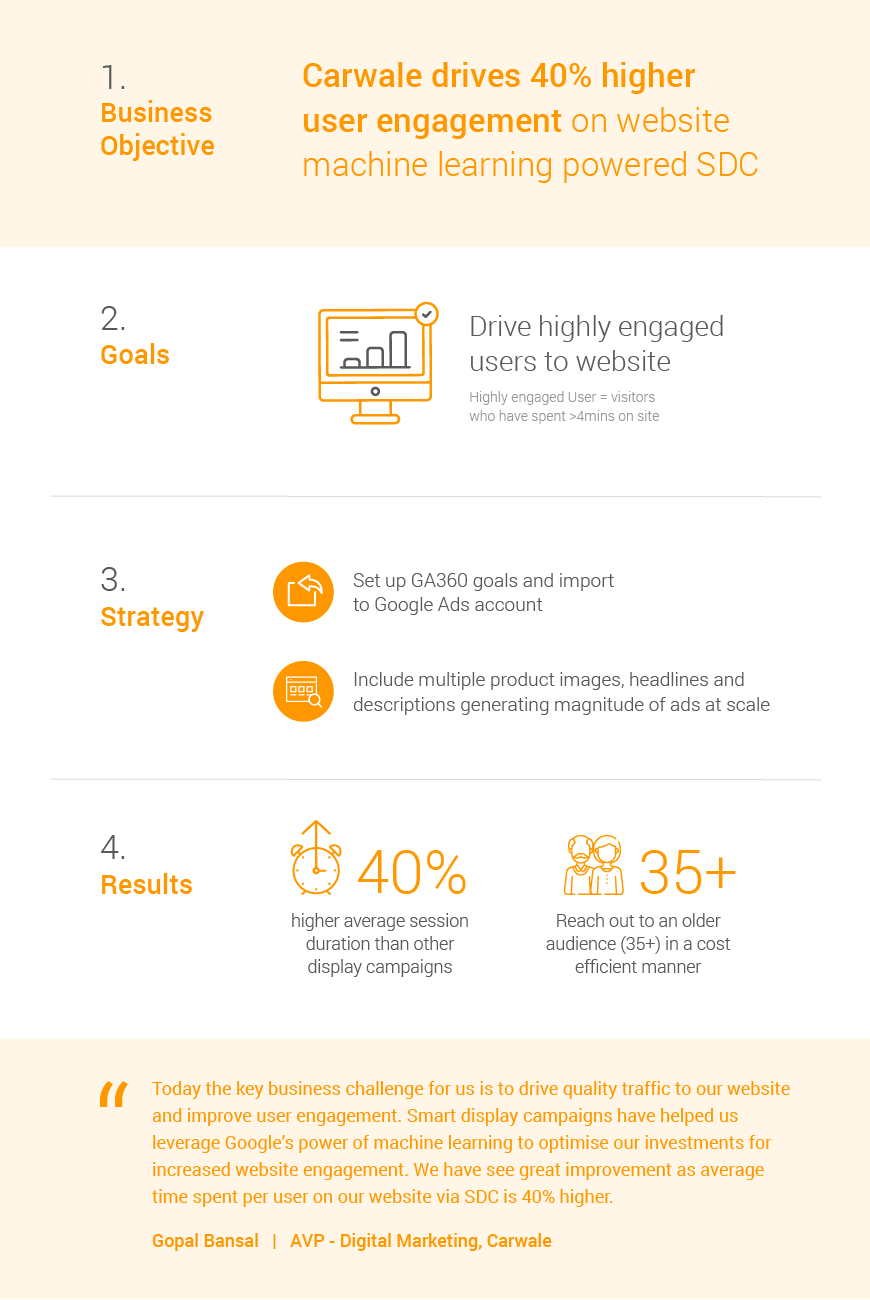 BankBazaar is an online marketplace that offers consumers helpful custom rate quotes on loans, credit cards and personal finance products. To improve their CPA and ROAS, they used SDC to test multiple creatives using their images, logo, descriptions and headlines. Bankbazaar also used deeper integration with their CRM systems to train SDC on deep post-call center conversions, instead of shallow conversions on the website. This allowed SDC to learn the conversions that Bankbazaar truly cared about, and fine-tune its model to target and bid accordingly. The result: SDC drove as much as 65% of the total display scale at CPAs equivalent to search.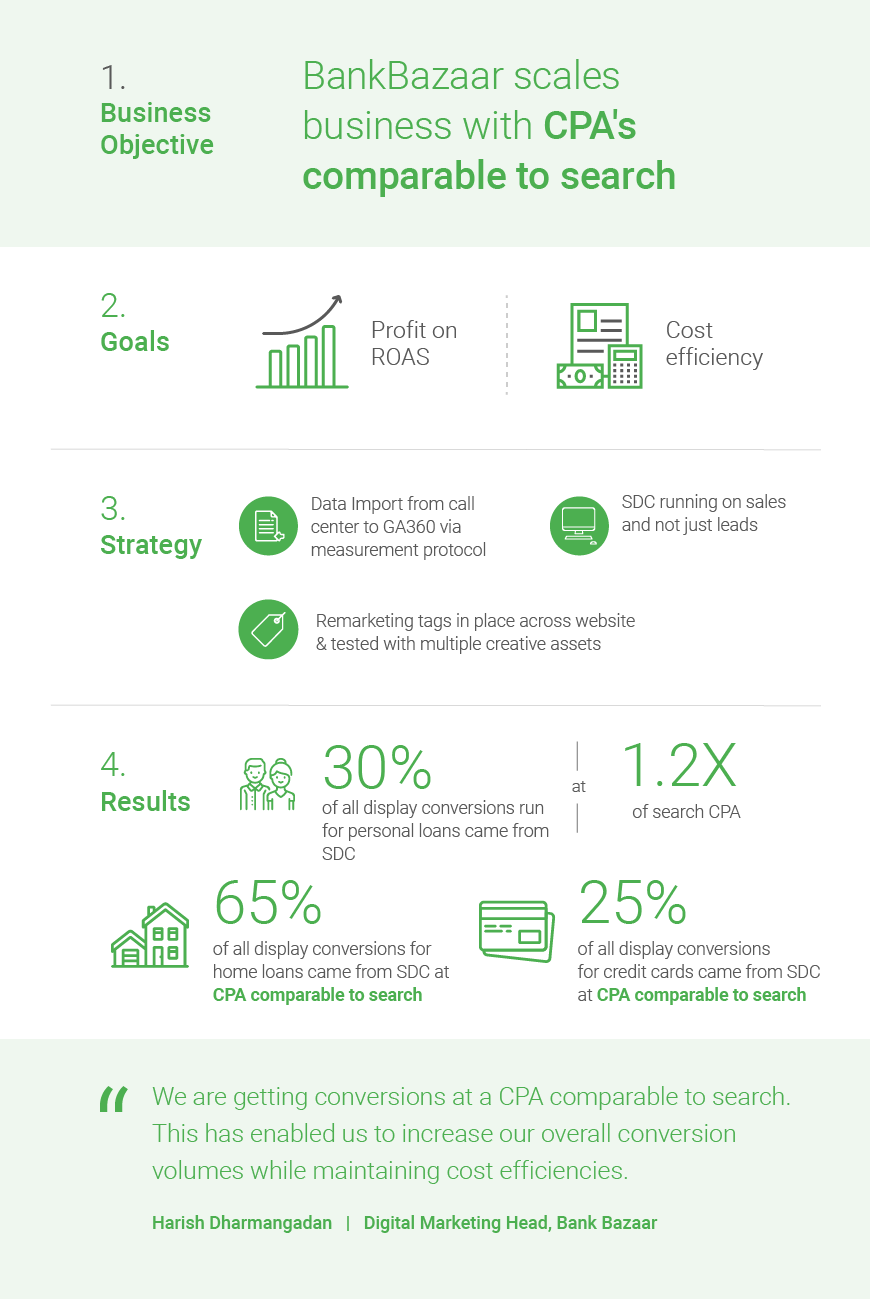 Three takeaways for marketers
With the powerful help of machine learning, Smart Display Campaigns allow advertisers to:
1. Reach users across the funnel in a powerful new way. SDC can improve scale with little or no change to overall marketer CPA goals.
2. Drive acquisition of new users while still remaining cost-effective. In fact, thanks to Smart Bidding, users often find that they can lower their CPAs and ROAS significantly with Smart display campaigns.
3. Open the door to more brand visibility. Even when a user doesn't click, these display ads have proven to an effective visual presence across the digital display network.
Smart display campaigns are available now for many Google Ads1 accounts. Learn more about eligibility criteria and on best practices to set up Smart display campaigns.