We live increasingly complex lives in an increasingly complicated world. Today, consumers move seamlessly between screens of all shapes and sizes at all hours of the day and night, which means getting audiences to pay attention to a brand can be challenging. Much of the complexity comes from the rise of mobile, but the good news is, if approached in the right way, mobile is also where the solutions—and the biggest opportunities—lie.
What is the video viewing experience on mobile like? In one word: focused.
Mobile viewership used to be sporadic. Users would snack on short-form content here and there, watching videos for short amounts of time. But the recent years have seen profound changes in the way people in APAC consume content, as access to data has become cheaper and the average smartphone screen size has increased. Today in APAC more than 70% of time spent on YouTube happens on mobile devices,1 and users routinely watch videos longer than five minutes.
Furthermore, based on recent research, attention to paid advertising on YouTube's mobile app is 84% higher than advertising on TV.2 We see two explanations for such a high performance. First, YouTube has industry leading viewability (93% versus 54% for the rest of the web). Users come to YouTube with a strong intent to watch specific videos, often in full screen, and they hold their mobile devices with their two hands—three favorable conditions for users to be more immersed in their watching experiences.
Viewers in Asia are tuned into their screens, and advertisers are always looking to tell stories that capture their attention and adapt to what they're in the mood to watch. This is why we have a variety of ad formats on YouTube. Skippable TrueView ads give users the choice to engage with ads longer than they ever had before.
And now we're excited to roll out another type of ad format. When we carefully studied user behaviors on mobile, we found that shorter formats could do really well, too. That's why the six-second Bumper ad format was launched—to meet the needs of a variety of consumptions patterns, like people who are watching in short bursts or on the go. Some brands are already starting to unlock the potential of the new format and are seeing great results. In fact, worldwide, nine out of ten Bumper ads drove an average lift of 40% in ad recall.2
Here is a quick selection of our top tips and tricks from brands across Asia that have driven awareness, ad recall, and reach with Bumper ads.
Bumper ads are haiku in video form
It will probably come as no surprise that the country that brought the world the ultra-short three-line poem, haiku, has taken to short-form video so well.
Tell a story—quick
People are ready to watch
And now, time is up
Ok, back to regularly scheduled programming... Here are two great recent executions from Japan:
Hulu used Bumper ads to maximize the reach and awareness of its new title, "Outcast." Hulu decreased its costs by a third and extended reach 2.5X, leading to a +30% increase in ad recall.
Nuro, a Japanese internet service provider, created a fiendishly watchable series of 13 deliberately absurd, pun-filled ads. The results were impressive: nearly 75% of the 5.7M users were reached on mobile devices and the ads delivered a +273% lift in ad recall and a +334% lift in brand search terms.
But Japan certainly isn't the only country in Asia Pacific to embrace the six-second format.
Tokopedia, an online marketplace from Indonesia, created product-focused Bumper ads to remind customers to visit its e-commerce site with the quick tagline, "Sudah Cek Tokopedia Belum?" ("Have You Checked Tokopedia Yet?"). The short creative was produced quickly and the mobile-friendly format provided massive reach—over 22M impressions—at a low price. The campaign drove a +47% lift in ad recall and a +10% lift in brand awareness.
For marketers looking to emulate the success of these brands, we've compiled three tips for making a successful six-second splash.
Three tips for six-second success
We've studied over 400 Bumper campaigns from all over the world, and here are tips on what we've seen consistently improve brand metrics:
1) Frame it mobile
Tell your story in three frames: opening, hook, and landing. Think mobile-first by bringing forward the things you want to focus on and making it as visual as possible.
In Netflix's ad for The Crown, the brand told its story in three attention-grabbing frames:

2) Make your brand essential
Think of fun and original ways to weave your brand in the story. Don't be shy—show yourself!
In this Energizer Bunny™ ad, the brand's signature bunny (and the brand logo) are featured front and center the whole time.

3) Be focused, build in series
Each ad should relay just one message. If you have multiple messages to get across, you can build series of ads that are inspired from or echo a larger campaign.
In this Heinz Ketchup Game Day ad, the brand's bumper ads played off a series of longer creatives. The bumpers shared the same visual cues as the longer campaign.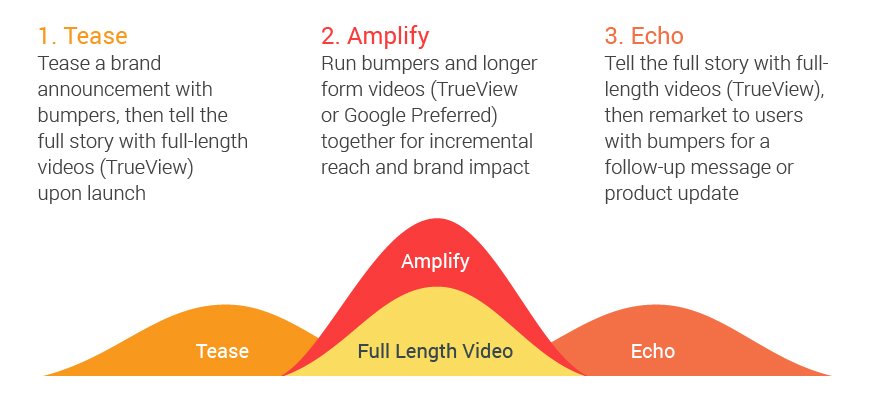 For all types of brands and objectives, Bumper ads are another great tool to get audiences to sit up and pay attention on mobile. Go ahead now, and tell your big short story