Search is a critical tool for APAC consumers at the beginning, the middle, and—yes—even the end of their purchase journeys. As consumers rely more on search and search solutions get more and more sophisticated, consumers come to expect more. They want hyper-relevant, faster, and more seamless experiences. To keep up with ever-changing consumer behavior, brands need to use data, machine learning, and new tools to be seen, be smart, be fast, and be accountable.
Long before they're ready to make a purchase, consumers in APAC go online to find ideas, gather information, or get sparks of inspiration. Often, they start their research with online search—a critical touchpoint on the path to purchase. For both routine purchases such as baby care and relatively infrequent ones such as personal finance, search is the most commonly used source of information for 58% and 49% of consumers, respectively. The increasingly complex consumer journey creates opportunities for brands to engage with consumers in their moments of intent as well as provides marketers with millions of data signals about their consumers.
Harnessing that data to better understand and connect with consumers requires rethinking best practices and adopting a modern mindset—one backed by new digital technologies. Brands looking to capture attention on search need to:

Brands in APAC are using these principles to improve their approaches to search—and are seeing impressive results.
1. Be seen: Show up early on search with the right message
Some of the most crucial—and competitive—moments for brands are when consumers hit the web and type their first search queries. Looking again at the baby care and personal finance categories, consumers have as many as three brands in mind when they first start thinking about a product. They're on the hunt for all the information they can find, but they're still open to considering new brands. That's why being seen from the first moment consumers start searching online is so crucial.
Beyond being visible in consumers' search results, brands need to be relevant to what consumers are searching for to be considered. A lot of people looking for ideas or inspiration start with broad, generic search queries ("adventurous travel destinations"), and then narrow their searches ("flights to Hawaii") before further refining them to branded queries to find, for instance, an airline offering the best flight deals. For marketers looking to connect at every step of this journey—especially in the earliest stages—finding every relevant keyword combination to include in different ads is incredibly time-consuming. Rather than investing in extra time and resources, brands can leverage the power of machine learning and automation to help them be relevant to what consumers are looking for.
H.I.S., a popular Japanese online travel agency, used dynamic search ads to get noticed early as consumers started to plan their vacations. When people searched for products or services related to content on the brand's website, dynamic search ads were automatically generated with highly relevant headlines based on what they searched for and what H.I.S. had to offer.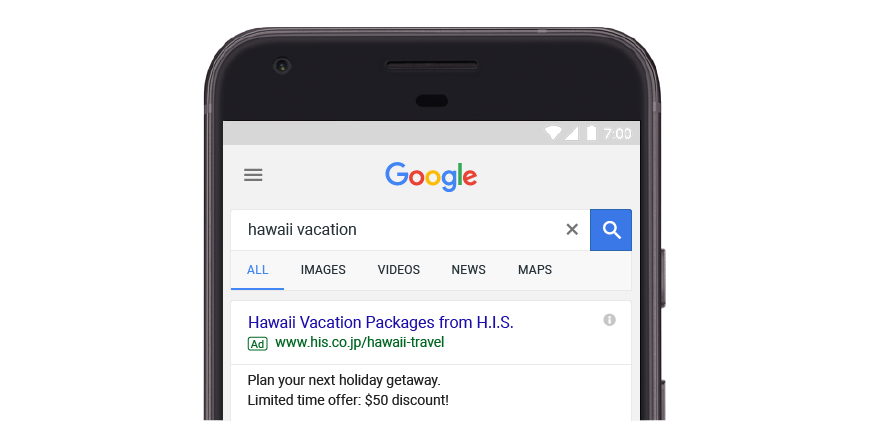 Dynamic search ads allowed the brand to capture more generic searches at the top of the funnel—and boosted its generic search clicks by 150%.
2. Be smart: Valuable data is out there—let machine learning help navigate the complexity
Five years ago, simply understanding consumers' demographics and locations was enough. But today, millions of data signals are being sent as consumers bounce across hundreds of touchpoints, especially online search. Marketers usually have plenty of data about their consumers but often look at proprietary data, external data, and search data in siloes. By capturing all the signals their consumers send and looking at all that data together, marketers can get a much richer understanding of their audiences.
Bringing together all these data creates a more holistic overview of the customer journey, unveiling a key aspect to engaging consumers: their context. By understanding where, when, and even why consumers are searching, marketers can find better ways to target key audiences and be relevant at every stage of the journey.

Leveraging machine learning models and automation is a vital way marketers can optimize their search campaigns. Automated bidding factors in a wide range of auction-time signals -- such as device type, location, search patterns, and time of day -- to understand the context of every unique search and automatically tailor bids according to a brand's objectives. Goibibo, one of Asia's leading travel booking engines, compared the impact of Google's Smart Bidding solution to manual bidding to reach a target CPA. Automated bidding helped drive a 25% increase in hotel transactions as well as a 22% lower cost-per-conversion for the hotel's non-brand search campaigns.
3. Be fast: Keep up with consumers' high standards for speed
Once a consumer finds you via search, many factors can make or break their mobile experience—but speed is the first one they'll notice. Fifty-three percent of mobile visits are abandoned if a website takes more than three seconds to load. That's half of a brand's potential revenue down the drain in less time than it took you to read this sentence.
The first and most important step is to identify the problem(s). Brands can start by testing their site for mobile friendliness before tackling whatever back-end issues are dragging down their page load times. Belluna, a Japanese retailer, and Makemytrip.com (MMT), an Indian travel site, did just that.
Belluna cured its clunky mobile shopping experience by stripping out old files and scripts from its mobile site, rolling out Accelerated Mobile Pages (AMP), and building a Progressive Web App (PWA) for fast, easy access to its mobile site homepage. MMT launched its own PWA to offer all Indian smartphone users an effective and reliable mobile booking experience regardless of time, location, or network availability.
As a result, both brands saw drastically faster page loading times, lower bounce rates, and a higher number of conversions on mobile.
4. Be accountable: Value the entire customer journey correctly
In a perfect world, media metrics would point out precisely which campaigns were most effective so marketing teams could optimize their ad spend accordingly. The industry has come a long way, but there are still even better solutions to uncover. Until then, marketers can start by being accountable, valuing the customer journey correctly, and using data and digital tech to find where and when they can be the most helpful.
As consumers bounce between smartphones, laptops, and store visits (during which they're likely to pick up their smartphones again), the last ad click isn't the only one that contributes to a sale or conversion. Think of the customer journey as a passing sequence on a football pitch and each click as a pass between players leading up to a goal. The striker—the last click—may get the glory, but the midfield and defense deserve credit for their valuable assists.

With a data-driven attribution (DDA) model, digital marketers can look beyond the last click and find the ones that drove valuable action. Then they can invest their ad spend more efficiently, tailor their bids, or tweak their ad creative to be there and be relevant according to consumers' in-the-moment needs.
Looking again to our first example from H.I.S. in Japan: The travel agency used a DDA model to estimate the value of serving ads to users who were still in the consideration phase. This approach allowed the brand to capture its customers' intent early in their vacation planning, leading to a 62% increase in flight bookings.
Evolve and embrace: The latest digital tools are at your disposal
As consumer behavior continues to change—as it inevitably will—marketers need to constantly challenge themselves to find new ways of connecting and engaging, especially on search. Keeping up with consumers' expectations requires marketers to be flexible, up-to-date on new developments, and curious about how the latest digital technologies can help them be more relevant and helpful in consumers' everyday lives.