Not all phones and networks are created equal—especially in India. MakeMyTrip.com wanted to make sure its mobile site was smooth and reliable for every customer, regardless of the available technology. Launching a Progressive Web App was key to offering seamless mobile experiences to customers living outside of major cities or those using lower-end devices.
GOALS
Improve conversion rates on mobile
Reach more customers outside of India's major metro areas
Acquire new customers beyond native app users
APPROACH
Launched Progressive Web App (PWA)
RESULTS
3X improvement in overall conversion rate
160% increase in shopper sessions
30% more last-minute shoppers
Whether they're booking flights to Bali or hunting for hotels in Mumbai, MakeMyTrip.com is where Indians go for convenient online bookings. And more frequently than ever, Indians are picking up their smartphones in the moments they're researching or when they're ready to make a purchase. In the first half of 2016, 66% of MakeMyTrip.com's web traffic and 54% of its bookings came through mobile devices.
Outside of India's major cities, however, many still rely on low-end devices that have limited memory and weak network connectivity. Given these circumstances, slow page-load times led to high bounce rates when users tried to use MakeMyTrip.com's mobile site. To avoid losing these customers before they could finalize their bookings, the brand knew that a faster, smoother mobile experience was crucial.
MakeMyTrip.com launched a Progressive Web App (PWA) to offer all Indian smartphone users an effective and reliable mobile booking experience regardless of time, location, or network availability.
Curing the need for speed on patchy networks
PWAs offer a familiar experience to mobile apps but with much improved loading times on patchy 2G and 3G networks. PWAs function much like normal apps, complete with immersive, full-screen displays and push notifications (a key feature for many marketers). The unique difference is that a PWA preloads key resources, allowing it to launch and run seamlessly regardless of network availability and without sapping precious data and memory space.
Since the PWA's launch, hotel bookings have been split evenly between India's top six metros and all other areas.
MakeMyTrip.com began its transition to PWA by testing hotel bookings, dedicating most of its resources to improving page speed. Within six months, the PWA drove 3X as many conversions as the brand's mobile site and nearly as many conversions as the native app. This success sparked a follow-up test for flight bookings on the PWA, which also outperformed the mobile site's conversion rate.
MakeMyTrip.com's chief product officer, Anshuman Bapna, explained the PWA's value: "Most of MMTs users and transactions come from mobile, and more recently we've been looking at avenues beyond apps. We found that PWA offered a fast, reliable, and engaging experience that worked on low-end devices and on patchy networks. In both these areas of business, we launched with basic UI and critical features only."
PWA helps MakeMyTrip.com reach uncharted territory
The PWA was paramount in MakeMyTrip.com's goal of reaching more mobile users. In just six months after launch, an impressive 31% more cities have seen user engagement. First-time shoppers are also 3X more likely to convert on the PWA than on the native app, further highlighting its reliable functionality and ability to drive successful conversions.
The PWA was an especially beneficial on-the-go resource for users on 2G and 3G networks; nearly 20% more users accessed the PWA on a cellular network than did using WiFi at their home or office. On top of that, half of PWA shoppers made last-minute bookings (within 48 hours of traveling)—a full 30% more than mobile-site shoppers.
Along with boosting the brand's overall conversion rate, the PWA drove a 160% increase in shopper sessions and decreased bounce rate by 20% compared to the mobile site.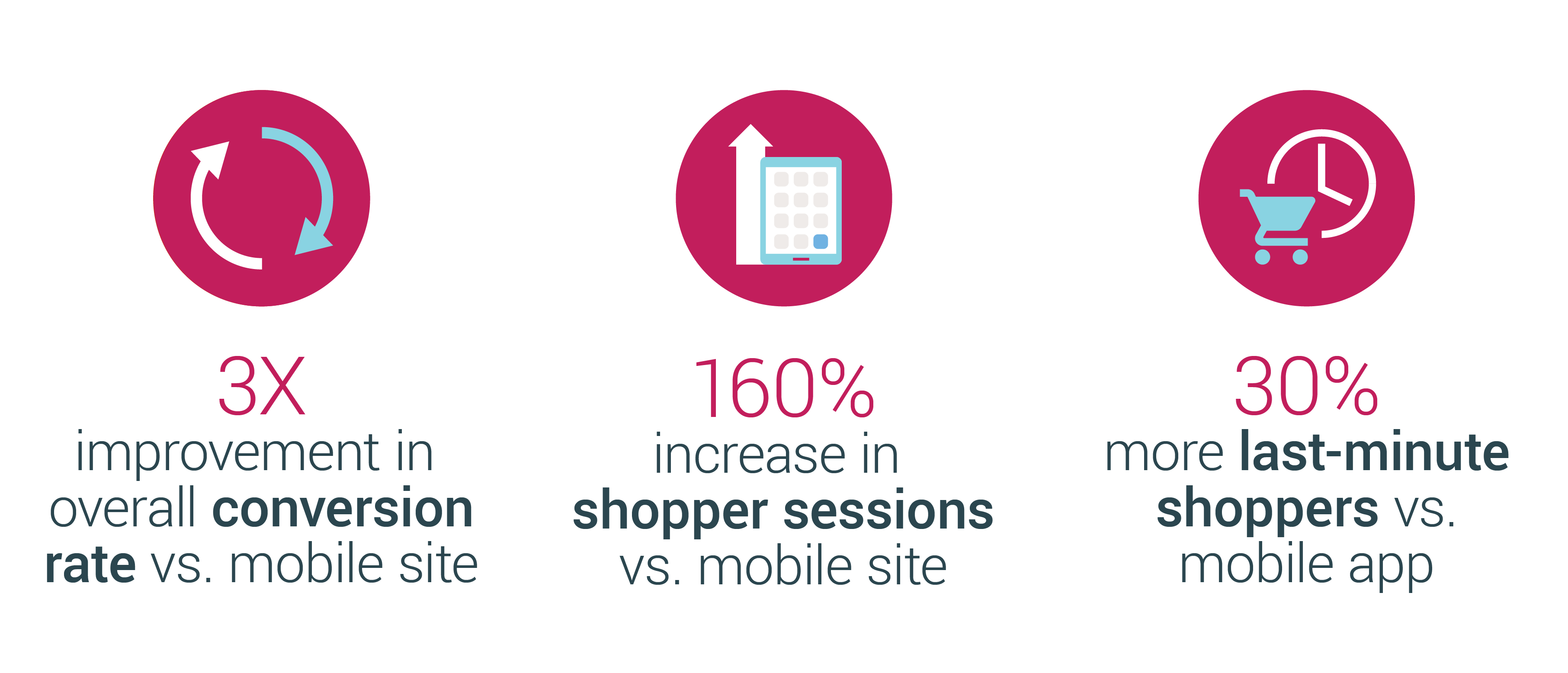 Here's the kicker: 80% of the brand's hotel bookings used to come from India's top six metro areas; since the PWA's launch, hotel bookings have been evenly split between India's top six metros and all other areas. This just goes to show the true value in connecting India's growing mobile population with the fast and reliable mobile experience it deserves.