People in Asia are transforming the internet and the playbook for how marketers should meet their needs. Many of these actions are basic—seeing what your friends are up to on social media—but then there are those moments that really matter. We call them "micro-moments."
People in Asia are transforming the internet and the playbook for how marketers should meet their needs. They're leading a global trend that prompts smartphone owners to reach for their devices an estimated 150 times a day.1 Many of these actions are basic—checking the time or seeing what friends are up to on social media—but then there are those moments that really matter: the I want-to-know, I-want-to-go, I want-to-do, and I want-to-buy moments. They can make or break your day. For marketers, they can also make or break a campaign.
We call them "micro-moments." These are times when consumers need to learn, discover, watch, find, or buy something and reflexively turn to the closest device, usually a smartphone, to act on that need.
These moments have always existed. But for the past century, consumers turned them into promises or commitments to do something over the next few days, weeks, or months. Marketers focused on brand awareness and loyalty in hopes that as consumers pursued a path from intent to final purchase, they would keep a brand in mind.
But now that consumers can act on micro-moments right away, those instants can make or break an entire campaign. These times are precisely when decisions are made and preferences shaped; intent beats demographics and even brand loyalty. While we saw the first glimmer of this concept begin with Google Search on the West's desktops, Asia's embrace of the smartphone has made micro-moments more important to marketers in Asia than to marketers in any other region.
Asia has widened its lead over the rest of the world as a "mobile-first" region over the past year, according to new research from Google's Consumer Barometer. Asia no longer goes online; it lives online.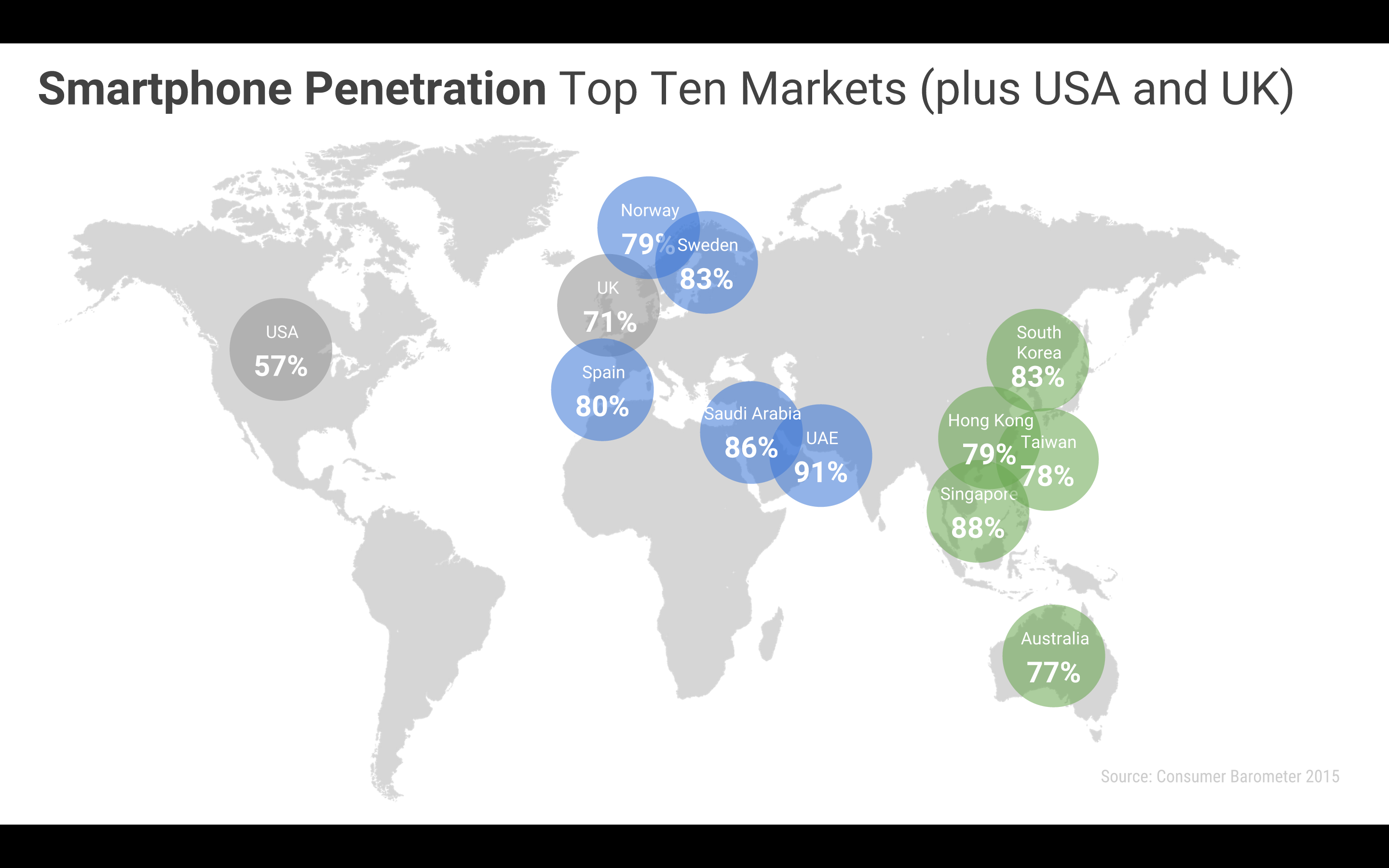 Asia is a global leader in mobile. Asia has five of the top ten markets when it comes to smartphone adoption, including Singapore (#2) at 88%, followed by South Korea (83%), and Hong Kong (79%).
Mobile is Asia's primary computing platform. Eleven of the 21 markets in the world where smartphone adoption is higher than PC adoption are located in Asia—including Thailand, Malaysia, Singapore, and Hong Kong.
Mobile is Japan's primary search platform. In Japan, Google Search queries on mobile exceed desktop search queries.2
The smartphone creates its own expectations and loyalties:
The percentage of smartphone owners who use their phones for searching, shopping, and maps is higher in Asia than in Western countries.

In these micro-moments, consumers have higher expectations for immediacy and relevance and are attracted to brands that best address their needs in the moment. This means intent and location are more important for marketers than ever before.
As consumers search for the most relevant answer, they gravitate toward whichever service delivers best. We are more loyal to our need than to a brand. Immediacy and relevance trump brand loyalty.
I-want-to-do moments
I-want-to-do moments are those moments when people want to learn how to curl hair, fix a bike, or bake a cake. These moments can be incredibly valuable for brands, and there are more of these moments in Asia than in the West:
In the Philippines, 55% of smartphone users and in India 53% of smartphone users watch online videos to learn something new, compared to just 22% in the U.S.
Unilever recognized this when it created its "Be Beautiful" YouTube channel—a hub for beauty tips and tutorials—and Nestle also tapped into this behavioral shift by featuring cooking videos on its channel.
I-want-to-buy moments
I-want-to-buy moments describe those times when consumers pull out a smartphone to compare prices or look up reviews while making a purchase decision. By now, we expect consumers to do online research for major long-term purchases. But shoppers turn to their devices when they have an impulse to buy something even when they're in a store or close to one. Adidas realized this trend was happening and started including store location information in its online ads to direct shoppers to stores. Looking at the data behind this, it's easy to see why:
In Malaysia, 91% of mobile searches lead to further action3—whether it's looking for more information or purchasing a product or service—and in Singapore this figure is 84%.
In South Korea, 51% of online consumers compare products on a smartphone prior to a purchase, compared to 36% in the U.S.
In Indonesia, 67% of online consumers use their smartphone to make a purchase, compared to 10% in the U.S.
In Thailand, 69% of smartphone users research online and purchase offline, compared to 31% in the U.S.
Once people in Asia have a smartphone, it seems to inform nearly every purchase decision they make.
I-want-to-go moments
But mobile isn't just about e-commerce. Consumers turn to their phones for local information to find anything from gyms to restaurants, and when they do this in Asia, they want answers fast. Let's take just one example, in India, where over the past 12 months, searches for services "near me" have risen dramatically.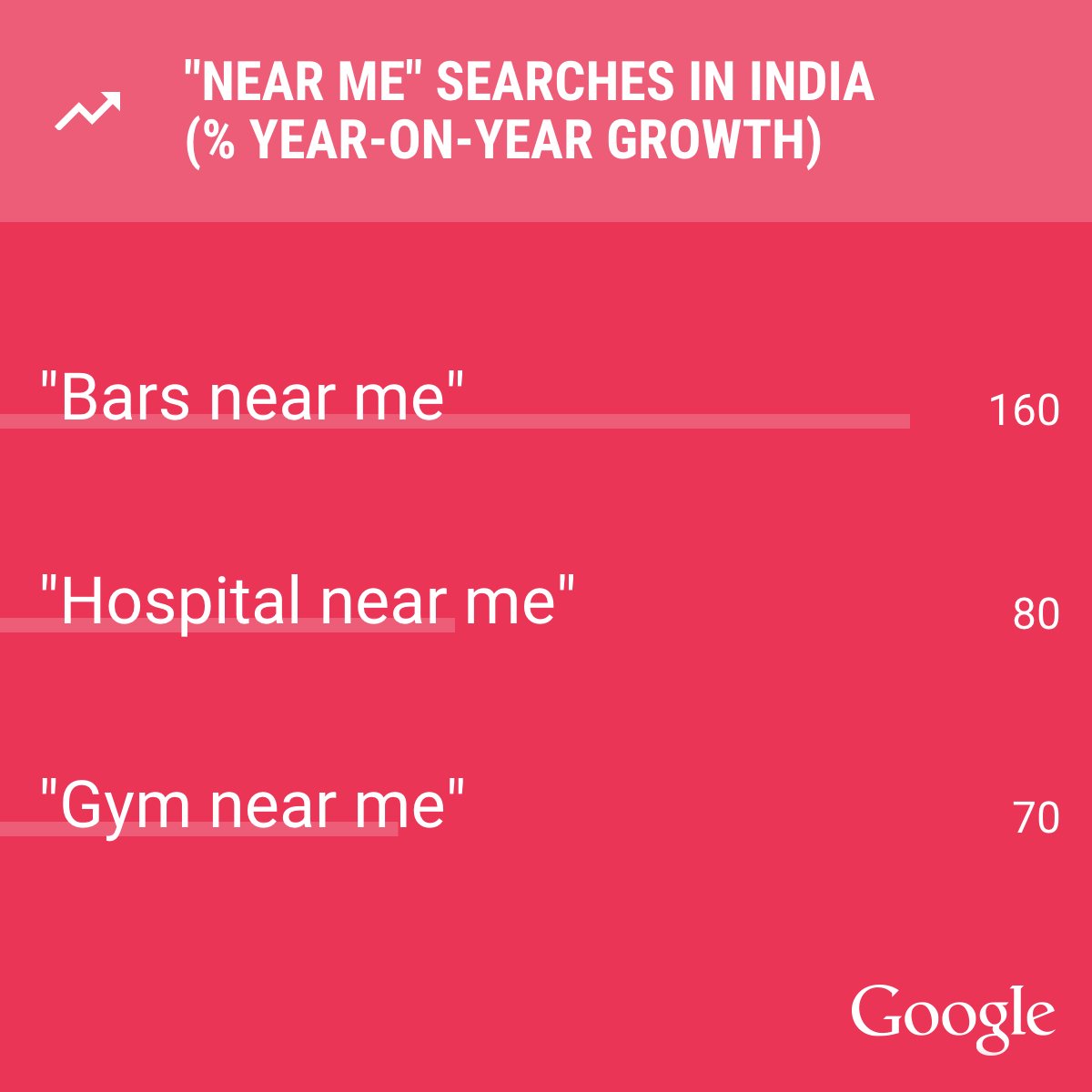 It's clear that seeking local information on smartphones is an Asian trend:
41% of Indonesian smartphone owners turn to mobile when they have an immediate need to find a local business, compared to 28% in the U.K.
In Malaysia, 76% of purchase-related conversions happen within five hours; 33% occur within an hour of a mobile search.4
Citibank saw that the I-want-to-go moment was crucial to its Asian customers and started using a location-aware app as a key part of its online marketing strategy.
How marketers can win micro-moments
Not long ago, all marketers had to capitalize on these moments were demographics. Ads were directed to people based on gender, age, or income. These were, of course, just proxies. Today, intent matters more than identity; it's not who you are, but what you want that matters. It's far more valuable to know someone is shopping for a new car or searching YouTube for new movie trailers than to try to reach a female in her thirties.
And the fact is, these intentions, unlike demographics and even unlike brand loyalty, can come and go in a matter of seconds.
Here's how brands can make the most of micro-moments and build brand preference:
Identify the micro-moments that are relevant to your business across the entire consumer journey and times of day/week/year. What do people want to learn and what concerns do they have? Use tools like Google Trends and Consumer Barometer to get the big picture of how people's needs shift over time and around big events as well as where they turn to address those needs.
Deliver on consumers' needs at the right moment. Context—not proxies like demographics—should define your content across channels and devices to build frictionless experiences for the moment.
Make sure websites are optimized for mobile so that an on-the-go decision isn't slowed down by poor design. We have compiled our 25 principles of site design for creating a great mobile experience.
Be found on mobile at the right moment. Google's paid ad products can help advertisers reach consumers on mobile as they search, watch videos, browse sites, and use apps.
Measure across devices and channels to understand the full value of your advertising spend. Google Analytics provides an integrated measurement and attribution solution to help measure and optimize every moment that matters on both the web and apps.
For years, marketers have made predictions about the shift to mobile but until now, it's been hard to see what that might mean in practice. In Asia, we can finally see the implications of the power that mobile has put in our pockets and what this means for the mobile future that awaits the world.
To learn more about micro-moments, see this section of Think with Google.
To get more consumer insights like these, see www.consumerbarometer.com.