Muslims are increasingly turning to the internet to find Ramadan-related content and goods. We took a look at the search data around the holiday and developed a few tips to help brands create successful digital campaigns for Ramadan.
Ramadan is the holiest month on the Islamic calendar. A deeply spiritual period for Muslims around the globe, the month-long event is dedicated to fasting, prayers, reflection, and celebrations.
In Malaysia, roughly 61% of the population (approximately 17.1M) are Muslim,1 and with Ramadan around the corner, they're busy preparing for the festivities. They're going online and using their mobile devices more than ever before2 to search for everything from the latest hijab styles to traditional recipes and apps that help keep track of their fasts.
This surge in search traffic provides a great opportunity for brands. Below, we explore the key principles of building a successful digital campaign for Ramadan.
Win the moments that matter
Brands looking to create a successful marketing strategy around the holiday can connect with consumers through the topics they're already searching for. By doing so, brands can take advantage of key moments throughout the purchase journey.
Earlier this year, data showed that 80% of Malaysians go online to research products before making their purchases.2 A more recent survey showed that 18% of online purchases in Malaysia have research journeys that begin mere moments before consumers hit the buy button, while 19% begin hours before, and 17% begin days before.2
These micro-moments—when consumers identify a need or a want, and act to fill it—represent the best times to get your brand in front of consumers and move them through their purchase journey.
Below are a couple of the most popular Ramadan-related search queries that can help you respond to demands in the market, regardless of what industry you're in.
Creating magic in the kitchen
Though Ramadan is a period of introspection and self-reflection, it's also a time to reconnect with friends and family, especially around the dinner table. People are searching for recipes before, during, and after the holiday—on everything from new takes on mee goreng noodles and seasonal chicken dishes, to traditional kueh lapis cakes.

Celebrating the season in style
Muslims are dressing up for their nightly iftar (break fast) congregations. This means they're looking for new clothes, shoes, and makeup, and they're increasingly turning to the internet to stay on-trend. Recent data shows a 21% month-over-month increase in Ramadan-related fashion searches.3Unsurprisingly, Malaysia's top search terms for clothing in July 2014 included baju raya, baju kurung, tudung, and dress muslimah.

For brands, getting the most out of this increased search volume means keeping discoverability in mind. Regardless of your product offering, it's essential to craft a strong SEM strategy that accounts for popular search terms, to ensure potential consumers are finding your brand during these holiday-related search spikes.
Harness video content to build customer loyalty
On YouTube, the Ramadan-related search spike is even more pronounced. When compared to the rest of 2014, the month of July saw a 264% increase in searches. Brands looking to capitalize on the increased traffic around Ramadan trends should create video content that incorporates cultural and topical themes, like recipes, fashion, and music.
Searches for recipes on YouTube
For food brands, Ramadan offers the perfect opportunity to tap into consumers' culinary discoveries. Brands can build affinity by offering relevant content. For instance, how-to videos offer the chance to promote your products as vital ingredients in popular recipes, and you can complement these with video tutorials to teach consumers how to cook with those ingredients.
Nestlé did just that with its Maggi brand CukupRasa seasoning. At the onset of Ramadan, the brand launched a series of instructional videos for popular Malaysian dishes, such as beef rendang. Not only did the videos highlight the seasoning's many uses, but they also helped the brand connect with customers during this very special time of year.
Searches for Muslim apparel on YouTube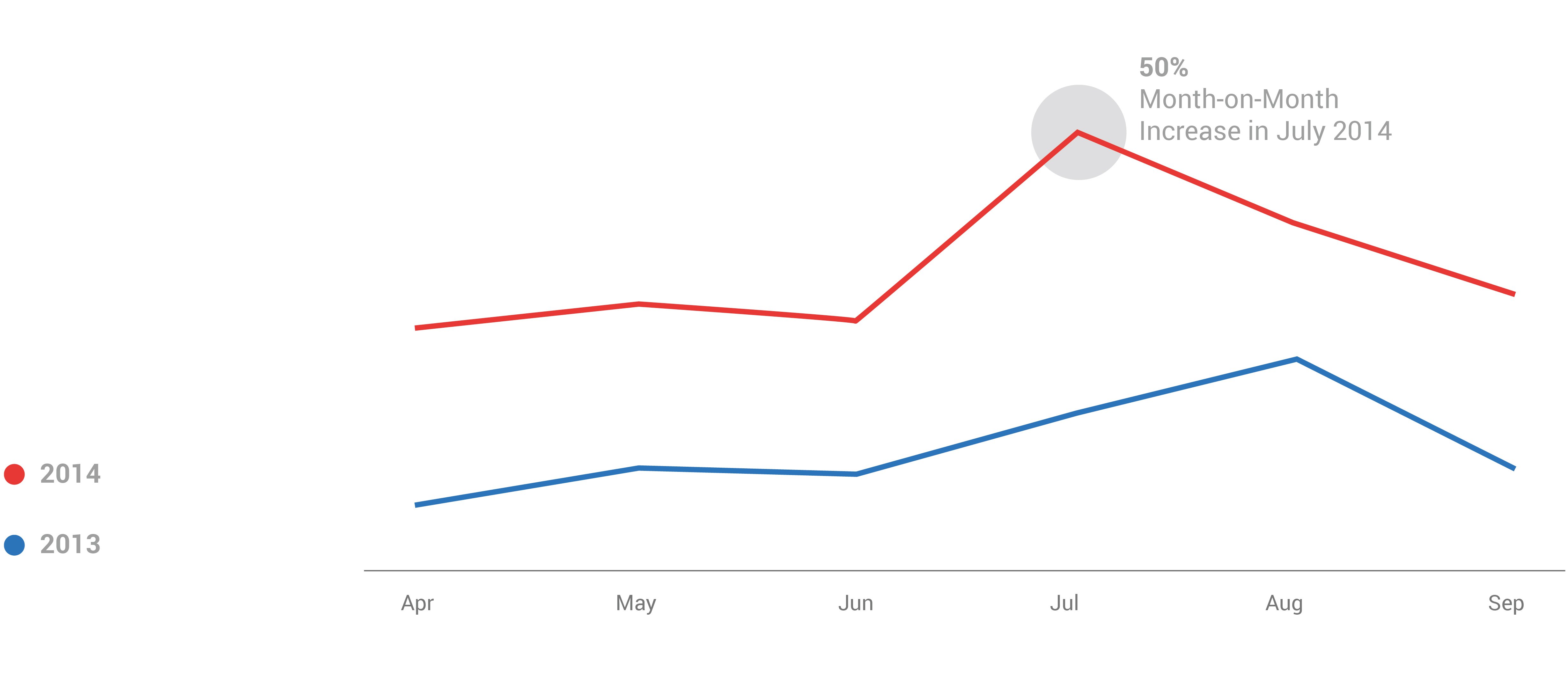 With a 50% increase in Muslim apparel-related YouTube searches during July of last year,3 it's hard to deny that people are increasingly turning to YouTube for their holiday sartorial needs. Leverage this increase in search activity by promoting your products as vital pieces of their holiday wardrobe.
Searches for Ramadan/Raya music on YouTube
Like food and fashion, music can also play an important role in a Malaysian family's Ramadan celebrations. In July 2014, YouTube searches for Ramadan and Raya music saw a month-over-month increase of 1,133%.3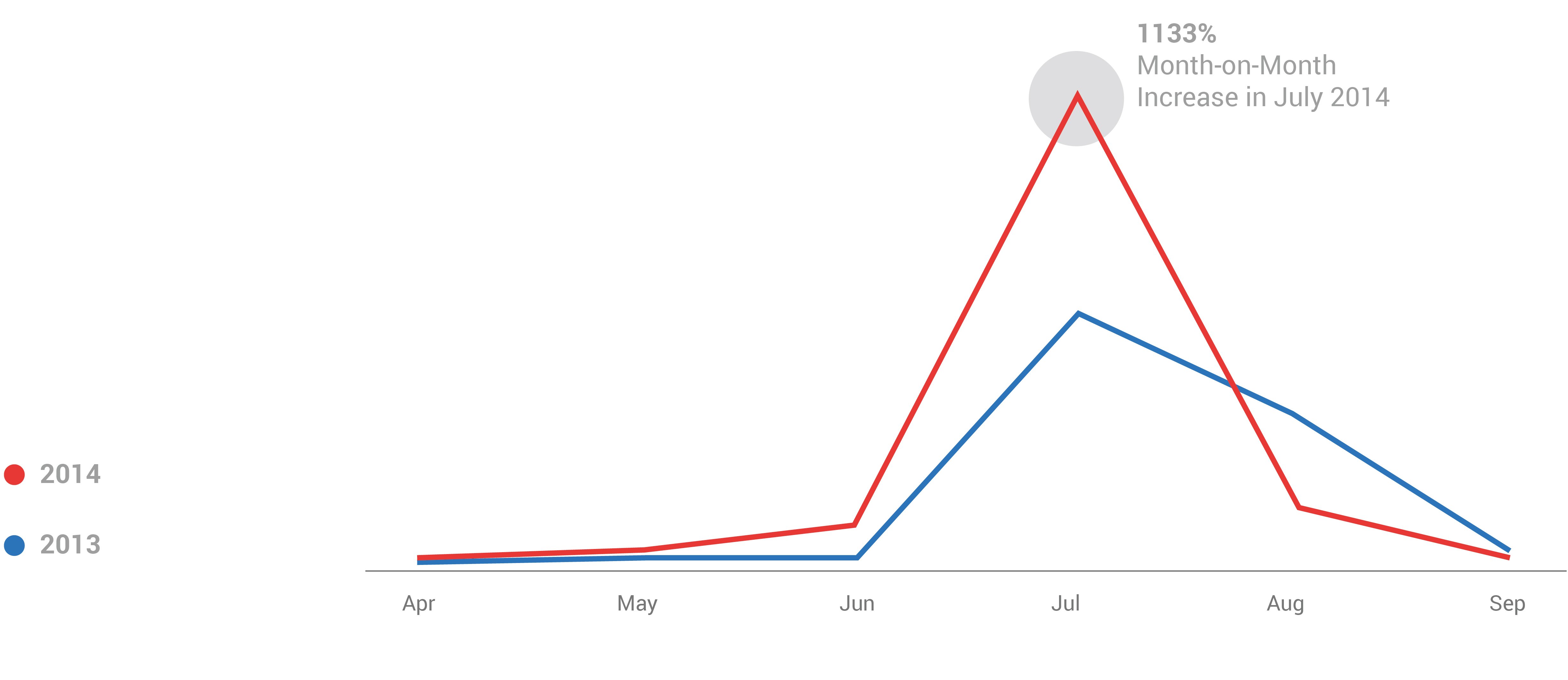 Brands that produce and distribute Raya music can connect with consumers through emotive and unifying musical content that can be enjoyed by all Muslim households. Whether or not music is a focus for your brand, you can still leverage this element by creating fun musical content around the festive season.
Leveraging search spikes
In summary, video content can help you forge relationships with your audience by being there when they're searching for things they care about. And finding out what they care about is simple: just look at what they're searching for. By doing so, brands can identify the right topics to build content around, and during Ramadan, those topics are fashion and beauty solutions, recipes, and music.
Create instructional how-to videos to help your consumers understand complicated products or recipes, and showcase alternative uses for well-known products. And offer special discounts to reach new customers and nurture new relationships during this critical holiday season.
Reach your consumers on mobile
When building a digital strategy for Ramadan, brands should aim to reach customers where they already are—across mobile devices and platforms. As Malaysians travel more frequently to meet with friends and family during this season, mobile traffic also increases. Brands need to account for Malaysia's increased smartphone use (from 26% market penetration in 2013 to 39% in 2014 and 55% in 2015),4 and take into consideration that mobile video consumption is also growing.5 Mobile YouTube searches for Ramadan content have grown from 46% in 2013 to 64% in 2014.3
Share of Mobile Searches for Ramadan Content on YouTube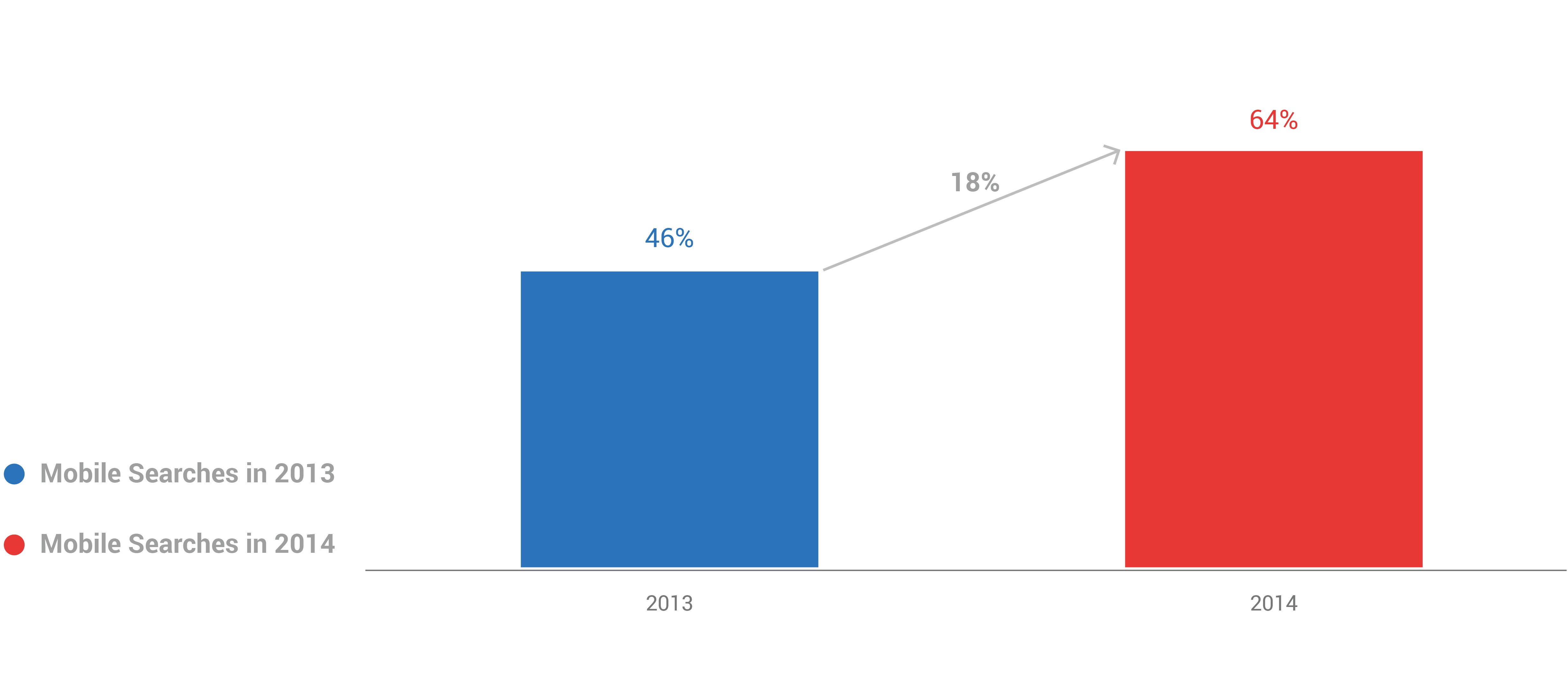 To get the most out of video content, videos should be optimized for cross-device viewing, especially on mobile. Tools such as YouTube Cards can help increase consumer engagement by providing carouseled images to entice users to explore your channel's offerings. Additionally, to further leverage a search campaign, bidding on top Ramadan-related keywords will help the brand appear as the top placement.
The deciding factor
Many purchase decisions are going to be made throughout Ramadan. While Muslims are embarking on a spiritual journey, they're also looking to enjoy the ensuing festivities by sharing delicious food with their loved ones and by dressing up for their gatherings.
Companies that are able to leverage those critical "I-want-to-buy moments" are going to come out on top. Brands like Petronas and Sunsilk saw success last year by connecting with consumers around these desires—a Petronas Raya ad on YouTube has garnered more than 4.7 million views and 6,000 likes to date, and even made it to the #1 spot on the 2014 YouTube Ads Leaderboard.
If your business is able to tap into the excitement around these Ramadan activities and search terms, you'll be a brand they'll remember—and carry with them wherever they go, available at the mere touch of a screen.