A time of self-purification, spiritual growth, and introspection, the Holy Month of Ramadan is a cornerstone of the Islamic faith. More than 25% of the world's Muslim population live in Southeast Asia,1 and Malaysia and Indonesia alone account for 245 million Muslims2 who will be observing Ramadan and Eid-al-Fitr this year.
With this in mind, we set out to understand the changing behaviors and attitudes toward the annual celebration and worked with strategic research agency Asian Consumer Intelligence to survey 500 respondents and interview an additional 40 people in both Indonesia and Malaysia. We also took a deep dive into search and YouTube trends to uncover any emerging patterns. The results tell a fascinating story of how technology helps modern-day Muslims combine the self-control and perseverance necessary during Ramadan with their busy daily lives.
Ten ways technology can help during Ramadan
Faith is of paramount importance to Muslims, especially during Ramadan, but so is a thriving family, social life, and making a living. Technology can help with all of these in a number of ways—here are ten examples:
1. Improving access to religious material
Technology can help people access the Quran and its teachings more easily, and it affords people more quality time with their family and loved ones. In fact, last year saw a 45% uplift in Ramadan and religious queries in Malaysia and a 34% year-over-year increase in Indonesia's faith-related search queries compared to 2016.3
Specifically, there was a gradual lift in Ramadan-related searches in Indonesia starting two weeks before Ramadan that continued throughout the Holy Month before culminating in the week of Eid.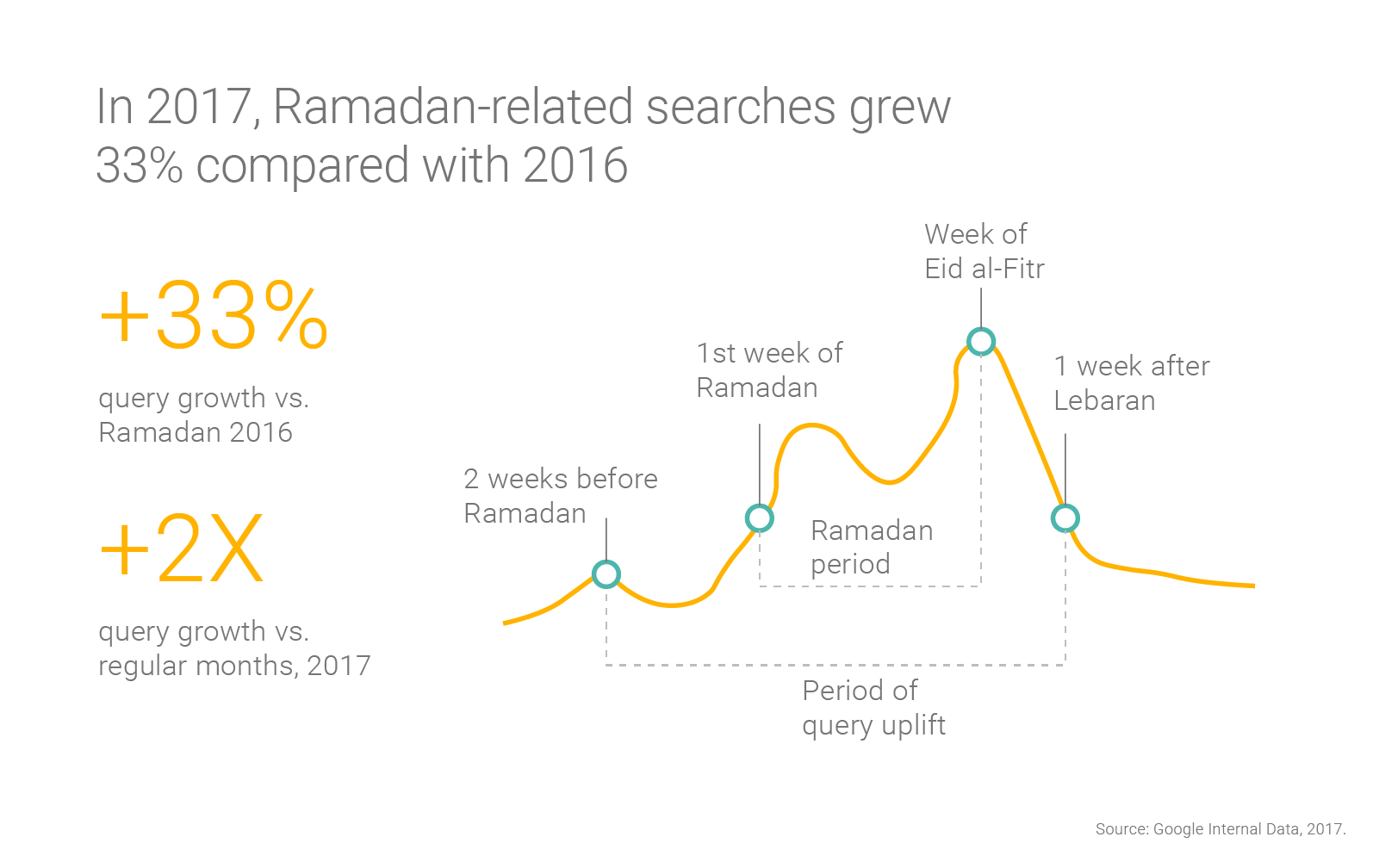 2. Planning for prayers
To help people stay on top of their daily Ramadan practices, 71% of Malaysians we surveyed and 61% of Indonesians said they intend to use Muslim-oriented apps or websites.4 One such app, Muslim Pro, has seen over 45 million downloads and has about two million daily active users.5 Given the bad traffic jams in Kuala Lumpur and Jakarta, having an app that knows and reminds you of accurate prayer times can be the difference between arranging your work day and being stuck in traffic when the call to prayer rings over the mosque megaphones.  
A respondent from our survey said, "I use Muslim Pro every day to be notified of prayer times so that I can pray on time, find the nearest mosques, qibla, the Quran, and halal eateries." Meanwhile, two other interviewees shared that they listened to audio recordings of the Quran on apps, which helps them relax or frees them up to do other things at the same time. Likewise, three other respondents stated that using Muslim-related apps and sites helps them feel more spiritual or religious.
3. Making charitable giving effortless
Giving back and taking care of the less fortunate is a core pillar of Islam, and this is especially heightened during Ramadan. This is visible online more than ever before, with search queries for zakat, the yearly obligatory charitable offering, growing 1.75X in Malaysia and 2.6X in Indonesia, with slight differences between the two.
In Malaysia, where zakat payments are institutionalized at state level, zakat-related searches lean toward learning about the state-specific zakat institution and e-zakat online payment options.

In Indonesia, zakat-related queries involve end-to-end research to find out about specific details, including the Islamic definition of zakat, why Muslims have to contribute, how they can make contributions, how much they should contribute (zakat kalkulator), and where to pay the zakat.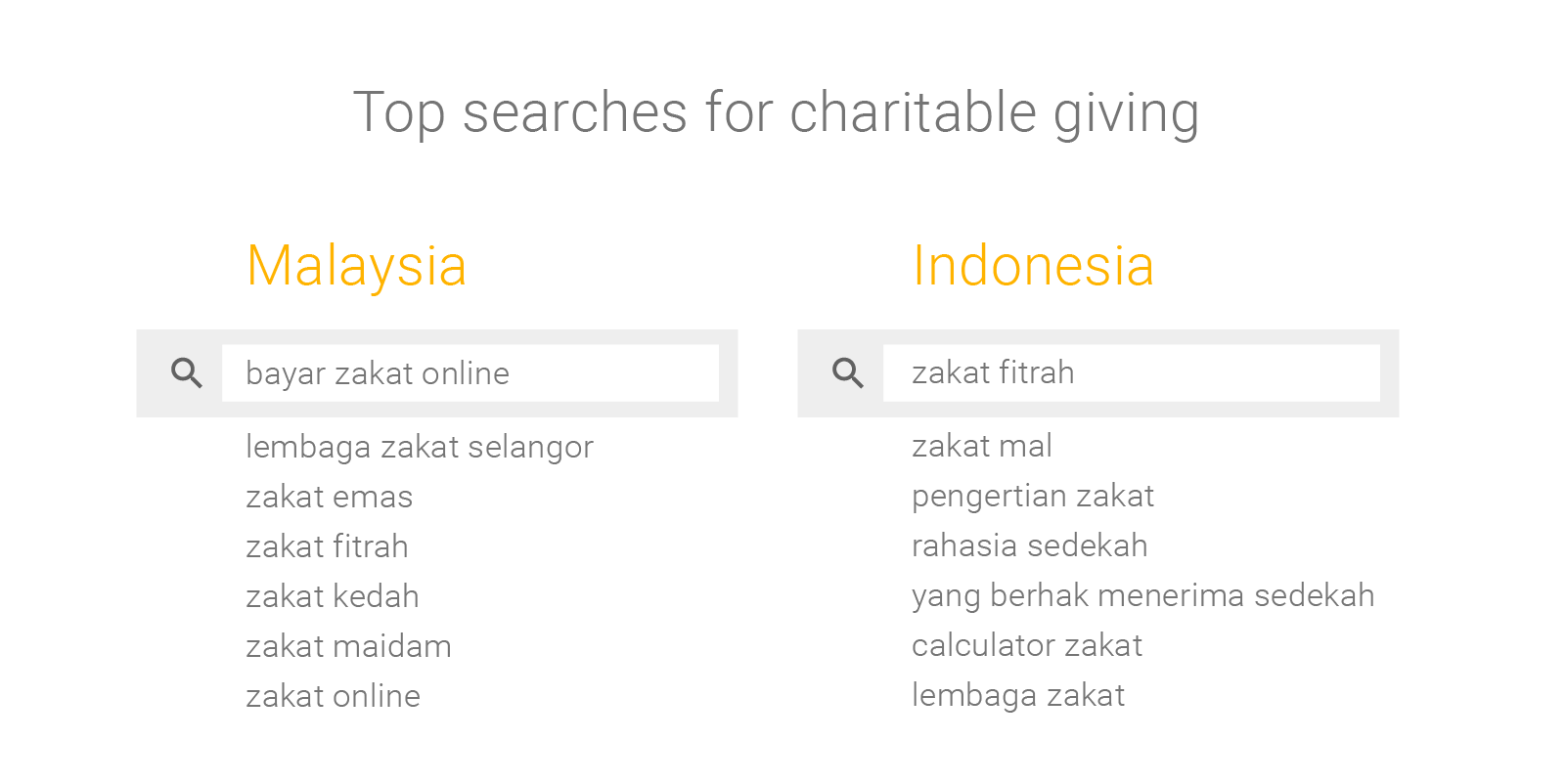 4. Spiritual messages through online video
Consumption of online video content generally rises during Ramadan, with YouTube search queries increasing by as much as 40% during the period. While most content categories see surges during the Holy Month, 54% of video watchers in our survey stated an intention to watch spiritual content. This is reflected in a 1.5X lift in searches for religious content on YouTube and 48% and 58% watchtime growth for religious videos during Ramadan in Indonesia and Malaysia, respectively, compared with a regular month.6
When asked about the content that they're watching, sermons seemed to be a common theme with Muslims during Ramadan. Sofia, a 23-year-old student, explains, "I go on YouTube to listen to more Islamic inspirational talks more often during Ramadan—it helps keep me calm and keeps my mind focused on what is most important to reflect." Herm spoke of, "Zainuddin M.Z. and Ustad Jefri. They are Muslims—I really love to watch their sermons," while Yannie spoke of "Ustad Solmed, Al Habsyi, and Mamah Dedeh."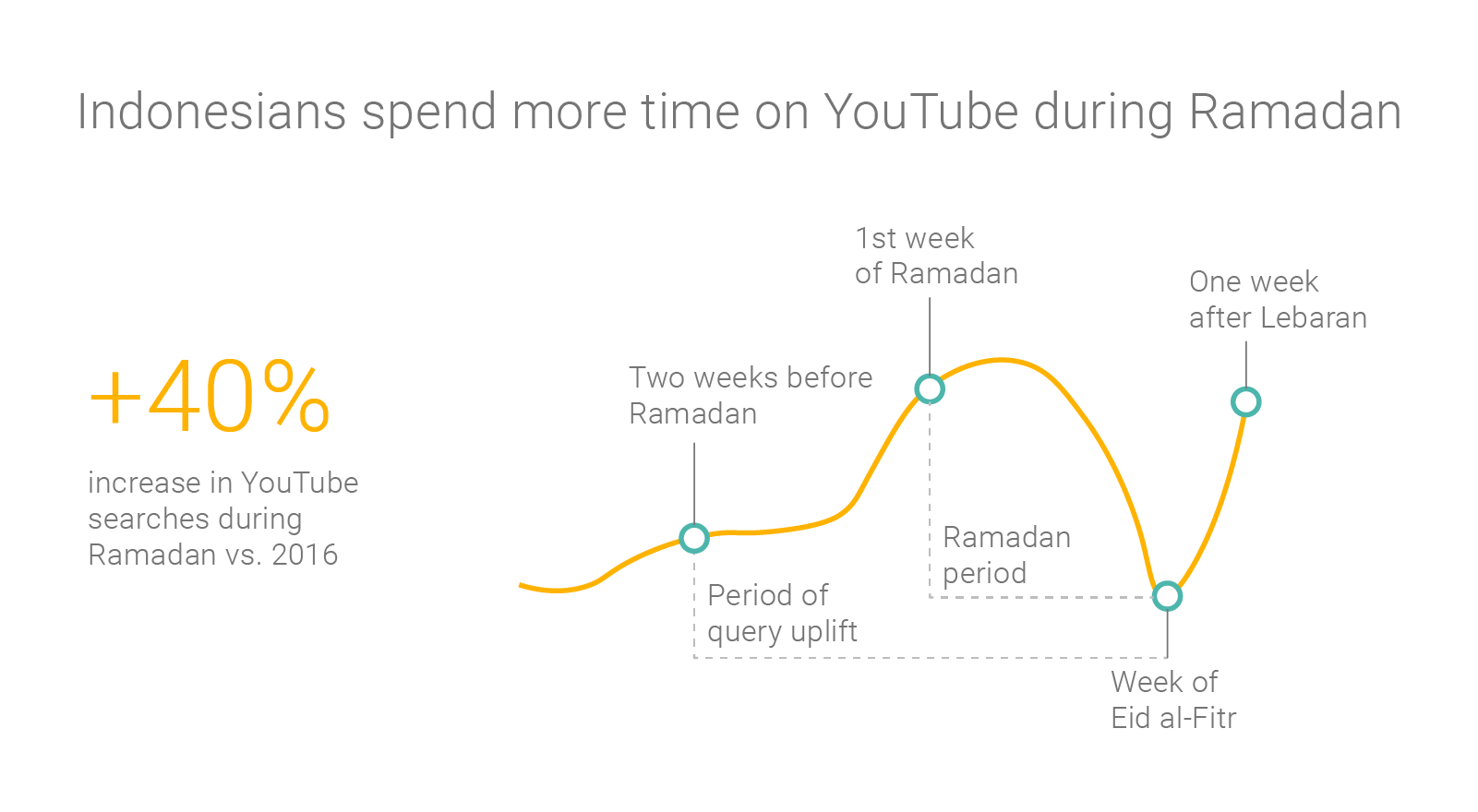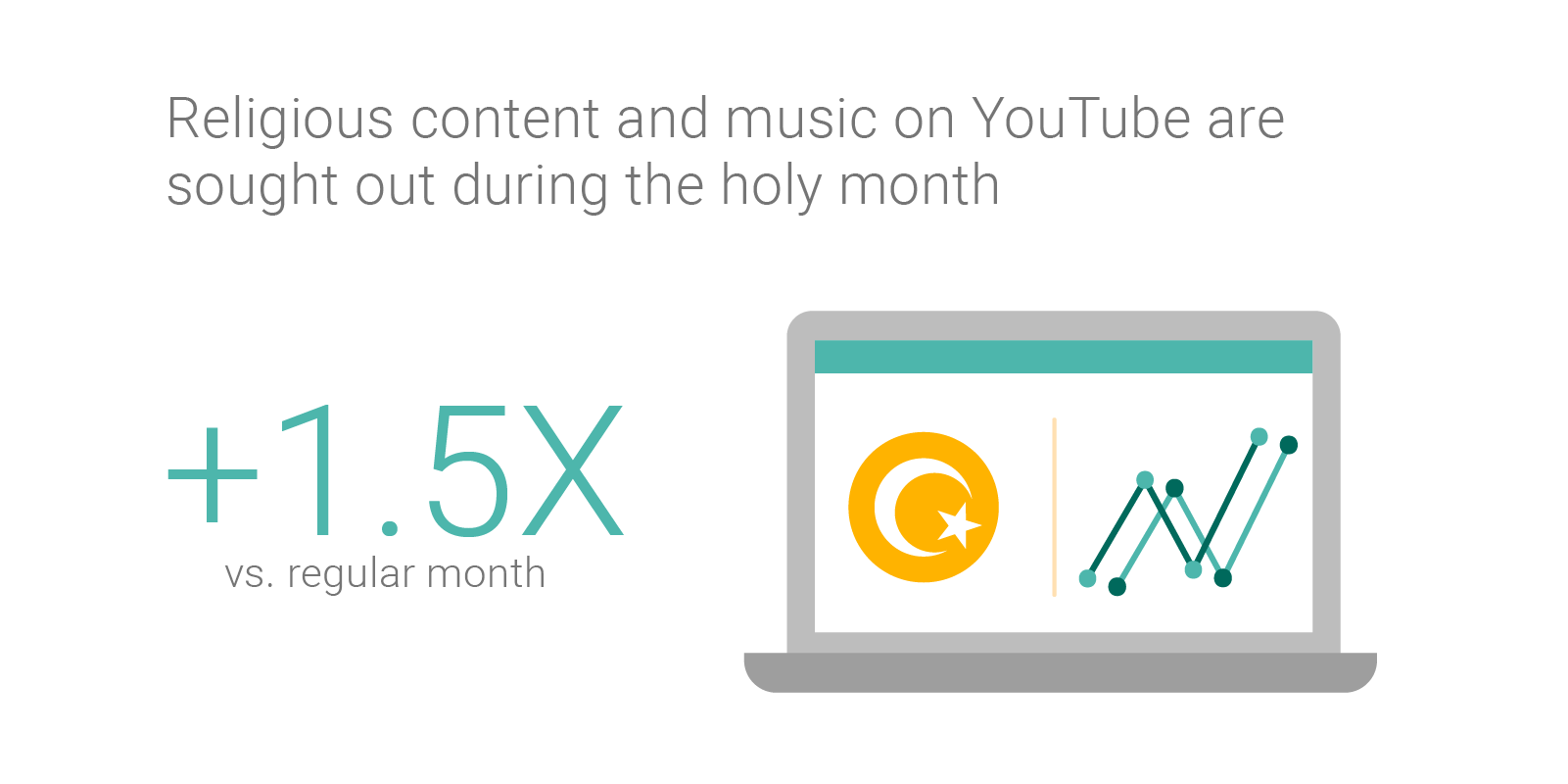 In some instances, non-Muslim specific apps that offer Muslim content also play a role during Ramadan: "My Spotify and shopping apps aren't very spiritual. But during Ramadan, I might be more inclined to open those spiritual and festive Raya playlists that Spotify advertises. On some days, I listen to verses from the Quran and Surah on Spotify too," stated Ainna from Malaysia.
5. Iftar-time is family time
Although Ramadan is centered around fasting, traditions relating to food are equally important. This is illustrated by the 220% increase in food-related search queries during Ramadan in Indonesia and the 140% hike in Malaysia.
Recipes and video tutorial searches also spike on YouTube, with a 35% increase in Indonesia and a 28% increase in Malaysia. When asked about meal preferences to break fast, 76% of Indonesians and 67% of Malaysians surveyed said they would prefer home-cooked meals—unsurprising, because the iftar (the meal eaten at sunset after a full day of fasting) is traditionally practiced at home.

Kuala Lumpur resident Esmi, 29, sees the irony in food-related searches during a month of fasting, "It's funny because Ramadan is when people spend a lot of time looking for recipes to cook and break fast. It's like a love-hate relationship; you're hungry, but you also like looking at these yummy recipes. But it's a thing people do, to get inspiration for what to eat and make."
Some younger users also watch cooking tutorials because they're expected to help prepare the meals. Kuala Lumpur-based Ariena states, "I watch cooking videos now more than any other month as I've become my mum's 'sous chef,' so watching videos on what food to prepare during fasting month and especially for Hari Raya does help."
For Muslims pressed for time, it's not always possible to get home in time to prepare a home-cooked meal—using grandma's tried-and-true recipe. The next best thing is to find substitutes that don't sacrifice flavor. For others, getting home to sit down together to break fast is also difficult. "I drive a lot in KL, only on certain days I will make it home to break fast. Usually out of seven days, four days I will break fast in the car because I'm really busy—the commute to my destination is very far. I have a lot going on, my girlfriend, my parents, my university," says one 22-year-old male student based in KL.
There's tremendous effort put into spending time with the family first and trying to get home on time to break fast—even if that means meeting up to eat at restaurants, picking food up on the way home, or connecting via a video call from the car or the office.
This is demonstrated by the 1.5X surge in searches for restaurants two weeks after Ramadan, and during Eid al-Fitr when people hold Halal Bihalal (the first week is presumably spent at home with family). Bakery-related keywords reach their peak in the last week of Ramadan, but see a gradual climb the week before the holy month starts. Meanwhile, fast food searches gradually increase throughout Ramadan, and see a 1.6X growth in quick service restaurant (QSR) searches throughout Ramadan. We also see a 51% increase in Waze navigations to restaurants during Ramadan in Indonesia.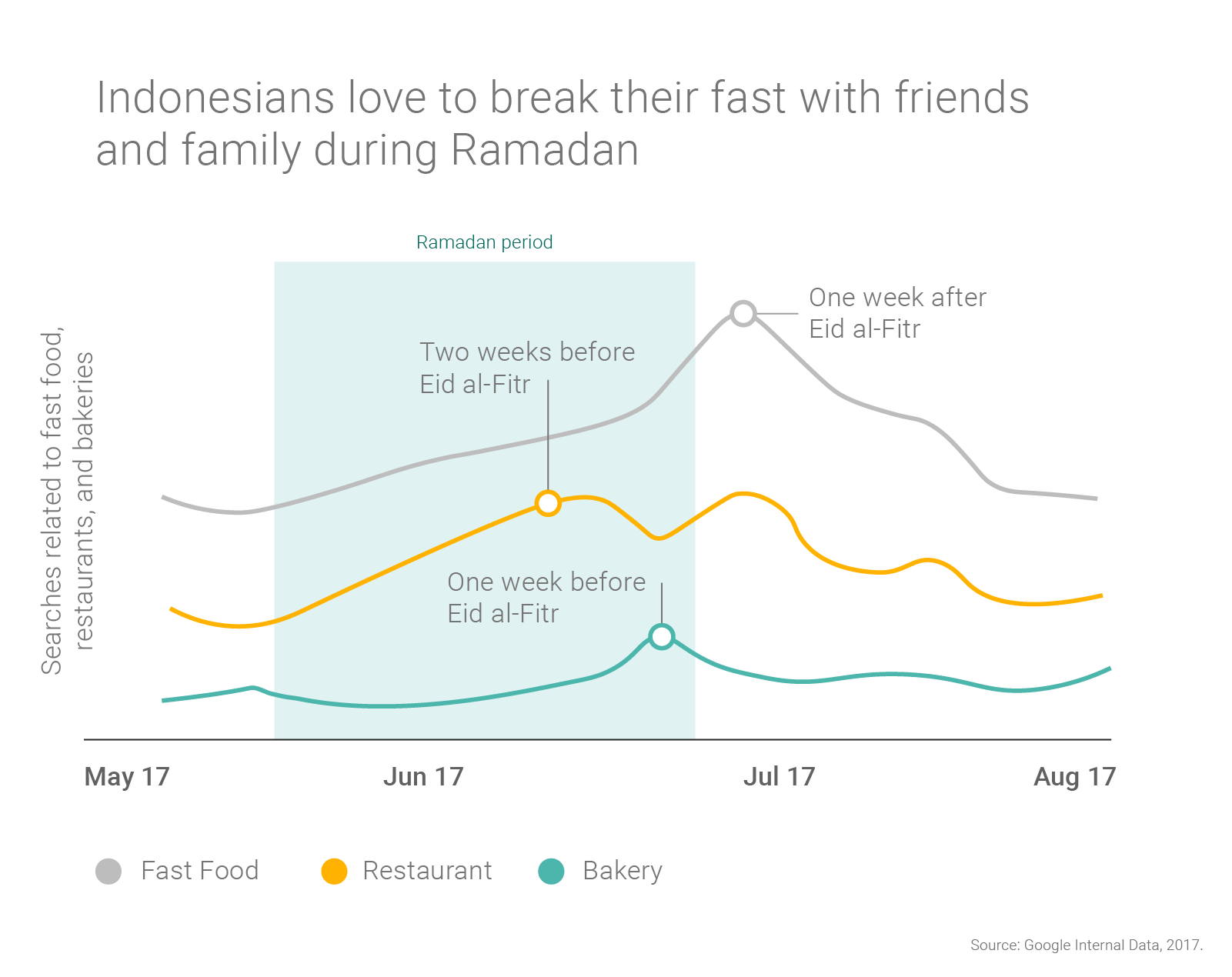 "During the Ramadan period, I will be Wazing to use the best route to go home or to go to the Bazaar Ramadan. I also use it to check on the trendiest foods. There are usually reviews on which Bazaar Ramadan has some special dish," said Astri, a 32-year-old based in Kuala Lumpur. Meanwhile, Afiq said, "I have a family, so I need to be more thrifty during Ramadan month to keep within a budget. I will look for 'best ramadan budget meals.' Sometimes if I feel like spending more, I look for buffets."
6. The internet helps finding gifts and bargains
In the Muslim calendar, the holy month signifies new beginnings and is the biggest occasion of the year to shop for everything from clothes and makeup to the latest electronics and appliances (1.68X growth YoY in searches for home appliances in Indonesia and 1.2X YoY growth in Malaysia). Despite many being paid their annual bonus (the Duit Raya in Malaysia and the THR in Indonesia) during Ramadan, city dwellers increasingly find it hard to keep up with the Syahrinis, and migrant urbanites try their best to meet family expectations that equate city life with overnight wealth.
Many feel the sting as they make their purchases for the occasion. Narul, a tailor in Jakarta, says, "I feel my daily spending is higher during Ramadan, because we simply need to buy more raw materials to make Tajil."
7. Keeping up with the latest fashions
In preparation for Eid al-Fitr, the final days of Ramadan, people will follow the Sunnah, which tells people to brush their teeth, dress up in their best new clothes, and prepare their homes for visits. This is reflected in online searches in a few related sectors, which sees significant uptakes:
In the latest Hari Raya/Malay Muslim fashion trends:
1.7X uplift in Muslim fashion queries in ID, peaking three weeks before Lebaran (The biggest contributor is male muslim fashion in ID)
1.15X uplift in Muslim fashion in MY
Some are not only buying for themselves but also for their loved ones because returning home empty-handed is to say that things are not going as well as hoped in the city. "I intend to buy new clothes for myself and my younger sister. I usually buy Bluds and Adidas for my clothes. Meanwhile, my sister would love a princess-style dress that is sold in a mall," says Zikria, a 20-year-old gardener in Indonesia.
8. Taking the pain out of trip planning
Traditionally, Muslims across Indonesia and Malaysia will journey home to celebrate Eid al-Fitr. In Indonesia alone, an estimated 19 million people will be packing their bags and travelling simultaneously.7
Buses and trains are often the best way to get home, which explains why search queries for both train and bus tickets across Indonesia increases months ahead of Raya. There is also a spike in last-minute ticket searches during Ramadan, as observers scramble to finalize their travel plans in time for Raya. In Indonesia, 2017 saw a 1.6X increase in last-minute train ticket search queries (with spikes on the same day that tickets are released for sale), while there was no uplift during and before Ramadan in Malaysia, leading us to infer that more people tend to drive.6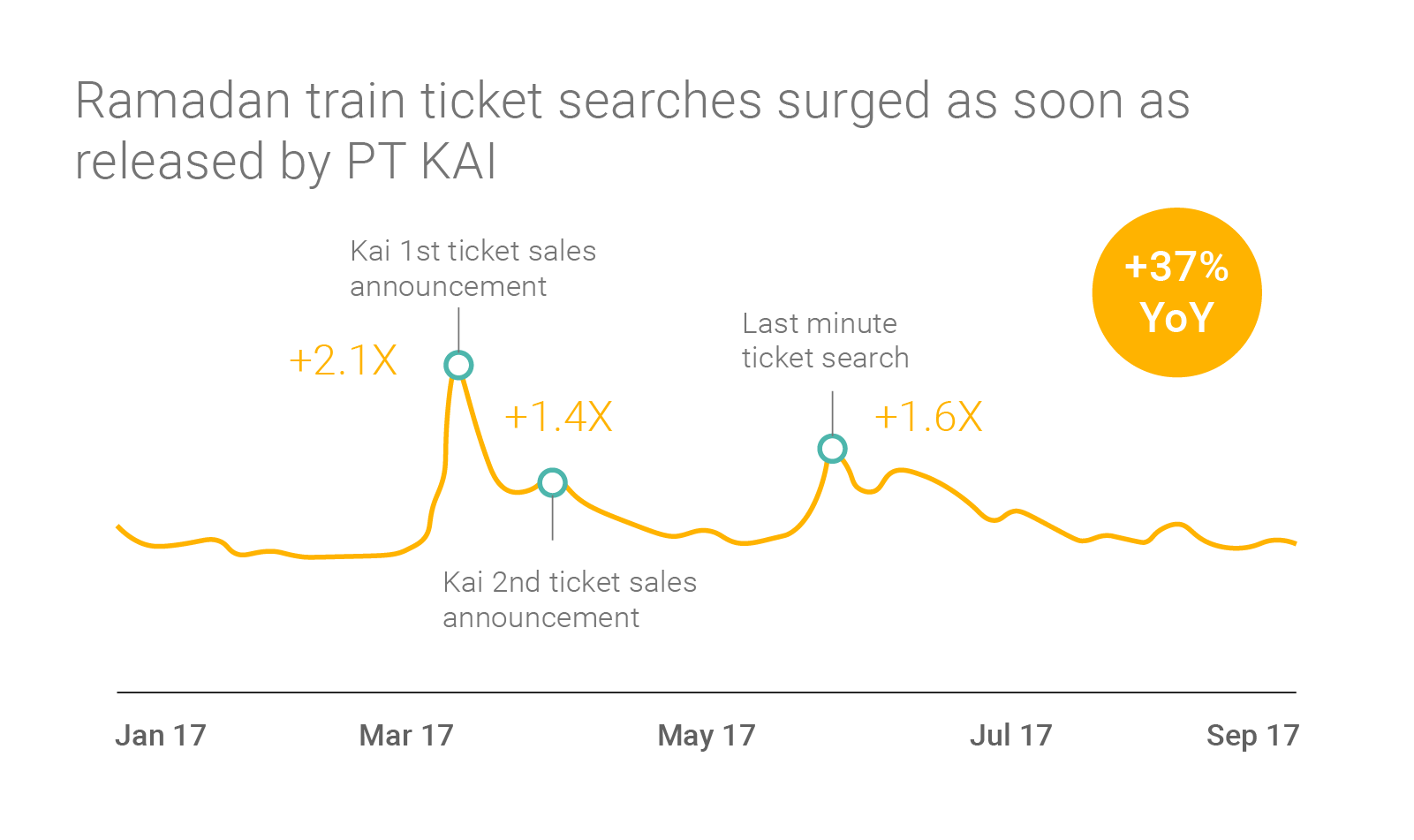 To prepare for the long trip home, Muslims search for traffic updates, which Waze data tells us increases by 25% in Malaysia and by 35% in Indonesia during the Hari Raya period.8
9. Staying connected throughout the holiday
As Indonesians travel home, often to rural areas that have spotty or limited cellular access, people get ready by identifying the best networks available and stocking up on data packages that ensure consistent video streaming that will last them the whole period. This search for mobile packages begins turning upwards about a week before Eid al-Fitr, as Indonesian Muslims call loved ones for Lebaran greetings.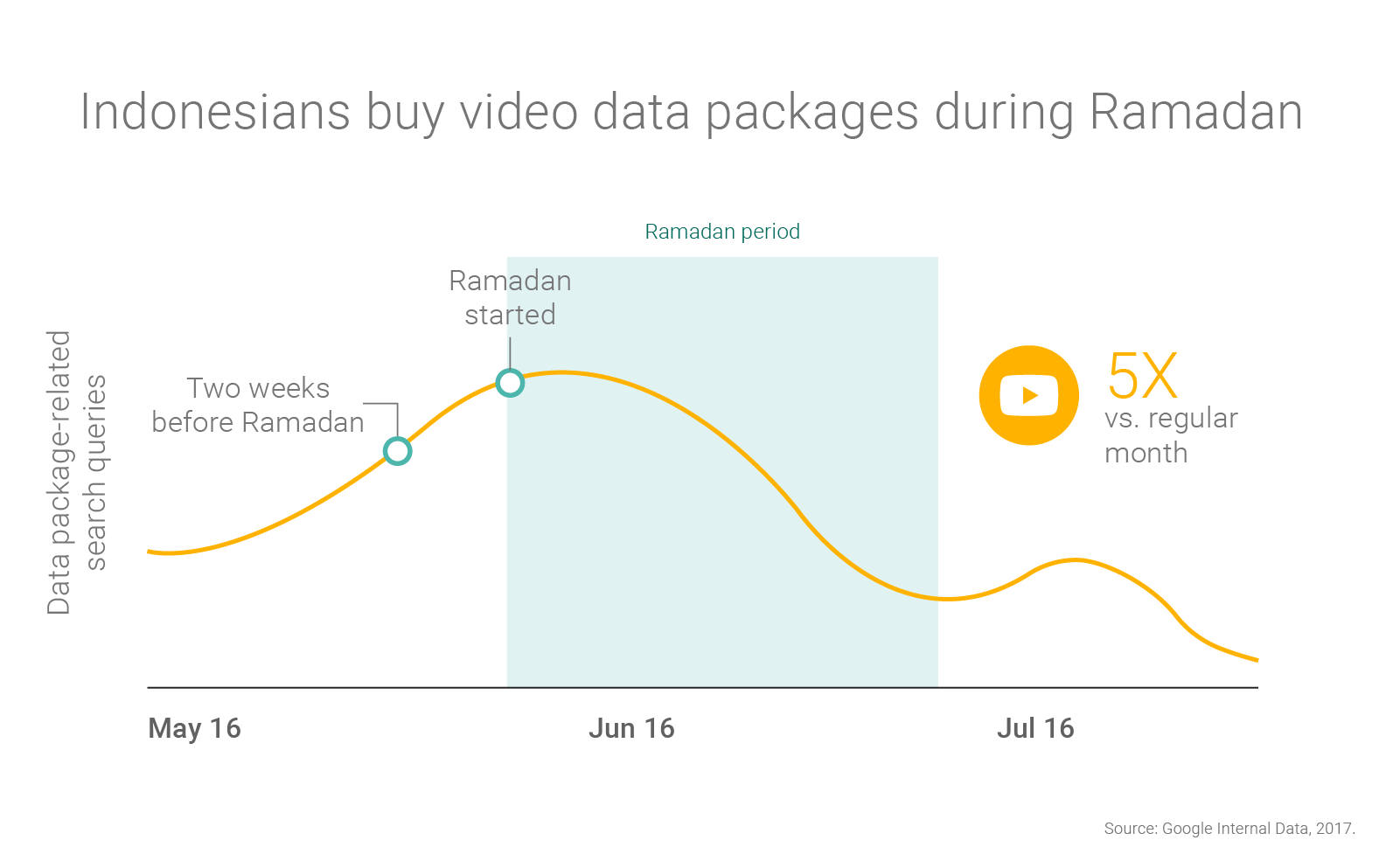 10. Helping Indonesians stay in touch
Technology is enabling Indonesians and Malaysians to spend time with their families throughout the special month, even if it's only virtually. Jakartans Danial, 27, Yannie, 29, and Sandy, 22, explain, "If I cannot go home to my hometown and meet my family members (mostly because I am busy working), I usually call them through a video call." "We might take some family photos and record a video during Idul Fitri. We might also do a video call with relatives who live distantly." And "What I usually do during Idul Fitri is video call with my family members who live in my hometown."
Those who decide not to return to their hometowns for Eid may go abroad instead, which is seen in the more than 1.5X increase in international travel search about two months before Ramadan and the more than 1.8X search uplift for international accommodations during Ramadan.
Ramadan is a time to connect
During a holiday that requires such tenacity and perseverance, Muslims seek respect and sensitivity from friends—and from brands. Petronas is a good example of a brand that has embraced the essence of the holiday. While this campaign didn't drive to a heavy-hitting call-to-action, it definitely hit home with some charming kampong warmth.
Most of the time, all that's needed is an acknowledgement that the Holy Month can be a tough time for those struggling to get through the day. Fasting helps Muslims build empathy for those less fortunate and provides clarity of mind for better spirituality. Brands that observe this and spend time connecting with consumers in an authentic and emotional way will likely see their efforts go a long way.