Mobile has taken off in Malaysia, presenting a huge opportunity for businesses to grow and retain their customer bases. Here, we apply Google's 25 Principles of Mobile Site Design, and draw from our learnings on mobile ads, to share insights and examples for businesses of all shapes and sizes, from mom-and-pops to e-commerce giants, and everything in between.
There are now 25 million smartphones in Malaysia, up from 12 million just two years ago.1 Even more impressive is the fact that the average mobile user now spends more than three hours a day online via their device,2 compared with the two they spend in front of the TV.
So, what's the implication for retailers in Malaysia? Using Google's 25 Principles of Mobile Site Design, and some top tips on mobile ads, let's check out three very different types of businesses and what they can do to turn the mobile revolution into a positive for both their business—and their bottom line.
"The average mobile user in Malaysia spends three hours a day online with their device."
Small businesses: Establish mobile presence, and get discovered
In Malaysia, 78% of purchases are researched online,3 but 70% of purchases by internet users are still made offline.4 It's no wonder that small, local shops enjoying decent returns from offline sales don't feel the need to invest much in online activities.
What many don't realize is that 70% of research for local businesses happens while customers are only a few kilometers away from the stores they are looking for.5 In fact, searches for business locations in Malaysia are increasingly conducted on smartphones: growing at 150% compared with a 93% growth rate for desktop.6
So, although your small business may have its regular customers, consider the possibilities of walk-ins from people in your neighborhood but who don't know you exist.
Taking into consideration the resource constraints faced by mom-and-pop shops, here are two ways to make sure customers can discover and find their way to your store:
Get online (because there's no excuse not to). Provide basic yet crucial business information, such as your address, phone number, and operating hours, online. With this simple step, the chances that a customer will find you have just gone from non-existent to inescapable. Plus, it's free. For example, with Google My Business, a company's basic information will be shown across Google Search, Google Maps, and other properties. When people do a search, which is usually the first step in finding any information these days, they will come upon your business's information.
Even if you don't have a strong online presence, don't let that stop you from being discoverable. Consider creating a page on a social-media platform or creating a website landing page instead. There are a plethora of free website hosting and SNS platforms out there, which means there's really no excuse for not having these additional touchpoints for connecting with your customers.
Mobile Display for Small Businesses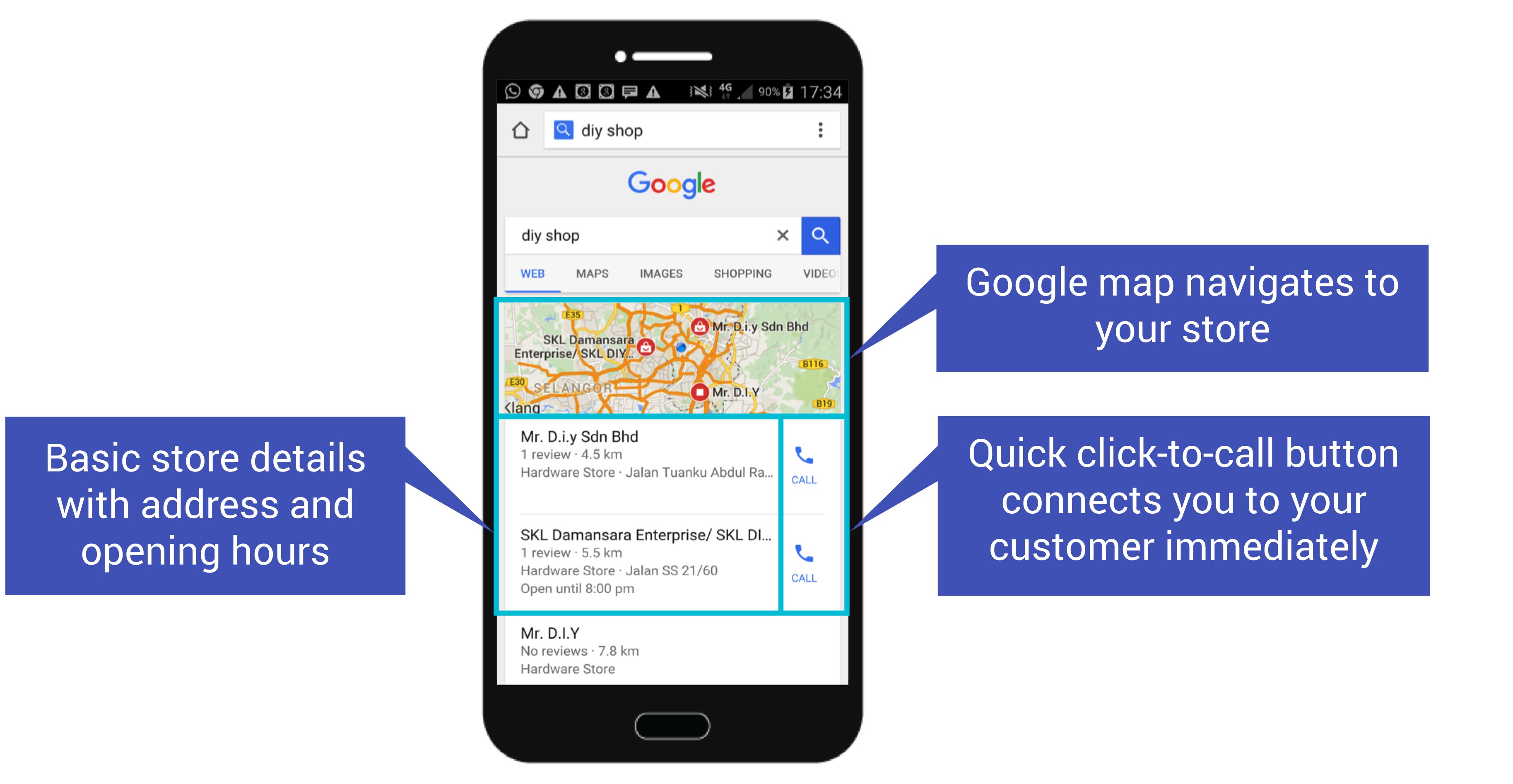 Medium-to-large businesses: Use mobile ads to expand customer reach
Sixty-seven-percent of Malaysians use their smartphones to connect to the internet more often than they use their desktop or tablet.7 So for a medium-to-large business looking to expand your storefront and online advertising presence, a next step would be to optimize your mobile site.
It is also crucial to keep in mind that most consumers strongly value a quality mobile experience. In fact, according to a study published by Google, in conjunction with Sterling Research and SmithGeiger, 61% of consumers will move to another mobile site if they can't find what they're looking for quickly enough.
Here's how medium-to-large brick-and-mortars can leverage the country's mobile explosion to ensure your business doesn't bump up against these barriers:
1. Use mobile to build a larger customer base. Mobile is a direct and personal way to reach new potential customers. Use innovative and engaging formats to entice consumers, like mobile lightbox ads, to invite users to engage and learn more about the brand through multiple videos or a website. Another way to showcase your products to specific demographics is Affinity audiences.
A great example is Unilever's campaign for its Breeze detergent brand. Unilever tied the product to a household's preparation for Chinese New Year celebrations, and used mobile lightbox ads to drive viewership. To date, the behind-the-scenes videos have been watched more than 400,000 times.
Unilever Leverages Mobile Lightbox Ads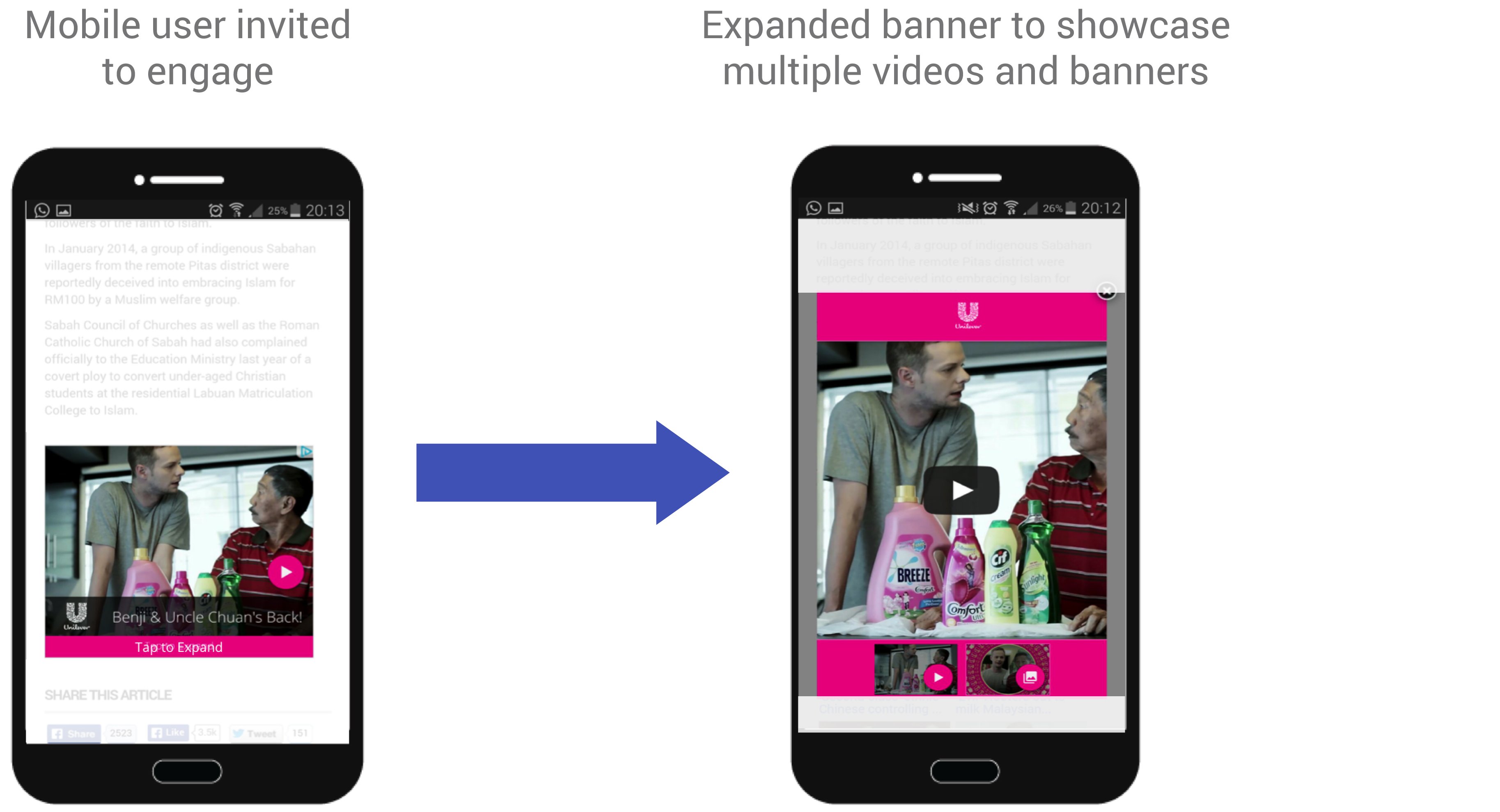 2. Leverage existing customers. Now that you're getting the attention of mobile users, make sure that their mobile experience reflects your brand's values to drive deeper loyalty and engagement.
Once you earn your customers' trust and they become repeat customers, consider using mobile apps to generate even higher engagement to deepen that bond. For instance, McDonald's designed an alarm clock app that rewards users every morning with free music tracks or redeemable hot treats in-store. Within five weeks of launch, the app delivered more than 2.8 million surprises, 400,000 of which were redeemed.
E-commerce businesses: Create seamless in-app experiences, keeping conversion in mind
Many online-only shops see lower conversion rates on mobile than on desktop, making them less confident about selling on mobile. But that's changing quickly. Let's take a quick look at a more mature mobile market like the U.S. There, mobile conversion rates are 2.7X lower than desktop conversion rates, according to a recent eMarketer report. So understandably, this would make anyone nervous about investing in mobile advertising and assets.
But here's why e-commerce players need to focus on making their mobile acquisition strategy as (or even more) robust as their desktop strategy. All signs point to mobile conversion rates significantly growing over time, as mobile-site experiences and smartphone penetration improve. The same eMarketer report shows that mobile conversion rates in the U.S. have actually improved by almost 3X compared to a year ago.
In Malaysia, almost half of online e-commerce traffic now comes from mobile; whereas in 2013, only 30% of searches for popular e-commerce sites came from mobile. This means that not having a mobile presence risks potentially losing almost half of the Malaysians intending to make online purchases.6 Undoubtedly, in 2016 and beyond, that risk will grow even greater.
To win more customers with mobile, e-commerce players need to:
1. Make it easy for consumers to convert via any device, especially mobile. It's essential to prioritize ease and convenience when it comes to consumers' needs. This is especially true when it comes to billing and providing personal details. Allow mobile users to bookmark, save, or add specific products to their carts so they can finish their online purchases later, possibly on another device like their desktop.8 Roughly 33% of all Malaysian consumers use more than one device when researching a purchase. So make it easy for those device-switchers to convert, too.
2. Create a great mobile-app experience to re-engage with loyal, repeat buyers. The typical online store makes 43% of its revenue from repeat purchasers.9As your e-commerce store expands and starts attracting more customers, a mobile app will help you convert buyers into loyal, repeat buyers by establishing a permanent presence on their phones.
Local retailer 11street did exactly that by implementing mobile-app strategies that have proven capable of driving repeat buyers. 11street's mobile site encourages users to download its mobile app by offering special app-only discounts, as you can see here.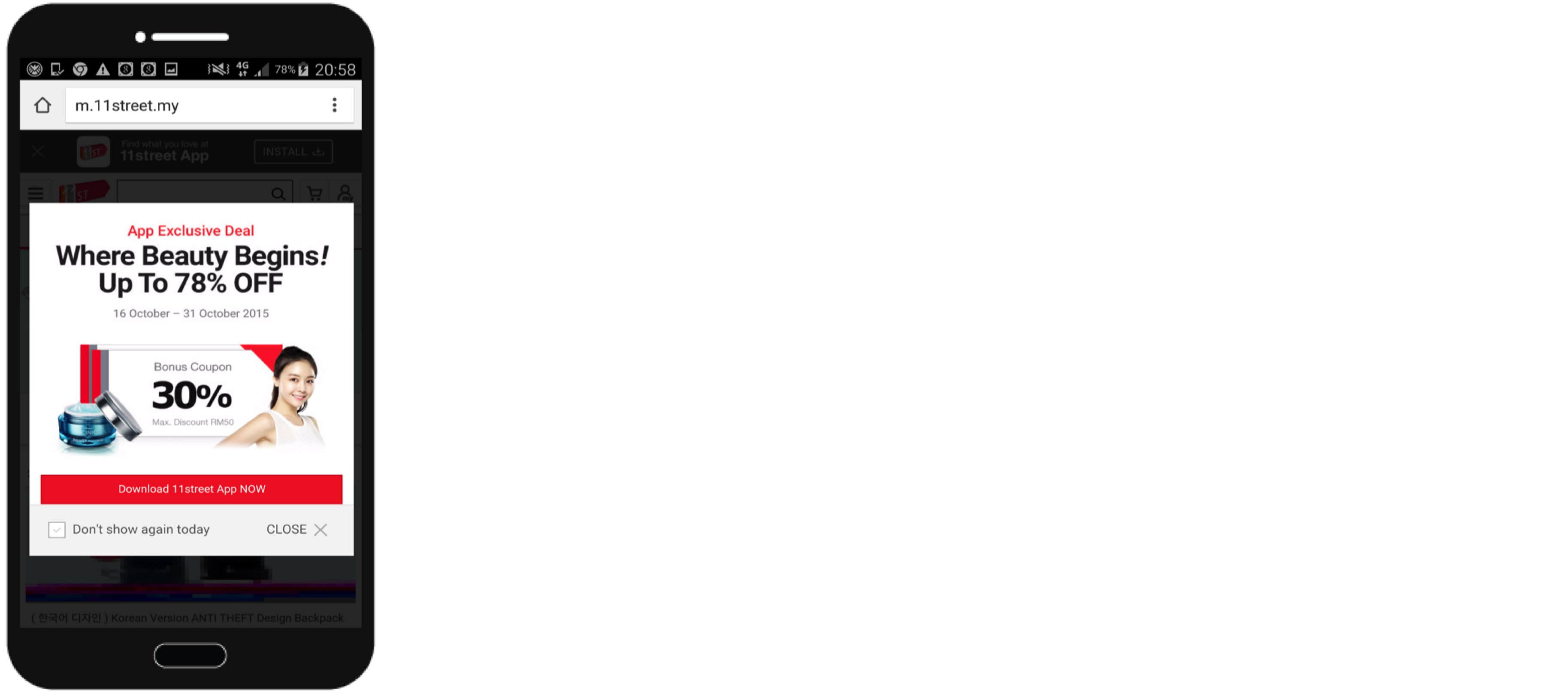 Lazada also utilizes mobile app push notifications like the below to remind customers of relevant deals that they customers will be interested in.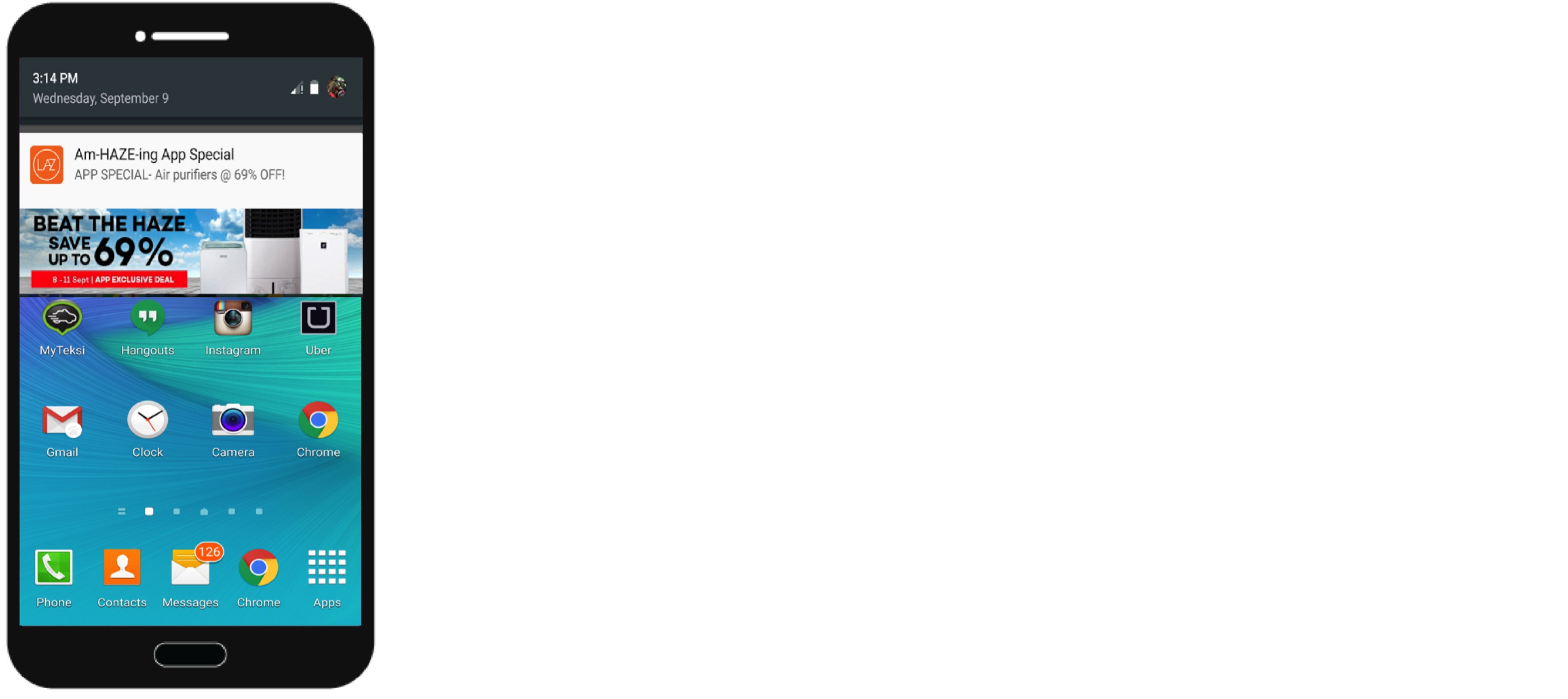 No matter the size of your business, it's time to go mobile
Even though most conversions aren't happening on mobile today, it's hard to deny that consumers' first contact with your business will increasingly be on mobile. The purchase journey branches into a million avenues, and casting the widest net of touchpoints is the best strategy. Mobile is one of the strongest and most densely packed networks of touchpoints, so go ahead: stop waiting around, and start capitalizing on these opportunities today.