With internet and mobile penetration at an all-time high, Singaporeans have come to expect more from their banks, both online and in-person. Find out how the banking industry can leverage technology to keep up with changing consumer behavior and demands.
This year, Singapore embarked on Smart Nation, a new program designed to "harness infocomm technology, networks and data to support better living, create more opportunities, and support stronger communities." And a smart nation it is: The Little Red Dot now boasts one of the highest internet and smartphone penetration rates in the world.1 Eighty-six percent of households are connected to the internet,2 and Singaporeans own an average of 3.2 connected devices per person—the highest amongst Asian nations.1
Unsurprisingly, the more connected consumers are, the more they expect their banks to be, too. Regulatory barriers in Singapore can make this slow-going, especially when personal information and sensitive transactions are involved, but that doesn't mean banks can't find ways to make consumers' offline experiences smoother. When consumers have a question or a need in their many micro-moments throughout the day, banks ought to be there to make their lives easier.
Singapore's banking experience has gone digital
In the late 70s, Singaporean banks launched phone banking, soon followed by ATMs. Basic services, such as bill payments, balance transfers, and withdrawals were suddenly accessible without having to visit a bank's retail branch. Then came online banking designed for desktop accessibility, mobile-optimized websites, and eventually mobile apps. Today, according to a review of local Singaporean bank channels, most Singaporean banks offer at least two of these channels, meaning that consumers have more platforms to manage their banking than ever before.
Despite all the options, apps remain incredibly popular. Two in three Singaporeans now prefer to use an app over browsing on a mobile-optimized website.3 And as many as one in five use an app daily to check bank balances, transfer money, or find out about the latest deals (DBS, for example, leverages push notifications to offer consumers exclusive promotions).
Online searches spur offline behavior
More and more, Singaporeans turn to the internet, and their smartphones in particular, during their moments of need. But when it comes to financial products, they tend to research online first and then make important decisions in person.
As a result, most online searches are focused on price information and product availability but don't necessarily translate into any direct sales.5 Nearly 60% of Singaporeans research personal loans online, but end up visiting a retail bank branch to secure the services.1 As you can see below, the same is true for credit card and savings.4 Security, as well as limitations in phone and online operations, are key factors that drive consumers to retail branches for some of these more complex products.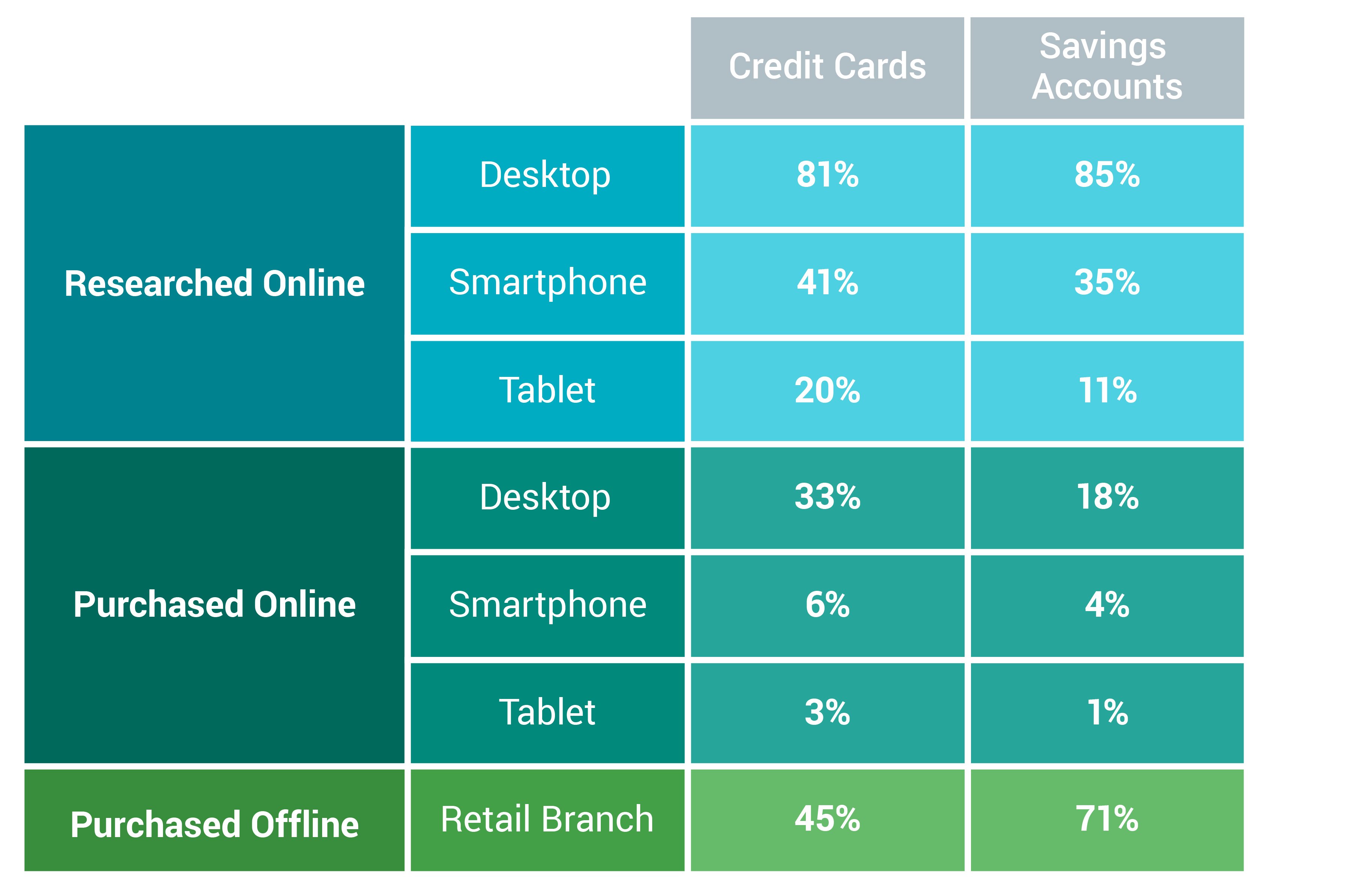 Creating a holistic banking experience
While security advancements like one-time password (OTP) have paved the way for more secure remote banking, Singaporean banks still struggle under the weight of regulatory barriers to create a cohesive banking experience for their customers.
By gleaning insights from other successful omni-channel experiences, banking institutions can learn from other industries when it comes to bridging the gap between their digital and physical worlds. An example is Spotify, a music streaming service born and bred in the omni-channel age. It built its experience with omni-channels consumer in mind, enabling them to switch devices, without having to reload playlists or songs, through a unified login. The online music giant then went a step further, partnering with Uber for its "Spotify Connect" feature, which allows users to listen to their own music while in transit.
With such services prevalent across industries, brands and in our daily lives, it's not surprising that 91% of customers expect their brand experiences to be seamless, no matter where they are and regardless of what channel they're surfing. While security and product complexity are major barriers for banks, they can work to close the gap between on- and offline services by:
Offering pickup or delivery options for services like ATM card renewals, multi-currency transfers, or foreign currency withdrawals that still require in-person visits
Cutting the loan and insurance application processes in half by allowing online scheduling of appointments via mobile and requiring in-person visits for final approvals only
Reducing tedious tasks like application form completion with "save now, continue later" functionality, automatically loading most recent actions upon login, regardless of device
Ninety-one percent of customers expect their brand experiences to be seamless, no matter where they are and regardless of what channel they're surfing.
Although promoting professional and effective client services can entice new customers, banks should also reevaluate the overarching marketing messages they're sending. Customers now want to know all their options (even if they don't want to use them all) rather than asking a question because they want a specific service. It's become crucial for consumer banks to reach customers at the right time, at the right place, and with the right message. Here are some ways banks can achieve this:
Adopt a holistic omni-banking marketing strategy across all channels.Messages crafted for telemarketing should be very different than those for television, print, or in retail branches. Use large-scale events or programs to build awareness, inspire current customers, and attract potential new customers. Use social media channels to entertain and educate clients with regularly scheduled unique content.
Stay ahead of the customer. Plan for the future by using historical data, customer research, and intelligent forecasts. Test the water with campaigns in small, controlled environments. Measure and monitor results across media and multiple messages, and then iterate according to what works and resonates with your customers. Google's Brand Lift Survey is a newer, faster way to see how marketing efforts affect brand experience, providing real-time insights that allow for immediate optimization.
Let technology to do the heavy lifting. The true benefit of programmatic buying is that it allows you to simplify and automate digital marketing. Now you can create a measurement strategy, define what success looks like, and let today's measurement platforms take it from there. Google's Universal Analytics and Google Marketing Platform6 allow companies to connect all their data so they can have a singular view of their customers across desktop and mobile.
The always-on mobile age presents banks with unparalleled opportunities to delight customers. Yes, customer expectations are higher than ever and there are a lots of ways they can be frustrated, but with so many channels available, it also never been easier to connect with customers, find out what their needs are, what irks them, and then meet them in their moments of need.