McDonald's is the world's leading quick-service restaurant (QSR) brand, serving more than 13M Malaysians every month in over 260 locations. Here's how the QSR giant leveraged search and dynamic advertising to speak to hungry consumers and raise brand favorability during the month-long Ramadan fasting period in Malaysia.
GOALS
Boost store visits and online McDelivery orders by driving higher engagement amongst Muslims during the month of Ramadan leading up to Hari Raya (Eid)
Make the brand more closely associated with Ramadan/Hari Raya
Engage regular visitors to the McDonald's website and acquire new visitors
APPROACH
Reach Muslims by mapping out intent-driven search terms related to breaking fast during Ramadan.
Increase relevancy with time-specific messaging throughout the day
Automate by rolling out search countdown ads that utilized dynamic ad copies
RESULTS
Countdown ads and search engine marketing accounted for 87% of new visits to www.mcdonalds.com.my, compared with 51% pre-Ramadan
Targeted Ramadan-related keywords saw over 20% click-through rates (CTR) versus an average CTR of 1.6% for generic restaurant queries.
Average cost-per-click for McDonald's Ramadan keywords were half that of McDonald's other generic keywords during that time
The holy fasting month of Ramadan and Hari Raya are among Malaysia's largest festivities—no surprise when you consider 61% of the country's population is Muslim. Knowing this, McDonald's adjusted its digital campaign strategy to reach Muslims who may have favoured other brands more closely associated with the holiday.
Winning the hearts and stomachs of Malaysian Muslims
Over the last three years, the challenge of winning over Malaysian Muslims and building brand affinity has been a core initiative for McDonald's.
During Ramadan, McDonald's had to find a way to advertise its brand and products while being sensitive to the majority of the population that fasted during the day. A digital-first plan allowed it to successfully run a sophisticated time-targeted strategy focused on communicating the values of Ramadan when Malaysians were fasting, then automatically switching to product ads closer to breaking fast. And for Muslims grabbing a snack before bedtime, McDonald's promoted McDelivery for late-night "chicken" and "beef" wrap meals on display and video strategy.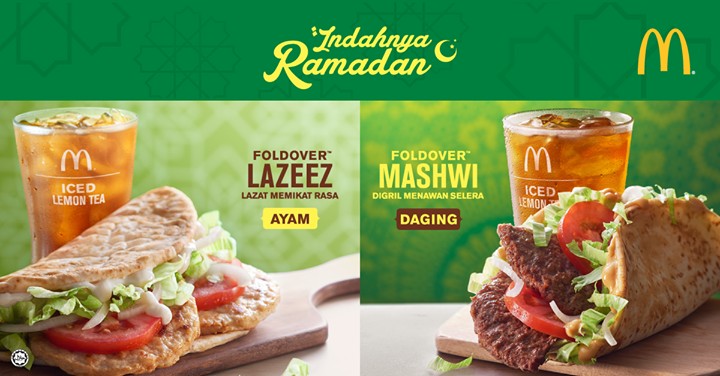 Learning how and when Muslims eat during Ramadan
Over the month-long fasting period, Muslims eat an early breakfast (sahur) before the sun rises and then fast until sundown. In partnership with Google and OMD Malaysia, McDonald's analyzed search trends and recognised several distinct patterns: First, observers planned in advance how they would break their fast each evening, down to the very minute they could start having dinner. Second, the search for the best dinner locations started right after noon and peaked around 4:30 p.m. For McDonald's, this time was crucial to connect with Muslims while they were making the choice of where to break their fast.
Establishing a brand presence in food-related Ramadan searches
Based on identified top trends, a focus group of Malaysian Muslims was asked about realistic search terms they would use. Their answers helped create a list of high-priority search terms and variations for Ramadan that merited a brand response. At the top of their lists were, "buka puasa" (literally, "break fast") and "KL buka puasa time" (or, "break fast time in Kuala Lumpur").
Looking at their competitors' activities, McDonald's noticed that most of their competitors search engine ads ran all day, with no emphasis on time or context. Hence, a targeted approach allowed McDonald's to stand out and tap into this major opportunity to connect and and drive consumers to McDonald's restaurants (or to order from McDelivery).
Dynamic, time-specific ads throughout every hour of the day
For Muslims researching for "buka puasa," McDonald's ran ads with customized Ramadan messaging, inviting them to come in and break fast at McDonald's. These ads included a product push for Ramadan favourites as well as a call to action to download the McDelivery app. The ads were dynamically updated with the specific time, counting down to the time to break fast for that day (they also factored in the time difference between West and East Malaysia). These ads ran during core dinner research hours (from 3:30 p.m. to break fast time). Once the countdown ad reached its predetermined "buka puasa" time, it stopped running, and a more generic ad took over.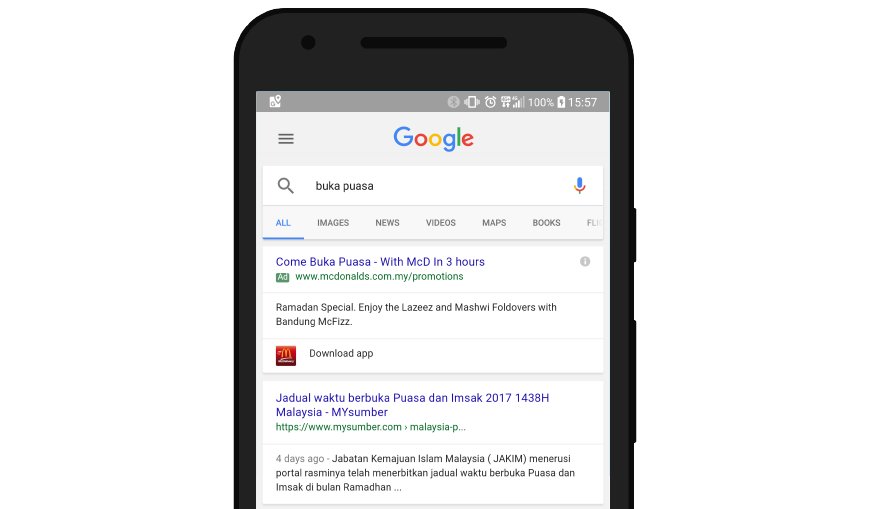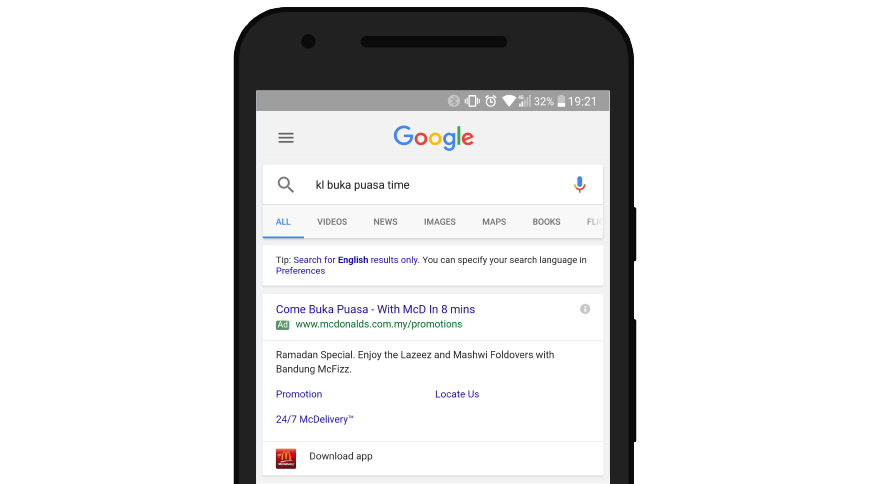 Ramadan campaign defines digital-first approach for McDonald's
This creative accurately targeted the right audience with relevant content, context, and language and drove a significantly higher engagement rate than average. During McDonald's Ramadan campaign, the keywords "buka puasa time" (break fast time) and "bulan ramadan" (Ramadan month) saw some of the highest CTR ever, exceeding 20%. This directly contributed to the second-highest percentage of new visits to www.mcdonalds.com.my.
McDonald's countdown ads and SEM contributed to 87% of new site visits, up from 51% pre-Ramadan. And average cost-per-click for Ramadan keywords was half that of other generic keywords during that period.
"Google's partnership and insights have shaped our overall strategy for this campaign and have pushed us to think deeper about our audience on search. What kinds of customers should we be engaging? How do we effectively target them? And in this Ramadan campaign in particular, when is best to reach them?" said Eugene Lee, Marketing Director at McDonald's Malaysia.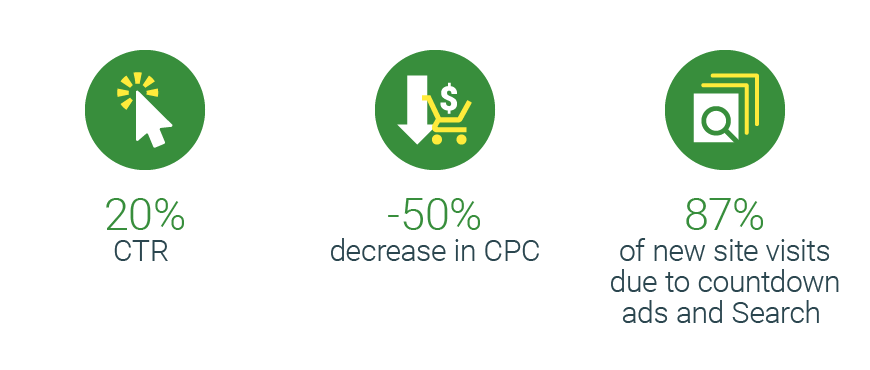 "We've seen double-digit growth since we've adopted a digital-first approach, and this growth is the direct result of how we've changed the way we talk to our customers through digital media," Lee concluded.