Singapore's Resorts World Sentosa wanted to take its search campaigns to the next level. So it turned to Search Ads 360 and Smart Bidding. Google Marketing Platform proved to be a massive time saver for the brand and its agencies, and Smart Bidding helped it reach more travelers at a lower cost.
GOALS
Increase cost efficiency of search campaigns, as measured by Cost per Revenue (CPR)
APPROACH
Used Google Marketing Platform Smart Bidding
Activated automatic optimisation for Remarketing Lists for Search Ads (RLSA) and Mobile Bid Adjustments in Smart Bidding
Tested in Singapore first and then rolled out to other top markets
Tracked performance with Search Ads 360 Executive Report
RESULTS
41% decrease in CPR for top markets; 46% overall cost savings
34% decrease in CPR for all APAC markets; 38% overall cost savings YoY
Resorts World Sentosa (RWS) is a lifestyle destination resort, located on Singapore's resort island of Sentosa. Spanning 49 hectares, RWS is home to six unique hotels, several celebrity chef restaurants, and many attractions, including Universal Studios Singapore, S.E.A. Aquarium, Dolphin Island, and Adventure Cove Waterpark.
RWS uses Google Ads1 to manage its search campaigns and reach potential customers across target markets in Southeast Asia. The brand was seeing continued success with Google Ads but was keen to double down on cost per acquisition and Cost per Revenue (CPR), the ratio of advertising cost to the associated revenue received. "We wanted to take our paid search optimization to the next level," said John Sinke, assistant vice president of digital marketing, e-commerce, and social media at RWS.
In addition, RWS and its digital agency iProspect were spending a significant amount of their time managing the logistics of search campaigns across a variety of different channels—time that could have been better spent on value-adding activities. To consolidate workflows and optimize in a scalable and sustainable way, the brand and its digital agency brought all its campaigns together under Search Ads 360.2
Gaining efficiencies with Search Ads 360's unified campaign view
Search Ads 360 helps RWS and iProspect efficiently manage all their search campaigns under one unified platform. "Our agency used third-party bid management tools before, but Google Marketing Platform enabled us to optimize the performance of our campaigns. It also allowed for a more integrated view of our marketing efforts," Sinke continued.
With workflow simplified, iProspect could focus on implementing account and bidding best practices and running tests on ad creative. The platform also provides up-to-the-minute audience data, allowing the teams to adjust bids and respond to market changes in real time.
"Search Ads 360's automated optimizations help save 30% of our time, giving us more time to focus on driving business performance for our client partners," said ShaoYu Koh, performance manager at iProspect.
Reaching travelers in target markets with Smart Bidding
The next piece of the puzzle was smarter and more effective bidding. "We realized that we had to try a different approach if we wanted to break through to the next level, improve ROI, and build a case for an increased search investment," Sinke said. Enter the aptly named Search Ads 360 tool Smart Bidding.
Smart Bidding uses machine learning to manage bids and bid adjustments, maximizing conversions and revenue. Together with this bid strategy, the team activated remarketing lists for search ads and mobile bid optimization.
"We've also benefitted from Google Marketing Platform's conversion experts, who worked closely with our agency to further optimize the campaign."
As a best practice for bid management, the brand collected floodlight data for at least two weeks before launching the first bid strategy for the market with the most conversion data: Singapore. This data allowed it to monitor key user actions, such as conversions, and determine how much of an impact Smart Bidding was having. The initial rollout in Singapore was a success, so RWS rolled out similar bid strategies in two other top markets: Indonesia and Malaysia.
RWS cuts costs, increases reach with Search Ads 360
Cost per Revenue was the key metric that all teams focused on throughout the campaigns. Top markets accounting for 84% of the brand's total APAC revenue showed a 41% decrease in CPR after moving to Search Ads 360. Thanks to Smart Bidding, there were overall cost savings of 46% in top markets.
For all the APAC markets, including Thailand, Hong Kong, Australia, Indonesia, and the Philippines, the brand saw a 34% decrease in CPR and a 38% overall cost savings YoY.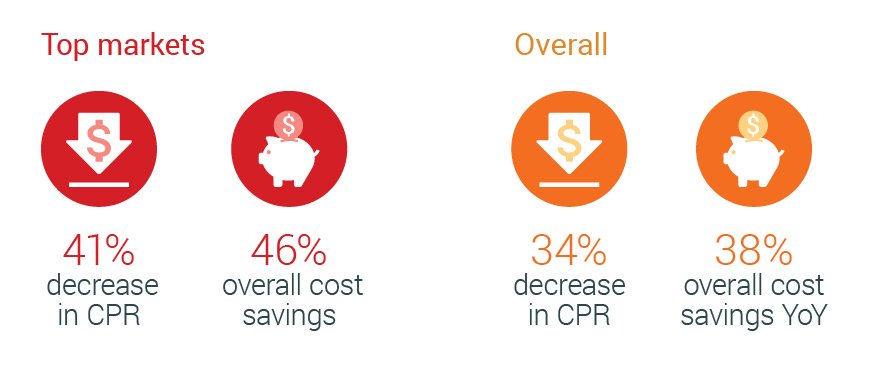 Google teams worked closely with RWS and iProspect, offering best practices and optimization strategies all along the way. "Based on our experience, it makes sense to use Search Ads 360 to optimize the performance of any brand's paid search campaigns. We've also benefitted from Search Ads 360's conversion experts, who worked closely with our agency to further optimize the campaign," said Sinke.
RWS plans to continue leveraging Search Ads 360 and Smart Bidding to maximize returns on its search campaigns so it can reinvest and diversify its marketing dollars to more channels.