Hang Seng Bank, the leading domestic bank in Hong Kong, looked to stand out in the market and reach customers where they're spending their time. To this end, Hang Seng followed its consumers over to YouTube.
GOALS
Break through in a crowded financial marketplace
Reach customers where they're spending their time
Demonstrate how Hang Seng Bank enables its commercial customers to achieve their goals
APPROACH
Launched a YouTube channel as a content hub
Created videos featuring actual customers authentically sharing how the bank adds value for their businesses
Used YouTube's TrueView, mastheads, and targeting to reach target audiences
RESULTS
1M+ views reached within first two months
Global best-in-class ad recall rates*
Hong Kong is one of the world's most important financial hubs. While a majority of Hong Kongers' media habits are now on mobile and digital video, the banking industry still invests considerably in TV and print.
Hang Seng Bank saw an opportunity. The brand aimed to break through by providing helpful, relevant content to Hong Kongers where they spend their time: YouTube.
Hang Seng's content hub finds a home on YouTube
Brands are constantly fighting to win the attention of today's consumers, and Hang Seng knew that it needed some different to stand out in the market. It wanted to produce engaging content that would both be helpful to its current customers and be compelling to potential customers. It identified YouTube as a natural content hub based on two key trends in Hong Kong:
In Hong Kong, YouTube mobile watch time grew 60% year over year.1 All in all, YouTube now reaches 65% of digital Hong Kongers.1 Hang Seng realised that the key to winning digitally is to build real connections and engagements in the crucial moments people go online to discover new things, get help, or get their questions answered.
2. Reaching people efficiently requires one central location
Now that communications are flattened into an interconnected web, digital plays the role of a hub that links channels, messages, potential customers, users, and advocates. Hang Seng wanted one central location where people could go to find new products, learn what the bank is all about, and get their questions answered.
A YouTube channel that could house everything from ongoing series and promotional ads to product explainers and testimonials from actual customers was Hang Seng's answer to these trends.
Creating inspiring, helpful YouTube content
Now all Hang Seng needed to do was fill its new YouTube channel focused on Commercial Banking with compelling, helpful and entertaining videos. The brand started by identifying traits that are associated with the bank, including things like tailor-made comprehensive products, expertise, experience, and trustworthiness. How could Hang Seng share these concepts authentically and in an interesting way? Videos straight from the testimonies of Hang Seng customers. These human, totally unscripted videos would show—and not just tell—Hang Seng's role in enabling businesses to achieve their goals.
One example of a 90-second customer testimonial features the CEO of a local travel company. The CEO shared her company's experience weathering the SARS outbreak and drop in business. The video positioned Hang Seng as another member of the company's team, helping them in good times and bad.
Another showcases a local wedding banquet restaurant. When the restaurant wanted to grow its business in a short period of time, Hang Seng was nimble enough to provide the right support quickly.
In addition to videos with current customers, Hang Seng also created explainer content to promote its products and offer helpful solutions to potential customers, like this human resources tips for employers video.
The overall plan for creation, distribution, and measurement looked like this: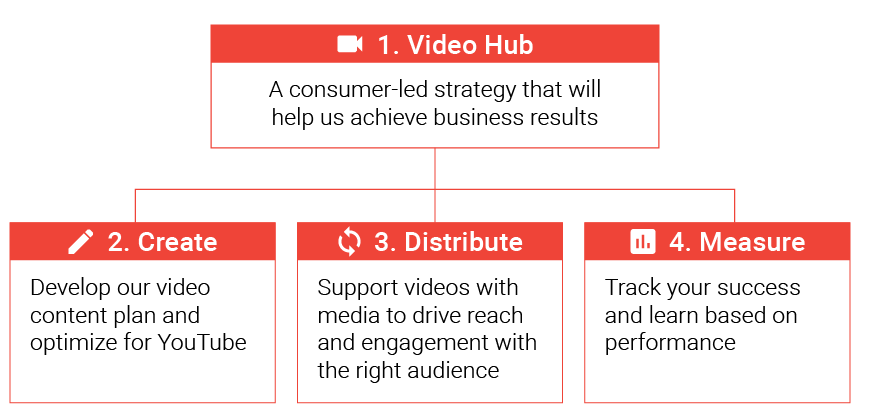 Getting the word out to business owners
Hang Seng used a variety of YouTube formats, combined with sophisticated targeting, to get its videos in front of the right people at the right time.
Hang Seng launched with three high-impact YouTube mastheads on desktop and mobile to grow broad awareness. Each masthead featured three rotating ads, allowing frequent users to see something new every time they visited the site. This strategy helped the brand reach as many as 10M impressions in a single day. Hang Seng supplemented the mastheads with TrueView ads, YouTube's skippable format.
Here's an overview of Hang Seng's YouTube media strategy: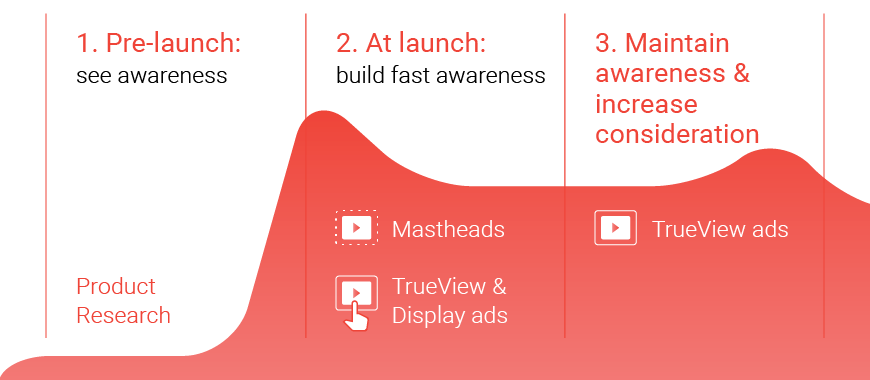 All told, the bank ran 25 different videos in the initial phase, testing to see which were most effective in which formats, and optimizing along the way.
Bank's pioneering YouTube channel sees best-in-class results
Hang Seng was one of the first banks in Hong Kong to launch a YouTube channel with a comprehensive strategy. Going where its consumers went just made sense to Hang Seng, and the brand has seen great results.
Hang Seng's channel is the fastest growing in Hong Kong's finance category.2 Its subscribe rates have exceeded industry standards, with a subscriber to video view ratio of 1:650 (versus industry average of 1:1500).2 Encouraged by these results, Hang Seng has continued to add videos featuring business owners to the content hub. Brand Lift studies allowed the bank to measure (and optimize) key metrics throughout its campaigns and its videos achieved best-in-class ad recall rates.
With this successful launch of its YouTube channel last year (with more than 3 million views to date), Hang Seng has seen success in connecting with its audiences with better brand awareness and engagement. Having established that video is an innovative channel, Hang Seng continued to leverage the YouTube platform to connect with clients wherever they are.