Businesses don't succeed by being complacent — they have to push themselves to achieve their goals. After seeing great results with search engine marketing (SEM), Klook, a leading online tours and activities (T&A) booking platform, wanted to aim higher. Regional Marketing Director Marcus Yong tells us about his team's journey to mastering online video and how that led to incremental SEM success.
People book sightseeing tours to discover new and amazing places or things to do as they travel, which is why the T&A sector is projected to hit $183 billion by 2020.1 However, only 15% of today's T&A market is online, compared with 61% across the rest of the travel industry.2 This is because people usually prefer to book their activities once they're on the ground at their destination.
But this is changing, and the online T&A sector now represents the fastest-growing segment in the global tourism industry, according to Phocuswright research.3 It therefore opens up a huge opportunity for travel activities suppliers like ourselves.
And we've done well for ourselves in this newly growing space: in less than five years, Klook has become the most-searched for T&A aggregator globally,4 while search volume has grown 67% YOY in APAC.5
One reason for our strong success is our focus on lower-funnel, performance-driven channels such as SEM (our impression shares for brand terms reached 97% in H2 2019), which we prioritized because search is key to driving conversions. But as a brand that thrives on innovation, we're always looking for new ways to reach consumers across different channels and platforms.
After seeing SEM success, we set our sights on a different digital channel to expand our audience outreach in Southeast Asia. We knew that nearly 85% of SEA users watch online videos every day and that about half of all YouTube users in SEA spend more than 10 hours per week on the channel. Specifically, watch time for tourism-related videos on YouTube has increased over 90% in SEA markets like the Philippines in the last year.6 Armed with that information, we turned to online video to reach a valuable, leaned-in audience.
But each channel comes with its own set of nuances, and mastering YouTube required a deep understanding of the platform and careful campaign optimization. Eventually, this all paid off as we managed to reach an additional 10 million unique users through YouTube; all of which had an incremental impact on the return on ad spend (ROAS) of our SEM campaigns subsequently. Here are three things we learned along the way that all marketers can benefit from.
1. Define success — and choose the right format — for your business goals
The goal of our online video campaign was to drive conversions. We used TrueView for reach to do this, but the initial return on ad spend (ROAS) was underwhelming. We saw only 3X results on YouTube compared to 17X on SEM during the same period. We dove into the data and identified the core problem: being unaccustomed with the platform, we weren't familiar with the breadth of options that were available on YouTube, and as a result, our campaign setup didn't align with our objective. It turns out TrueView for reach is optimized to drive awareness metrics rather than conversions. So we adjusted the way we measured success for this particular campaign by using a new metric: unique reach, which we had never used before.
But we still had to meet our primary goal of driving lower-funnel conversions. To meet that goal, instead of continuing with TrueView for reach, we set up a new campaign using TrueView for action, which bids against cost per acquisition and drives conversions. With this, we set up a strong foundation for success in our new venture into online video.
2. Reach the right audience at every stage of the journey
Once we figured out the products, our next step was correctly using YouTube's audience solutions to maximize our performance goals. When we first launched on YouTube, we used a mix of audience solutions to connect with viewers. However, the audiences we selected were also not entirely aligned with our primary goal of driving conversions. For example, we were serving ads to demo and life events audiences — segments typically used for awareness and consideration goals.
Matching the right audience to the right business goal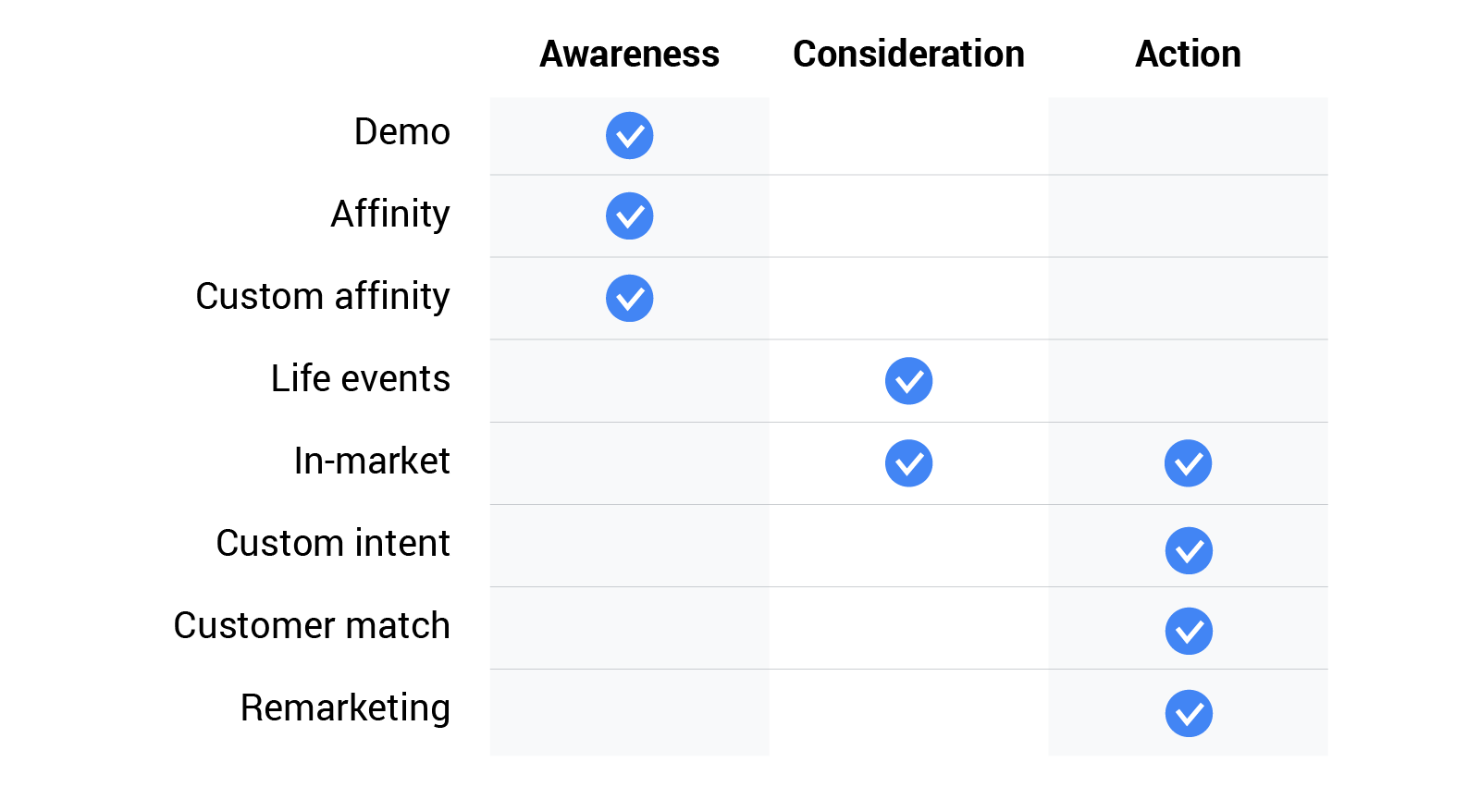 In order to drive action, we adjusted our strategy to serve video ads to segments that demonstrate intent, like in-market, custom intent, customer match, and remarketing audiences.
The ads drove 11X ROAS — 3X higher than the 8X ROAS on SEM during the same period. What's more, the fine-tuned campaign drove an 83% increase in mobile interaction rates.
3. Mastering one channel can benefit another
Most surprisingly, adjusting our YouTube strategy drove a 61% lift in clicks for our SEM campaign, an extremely valuable discovery for our team. By reaching more unique viewers on YouTube, we drove greater awareness, which in turn helped drive more search queries about Klook. Because of this, we were able to boost performance not just on YouTube but also on Search — a platform that we were already seeing great results on.
Keep measuring for success
We were very pleased with our final campaign numbers, and we're now keen to keep this momentum going. So we're taking an "always on" approach and will continue to run TrueView for action ads alongside our SEM campaigns.

At Klook, we believe that constantly challenging marketing approaches and strategies is the key to achieving — and maintaining — success. That's why we decided to explore opportunities with online video in SEA. And despite a rocky start, we've seen great results and learned a valuable lesson: marketers should get out of their comfort zones. But taking that leap is not an option — it's a requirement.