Hong Kong may be on the path to becoming a smarter digital city, but many businesses are still hesitant to experiment with and adopt new technology. Larry Luk, L'Oréal Hong Kong's chief marketing officer, explains why adopting a trial-and-error approach is the only way forward for brands to stay ahead in a hyper-competitive market.
With its combination of local consumers and tens of millions of tourists, Hong Kong is home to a unique fusion of cultures. Hong Kongers' shopping habits and behaviors also vary widely. But between traditional in-store shoppers and a growing number of people embracing e-commerce, one thing is clear about Hong Kongers' expectations for the city as a whole: they're ready for a digital transformation.
Digital is the new billboard for beauty brands.
More than 80% of Hong Kong's population is online — yet less than 40% of all Hong Kong businesses have an online presence. In today's world, there are more ways than ever to engage consumers, and we need to show up and reach them where they prefer to spend their time. That's why digital is the new billboard for beauty brands.
In the past few years, new digital tools and ad formats have unlocked our ability to engage consumers with tailored, timely messages. Our campaigns have gotten more agile and effective, and we're removing friction between our online presence and brick-and-mortar stores. And it all started with the strong spirit of experimentation and test-and-learn mindset that are deeply ingrained in L'Oréal's DNA.
Here's how we keep that mindset at the core of our marketing:
1. Trying new technology early and often
Taking a leap of faith with new technology can be daunting, especially on a tight budget. But allocating even a small portion of your budget to a riskier approach can make a world of difference.
There's nothing wrong with tried-and-true methods. But you'll never discover more effective or efficient approaches if you don't set aside the time (and money) to find them.
We're always eager to test early-stage products and tools, even while they're still in beta. In 2018, we saw an opportunity to build millennials' love for YSL's lipstick products — an especially competitive category — by tapping into their affinity for mobile. After brainstorming which channels and ad formats would be most suitable to our campaigns, YSL Hong Kong became the first brand in the region to test YouTube's related video extensions, which featured full coverage of users' mobile screens in portrait mode.
While we served our lipstick ads to affinity and in-market audiences, related videos from our YouTube channel appeared below the creative and occupied the entire screen. By helping viewers discover more content on our channel, the video extensions ultimately encouraged them to subscribe and get notified about our latest content.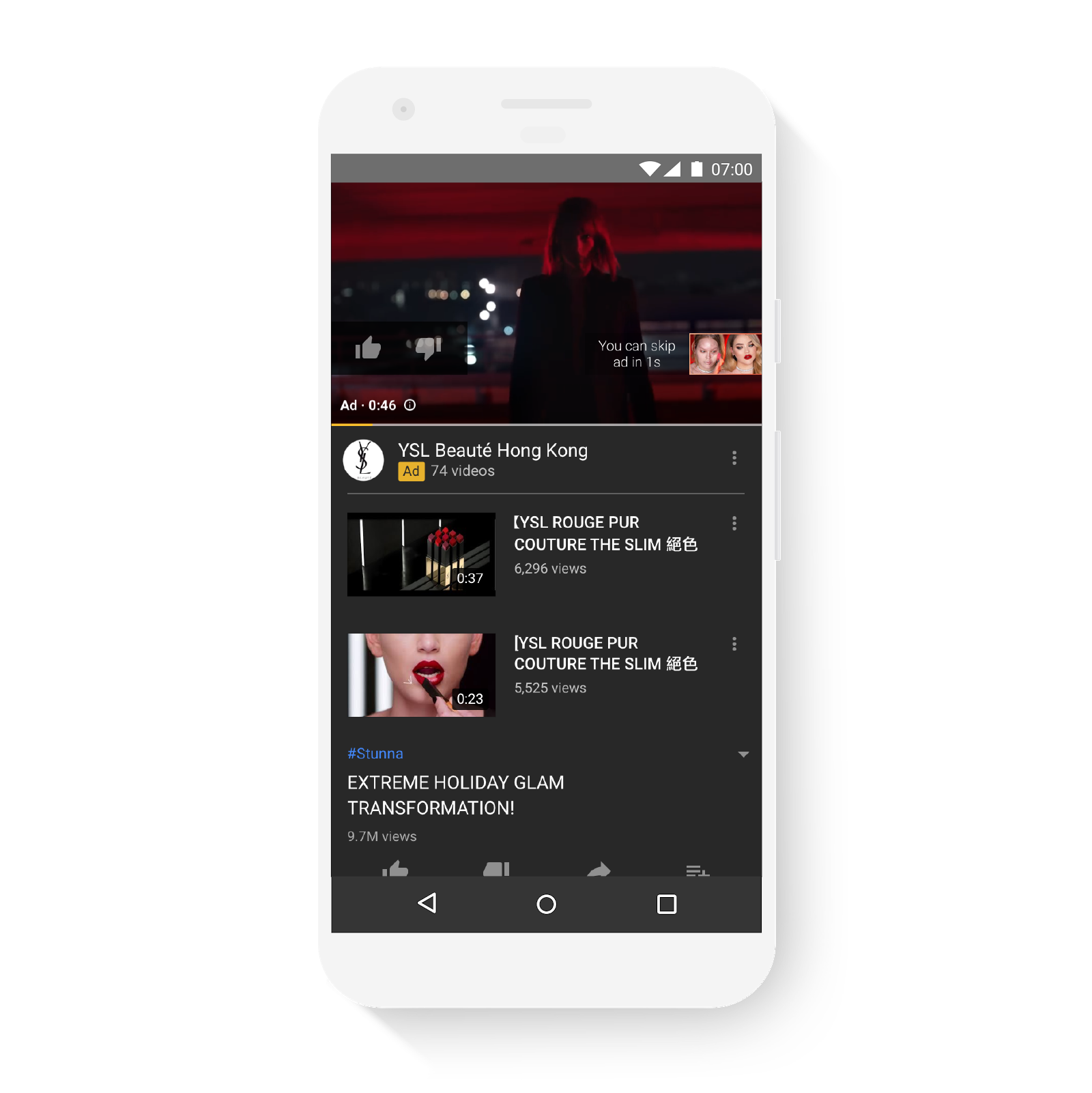 The lipstick shade featured in our main creative became our top-seller, and we boosted sales for the Rouge Pur Couture The Slim line by 81% compared to 2018. During the three-week campaign, we also drove 250% higher watch time, 124% more views, and 56% longer average view duration on our channel. Best of all, our subscriber base increased by 101%.
There's nothing wrong with tried-and-true methods. But you'll never discover more effective or efficient approaches if you don't set aside the time (and money) to find them.
2. Diving deeper into our core audiences
Beyond being where our consumers are, we're getting better at developing creative for a diverse range of passions and interests. We've recently conducted workshops to uncover new insights and nuances about audiences we typically try to reach on YouTube, such as Fashionistas and Beauty Mavens. With a deeper understanding of how people within those audiences engage with our brand, we built a variety of new segments and tailored our messaging to their unique interests.
In 2018, Lancôme was the first brand in Hong Kong to use YouTube to hone in on Single's Day shoppers. We took an existing Director Mix campaign focused on five key audiences — Beauty Mavens, Fashionistas, Travel Buffs, Aspiring Chefs, and Fitness Buffs — and, for three weeks in October, we layered on an additional 11.11 Shoppers audience. Single's Day shoppers ended up driving 27% of Lancôme's total conversions from the entire campaign as well as some of our highest watch time and retention rates.
When we dig for unique insights about our consumers and reflect them in our creative, our campaigns resonate, and the results follow.
We took a similar approach to plan a campaign for our Maybelline Fit Me!Ⓡ foundation. Fitness enthusiasts are interested in more than just exercise, so we broke down that audience into smaller groups that reflected different interests, like Nightlight Enthusiasts, Dancers, and Shutterbugs. Then, we ran bumper ads across relevant content with dynamic copy tailored to each audience, such as "Always photo ready" and "No matter how late we play, I'm not shy to show the real me!"
Our precise, personalized messaging led to a 30% relative lift in ad recall compared to industry benchmarks, and we captured 5.2 million viewable impressions with a 95% viewable rate.
The takeaway was clear: when we dig for unique insights about our consumers and reflect them in our creative, our campaigns resonate, and the results follow.
3. Connecting our online and offline presence
Beyond ads, we're also pushing for more technical innovation at our physical locations. That's crucial because even traditional offline shoppers are spending more time online before and during store visits.
To make our in-store experience more engaging, we've started testing new in-store features like virtual and augmented reality displays, integrating ModiFace technology (which allows people to try different products using augmented reality) into our retail and online environments and experimenting with cloud-based kiosks.
We also set up an internal team to ensure all of our free-standing boutiques have accurate Google My Business listings. Along with giving online shoppers an easier way to find and contact boutiques near them, this has also drastically improved our brand's visibility for shoppers on search and Maps.
Keep your company's doors open to experimentation
Since day one, "sharing beauty with all" has been L'Oréal's mission. That means being present and ready to engage with our consumers in the most relevant way — a constant moving target. Flexibility, agility, and experimentation have been crucial on this journey.
To remain a leader in the industry, we need to appeal to an increasingly progressive and digital-first audience. It's more than just being willing to experiment. Driving growth comes down to proactively and intentionally finding new ways of staying ahead of the curve and top of mind with our consumers.