Chloe Kwok, head of marketing at Johnson & Johnson, explains how her team in Hong Kong shifted to an experimental mindset and found faith in digital's ability to drive sales.
There are good reasons why advertisers in Hong Kong have traditionally been heavy on TV: it works. For decades, TV has guaranteed brands tremendous reach and enabled detailed reports on ROI and performance. However, when I joined Johnson & Johnson (J&J) in 2017 and was given the goal of reaching millennials, I realized changing our typical approach to video marketing was an imperative.
Hong Kongers are more connected to the digital world than ever. Take one glance on the MTR and you'll see nearly everyone is on mobile (especially millennials), and, as people find new reasons to love and watch online video, YouTube watch time in Hong Kong will only keep growing. Google recently discovered that nearly half (49%) of all Hong Kongers prefer YouTube for online video, and 47% agree the platform has content they cannot find anywhere else. To thrive in an era of smartphones and short attention spans, I knew J&J needed to look beyond what's worked in the past and chase new opportunities.
It's clear that in Hong Kong, those opportunities are in online video and mobile because that's what consumers think. Nielsen conducted a survey in 2018 on consumers' prediction of ad spend and 83% said mobile marketing effectiveness will rise; 66% thought the same of online video, whereas just 41% thought TV would be more effective in the future. So, in stark contrast to our traditional approach, we brought Google and our creative agency, DDB, together to rethink our media and creative for three brands: Neutrogena, Aveeno, and Listerine.
To thrive in an era of smartphones and short attention spans, I knew J&J needed to look beyond what's worked in the past and chase new opportunities.
Armed with fresh messages tailored to the right platform and audience, our results were more than impressive.
Taking a digital-first approach to storytelling
After rushing to trim an Aveeno TV spot to a six-second bumper ad, we realized making unskippable ads required more than simply putting our old creative on a new platform. In that case, we cut the voiceover but we didn't edit the music. When we compared its performance to our other YouTube creative, it was clear we had a lot to learn.
Google and our media agency, IPG Mediabrands, helped us see the value of starting with our audience and brand objectives in mind. "It's crucial that audience planning comes before media planning," said Ben Hui, head of digital at IPG. "We focused on understanding the audience first using a variety of sources, including Google's intent signals, so we could invest in the right touchpoints. Knowing that digital has become such a central part of Hong Kongers' daily lives, we knew we had a huge opportunity to engage J&J's customers online if we identified the right moments to connect."
In the past, our audience segments were based on demographic research, but that told us little about our customers' actual interests and intent. By using Google's intent signals and machine learning, we were able to uncover new, relevant insights about our customers and put those insights into action.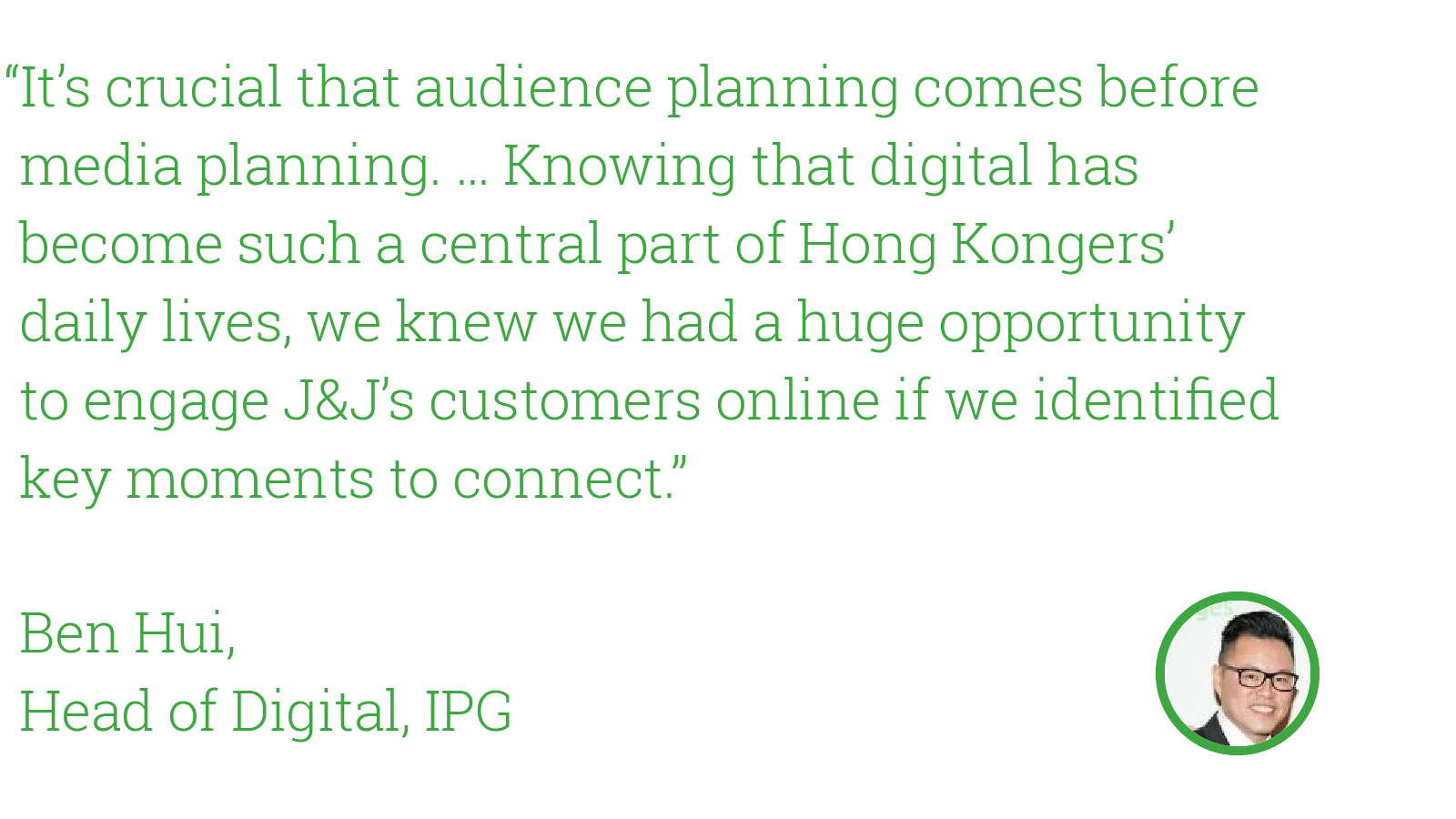 Our work for Listerine is a great example. Using mouthwash isn't typically a part of Hong Kongers' oral health regimens, so our challenge was encouraging people to take an extra step to complete their routine. Our original strategy included a TV spot, OOH banner ads, and voiceovers on music streaming apps. But we realized there was an opportunity to combine our existing visuals and audio, using the voiceovers and banner visuals to build three new bumper ads.
The bumpers not only helped us tease our full-length TV spot but also extended our reach to more than 1.5 million unique users, which would not have been possible on our original budget.
Making a splash with an experimental creative strategy
Since starting on this journey toward digital, I've been thrilled to see sales lifts across all four brands — especially Neutrogena, which showed a 15% uplift in 2018 after a double-digit decline last year. Both Aveeno and Listerine's sales went up by more than 25%. We've been on this journey for awhile, but with an eagerness to learn and with fresh consumer insights to inform our creative, we eventually became the only market in all of North Asia to achieve positive sales growth in Q1 2018.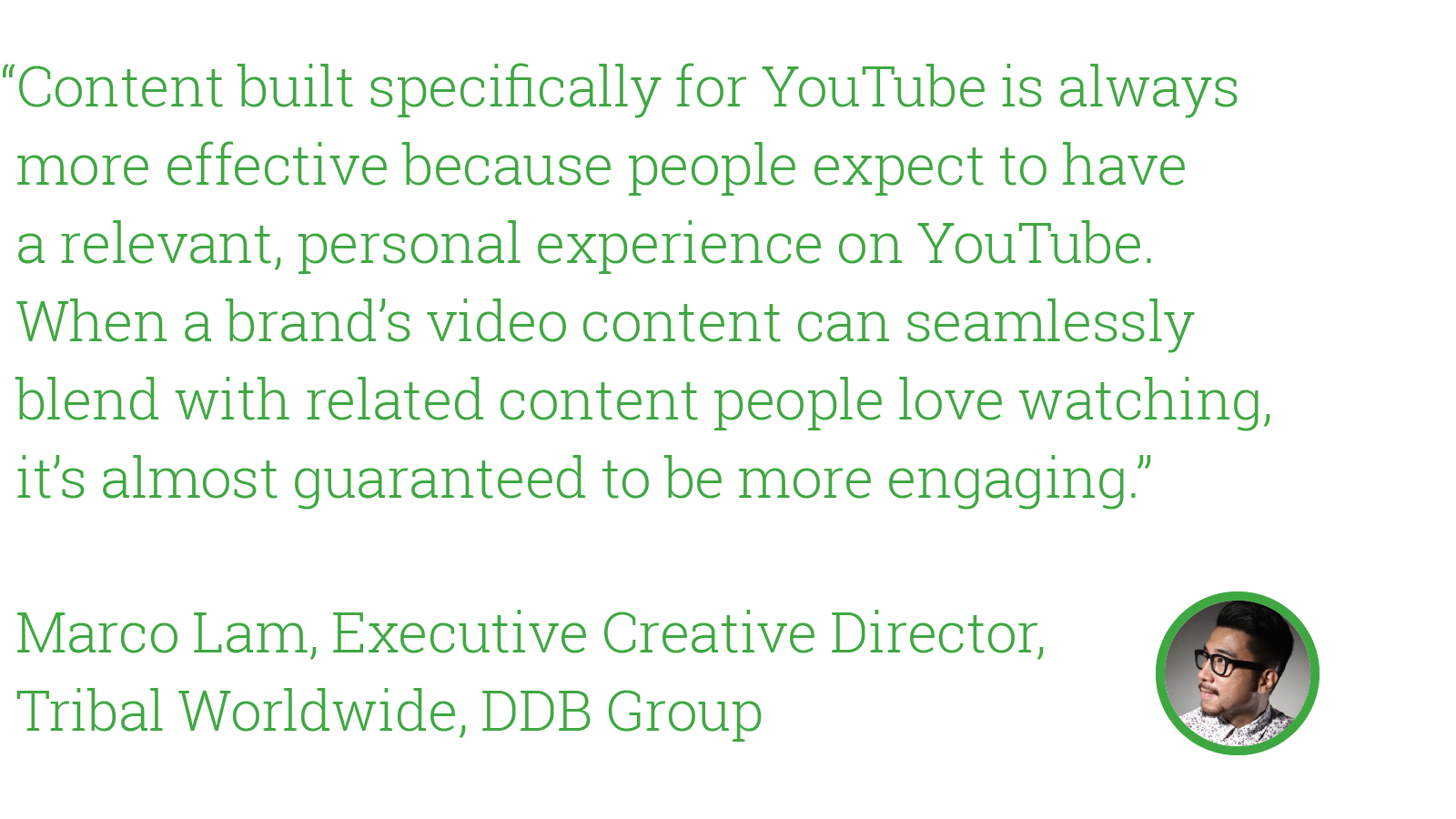 Having a strong digital team in the region was absolutely critical to nurturing our new mindset, and there's still plenty to learn moving forward. What's most important is that we keep learning together and find new ways to approach our challenges. Our teams in Japan, Korea, and Taiwan are already working more closely and collaboratively with their creative agencies and Google to meet their own goals, and made-for-YouTube content will play a significant role in our plans for 2019.
Marco Lam, our creative agency's executive creative director, said it best: "Content built specifically for YouTube is always more effective because people expect to have a relevant, personal experience on YouTube. When a brand's video content can seamlessly blend with related content people love watching, it's almost guaranteed to be more engaging."
With every challenge comes opportunity, and, as marketers in Asia-Pacific, we have the unique opportunity to carve our own path. It will take time and lots of testing and learning, but it's clear that having a digital- and consumer-first mindset is the first step.