What we set out to test
Can Search ads increase both online and offline sales by meeting people where they're searching?
The background
A household name, Kentucky Fried Chicken (KFC) is one of the world's largest fast food restaurant chains. Committed towards continuous growth, KFC was keen to shake up its advertising strategy to engage its Australian customers more effectively. In particular, the brand wanted to know how it could connect with hungry Aussies while they were deciding their next meals. With search interest in fast food accelerating by 30% during Australia's COVID-19 lockdowns,1 KFC was eager to capture this rising demand.
Search is an increasingly critical turning point for undecided diners. Every day, more than 465,000 food decisions are made on Google.com.au.2 Faced with rumbling tummies, people make these decisions quickly and impulsively, with 61% spending less than 30 minutes to research their options. Amid this messy middle, consumers are fickle — in fact, 45% of Aussies will opt for their second meal choice just because it shows up while they're searching,3 giving brands like KFC an incredibly short window to find and influence these hungry customers.
With these insights in mind, KFC decided to run an experiment to test if Search ads could indeed intercept food decisions, thereby boosting sales both online and offline.
How we set the experiment up
Based on KFC's store attributes and capabilities, the team identified two sets of statistically similar stores. They then ran a search query-based control/exposed test using Google's GeoX tool, where the exposed test group had an elevated level of search activity compared to the control group:
Control group: Without Search ad activity
Test group: With Search ad activity
By comparing the difference in store sales performance, KFC could determine the incremental impact of its Search ads. Performance was measured both online and offline, in terms of website sales and visits to its brick and mortar stores.
KFC's Search ads covered generic keyword topics, enabling the brand to stand out during searches for impulse-driven food-related queries. The experiment ran for a total of four weeks in New South Wales, with a single-state focus to minimize the impact of externalities such as lockdowns.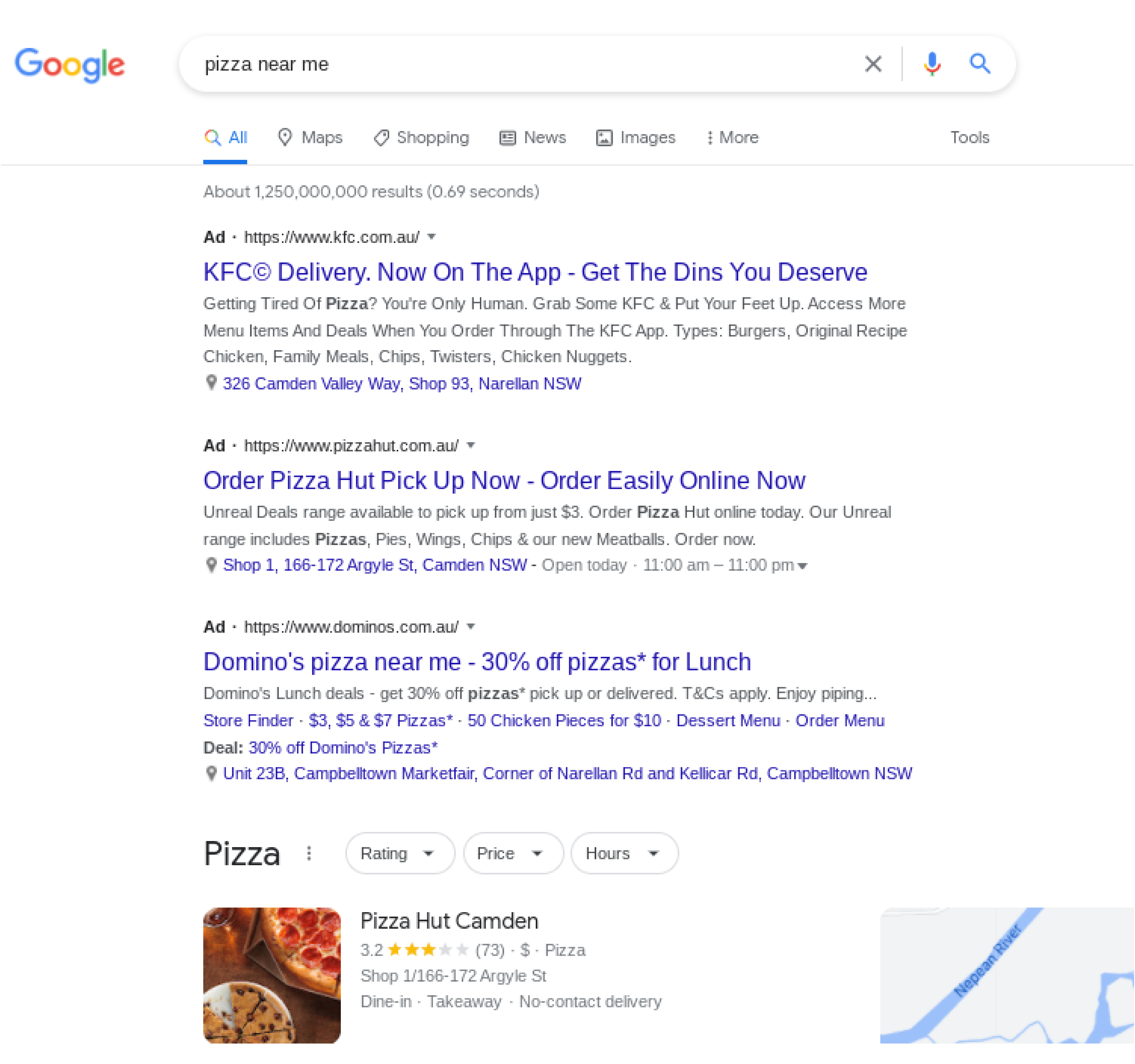 Solutions we used
What we learned
By tapping into the secrets of search behavior, KFC unlocked impressive business growth. The test reported a tangible difference in sales performance, both online and offline, between the test and control groups.
The test group exposed to Search ads delivered:

This marketing case study proves the importance of an omnichannel strategy, as being discoverable online boosted KFC's online and offline orders. The experiment drove a significant uplift in both sales and average order value. For every $1 invested, KFC saw a $2 return. This meant that when KFC showed up where hungry Australians were searching and intercepted their meal decisions, people were not only more likely to purchase from KFC — they also spent more.
By owning prime Search real estate, KFC captured consumer preference and became top of mind for its prospective customers. Since KFC only had to pay when the ad received clicks, this also helped to drive brand awareness for free, increasing efficiency.
Following the success of this pilot test, KFC plans to roll this out nationally.

"We were initially skeptical of the impact of Search in driving incremental sales for KFC. This robust experiment proved its value in driving growth for our business."

"The campaign has proven that utilising search as an omnichannel tool can be highly valuable for the QSR category. Going beyond siloed search approach and having ruthless focus on business outcomes, helped us to develop a highly effective approach. We've been able to tap into more consumer moments and ultimately drive KFC ahead of the market."
This case study is part of the Experiment with Google Ads program.