Looking to take brand engagement to the next level in the cricket-crazed nation of India, Nissan teamed with Google Marketing Platform to roll out an industry-first digital campaign during the 2016 ICC World T20 tournament. By serving interactive banner ads featuring statistics and real-time highlights, Nissan drove 10X higher interaction rates.
GOALS
Drive engagement in a competitive marketplace
Increase awareness while improving cost efficiency
APPROACH
Used Google Marketing Platform to create dynamic digital banner ads that featured cricket scores and highlights
Used Display & Video 360 to optimize campaign
Targeted passionate cricket fans
RESULTS
10X higher interaction rates with banner ads vs. industry benchmarks
3X increase in brand searches
4X increase in website visits
News flash: Indians love cricket. And with India hosting the 16-nation ICC World T20 tournament on home turf in 2016, excitement was at an all-time high. But for a lot of Indians on the go, sitting in front of a TV screen to watch a match isn't possible. Instead, cricket enthusiasts are constantly turning to their smartphones for game details, score updates, and just about everything else they want to know about their favorite pastime.
As part of a worldwide initiative to increase brand engagement through sports partnerships, Nissan—an official sponsor of the tournament—teamed up with Google Marketing Platform1 to reach these passionate cricket fans where they spend their time: on their phones.
Meeting fans with contextual cricket creative
After observing the search behavior of cricket fans, the team at Studio built an automated content platform to populate several rich media banner ads with real-time cricket stats and highlights. The data-driven ads were served to users depending on their interests, the devices they were on, and the time of day.
Before a match, fans were served ads asking them to vote for their preferred teams. During the match, fans were shown live score updates and key highlights. At the end of the match, the ads would display the final results and the player of the match.
Different banner ads were served to users before, during, and after the match.
The creative was trafficked through Display & Video 360, where Nissan was able to continually optimize and adjust bids to meet its campaign goals. The team also used the platform's affinity targeting capabilities to serve ads to cricket fans based on lifestyle and audience interests. "The Google Marketing Platform technology was really useful in targeting the audience in the best possible manner," said Arun Malhotra, managing director of Nissan India.
Innovative banner ads drive record engagement for Nissan
The innovative banner ads enticed users to click, driving 10X higher interaction rates compared to industry benchmarks. In fact, interaction time with each ad was as high as 45 seconds, holding users' attention for as long as a typical TVC—but at a fraction of the cost.
Nissan also saw a 3X increase in overall search interest during the T20 World Cup tournament, as well as a 4X spike in website visits, with more than 50% of traffic coming from mobile.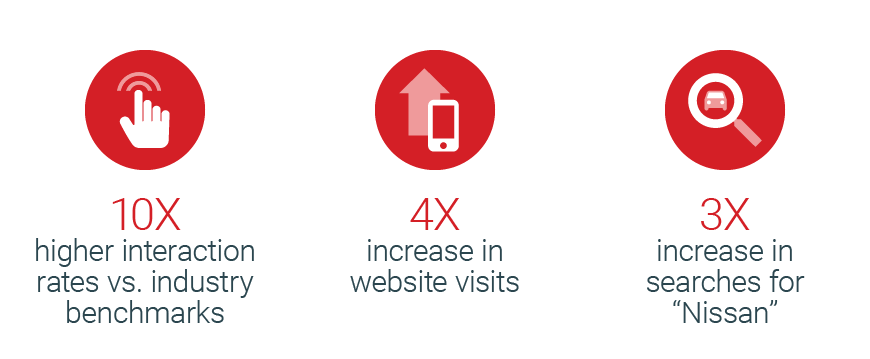 "We really managed to engage the people. This is what Nissan is all about," said Guillaume Sicard, president of India operations at Nissan. The campaign's success has compelled the brand to increase its investment in digital by as much as 5X this year.