It's no secret mobile has changed how consumers behave. With the consumer journey fragmented into hundreds of micro-moments, it's increasingly important for brands to be there when consumers reach for their devices. Matt Lawson, Google's Director of Ads Marketing, explains how marketers can adapt.
How would you describe the role of your smartphone in your everyday life? When we asked people this question recently, they used phrases like "attached to my hip," "butler," and "lifeline."
Over two-thirds of smartphone users (68%) say they check their phone within 15 minutes of waking up in the morning1, and 30% admit they actually get "anxious" when they don't have their phone on them.2 Millennials? They're really attached. Eighty-seven percent always have their smartphone at their side, day and night.3 In many countries, including the U.S., more searches take place on mobile devices than on computers.4
And because we have more marketing messages coming at us than ever before, there's a high risk of defaulting to "tune-out" mode. Mobile empowers us to navigate through it all on our own terms. We have more access and choice than ever before in screens, in sites, in apps, in products—in life.
Moments That Truly Matter: Micro-Moments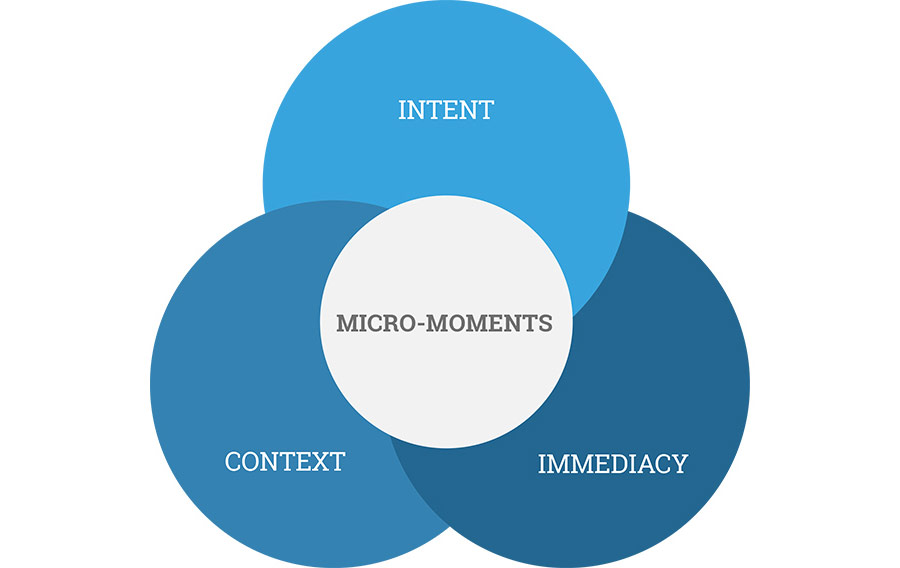 Take the oft-quoted stat that most people check their phones 150 times a day.5 Pair it with another that says users spend 177 minutes on their phones per day6, and you get a pretty fascinating reality: mobile sessions that average a mere one minute and 10 seconds long, dozens and dozens of times per day.
Behind these mobile bursts are countless interactions, like texting a spouse with a carpool update, dropping a quick work email while waiting in the ATM line, or posting a Bermuda vacation photo to make friends jealous. These types of moments have personal value, but they're not necessarily moments when we're looking to engage with brands.
And if a brand tries to butt in with a distracting or irrelevant message? Swipe.
In many ways, micro-moments have become the footsteps that lead people to your store or desktop site.
But in other moments, we're very open to the influence of brands. These are the moments when we want help informing our choices or making decisions. For marketers, these moments are an open invitation to engage. And they're the moments marketers have to be ready for.
At Google, we call these micro-moments. They're the moments when you turn to a device—often your smartphone—to take action on whatever you need or want right now. They're the I-want-to-know, I-want-to-go, I-want-to-buy, and I-want-to-do moments that are loaded with intent, context, and immediacy.
The New Consumer Decision Journey
Consider that 82% of smartphone users say they consult their phones on purchases they're about to make in a store7, and 91% of them turn to their phones for ideas in the middle of a task.8 These micro-moments are critical touchpoints within today's consumer journey, and when added together, they ultimately determine how that journey ends.
Since we can take action on any need or curiosity at any time, the consumer decision journey has been fractured into hundreds of tiny decision-making moments at every stage of the "funnel"—from inspiring vacation plans to buying a new blender to learning how to install that new shelf.
In the past year alone, websites in the U.S. have seen: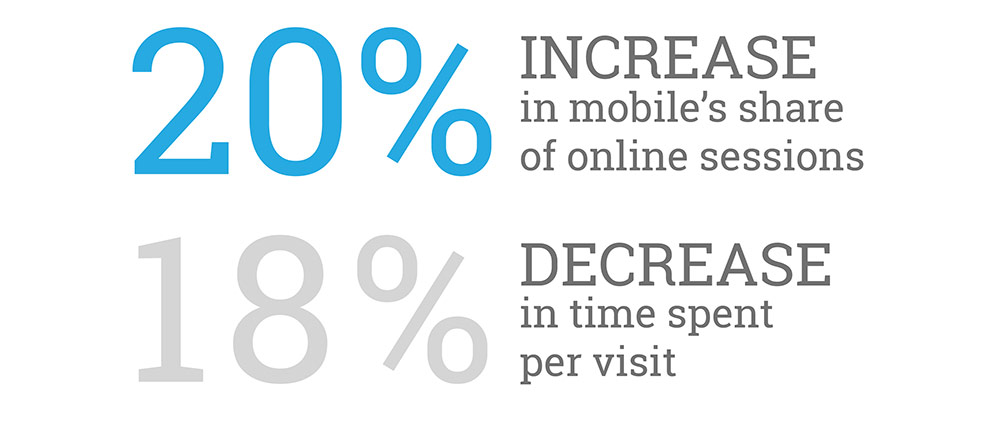 An increase in mobile sessions and a decrease in time spent might lead you to conclude that consumers aren't finding what they want on mobile. But actually mobile conversion rates have shot up by 29% in the last year alone.9
Think about it. We don't just rely on long sit-down sessions at our keyboards to make purchases anymore. We reach for our devices and make informed decisions faster than ever before. And though mobile is driving this change, this phenomenon has implications far beyond mobile. It affects the entire consumer journey across screens, devices, and channels.
Consider what's going on with retail stores today. Foot traffic has declined, and yet consumers are spending more when they do visit — because they've done their research and made decisions before ever walking in. A similar phenomenon is happening when consumers visit websites using a desktop or laptop. Typically, they spend less time per visit but convert more often. In many ways, micro-moments have become the footsteps that lead people to your store or desktop site.
So how do you win micro-moments?
Succeeding in a Micro-Moment World
Today, you have to earn the customer's consideration and action, moment after moment. Why? Because people are more loyal to their need in the moment than to any particular brand. Case in point: 65% of smartphone users agree that when conducting a search on their smartphones, they look for the most relevant information regardless of the company providing the information.10
That makes micro-moments the new battleground for brands. Here are three essential strategies that can help you win micro-moments:
Be there. You've got to anticipate the micro-moments for users in your industry, and then be ready to help when those moments occur.
Be useful. You've got to be relevant to consumers' needs in the moment, and connect people to the content they're looking for.
Be quick. They're called micro-moments for a reason. Mobile users want to know, go, and buy swiftly. Your mobile experience has to be fast and frictionless.
Recently, Red Roof Inn mastered all three strategies in one simple campaign. When the company realized that flight cancellations were leaving 90,000 passengers stranded every day, their marketing team developed a way to track flight delays in real time and trigger targeted search ads for the Red Roof Inns near airports.
Ads that said, in essence, "Stranded at the airport? Come stay with us!" They committed to those I-need-a-hotel-ASAP moments and delivered with relevance on what people needed. The result: a remarkable 60% increase in bookings across non-branded search campaigns.
People are more loyal to their need in the moment than to any particular brand.