Equileap, a leader in corporate gender equality research, recently published its Gender Equality Global Report and Ranking — a report exploring data from 3,702 public companies across 23 developed countries. In the report, companies were ranked into a top 100 list against five core pillars and 19 gender equality criteria, including gender balance from the board to the workforce, the pay gap and policies relating to parental leave and sexual harassment.
Here, Melina Cruickshank, REA Group Chief Audience and Marketing Officer and CEO, PropTrack, shares three practical equality strategies brands can adopt to bring more gender diversity into the workplace and outlines the initiatives REA has made to find itself ranked within the top 50 for gender equality globally.
Despite even the best intentions, businesses still face very real hurdles when it comes to achieving gender equality in the workplace.
In APAC in particular, we have seen slower progress. And even as businesses start to recognize the wider advantages of achieving gender equality such as higher productivity and better financial returns, the problem is often less a lack of desire and more a lack of know-how.
At times, it can be tough to know where to start, so here, I want to share three lessons REA Group learned in driving tangible change toward gender equality in the workplace that have benefited both our business and our people and have contributed more broadly to our diverse and inclusive culture.
Treat diversity as a strategic asset
We know that diversity drives creativity, better efficiency, and especially innovation — because it fuels disruptive thinking. We don't see diversity as simply something we have to do. In fact, we see all aspects of diversity as strategic assets to our business and something we continually work on to improve.
If we want to serve our customers better — and communicate in ways that resonate with them — we know that we need to build a workforce that is reflective of how diverse our customers are. You need people with a broad range of ideas, styles, experiences, and lifestyles, and you need to empower them to all have a seat at the table.
Gender equality is one key component of this, especially when the majority of our people are employed in technology-based roles — an industry traditionally filled by men and a key area we have focused on diversifying.
REA Group focuses on three areas to help drive gender equality that contribute to shifting the dial on diversity and inclusion more broadly:
Recognizing the business value of gender equality through formalized policies and measured outcomes
Taking a bottom-up approach to providing equitable benefits to our full workforce
Developing programs and initiatives to drive sustained and meaningful change at a grassroots level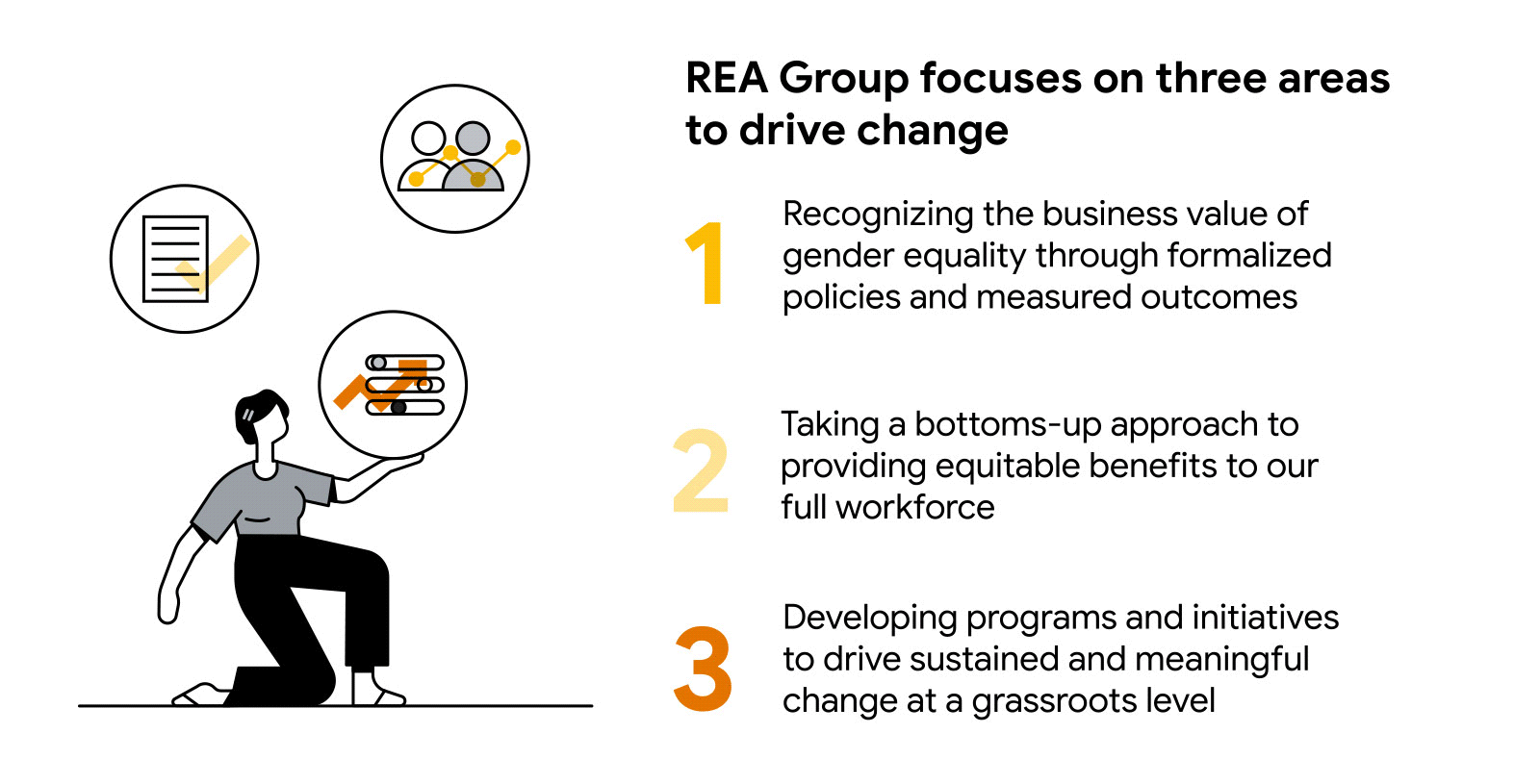 1. Show value with formal policies and transparent, measured outcomes
The first steps to driving change are knowing where you are starting from, where you want to get to, and how you are going to measure the progress you make. Measurement (and the transparency of this measurement) is pivotal in driving gender equality to ensure the whole business is aligned, working toward the same goal, and held accountable for achieving those goals.

We have clear gender-based goals in technology roles where we are seeking 35% female representation across the technology community by the end of FY22, and we disclose this data each year in our annual report, which is published on our website.
We also make our diversity and inclusion policy publicly available. This helps us send a clear message, internally and externally, about what we stand for and value as a business.
2. Take a bottom-up approach with equitable and thoughtful benefits
Benefits that have a disproportionate impact on the female workforce have historically been ignored by the wider industry. At REA, we've put a focus on making these benefits equitable in an effort to close some of the gender equality gaps that exist in society.
For example, our parental leave policy offers primary caregivers 20 weeks of leave at full pay, supplemented with an additional six-week return-to-work bonus as well as six weeks leave for secondary caregivers. We also offer REA caregivers a flexible return to work after parental leave with 75% of agreed work hours but at full pay for the first four weeks.
Second, we know that to build the right working environment for our people, we first need to hear from them and understand their needs. This means a bottom-up research approach and an openness to making continual improvements on our working models.
REA has operated under a flexible environment for many years, and following the pandemic, we now operate as a hybrid workplace. Our model was designed by our people, for our people and is a driver for diversity and inclusion more broadly. Hybrid working looks a little different for each of our employees depending on what suits their needs and the needs of their team.

3. Sustainable change comes from grassroots-level initiatives
To drive sustainable change, we need to tackle problems at a grassroots level as much as we can. Our "Springboard to Tech" program offers opportunities to women in the technology industry who may otherwise not have access to them. We use this program to systematically address the issues we see women face in tech by focusing on introducing women from nontechnical roles to technical ones, leadership development, and ongoing mentoring initiatives. Within three years, we improved our gender diversity ratio from 20.4% to 30% for women in technology roles.

Sourcing women in technology roles at a senior level, in particular, remains a challenge for REA and the industry in general. Our business is expanding, and we have many great opportunities available for passionate people from all walks of life.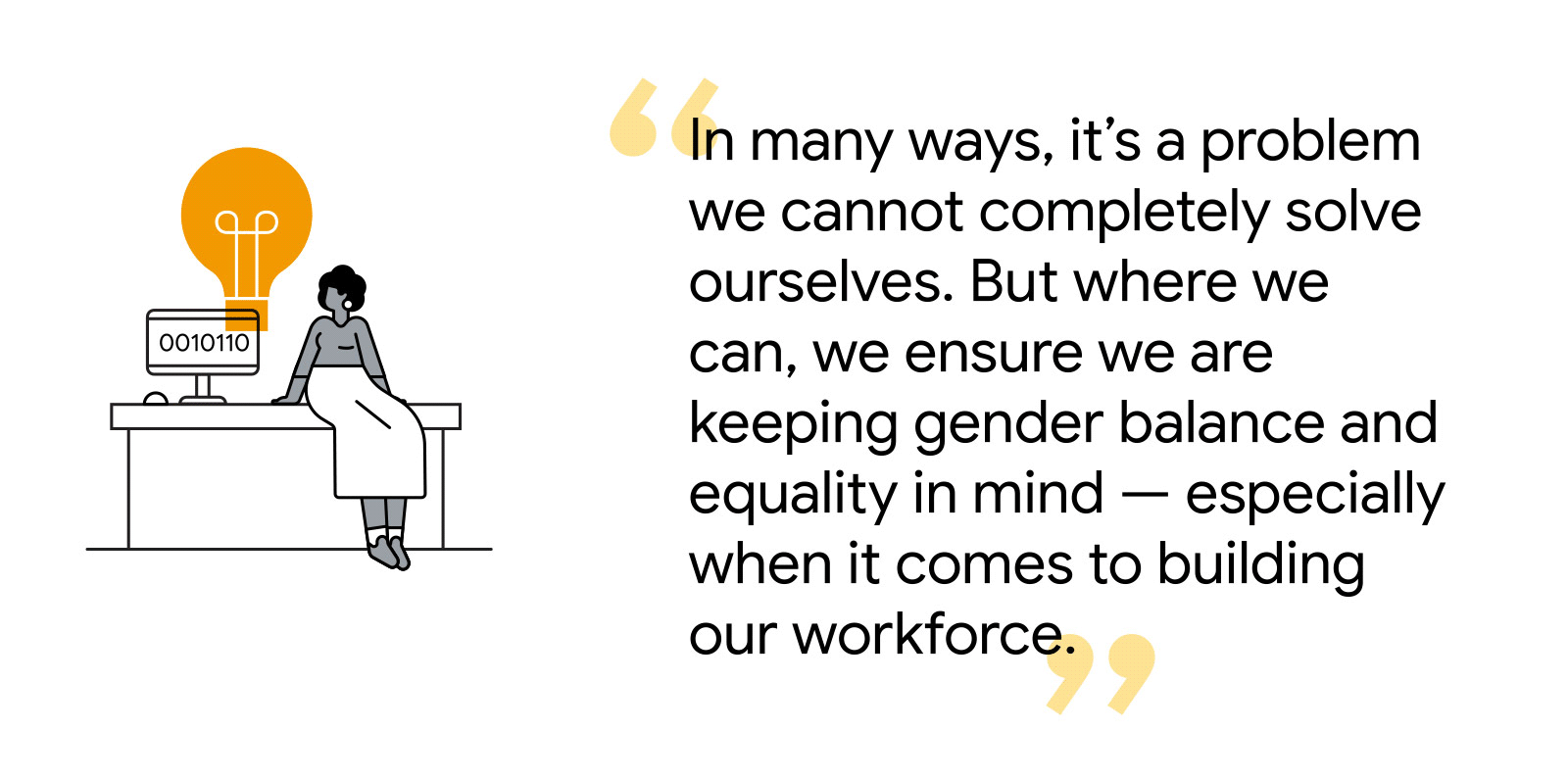 Find, attract, and retain diverse talent
As a business, we work to remove unconscious bias across each step of our recruitment process to ensure that we continue to hire for diversity in thought, experiences, and backgrounds.
Our graduate program is one way we attract top tech talent for REA, and because of this, we ensure our target is a 50:50 gender balance in our shortlist, final offers, and interviewing panels.
We also have a strong mix of full-time and part-time roles in place at all levels to cater to work–life balance requirements. In my experience, this approach attracts strong talent and results in a high-performing, creative, collaborative, and happy team.
Finally, outside of our benefits, we also have formal systems in place that ensure our people are recognized for their hard work and commitment to living our values. Monthly peer-nominated awards empower our people to celebrate their peers who truly embrace the company values, many of which stem back to diversity and inclusion.
Gender diversity is just one aspect of a diverse organization, and inclusivity in the workplace doesn't mean you need to try and do everything at once. Start by taking small steps — formalize and communicate your approach, keep your people at the center of your design process, and future-proof the changes you make by focusing on initiatives that solve more grassroots challenges.
Want to learn more about inclusive marketing strategies that benefit businesses and people? Dive into these articles on diversity and inclusion: