As the ad industry moves away from cross-web and cross-app identifiers, such as third-party cookies and device IDs, marketers need durable solutions that protect user privacy while driving performance — solutions that we're committed to provide.
Last year, we shared our approach to using conversion modeling for more accurate measurement across campaign types through aggregated, non-personal data and machine learning. Conversion modeling solves for unknowns in the customer journey where conversions can't be directly credited to ad engagements. And accurate modeling requires a foundation of consented, observable data.
For marketers promoting iOS apps, conversion modeling became more complex in the wake of Apple's AppTrackingTransparency rollout last year. That's because the deprecation of identifiers for advertisers has impacted the capacity of conversion models to draw patterns of behavior and characteristics from consented user data.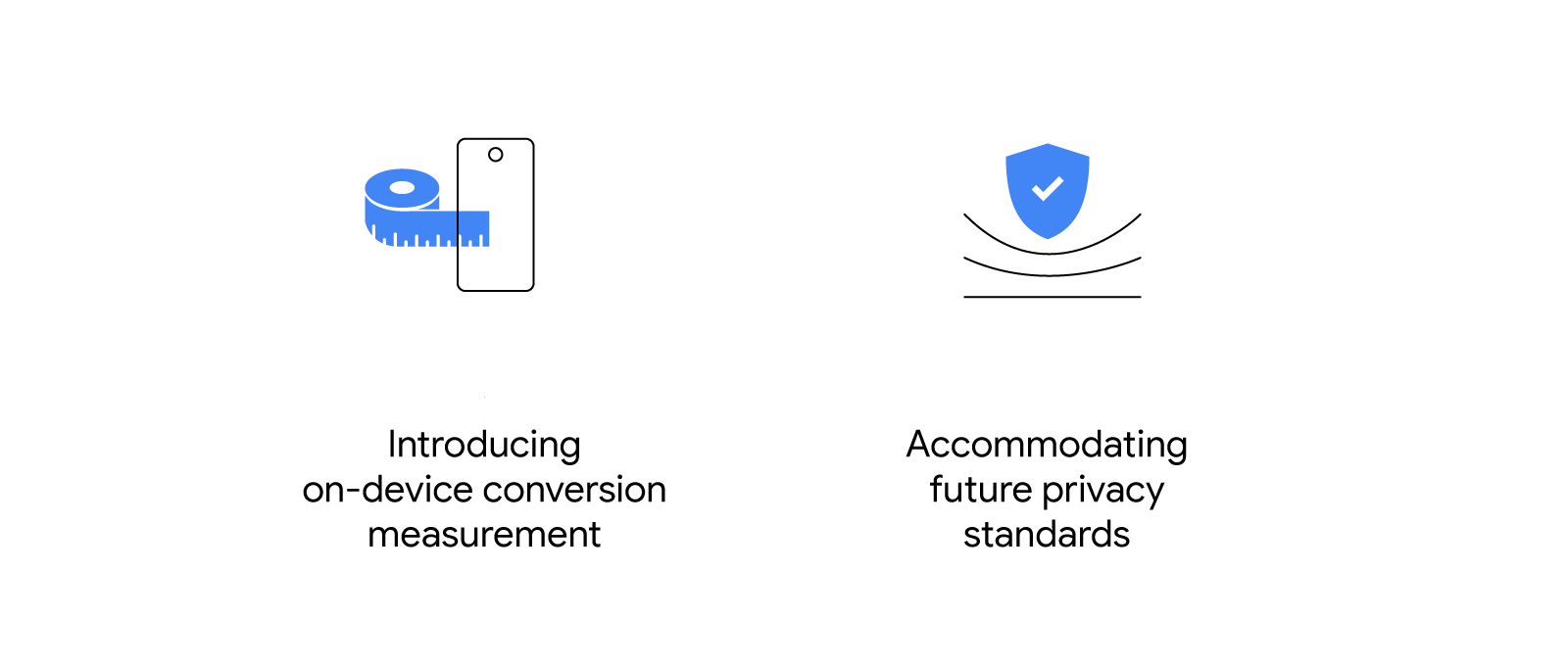 Introducing on-device conversion measurement
To help solve this challenge and to continue driving strong iOS performance, we're launching on-device conversion measurement, a new privacy-preserving measurement solution that retains and improves your observable data.
With on-device conversion measurement, user interactions with app ads can be matched to app conversions in a way that prevents user-identifying information from leaving a user's device.
So how does it work? Let's say that your app ad reaches a hypothetical user, Elaine. Elaine is signed into Google.com with her email address. She clicks on your ad, installs your app, and uses the same email address to create an in-app account. Through on-device conversion measurement, you will be able to link Elaine's app install to her ad click, while guaranteeing that her personal information is never disclosed to external parties — including Google — because it will never leave her device.
Enabling on-device conversion measurement allows you to leverage your consented first-party email data from app users to obtain privacy-safe conversion insights that may otherwise have gone unobserved and unmeasured.
Improving data observability enables conversion models to train on a more robust and complete foundation of attributed conversions. As conversion models become more effective at making sense of user journeys, better measurement in turn can drive better bidding and performance optimization, making it easier to reach your marketing goals.
By painting a holistic picture of the impact you achieve through your iOS App campaigns, on-device conversion measurement helps you make more informed decisions about your media allocation.
A flexible approach that can accommodate future privacy standards
In addition to maintaining and enhancing campaign performance, on-device conversion measurement also sets you up for long-term success in an evolving privacy landscape. Relying on user-provided first-party data means that you can quickly adjust to changing privacy expectations and protect your iOS App campaigns against shifting standards around third-party tracking and personalization.
As privacy expectations reshape how businesses optimize for conversions, we'll continue innovating with privacy-safe solutions for effective measurement that respects your users' data.
As people spend more time on mobile and expect seamless and personalized experiences, apps are uniquely positioned to serve their needs. For app marketers, these contact points support direct consumer relationships and are crucial to robust first-party data strategies. Fortifying your app business with first-party data will pay dividends immediately by making you more competitive and setting you up for future success. In fact, 61% of high-growth brands have shifted to a first-party data strategy, while 40% of negative-growth brands have not.1
Use your app to better serve your customers by offering helpful and relevant features and content. The more value it provides, the more interested users will be to share their data in exchange. Strengthen the incentives you give people to register for your app or sign up for an account, whether through member benefits, exclusive promotions, or one-click checkout. App infrastructure that supports simple user onboarding, such as an easy email sign-up flow, will also encourage usage. And finally, be transparent about how you'll use the data people share with you, and provide assurance that such data will be protected and used only with their consent.
As rising privacy expectations reshape how businesses must optimize for both observable and unobservable conversions, we'll continue innovating with privacy-safe solutions for effective measurement that respects your users' data.
Want to learn more? Explore our developer guide to learn how you can implement this solution for your campaigns.