TrueMoney, Thailand's leading mobile payment and e-wallet provider, offers digital innovative mobile wallet services for consumers. Despite its current market of 50% in Thailand, TrueMoney has a higher aim: to become ASEAN's leading player. The financial services brand sought to attract application downloads as cost-efficiently as possible. Combining a wide-spread awareness campaign with a universal app campaign proved to be just the ticket, as over one million app downloads were achieved in just six months. An even more impressive result is that costs per install (CPIs) were down 60% from its previous campaign. Read on to find out how TrueMoney achieved its goals.
GOALS
Increase brand awareness
Drive quality downloads of the TrueMoney Wallet app at the lowest CPI
APPROACH
Drove awareness through Trueview ads, mobile GDN (mGDN), and AdMob
Ran a universal app campaign (UAC) and Google Search ad campaigns to promote downloads
RESULTS
Over 1M app downloads within six months
60% decrease in CPI; 25% lower than competitor's platforms
50% reduction in campaign implementation time
62% lower CPI than the finance industry benchmarks
With its fast-growing smartphone adoption and widespread affordable 4G networks, Thailand is undeniably becoming mobile-first country. With the total number of smartphone users nearing 35 million by the end of 2016, including 32 million of whom had never before used mobile payments2, combined with a herculean push from the Thai government to promote e-payments,1 it's easy to see why TrueMoney and its counterparts want to make the most of the opportunity.
Standing out among the competition
Facing a fierce competitive landscape, TrueMoney not only needed to get on people's radars, but it also had to drive them to download the app. With thousands of apps available for download at any given point, TrueMoney was committed to breaking through the clutter to drive downloads at scale—and cost-efficiently. Previous attempts at a large-scale download campaign led to expensive CPIs and a disappointing download volume. So while the team had learnings they'd taken away, they also wanted to tread cautiously.
This time, TrueMoney took another approach: "We turned to Google because its media inventory and ecosystem enabled us to easily scale our campaign without compromising the quality of the acquired downloads and CPI," said Jittapat Silpvisuth, head of search and display marketing at TrueMoney.
Running dual awareness + app download campaigns across Google platforms
The first priority was raising awareness. TrueMoney's digital team assembled just the right online media mix to create awareness among targets: mobile GDN, YouTube TrueView ads, and mobile search. Through mobile GDN and AdMob, the brand drove large-scale awareness among the right targets. Meanwhile, its video campaign delivered product details to attentive audiences on YouTube, and mobile search allowed TrueMoney to intercept high-potential targets whenever they actively searched for related terms. The three-pronged approach meant that TrueMoney was present whenever relevant moments came up.
TrueMoney also ran a parallel universal app campaign (UAC) designed to convert awareness into app downloads. TrueMoney's UAC was a one-stop-shop campaign that used machine learning to scale reach and maximize app installs across all of Google's advertising platforms. The automated campaign's set-up, real-time measurement, and opportunities for optimization allowed the brand to get a broader view of its campaign performance than ever before—and continually refine its campaigns to reduce costs.
Silpvisuth explained, "UAC is easy to use, controllable, and, most importantly, scalable. It was fundamental to lowering our CPI in delivering to the right targets, and much lower compared with other platforms we had previously used."
Because UAC was readily connected to Google Play and most smartphone users in Thailand use Android,3 download tracking was simple. This eliminated the need for a third-party tracker, making measurement almost effortless.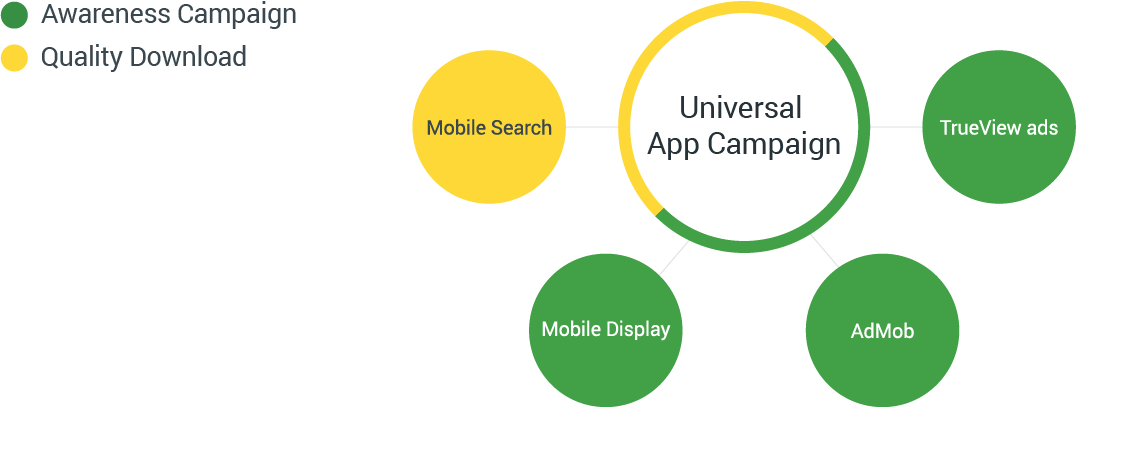 Achieving mass reach with lower CPIs
With the campaign leading to over one million app downloads within six months, TrueMoney achieved its download target, and did so with a 60% reduction in CPI compared with its previous campaign. The campaign CPI was also 25% lower than campaigns run on other non-Google platforms. And when compared against the finance industry benchmark, TrueMoney's CPI through UAC was a staggering 62% lower.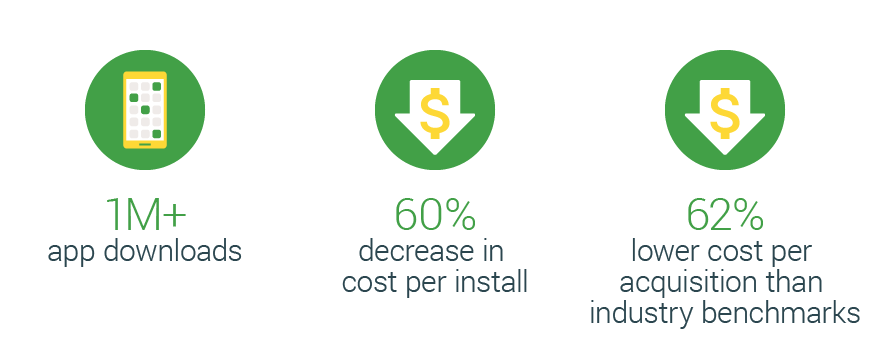 "With the UAC adoption, we were able to attain performance at scale while achieving target CPI. I would recommend a similar approach to all marketers, as it covers almost all marketing objectives: awareness, search, app install, and re-engagement," said Silpvisuth. "It's not just one platform—our product and services can appear everywhere in Google's network. Accumulatively, our consumers spend much more time in Google's eco-system, making it more reachable and relevant."