Here's an open secret: In the digital age where customers routinely discover brands and seek out products online, the user experience (UX) of a brand's site, whether web or app, can be an untapped game changer for business.
When the UX is optimized, products are more effectively showcased and marketed to customers on the site, making it effortless for them to take actions like add items to their shopping cart or make payment to complete a purchase. These conversions drive growth and help brands increase their profits.
Indeed, 76% of smartphone users say they're more likely to buy from companies whose websites or apps allow them to make purchases quickly.
Optimizing your site's UX helps to drive conversions, and correspondingly, improve ROI for your ads.
So if you're looking to increase the percentage of online visitors who become your customers, consider conversion rate optimization (CRO). It's a systematic approach to analyzing information about your site and users, and finding ways to improve the UX.
How CRO works to improve your bottom line and ROI on ads
CRO uses A/B tests to strategically experiment with possible site designs, layouts, and content on a subset of your customers. This lets you readily assess the potential impact of a UX update to your site, and quickly establish which test variant will deliver the most optimal experience and business results.
The method means you're able to respond to UX needs in a fast-changing online environment. An A/B test yields findings in weeks, as compared with a more traditional design-and-launch cycle that typically takes months.
With your site's UX optimized for conversions, it'll provide more conversion signals to the AI-powered ad solutions you use, and help to improve your ROI on ad spend.
In addition, CRO is easy to implement. You can work with CRO providers such as AB Tasty, Optimizely, and VWO, or tap on in-house talent to build A/B testing tools.
While CRO is an ideal approach for optimizing UX, knowing how to apply it strategically is critical to increasing sales and profits. The following three case studies show how brands' marketers and CRO providers use savvy strategies to improve business results.
Angara: Optimize the pages that customers land on
When customers land on a page on your site, you have 50 milliseconds to make a good first impression and convince them to stay and explore.
To set yourself up for conversion rate success, optimize the pages they land on, such as the homepage and product page. One way to do so is to provide clear calls to action, so it's effortless for visitors to move forward on your site.
Jewelry retailer Angara worked with marketing performance company Jellyfish on CRO, and discovered that while customers like to shop on its mobile website, mobile screen sizes made it difficult for them to navigate the many customization options on the product page. This hindered shoppers from completing their purchase.
To ease the cognitive load on Angara's customers, particularly those buying its rings, Jellyfish carried out A/B tests on the product detail pages for rings.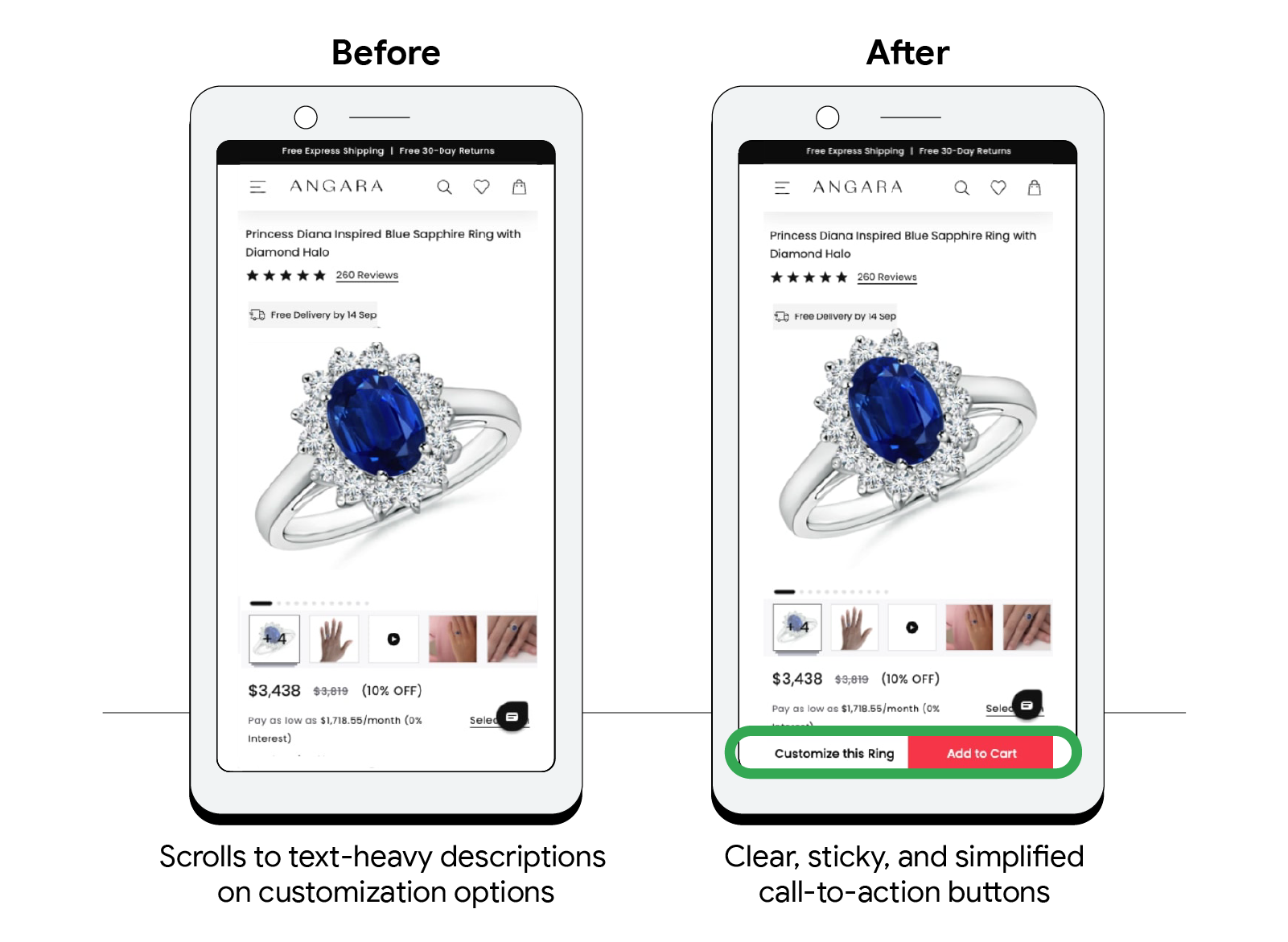 They found that replacing text-heavy product descriptions with clear and sticky call-to-action buttons like "Customize this ring" helped shoppers move more quickly on to check out.
Angara's COO Hitesh Singh Baid said: "By analyzing user behavior and testing new UX ideas through live experimentation, we achieved great results." Its checkout rate jumped by 25% and its revenue from purchases of rings on its mobile website increased by 32%.
Wakefit: Optimize the information discovery process
Another key aspect of optimizing UX is to make it easy for customers to discover offerings on your site and figure out what other information they need from you to complete their purchase. For this, organizing information on your site in visually appealing ways can help.
Working with the CRO agency VWO, furniture retailer Wakefit found that simple UX changes to its site design, including organizing content under sticky tabs, made it easier for customers to navigate and discover products on its site.
Indeed, improvements to its discovery UX led to 15% more shoppers adding products to their carts and a 9% jump in purchases, as compared with its original site design, where information was presented in a long and flat layout.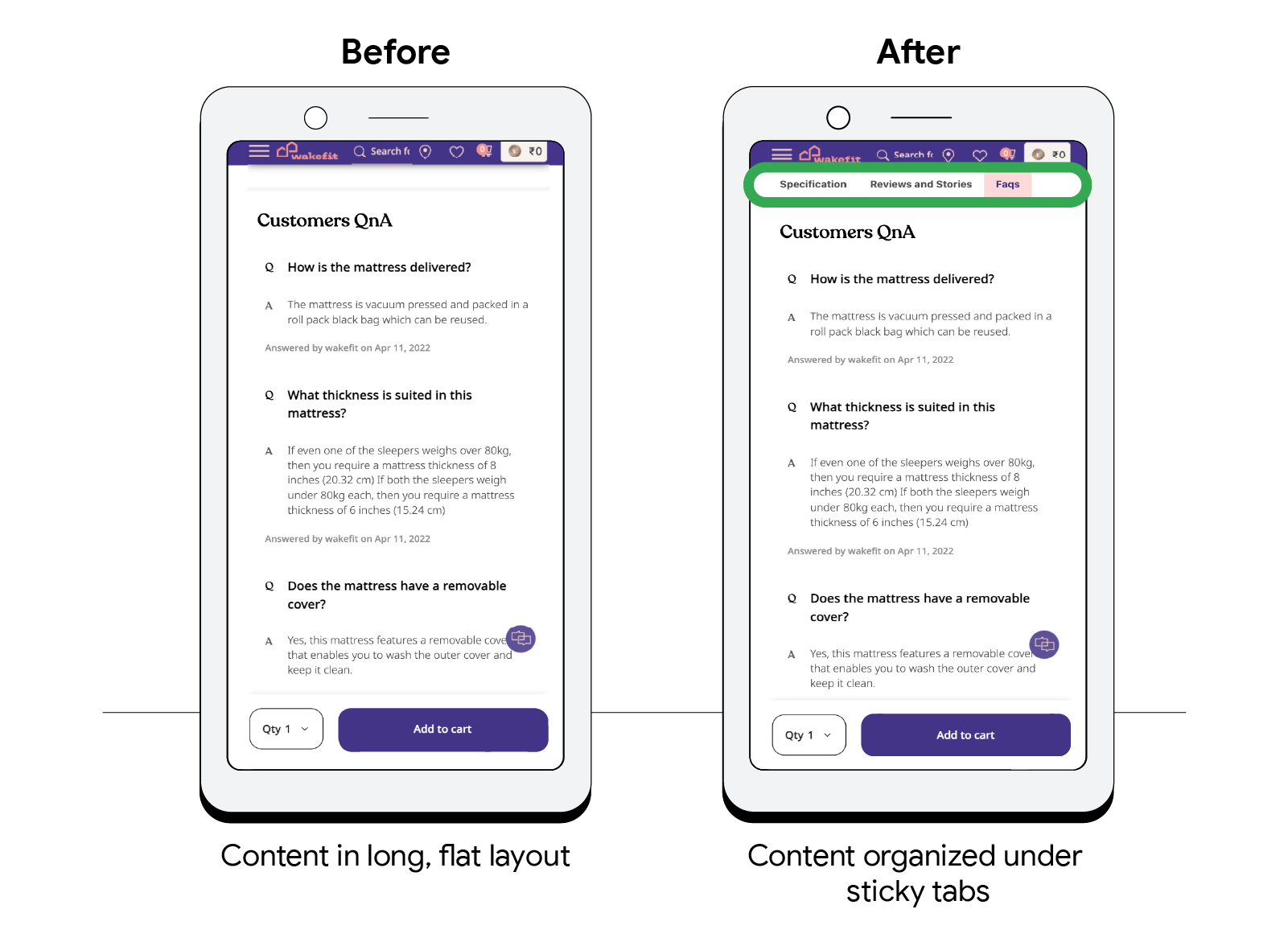 Better yet, the CRO process took just one month and Wakefit started seeing improved conversion and sales results. Wakefit's VP of Online Revenue and Demand, Chetan Sharma, said: "This was certainly faster and more impactful than directly implementing and testing UX changes in production."
FNP: Optimize the user journey to reassure customers
A user journey that is optimized end-to-end, from product discovery through to check out to support your customers' preferences, can also be a powerful driver of conversion, sales and profits.
When a site experience is hyper-relevant and customers move through the purchase journey smoothly, they're made to feel confident that the brand can take care of their needs and deliver on what they want.
To reassure customers at every stage of their shopping journey and encourage completion of purchases, FNP partnered with martech agency Tatvic to optimize the entire user journey on its mobile site.
In one of its A/B tests, it raised awareness of its free delivery offer, guarantee of satisfaction, and "6 million happy customers" achievement by highlighting them on its product page. And after the A/B test went live, the average daily number of actual purchases increased by 4%.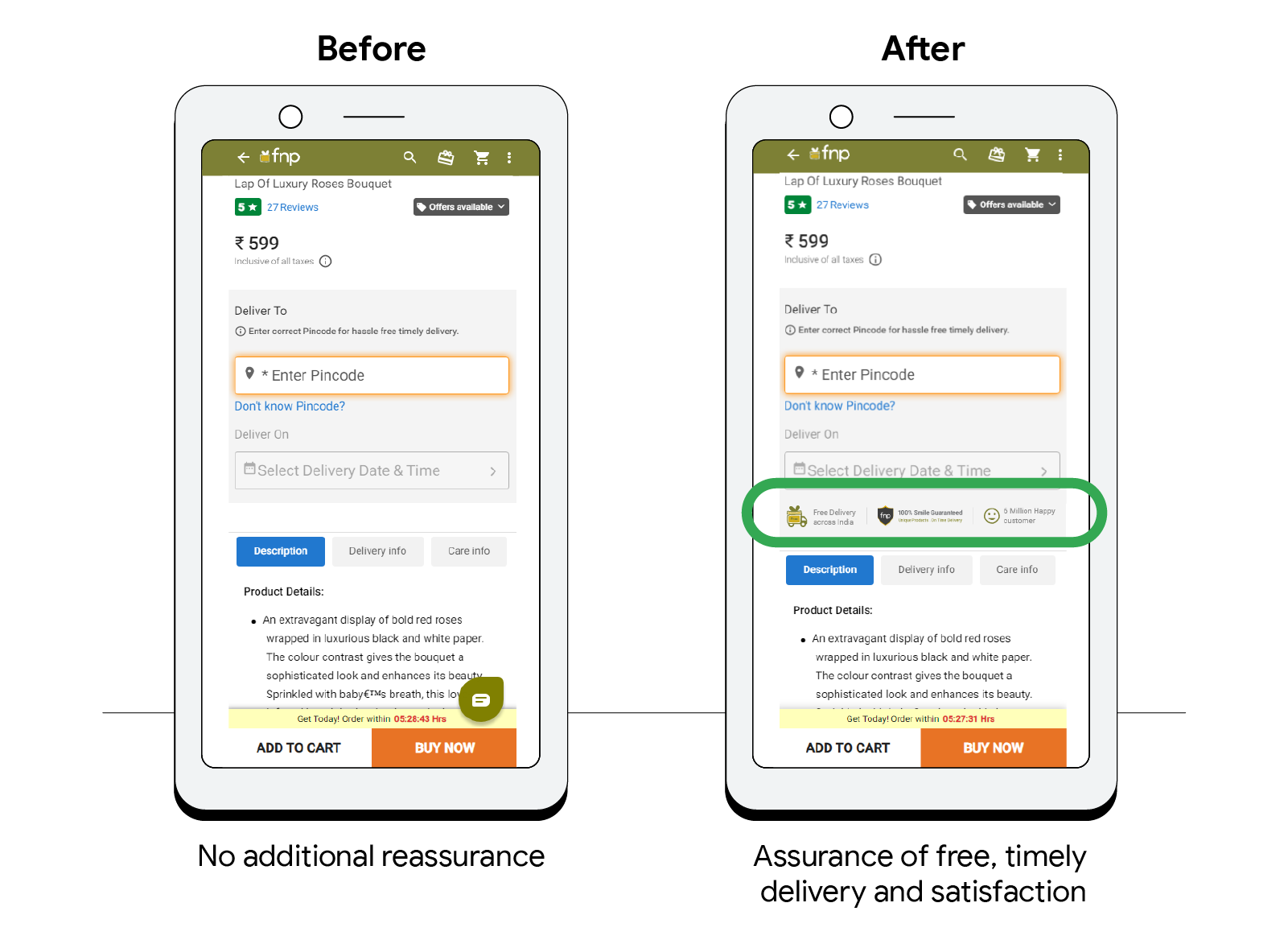 FNP's Head of Customer Lifecycle Management Akshay Walia said: "The improvement we saw from this CRO project gives us the confidence to run more experiments like this."
When it comes to finding ways to drive growth through marketing, one doesn't always have to look far. These opportunities may be before you. By optimizing the customer journey on your site with these strategic CRO approaches, and partnering with CRO providers to supercharge your UX experiments, you'll be ready in no time to increase sales and profits, and improve ROI for your ads.
Contributors: Pratyush Sinha, Mobile Transformation Lead; Vaibhav Chachra, Strategic Partner Manager