India's financial services sector is on the cusp of groundbreaking, AI-powered growth, with an unprecedented opportunity to serve 300 million customers online, according to a new report.1
Published by Google, with knowledge partner McKinsey & Company, the far-reaching report analyzes India's evolving digital landscape and how people buy financial products today.
Already, early movers in the sector are thinking like digital-first players. They're tapping into the scale and power of India's digital public infrastructure, numerous online users, and AI-driven tools to accelerate customer acquisition and optimize performance.
The cutting edge developments are captured in our report, along with critical findings, such as the higher lifetime value of customers acquired digitally as compared with those acquired offline, and the factors influencing their purchase decisions.
Here, we zoom in on customer insights that'll help financial service players like you acquire users at scale. We also highlight a strategy you can use to unlock growth and profitability with AI.
Insights into India's financial service customers
Online is where you'll have little trouble finding customers. Of the over 700 million active internet users in India, only about half, or between 300 million and 400 million of them, are customers of banking, financial service, and insurance products. This means you have an opportunity to convert at least another 300 million active internet users into online customers.2 And the demand is high.
People are searching for and buying financial products online
The online demand for banking, financial services, and insurance products is between 3X and 5X higher than the total volume of products sold across the various categories. And over 90% of customers say their path to purchasing any financial product starts online.3 This has a bottom-line impact.
Some 20% to 30% of total new business premiums for India's top five private life insurers originate online. Even for customers who purchase offline, 88% of them used one or more digital touchpoints during their purchase journey.4
So from the get-go, you'll need to think and act digital-first to help customers get what they're looking for online, and achieve scaled acquisition. Customers are hungry for financial information and advice, and increasingly engage with bite-sized, video content to compare products and get guidance on financial planning.
Customers online are more valuable to acquire than those offline
A key finding from our research is that the best-in-class players acquire financial service customers online at lower costs versus physical channels. This results in higher profitability and a better return on investment for you.
With personal loan customers, for example, the cost of acquisition via digital channels is 70% lower than that for physical channels, and even when adjusted for average ticket size, it's still 20% lower on digital channels. Correspondingly, the lifetime value to customer acquisition cost ratio, which is a measure of profitability, is 50% higher for digital channels versus physical channels.5
The lifetime value to customer acquisition cost ratio for digital channels is higher than for physical channels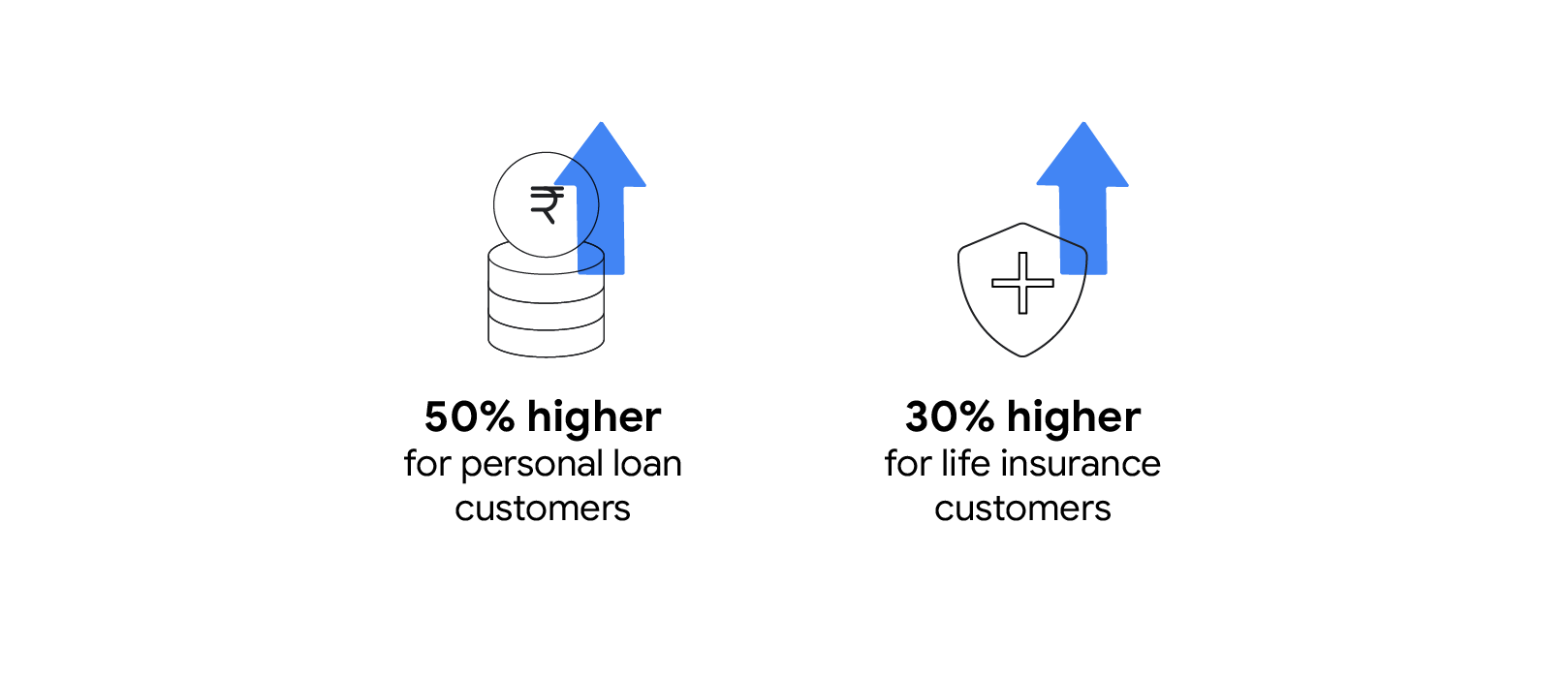 Similarly, the cost of acquiring life insurance customers through digital channels is 25% less than physical channels. And the lifetime value to customer acquisition cost ratio is 30% higher for policyholders acquired through digital channels as compared with physical channels.6
In addition, customers acquired online are more likely to buy again from the same brand as compared with those acquired offline, and the comparison is 64% versus 56%.7
Customers acquired online are also more likely to use the same channel for their next purchase. Only 7% of customers acquired online say they will switch channels, as compared with 21% of those acquired offline.8
Digital strategy for AI-powered growth and profitability
To unlock the 300 million-customer opportunity online, you'll need to grow at scale and speed, and in a profitable way. This can be achieved by tapping into the power of AI to supercharge the following five foundational capabilities for growth.
1. Full-funnel marketing
Full-funnel marketing that is powered by AI lets you engage your most valuable customers throughout their purchase journeys with the products relevant to their risk profiles. This helps increase conversions and improve return on ad spend.
Tata AIA Life Insurance, for instance, used the AI-powered Display & Video 360 to analyze and identify the right audience, generate creatives in multiple formats for various channels, and optimize for the best bidding strategy to drive conversions.
With the AI-powered Display & Video 360, Tata AIA Life Insurance achieved: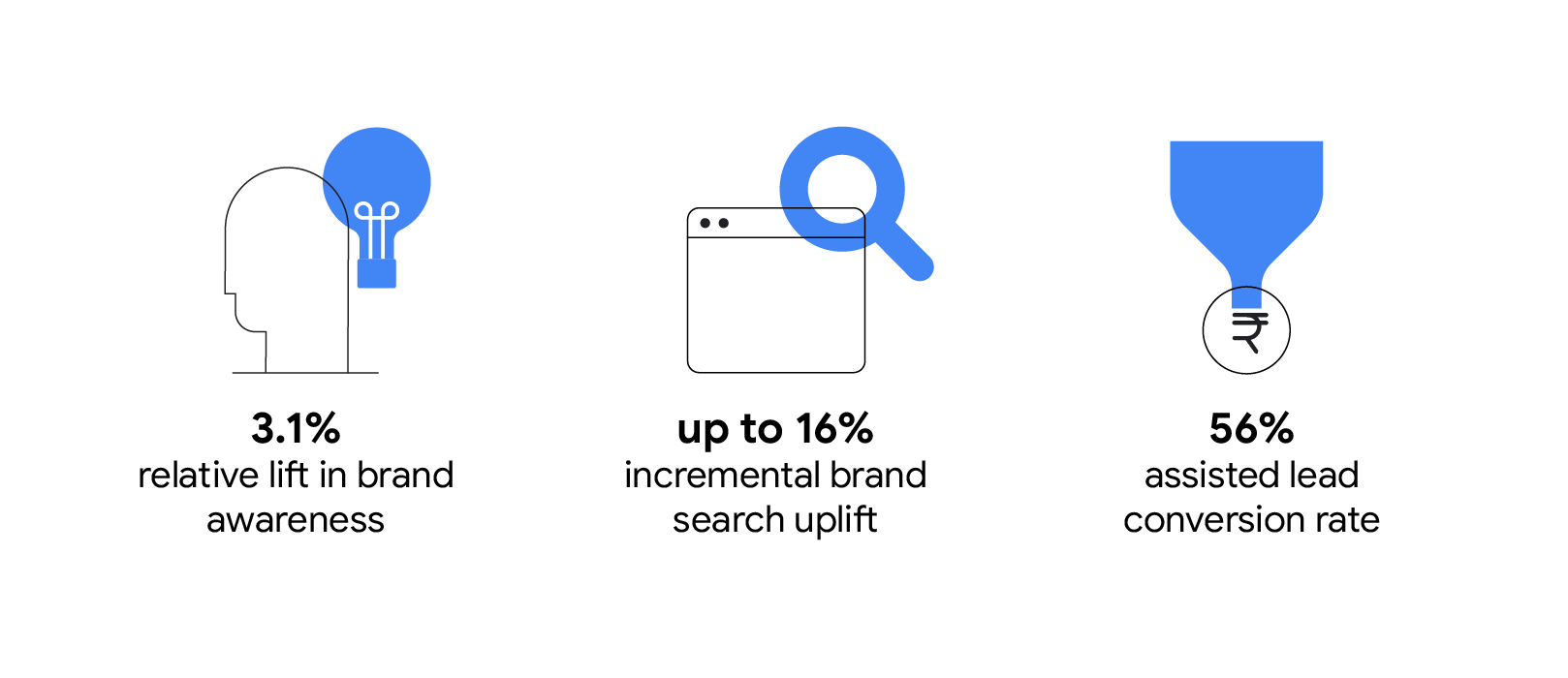 2. End-to-end omnichannel fulfillment
A smooth purchase journey, from lead to sale, can enhance customer satisfaction and conversion rates. And with AI-powered solutions, you can deliver a consistent, quality experience that feels seamless across your channels, from web to app and call center.
3. Martech to build, measure, activate
By implementing marketing technology such as a customer data platform, you can seamlessly integrate your customer data from multiple sources, build a robust profile of your customer, and activate those user insights. One example is Google Cloud's Customer Data Platform, which does this at speed and scale, and in a privacy-safe way.
It uses Google AI to generate customer insights that can help you enhance your marketing campaigns and ROI, and deliver relevant products and promotions that can increase your customer's lifetime value.
4. Data-driven attribution and measurement
When you know which are your most effective channels for engaging customers, you can optimize your channel performance and marketing budget. And using AI, you can improve your predictive accuracy and optimization capability.
Max Life Insurance, for instance, adopted an AI-driven, omnichannel attribution model to assess the business impact of its customer touchpoints. It used AI tools like Store Sales Direct to measure sales across channels like its website and aggregator platforms. This helped it identify Search as a key growth driver and optimize it for traffic and engagement.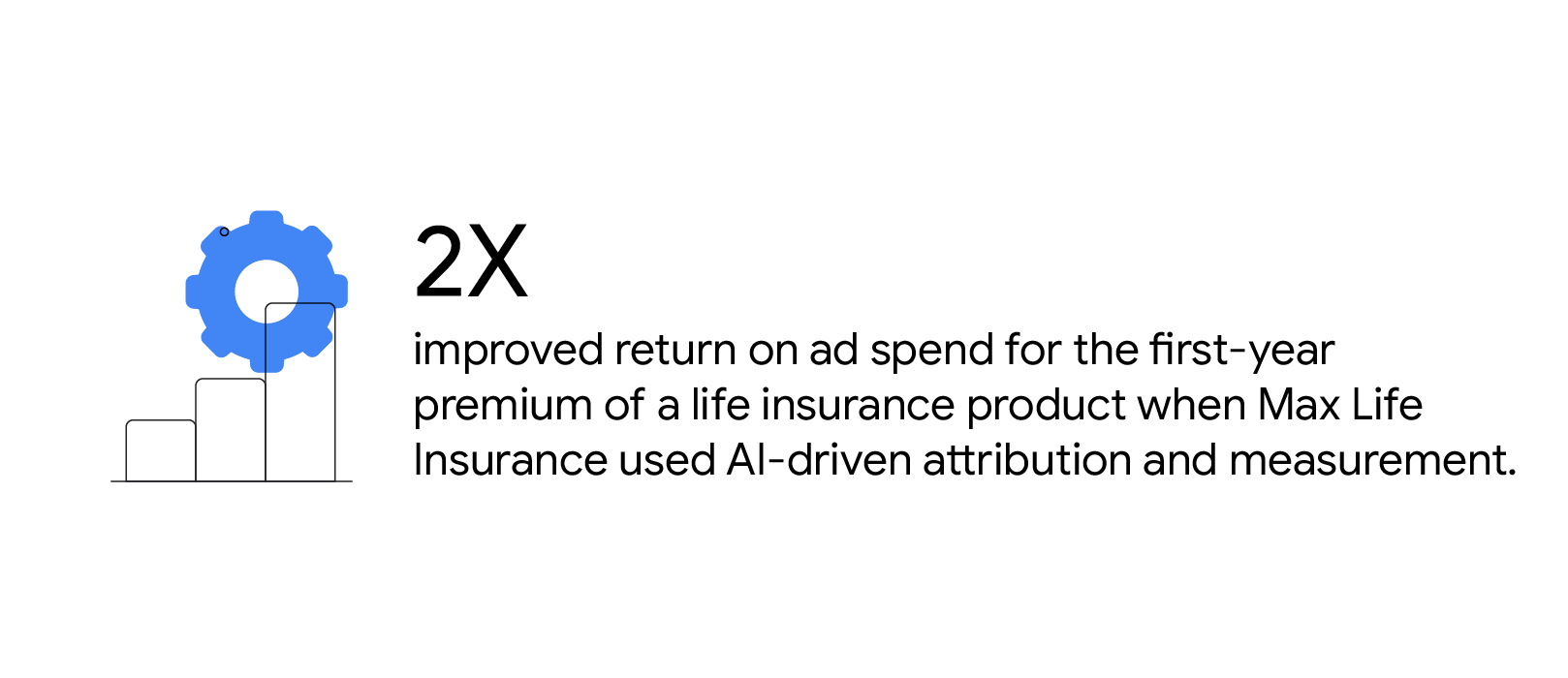 5. Agile operating model
An agile operating model, powered by AI, lets you accelerate online customer acquisition through swift campaign testing and innovation. In practice, this means close collaboration across teams — from product to finance and marketing — and between the CMO and CFO.
In the case of Star Health and Allied Insurance, its CMO and CFO were on the same page about how marketing goals directly translate into financial KPIs. This allowed it to easily identify opportunities to fund growth and boost profits through marketing.
With an unprecedented opportunity to serve the next 300 million customers online, it's no surprise that India's financial service players have started taking steps to unlock this potential. To supercharge your growth and profitability, tap into the power of AI and use it to level up your digital strategy.