It used to be just one channel. Now, more than 8 in 10 APAC shoppers use three or more channels such as search, video, and social media to shop during peak sales and holiday moments.1 And your job as a marketer has become more complex.
No longer can you focus your marketing on a single channel or a particular stage in the purchase journey. To do so means losing out on potential customers and the next highest ROI conversion that could've come from a channel you hadn't considered.
But savvy marketers have found a key to success: pairing the AI-powered Performance Max with existing campaigns like Search to supercharge results and drive incremental gains.

With a single Performance Max campaign, you can engage your most valuable customers — new and existing — across all of Google's channels, including YouTube, Display, Gmail, and Maps, and throughout the marketing funnel.
Once you share your campaign goals and creative assets in Performance Max, it uses Google AI to do everything from optimize budget to performance, based on your conversion goals such as sales or leads. It also generates real-time audience insights, and creative formats customized to the various ad channels. The result is an 18% uplift in conversions, at the same cost per acquisition.2
Already, leading brands in APAC have found success with the cross-channel AI marketing solution. They've used Performance Max in combination with other campaigns like AI-powered Search to achieve various goals, from getting high-quality leads to growing sales. Here, we spotlight three brands and their success formulas.
Isuzu: Connecting with high-value customers at scale
Driving high-quality leads at scale is Isuzu Thailand's mission. To achieve this, it worked with the digital agency i-dac to use the ads power pairing — Performance Max and Search broad match.
With broad match, Isuzu was able to show up on all new and unexpected Search queries from people who were likely to buy a car. And Performance Max increased the number of qualified leads by using Google AI to find untapped lead opportunities across all of Google's channels.
To further fuel these AI-driven campaigns with high-quality data, Isuzu used enhanced conversions for leads to integrate its first-party conversion data. With a more comprehensive set of conversion data, the AI-powered campaigns were able to drive a 67% increase in qualified leads and a 49% decrease in cost per qualified lead.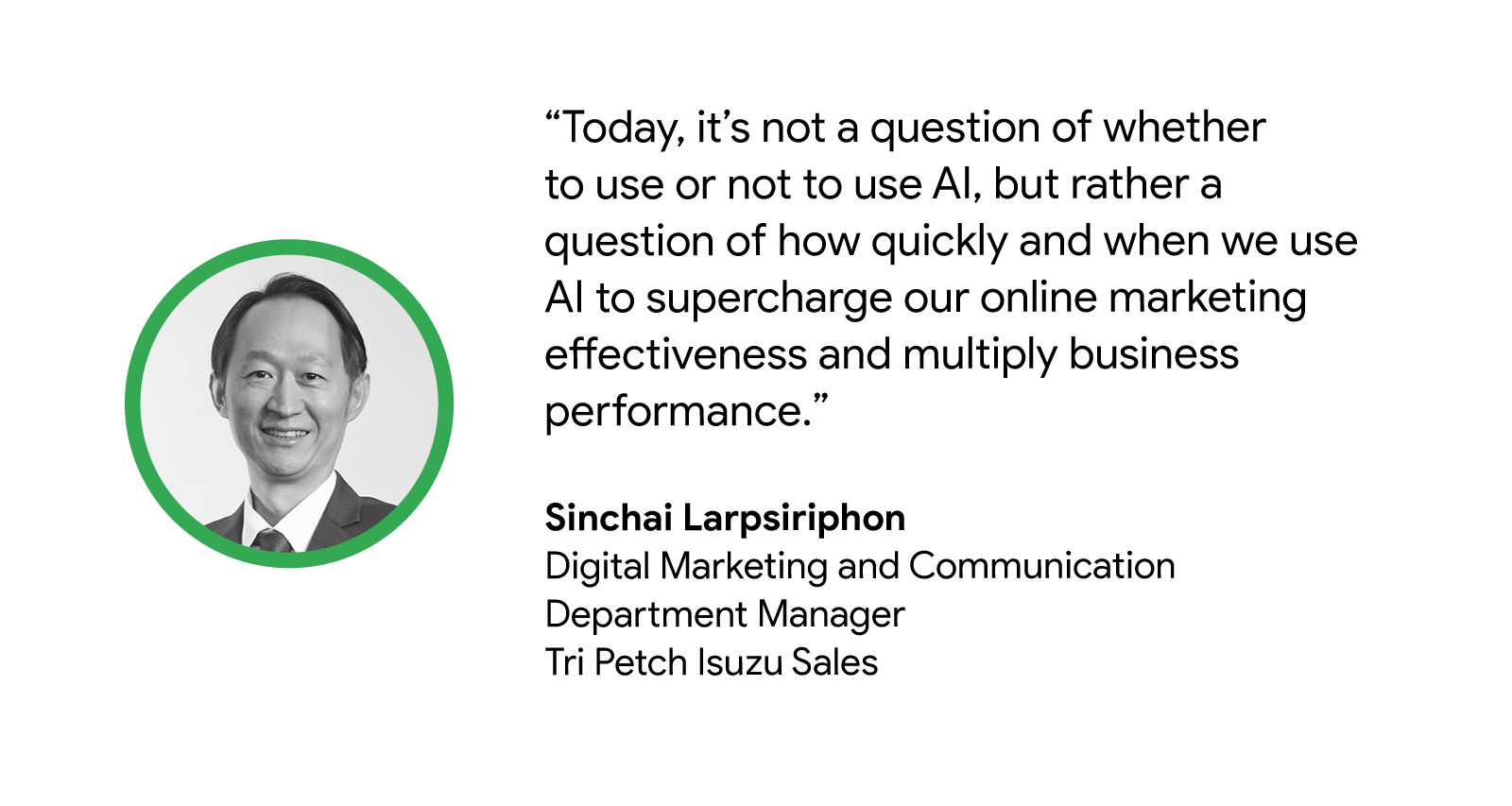 WeLend: Unlocking new customer demand with precision
For Hong Kong online lending platform WeLend, expanding its market share and acquiring new customers in a highly competitive lending market was a challenge.
To unlock demand efficiently, WeLend partnered with the media agencies Mindshare and GroupM Nexus to run a pilot on the new customer acquisition goal for Performance Max campaigns. This lets it tap into the power of Google AI to predict the optimal bid for new customers and maximize the leads it finds at speed and scale.
The Performance Max campaign, which complemented WeLend's other Search, Display, and Video campaigns, resulted in 220% more new customers, acquired at a reduced cost per acquisition.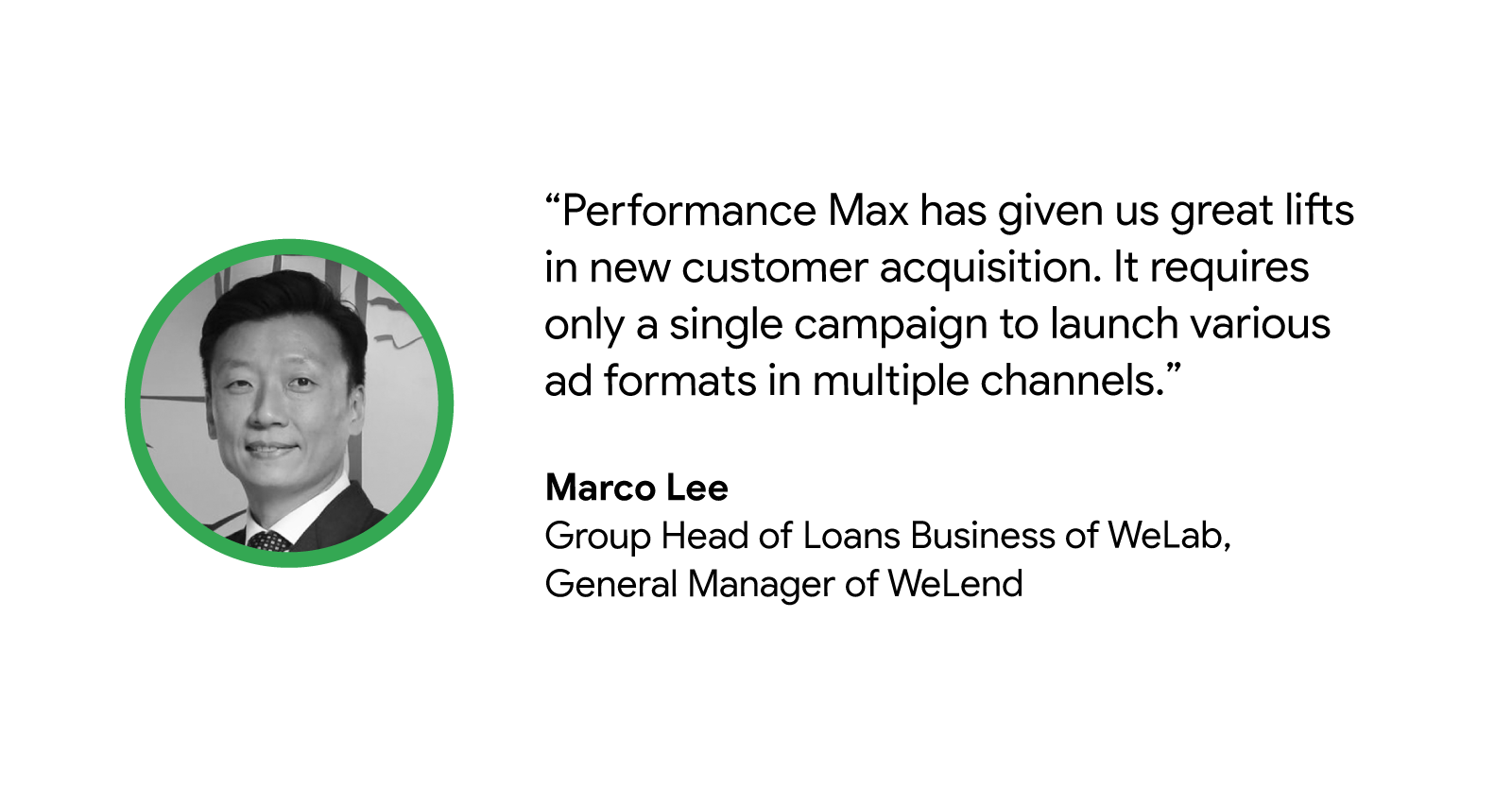 The high level of efficiency WeLend achieved in reaching and acquiring new customers would not have been possible with manual optimization. What it did was upload its unique customer insights into Customer Match lists. With these audience signals, Performance Max was able to optimize for new customers — identified based on its most valuable existing customers — and engage them with creatives tailored to whichever channels they were on.
Samsung: Growing online sales among diverse audiences
For a global brand like Samsung, the complexity of winning customers across the marketing funnel and channels is compounded by how diverse its audience is.
In markets like India and Vietnam for instance, where the demographics are wide-ranging, it can be challenging to deliver campaigns that are relevant to individuals, much less grow sales and optimize performance.
Yet when Performance Max was proposed as a solution to supercharge its existing Search campaigns, there was some skepticism around its incremental impact. So Samsung's local teams decided to take a test-and-learn approach first, and they quickly saw results.
Building off the brand's creative assets, including images and videos which were uploaded to Performance Max, Google AI was able to generate various creative combinations that were optimized for searches of Samsung products across Google's channels.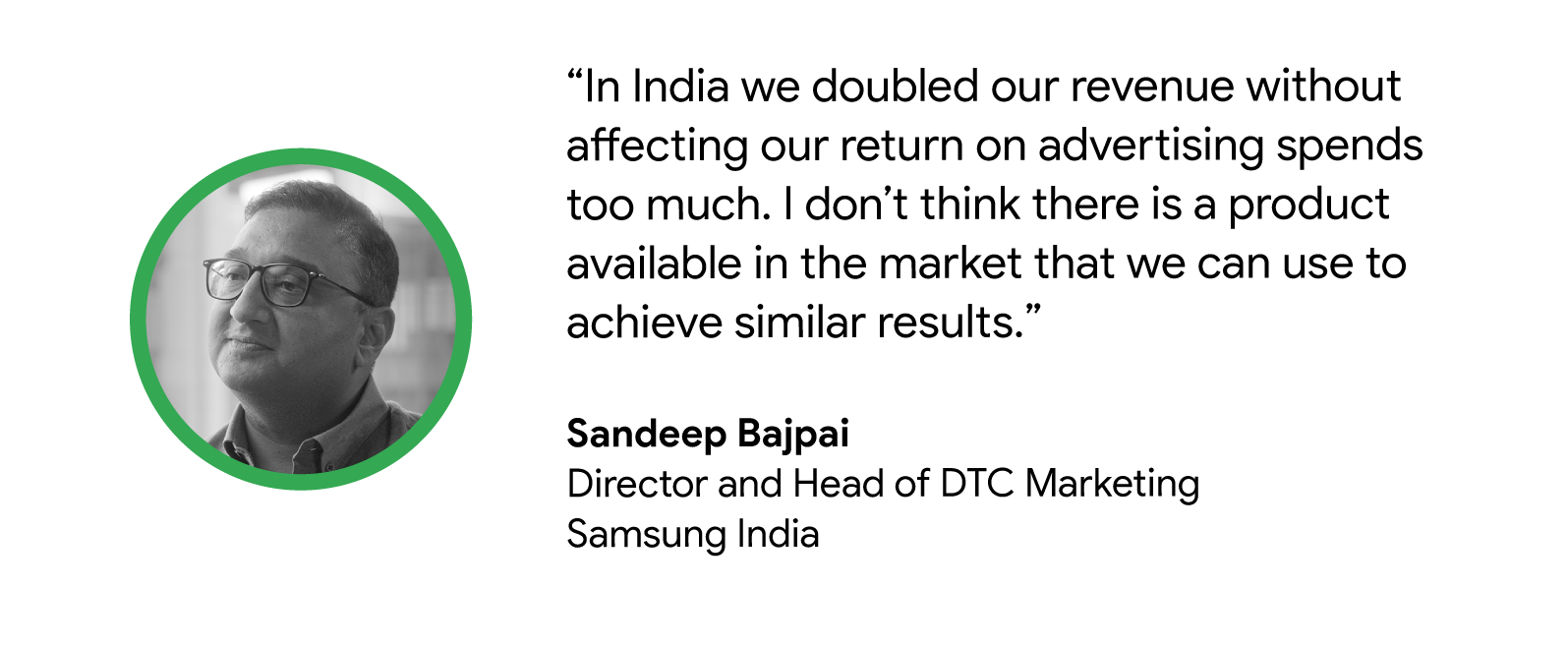 In Vietnam, Samsung's Performance Max campaign drove a 3.3X increase in monthly revenue, year over year, at a comparable return on ad spend. The AI-powered optimization also allowed local teams to rededicate time, which would otherwise have been spent on manual ad optimization, to higher-value strategy work.
If you have yet to make the most of Performance Max, now's the time. Turn the key on this AI-powered cross-channel marketing solution and have it drive profitable growth across the funnel for your business today.